The cost of raising kids can seriously add up, and parents often have to make their own sacrifices to make sure there's money for everything their kids want to do.
That kind of selflessness is expected of parents, but it's truly a gift to see from someone who maybe isn't the birth parent of the kids they're raising. That was the case with Dave Frase, who sold his own prized green 1973 Corvette Stingray just three years after it was made in order to get married and inherit a pair of stepchildren. In order to financially plan for having a new family, he gave up his dream car.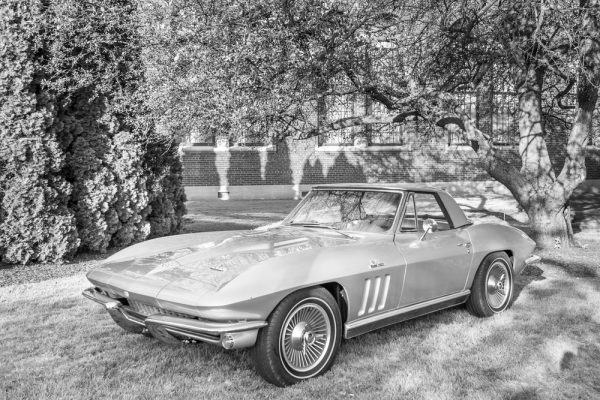 That green Corvette was but a distant memory 40 years down the line, but his stepdaughter—Janis Higgins, who now lives hundreds of miles away in Austin, Texas—remembered all too well what her stepfather had given up to make life incredible for her family.
With money to spare, she decided that she would repay him in kind, and came up with the gift of a lifetime.
After getting the rest of her family on board, Janis brought Frase out to a parking lot after a family brunch.
Spotting a green Corvette stingray across the lot, Frase started to point out how similar it was to the car he had owned so many years ago. What he didn't know, though, was that it was sitting there for a reason—and as he was secretly filmed in a now-viral video, Janis showed her dad that the license plate spelled out a unique message.
It read "YDHT," which she tells him means "You didn't have to." Realizing that the car was there for him, Frase broke down—and the whole thing was caught on film as his stepdaughter revealed that she'd bought him the same car he'd given up so many years prior!
Feel free to share! This project has been going on for almost a year. I'm so thankful for everyone that kept the secret and helped make it happen! Marty Higgins helped us find the perfect car and did an amazing job painting it the perfect color! Here is the video of my dad getting his car! more pics coming soon! My dad was so sweet and thankful. He kept saying he didn't deserve it. The truth is He does deserve it! He is an amazing dad who gave so much! Thank you mom for saying yes!

由 Janis Higgins 发布于 2018年3月27日周二
The video went viral as people fell in love with the selfless act, pointing out just how much love was present in the video in the 1,100 comments made by the million-plus viewers.
"The car wasn't even the best part," one YouTube user pointed out. "That long hug between father and daughter was it for me."
Others agreed, although some also pointed out that the way Frase spoke about the car showed just how much he had loved it—and therefore how much he truly loved his family to sacrifice the car for them.
"This made me cry," said someone else. "Cause he knew so much about his dream car. He remembered the date he bought it and even the license plate#!"
Clearly, the car meant a ton—but as Frase showed, family means even more.