When a regular customer walked into a barbershop in Brazil to have his hair shaved due to a cancer diagnosis, the barbershop employees surprised him by lining up to shave their heads, too.
He was left in tears.
A stirring video of the act of kindness went viral on TikTok, garnering over 828,000 likes and 12,000 shares.
Now, the former cancer patient, having since recovered, is using his viral publicity to give hope to others with the illness.
André Gonçalves has been going to Jhonn Barber for four years. He's close friends with the owner, João Diniz, who even helped out with André's wedding.
(Courtesy of Barbearia Jhonn Barber)
But even so, he didn't expect his barber friend to orchestrate such an emotional surprise.
"The feeling was very strong and inexplicable," André told The Epoch Times. "They turned a difficult moment into something memorable that got stuck in my heart.
"When he gave us the news of cancer, for us it was a very difficult moment [with] a lot of pain due to all the affection we have for him, and for all the joy he represents for us."
He added that they got the idea to surprise André after he asked Jhonn Barber to be the one to shave his head.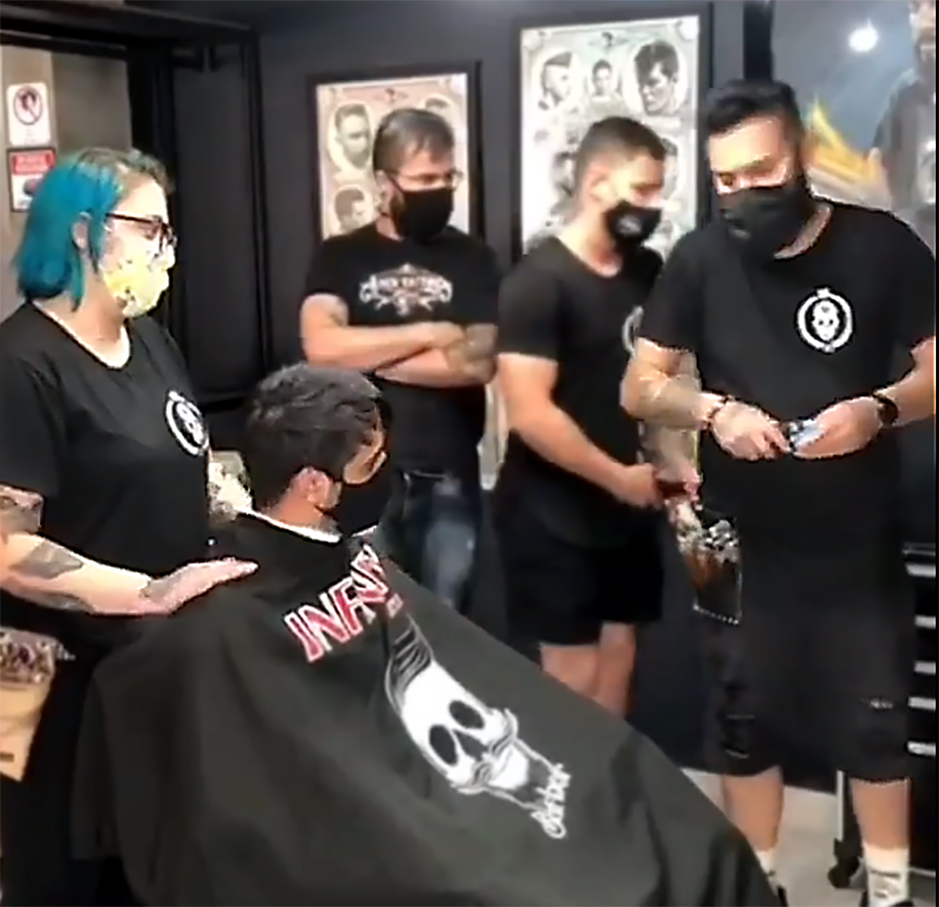 "I decided to shave my head because I knew that the treatment would make my hair fall out," explained André. "But I didn't want to let any disease decide anything for me.
"I decide how everything happens in my body and that is why I decided to shave and not wait for the disease to remove my hair."
João said, "He sent me the following message, 'It's years of you taking care of my hair and it won't be cancer that will bring [that] down.'"
Moved by his friend's request, the barber closed his shop for the day to offer some privacy and make the experience more comfortable for André.
As the barber was all set to shave André's hair, João unexpectedly began to shave his own, instead.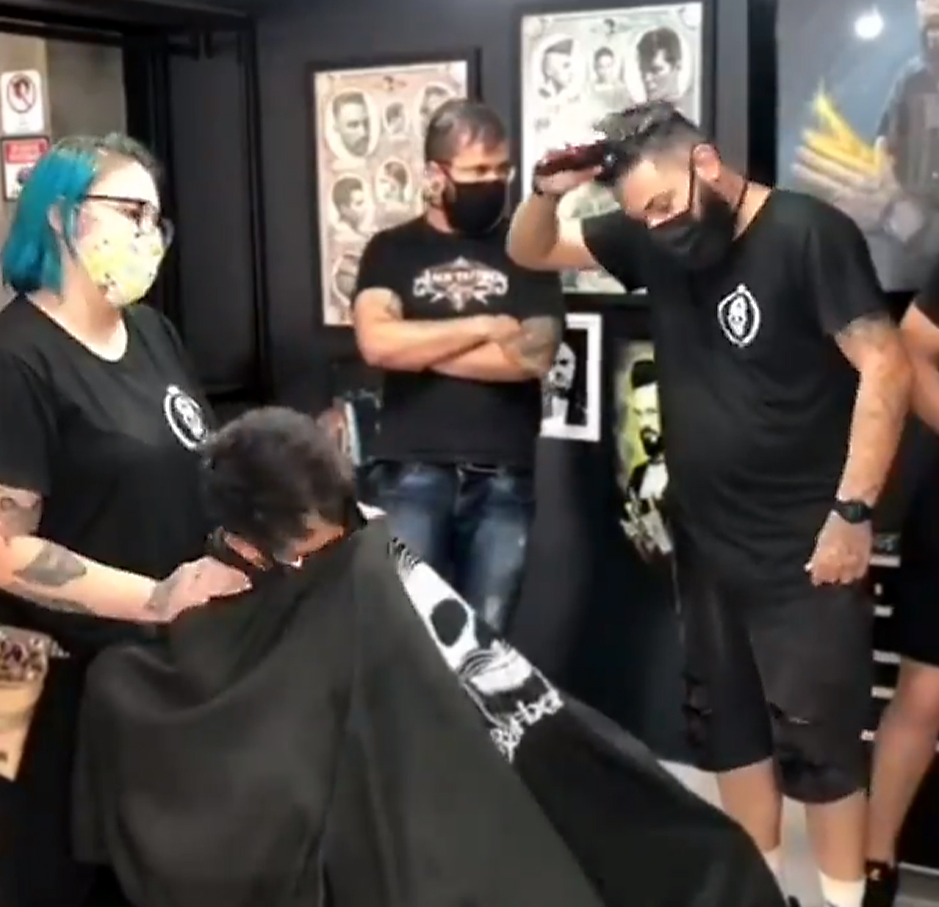 "I told him that in this fight he would not be alone, we are family and we always will be," said João. "Then we all started shaving our hair. The room was filled with emotion with so much crying everywhere."
André, who had come to the barbershop with his father that day, was deeply moved.
"When I saw the employees there to support me, I was already very emotional and it gave me a lot of strength," he said. "I sat on the chair and they all stayed around me and that was when João said a few words and started shaving his own hair, and soon afterward the other barbers also started shaving, and then my father and then the employees too."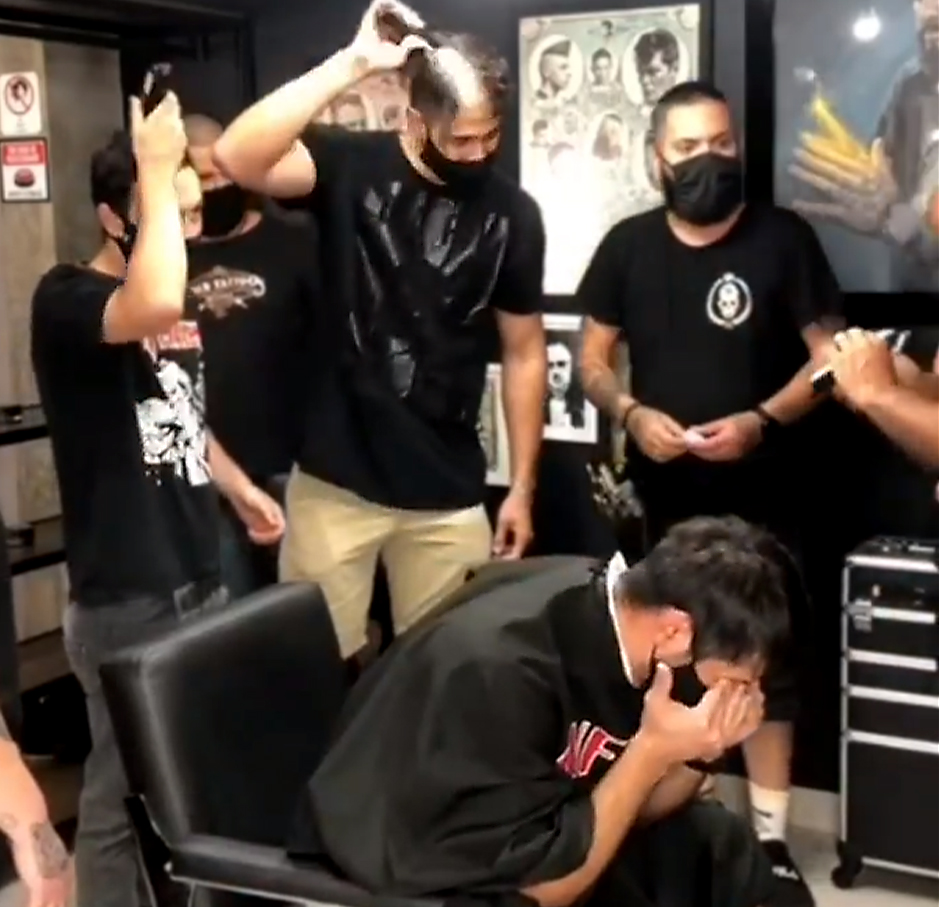 He says the experience gave him the strength to move forward with treatments with renewed hope.
"I realized that we must fight for the things that money does not buy because they are worth more than anything. That attitude was a fuel [and] a motivation for me throughout the treatment," André said.
The barber and his employees continued to support André throughout his treatments, as well.
"I even prayed with him at the time of chemotherapy," João recounted, "he had so many people praying for him that there was no way he could not be cured."
Now, André is using his experience to give hope to those who have been diagnosed with the disease.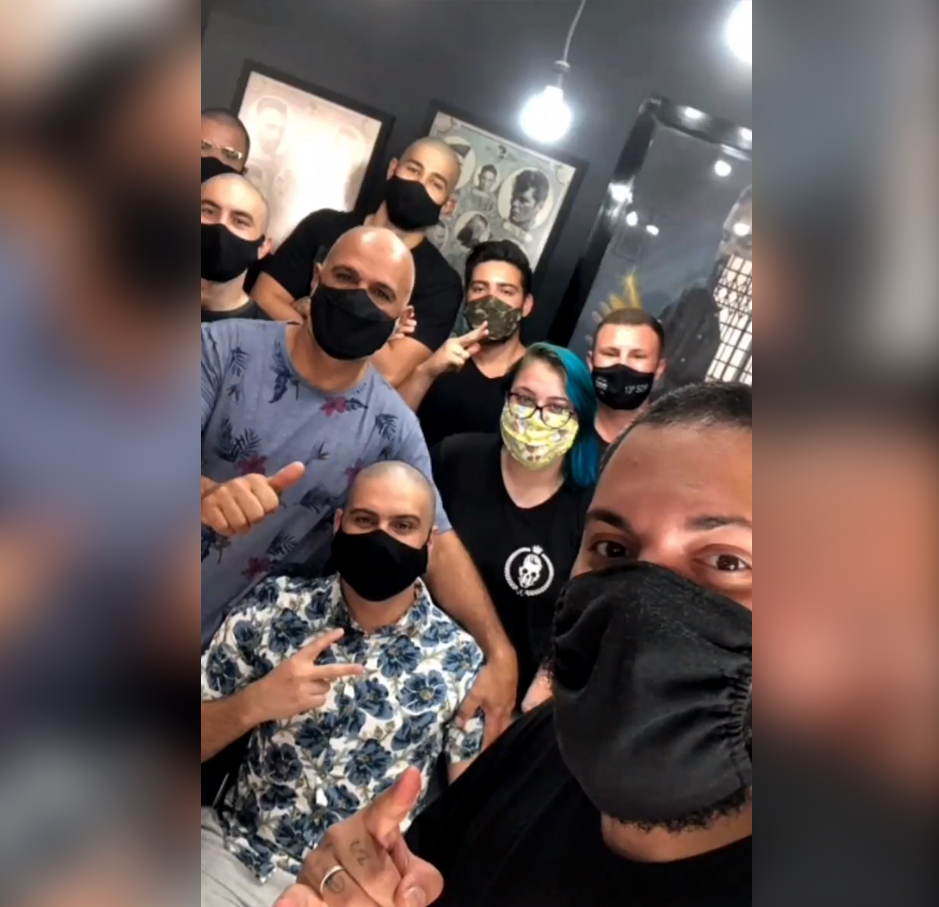 "The video touched a lot of people and has been playing until today," he said. "I decided to publish my treatment progress daily to my followers.
"I helped thousands of people by showing my daily battles and how I dealt with the disease. My struggle motivated and helped thousands of other people who are experiencing the same problem."
João added: "This for us is immeasurable … And we thank everyone for so much love that we are given."
Hope is one of the most important factors to surviving cancer, according to a Stanford University study.
"You can be told you have a 90 percent, or a one percent chance to survive," the publication quoted from Lance Armstrong, a famous cancer survivor. "But as long as you take that chance, and believe in yourself and are a brave person, and then want to be better than before … I'm living proof that you get a second chance, and the second time around is better than the first."
Share your stories with us at emg.inspired@epochtimes.com, and continue to get your daily dose of inspiration by signing up for the Epoch Inspired newsletter at TheEpochTimes.com/newsletter