As Americans, we're all aware of the siren call of go-to Italian getaways such as Positano, Florence, Rome, and even the beaches of Sicily. Many of us flock to these destinations each year like flies to honey. But with such places in their backyard and plenty of less-crowded alternatives available, where do the Italians vacation within their own beautiful country?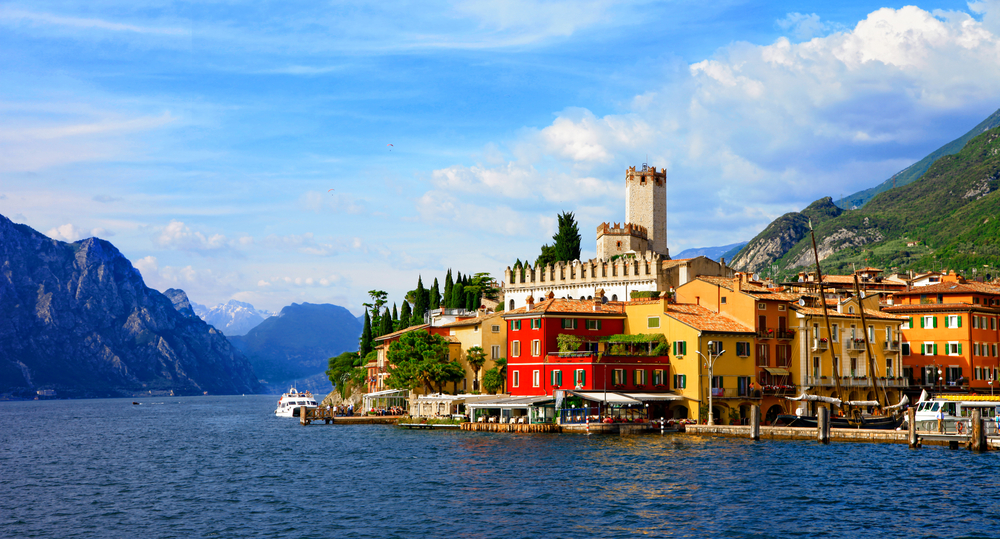 One popular choice is Lake Garda or Lago di Garda in Italian. Located in northern Italy, with its shoreline shared between the regions of Lombardy, Trentino-Alto Adige, and Veneto, this 143-square-mile lake is the largest in Italy and has a maximum depth of 1,135 feet. However, the real appeal isn't the lake's impressive depth but what awaits on its surface: the lake is popular among those interested in learning (or practicing) wind and water sports such as sailing, windsurfing, kitesurfing, and even foilboarding.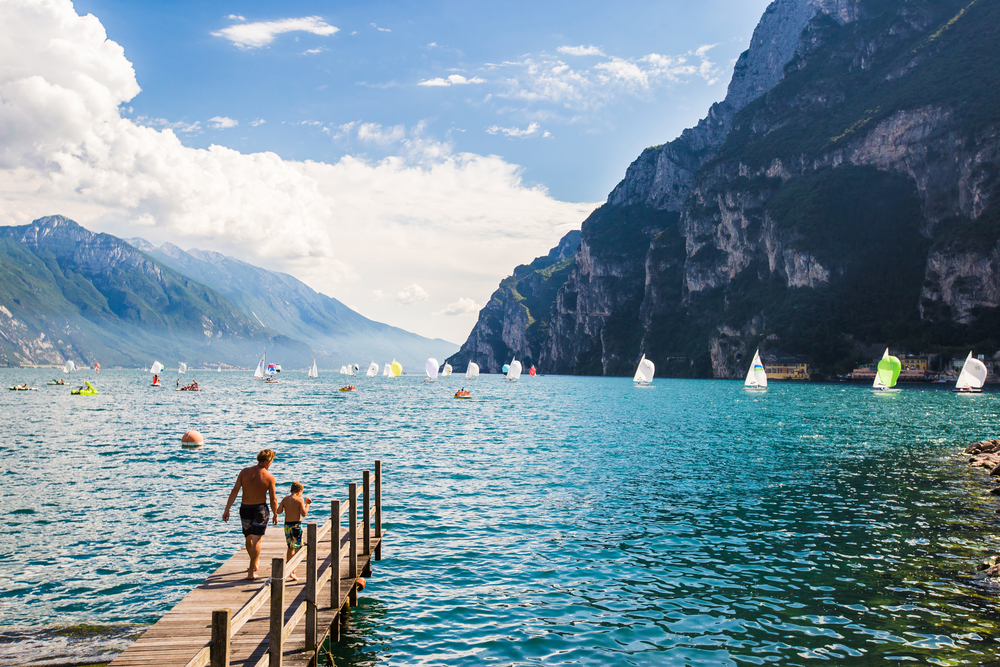 What struck me most about our recent month in Lake Garda was how few fellow Americans we met. Those clued into this glorious destination are mostly German tourists or Italians themselves; it's not a hidden gem for most of Europe, but Lake Garda certainly seems to fly under the radar of Americans.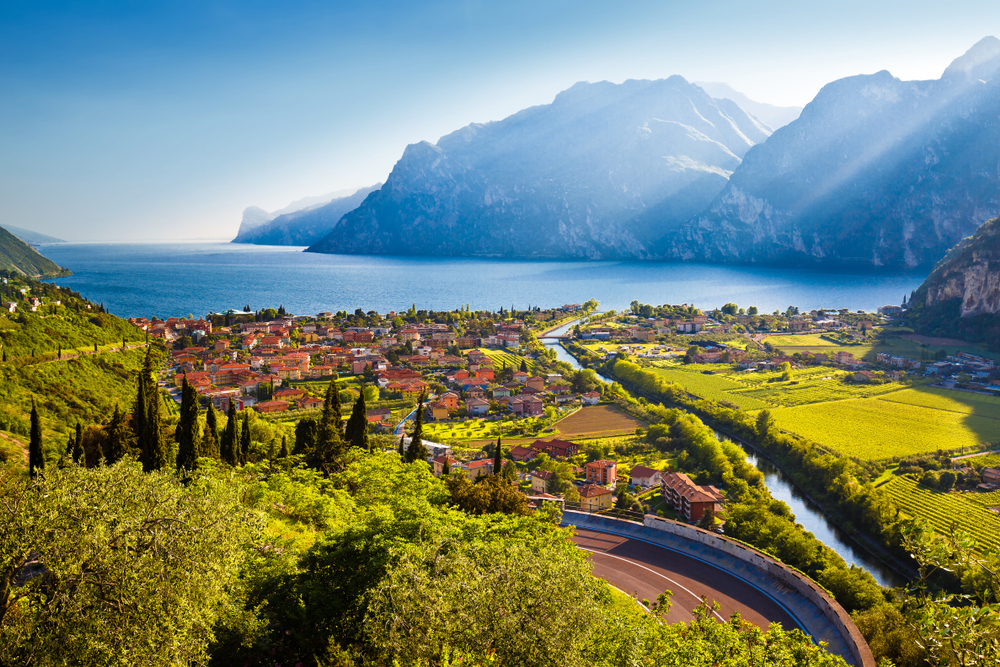 The perfect place to spend a summer or even just a fun-filled couple of weeks, Lake Garda is best for active travelers eager to burn lots of calories—and then replace them in the form of mouthwatering pizzas, fresh handmade pastas, and creamy cups of gelato.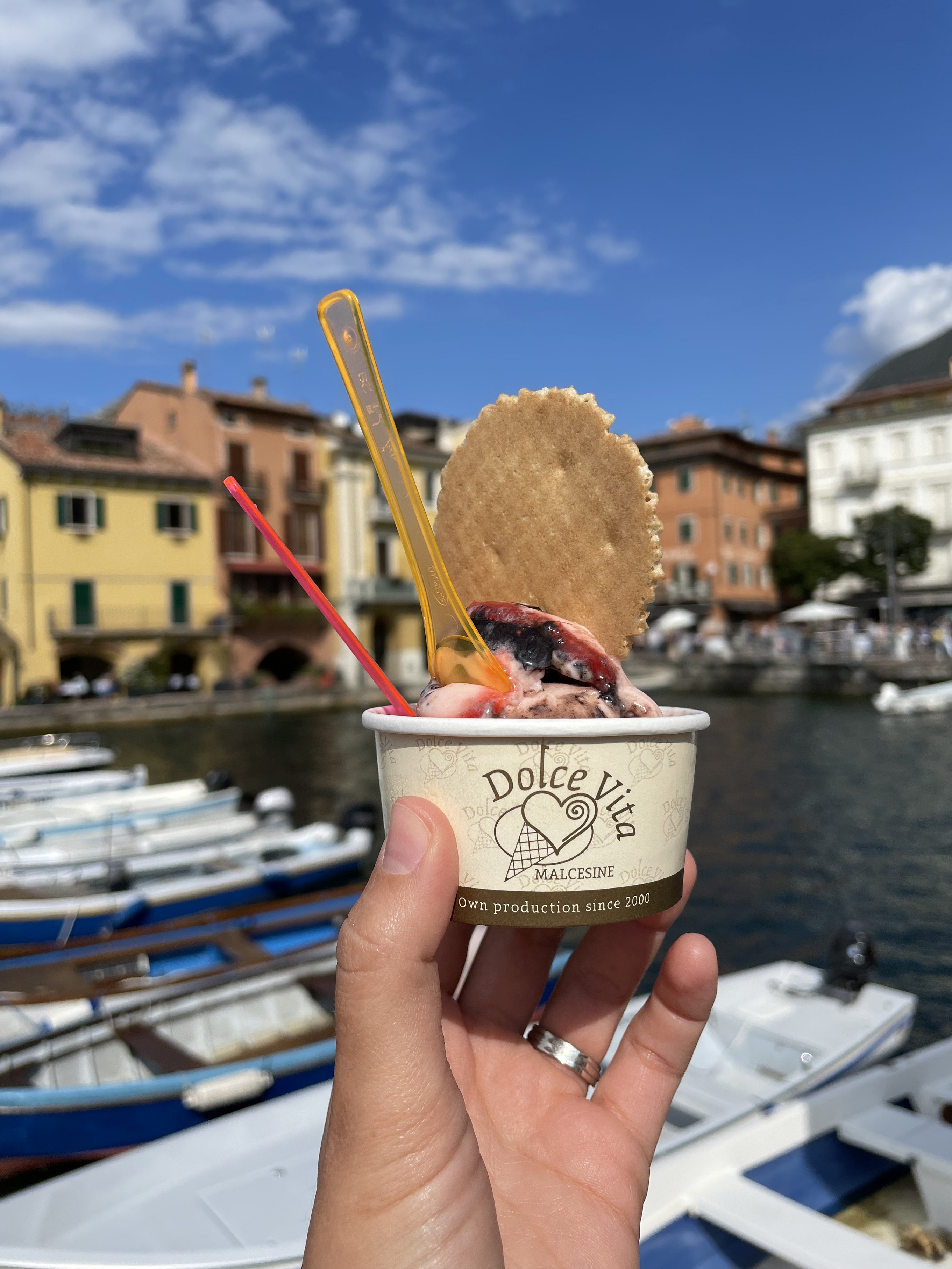 The Basics
There are documented references to Garda tracing all the way back to the eighth century, so it seems the lake has drawn people to its shores for centuries. A town on its northern end, Riva del Garda, shares its name, which stems from the German word warda, meaning "place of guard."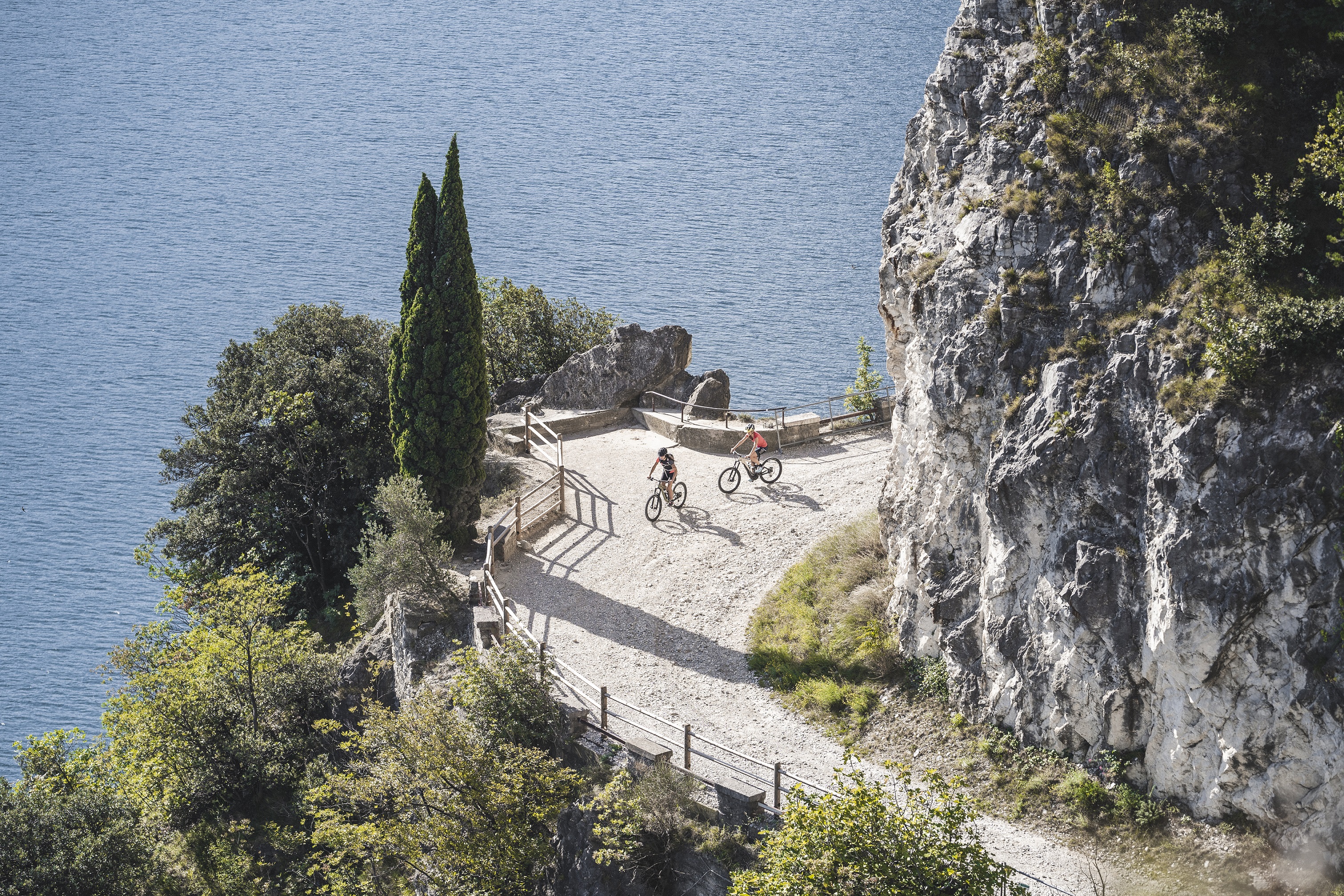 While Venice, Verona, and Milan are the closest big cities, Lake Garda itself is lined with tiny towns along its length of 34 miles (its width varies from two miles at its narrowest to 11 miles at its widest). At the north end, the lake backs up to the Dolomites, but it's framed by sheer cliffs and rocky mountains around nearly its entire perimeter—so it not only appeals to travelers who love the water, but also hikers, bikers, and climbers. It's an active traveler's paradise—a haven for adrenaline junkies and water- and wind-sport enthusiasts.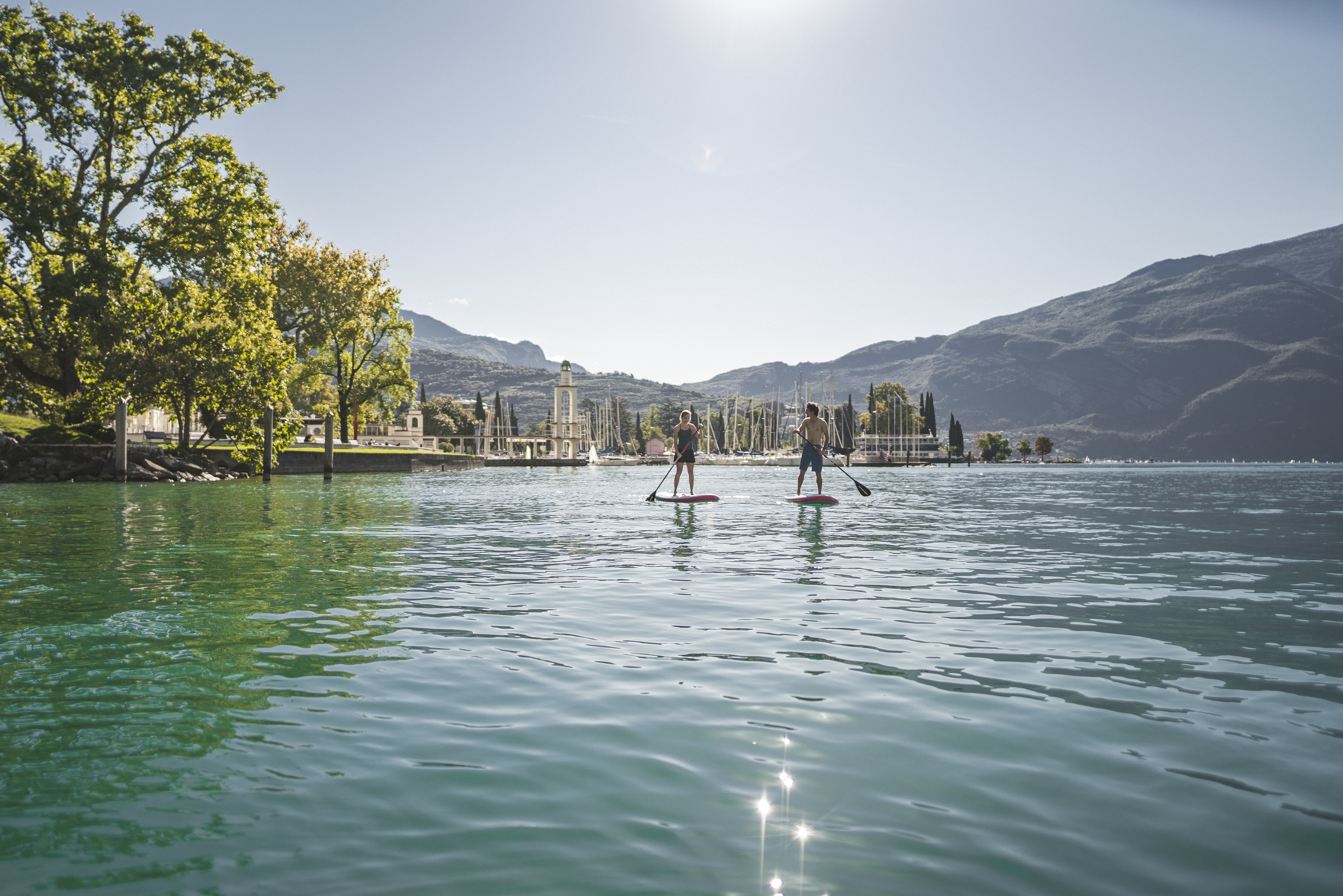 If you seek a laid-back Italian vacation with great food and ample culture, Lake Garda is admittedly not the best place to spend your prized time off. But if you want to learn to windsurf, kitesurf, sail, or be near crystal-clear waters while enjoying the charm of breathtakingly beautiful Italian surroundings, Lake Garda is unbeatable.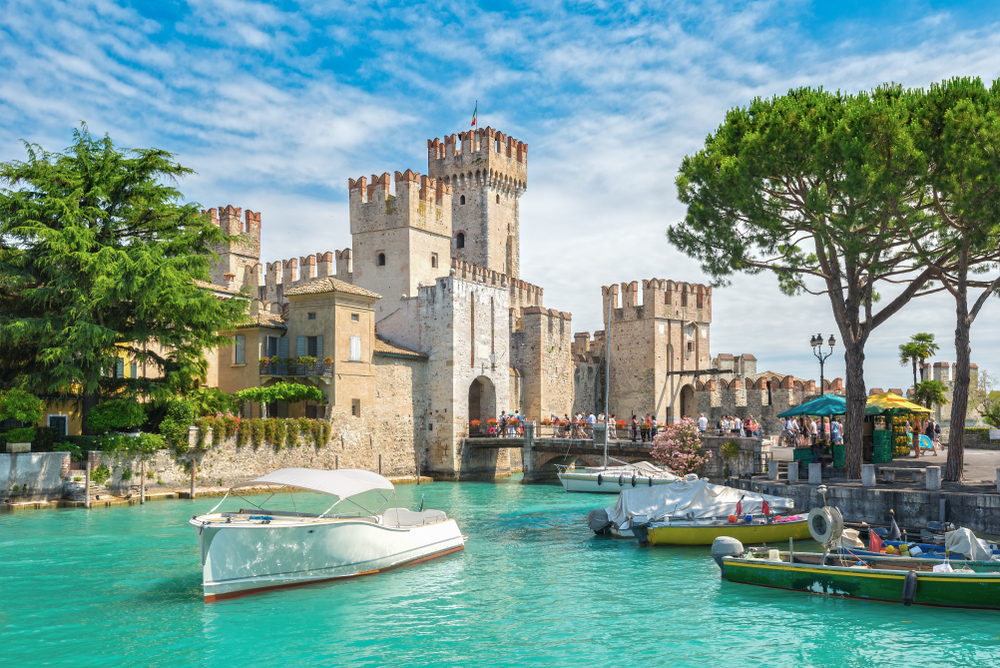 Here, you can learn a wind or water sport amidst striking scenery, a mass of deep blue surrounded by rocky mountains on almost all sides. Or you can head to Monte Baldo in Malcesine for a paragliding adventure, tackle the 87-mile Garda by Bike cycle path, or set out on any of the lake's signposted routes (there are more than 70) to hike or walk. There's something for everyone, so long as you're ready to get your heart rate up.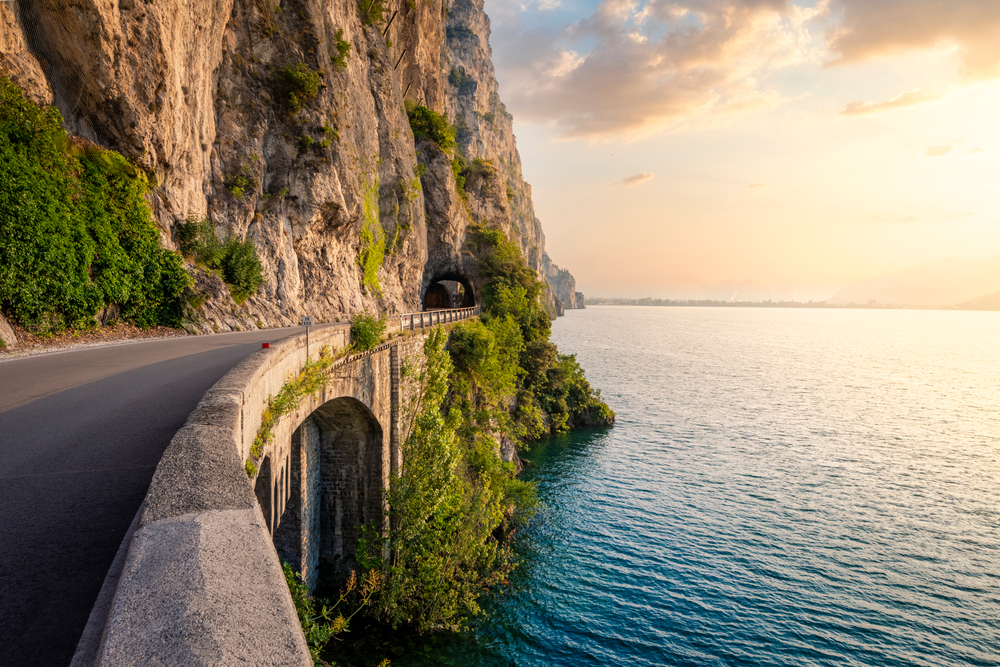 Charming Lakeside Towns
While all of Lake Garda has an adventurous appeal, each town has a distinct flair of its own.
On the northern end, Torbole sul Garda is a picturesque village with various windsurfing schools and bike rental shops; the sporty town has a gorgeous lakeside promenade and several rocky beaches. A nearby vineyard and olive grove, Madonna delle Vittorie, is another attraction.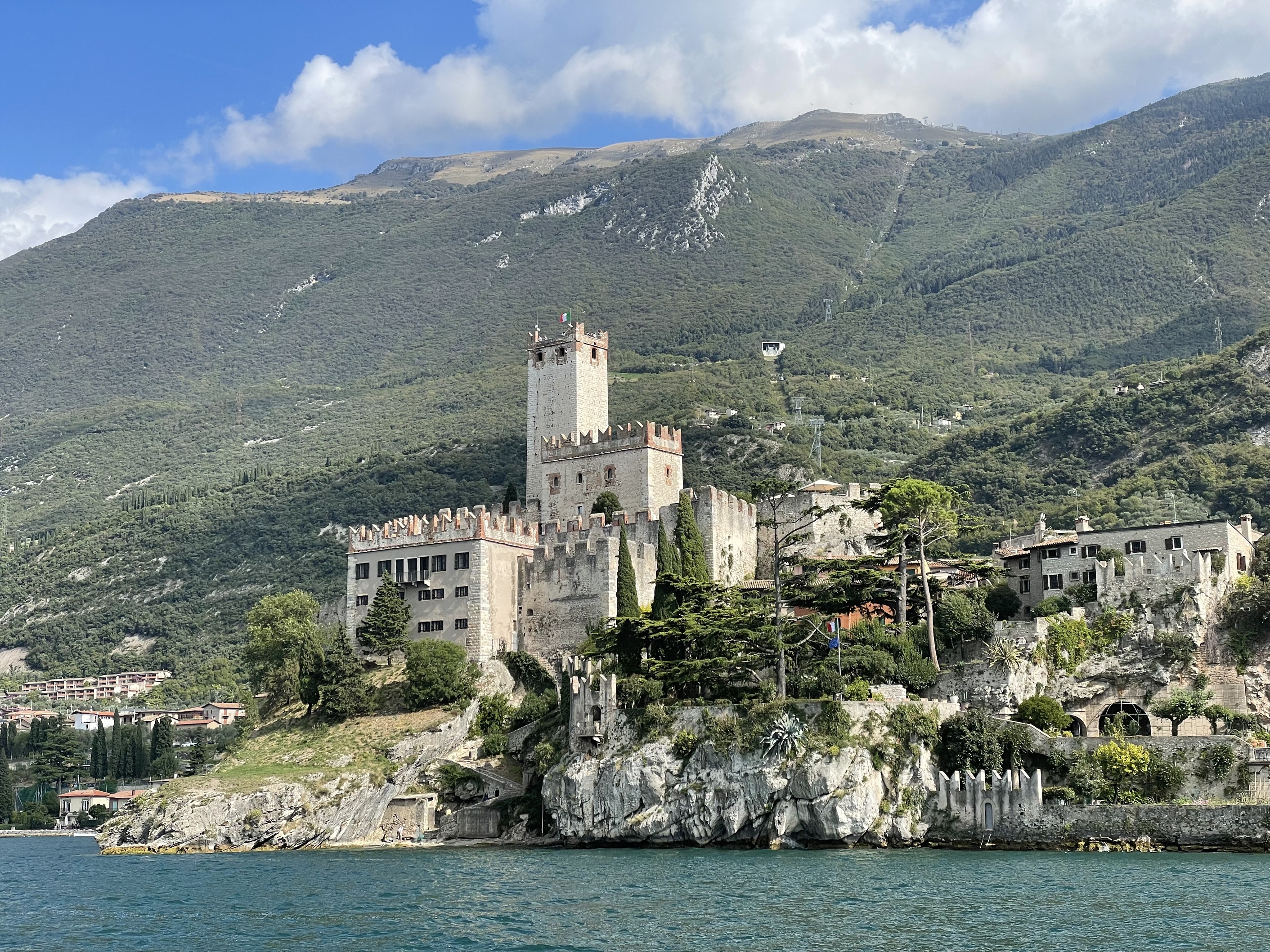 The next town over, Riva del Garda, is another popular spot on the northern end of the lake, and it's easily accessible by bike (or long, leisurely lakeside walk) from Torbole. It has all the charm of an Italian village with lots of shops and restaurants, plus a funicular that ascends up the side of the mountain to the fortress of Il Bastione, which offers breathtaking views over the lake.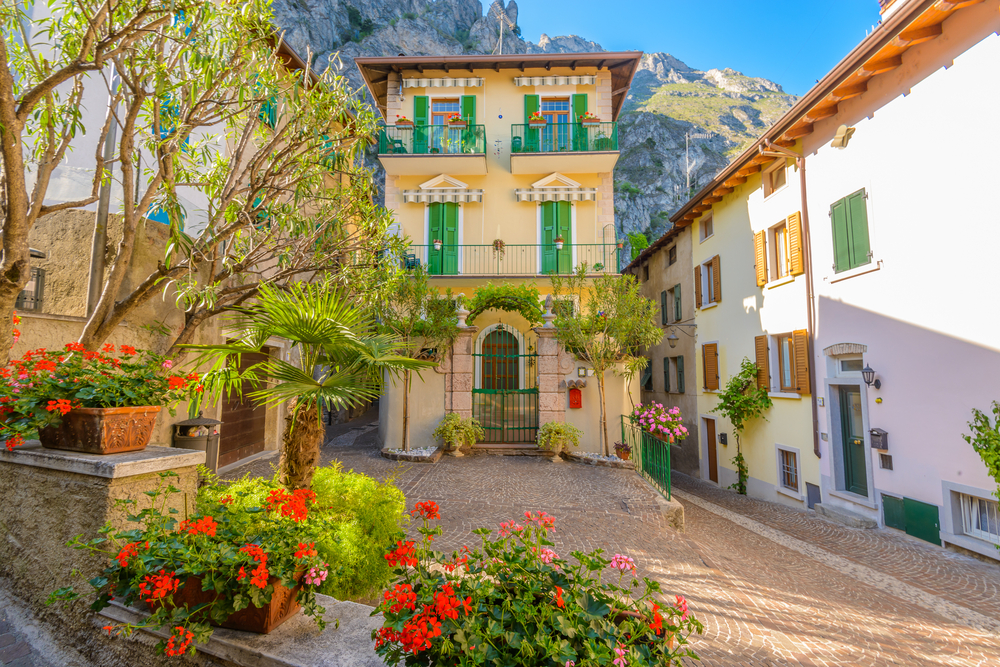 Also toward the northern end of the lake, Limone on the western shore is delightfully lemon-themed (the area was once known for its groves of lemons and other citrus) while Malcesine on the eastern shore has a medieval castle and a maze of historic streets to wander, plus a mountain with a long cable car to the top (where you can ski and snowboard in winter).
At the southern end of Lake Garda, the town of Sirmione is one of the most popular towns on the lake, thanks in part to the gorgeous 13th-century Castello di Sirmione. The thermal pools, saunas, and steam baths of Terme di Sirmione are another major draw of the town.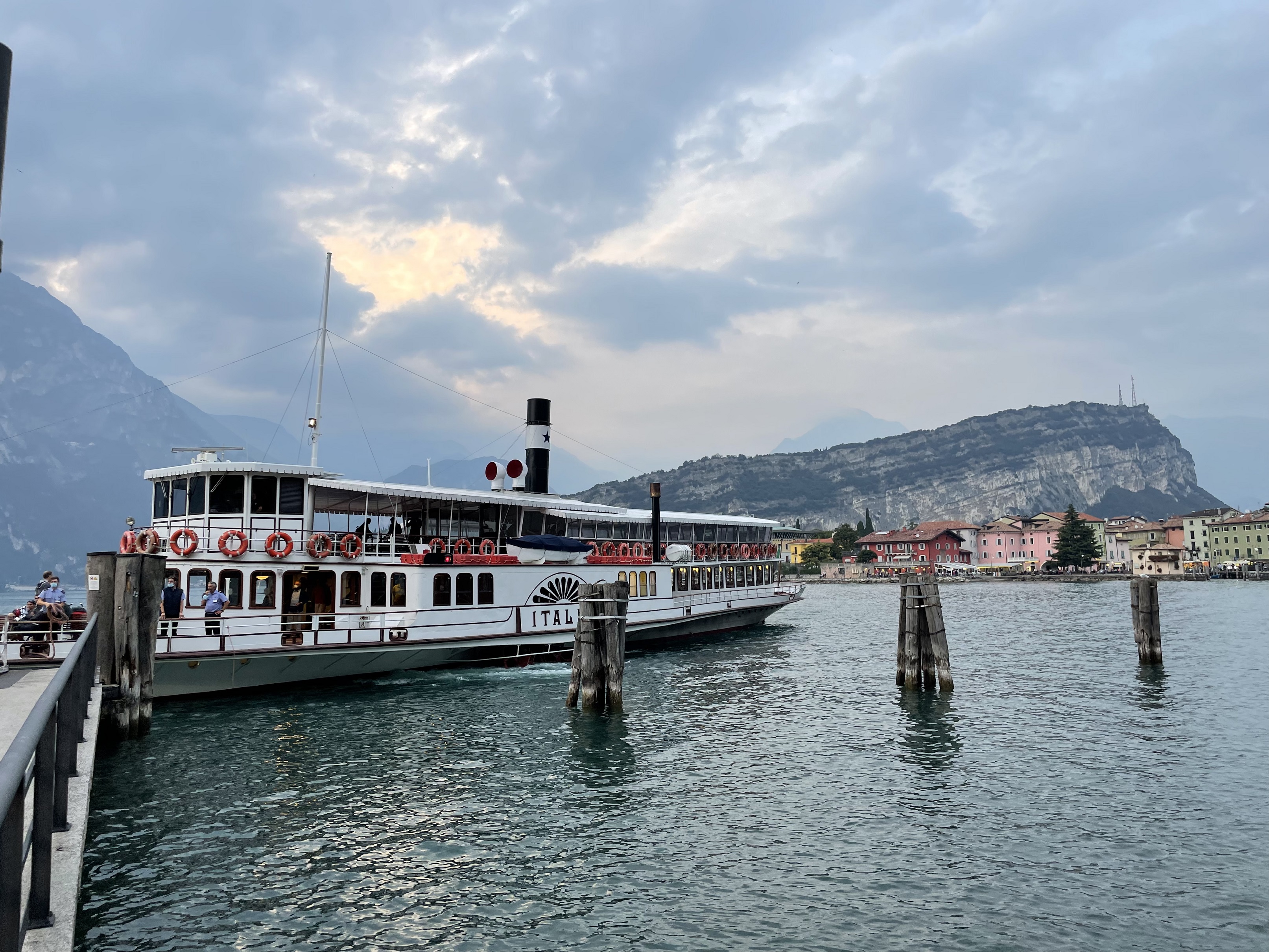 Nearby, you can stay in the popular resort town of Peschiera del Garda to be close to Gardaland Resort, one of the largest theme parks in Europe and arguably the best in Italy.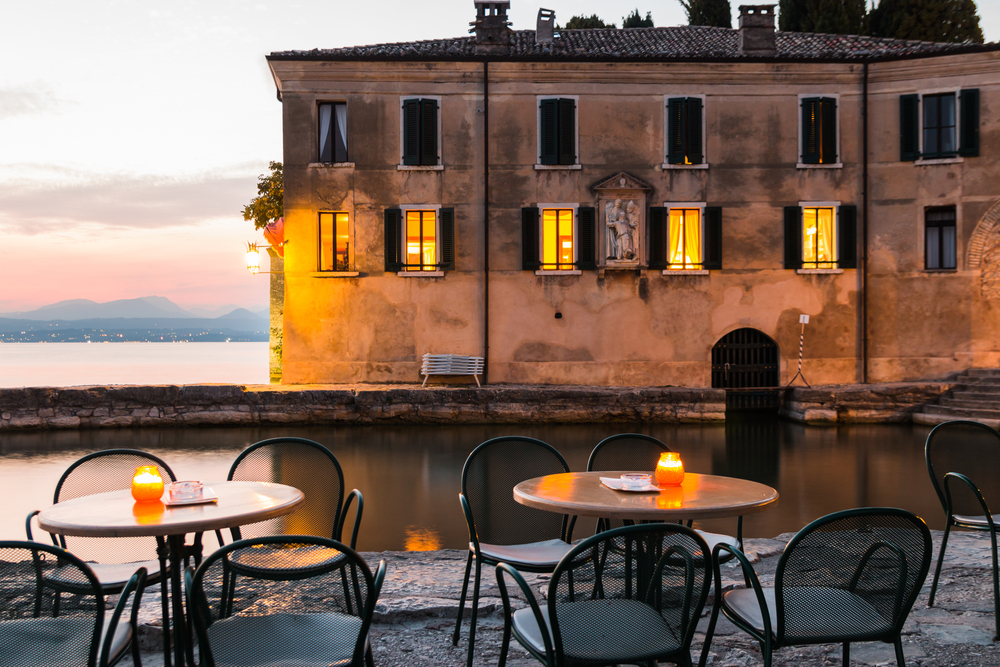 Getting Around
The ambitious among us might set out on a visit to Lake Garda with hopes to cover a lot of ground, but keep in mind that the lake is the largest in Italy, so seeing all of its towns on one trip might be more of an undertaking than you'd expect. It's not necessarily a quick jaunt from one end of the lake to the other.
Still, there are a lot of ways to get around Lake Garda. As in all of Italy, there are train routes connecting many nearby towns, which makes the lake easy to reach from larger cities such as Venice and Milan.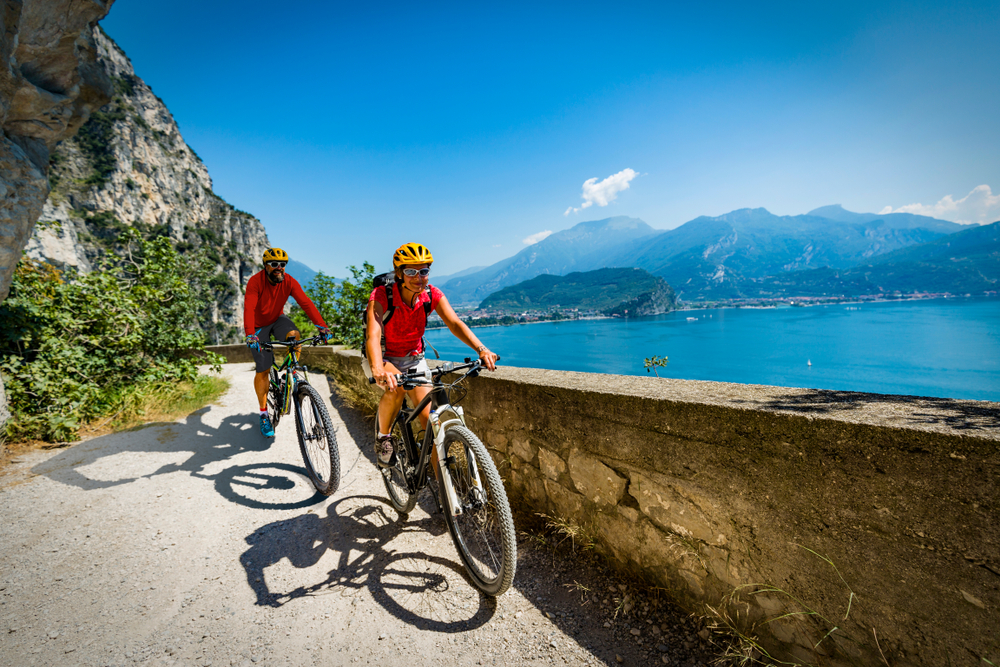 However, once you get to Lake Garda, there are no trains between most of the small lakeside towns themselves; instead, they're connected primarily by bus routes around the lake—and ferries across it. Buses run regularly every day, especially during the peak summer season, but the ferry system is another good option. Hopping between towns in the same vicinity takes at least half an hour, but if you want to cross the entire lake, that'll take you about five hours by ferry (or two and a half hours by bus, or a little over an hour by car). Make sure to check posted timetables upon arrival, as the transportation schedules change each season.
Renting a car or Vespa scooter is another option for those comfortable driving in Italy, but with the bus and ferry system available, it's not a must. A visitor's best bet is to stick to the northern or southern end of the lake and then town-hop in that area, whether by day trips on the ferry or overnight stays in the towns you're most eager to explore.