The U.S. Department of Homeland Security issued new rules Feb. 2 to place restrictions on Americans who recently have visited China in an attempt to curb the spread of the coronavirus that has ravaged several cities in China.
Homeland Security said it will now begin to enforce "restrictions for all passenger flights to the United States carrying individuals who have recently traveled from" China, which will be implemented on flights after 5 p.m. New York time on Sunday, according to a news release.
The new rules will restrict American citizens who have gone to China within the past 14 days of their arrival, the agency said.
Americans who have been to Hubei Province, of which virus epicenter Wuhan is the capital, will have to undergo up to 14 days of mandatory quarantine upon returning to the United States, the agency said. This will be done to determine whether those individuals have contracted the contagious virus and ensure they don't pose a health risk to others.
Foreign nationals who are not immediate family members of American citizens, permanent residents, and flight crew who have gone to China within 14 days won't be able to enter the United States, said Homeland Security.
The Trump administration is limiting flights from China to seven major U.S. airports for enhanced screening, including the John F. Kennedy International Airport, Chicago O'Hare International Airport, San Francisco International Airport, Seattle-Tacoma International Airport, Honolulu's Daniel K. Inouye International Airport, Los Angeles International Airport, and Hartsfield-Jackson Atlanta International Airport.
While the overall threat to the U.S. posed by the coronavirus is low, it's necessary to mitigate "all flights with passengers who have recently been in China" to decrease the pressure on "public health officials screening incoming travelers," Wolf said.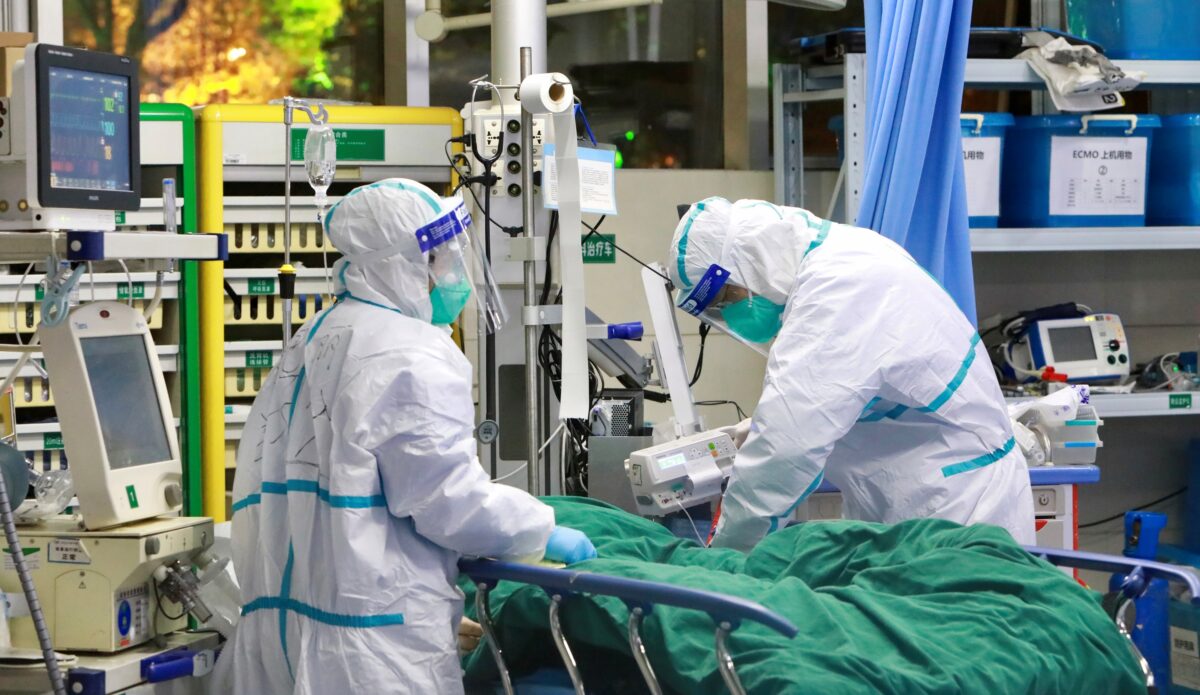 "We realize this could provide added stress and prolong travel times for some individuals, however public health and security experts agree these measures are necessary to contain the virus and protect the American people," he added.
Dire Situation
Over the weekend, the Chinese regime locked down more cities in Hubei Province and also placed restrictions on the movement of residents in Wenzhou, a port city located in China's coastal Zhejiang Province. Only one member from each family in the city can be out buying goods every two days.
What's more, the major southern Chinese city of Shenzhen, located near Hong Kong, reported that three new cases of coronavirus involved people who did not travel to Wuhan in recent days.
They have not left Shenzhen in the past 14 days, Kong Dongfeng, deputy director of Shenzhen's Center for Disease Control and Prevention said, according to a Feb. 2 article by Chinese news portal Sina. Kong said the three did not come into contact with people with acute respiratory symptoms.
Residents in Wuhan have also suggested to The Epoch Times that the coronavirus outbreak is far worse than what the Chinese regime has told the rest of the world.
"Now I have had a fever for three days, my mother has a fever too, and so does my sister-in-law. We have no one to take care of us… we can't go out… we can only sit at home and wait for death," said Hu Weili, a teacher from Hangzhou City who recently visited her parents in Wuhan.
Another woman, who only gave the surname Yu, made a plea via her children on social media. "My mother contracted Wuhan pneumonia and the hospital hid her illness. She was in bed for 12 days with high fever… The Communist-appointed community center director said he could not arrange a hospital bed and suggested waiting to die at home. My father was also infected and had to take care of my mom. They have no medicine, no food, no treatment. Please help them!" the post read. "The Chinese Communist Party (CCP) has shown total disregard for human life by shutting down the city without providing food and medicine to the people."