It's 6:45 a.m., pitch dark, eerily quiet, and I'm still half-asleep as I carefully follow my guide on a stony trail on the side of Pico do Arieiro, Madeira's third-highest mountain.
We lay down the blanket, pour a much-needed coffee and then we wait. And wait. And wait. Suddenly, the birds begin to sing, the sky changes quickly from almost black, to gray, and then to orange. Only a few minutes later, the sun pierces the horizon and rises above the ocean.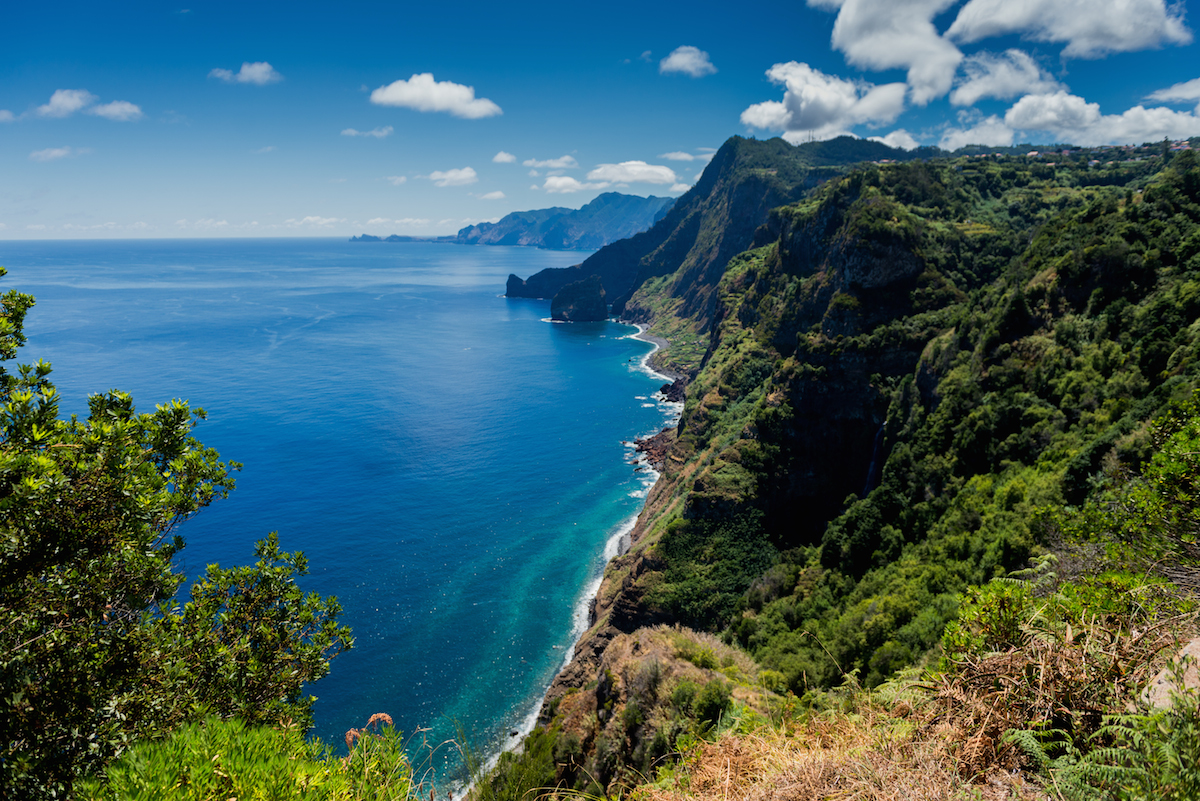 All tiredness gone, I enjoy every minute of this awe-inspiring and somewhat humbling experience. For a city slicker like me, the wonders of nature don't come along that often.
The volcanic island of Madeira, about 360 miles off the west coast of Africa or 90 minutes by plane from Lisbon, is Portugal's most exotic and geographically diverse destination. Unlike some European party islands such as Ibiza or Mallorca, it attracts a slightly older clientele, and raving is limited to gushing about the island's rugged cliffs, which rise steeply from the sea, the evergreen flora and fauna, and the lush flower gardens. 
In the afternoon, I join a group of hikers on my first "levada" walk. Levadas are man-made irrigation channels dug into the rock to carry water from the mountains to the lower-lying farmlands, a system that still works today.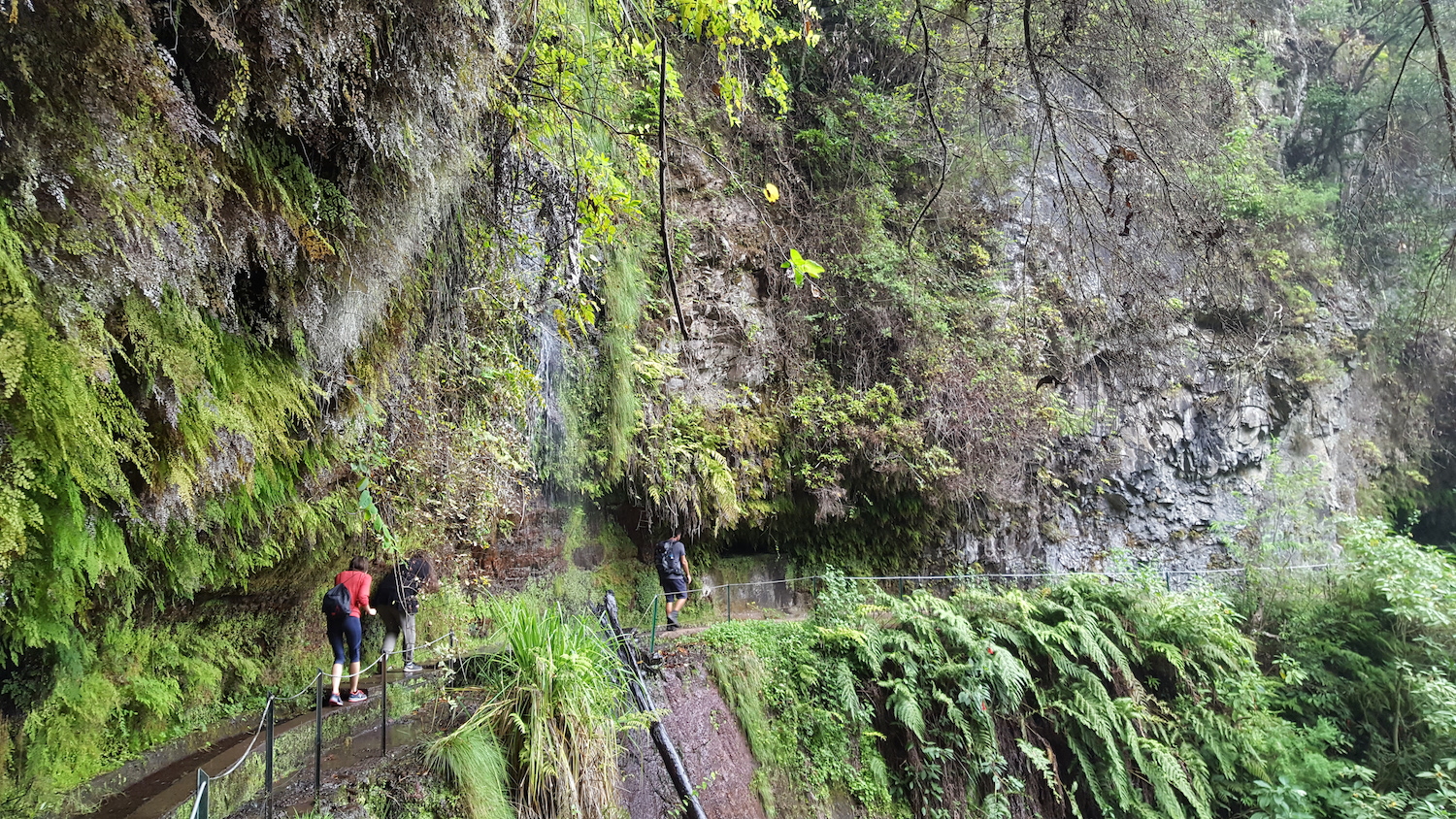 "I pay a very small fee for my levada water," says guide Fabio Castro. "For that, I get a weekly, hourly slot during which the water gets diverted to my property. I can irrigate my garden but also store any excess water."
There are hundreds of miles of levada walks, many of them passing through the more-than-50-million-year-old Laurissilva Forest, a precious natural environment only found in Madeira, the Azores, and the Canary Islands. I walk next to the gently sloping water channels past some indigenous vegetation before breaks in the trees reveal views over grand gorges. Before long, I'm sprayed by rushing waterfalls and swallowed again by jungle. 
Subtropical Climate
Madeira has a subtropical climate, thanks to the Gulf Stream, which results in a wide variety of flora including some rare orchid species. On the island's plantations, there are bananas, avocados, custard apples, cherries, and papaya. 
"My pregnant wife is craving these," Castro says with a laugh, as he pockets a handful of banana passionfruit.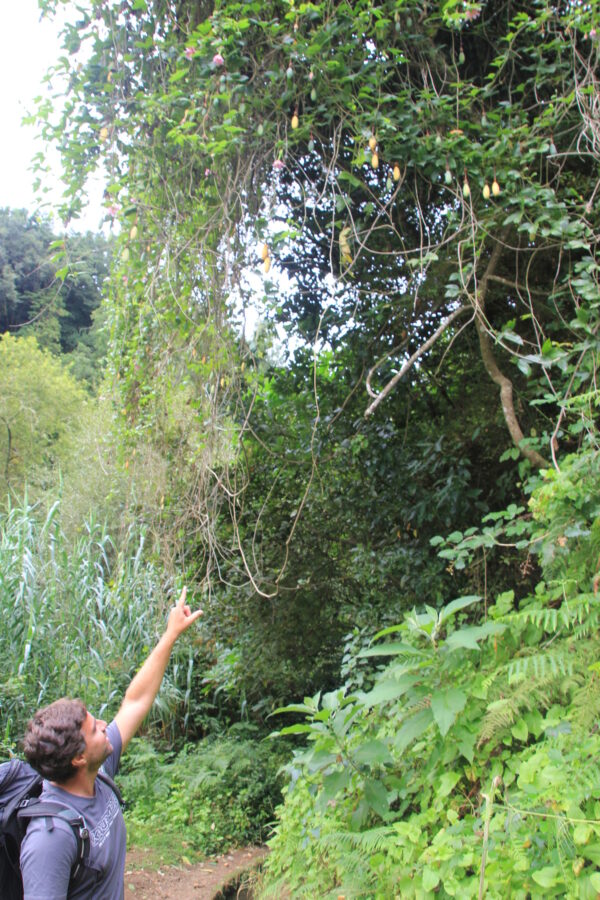 The island's natural and introduced resources, as well as its geostrategic position, made it an important port of call in the Portuguese Age of Discovery, which led to the discovering and mapping of the coasts of Africa, Canada, Asia, and Brazil in the 15th and 16th centuries.
It's believed that explorer João Gonçalves Zarco, who discovered Madeira exactly 600 years ago, in 1419, named the island "Madeira," which means "timber" or "wood." Colonization began soon after, and the introduction of agricultural crops such as cereals and sugar turned the capital Funchal into a commercial hub, though one of the island's most famous exports, Madeira wine, was born by accident.
How Madeira Wine Came About
To prevent the fine grapes from spoiling, a small amount of distilled alcohol made from cane sugar was added during the long sea voyages. The heat of the ship's hold dramatically improved the wines, making them more complex, as well as stable and capable of aging almost indefinitely.
The 18th century was the "golden age" for Madeira. The wine's popularity extended from the American colonies and Brazil in the New World to Great Britain, Russia, and Northern Africa. It was a favorite of Thomas Jefferson's, and was used to toast the Declaration of Independence in 1776. George Washington, Benjamin Franklin, and John Adams are also said to have been connoisseurs of Madeira wine. 
Its fortified charms are lost on me, though, and instead, I take a shine to the islanders' local drink. Madeirans process their small sugar-cane crop into a sweet distilled liquor called "aguardente de cana," then mix it with fresh lemon and honey into a cocktail called "poncha." And it's delicious!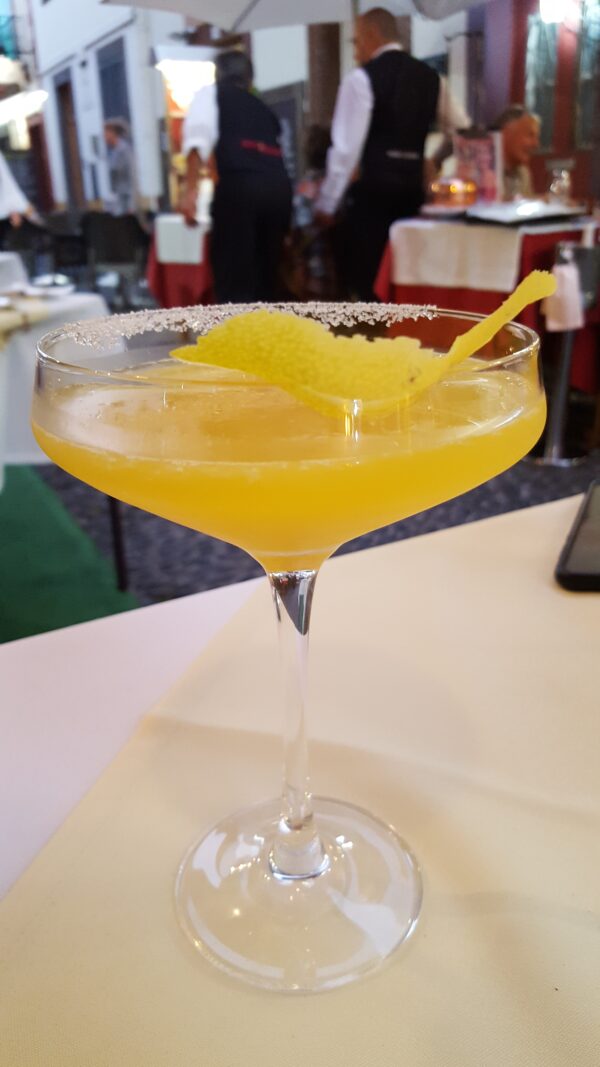 Another delicious local specialty is a meal of fried black scabbard with banana. The fresh fish are sold at the Mercado dos Lavradores, Funchal's famous farmers market. I wonder about the eerie, zombie-like appearance until a fisherman explains that black scabbard is a deep-water predator, and its eyes turn milky when brought up from the depths of the ocean.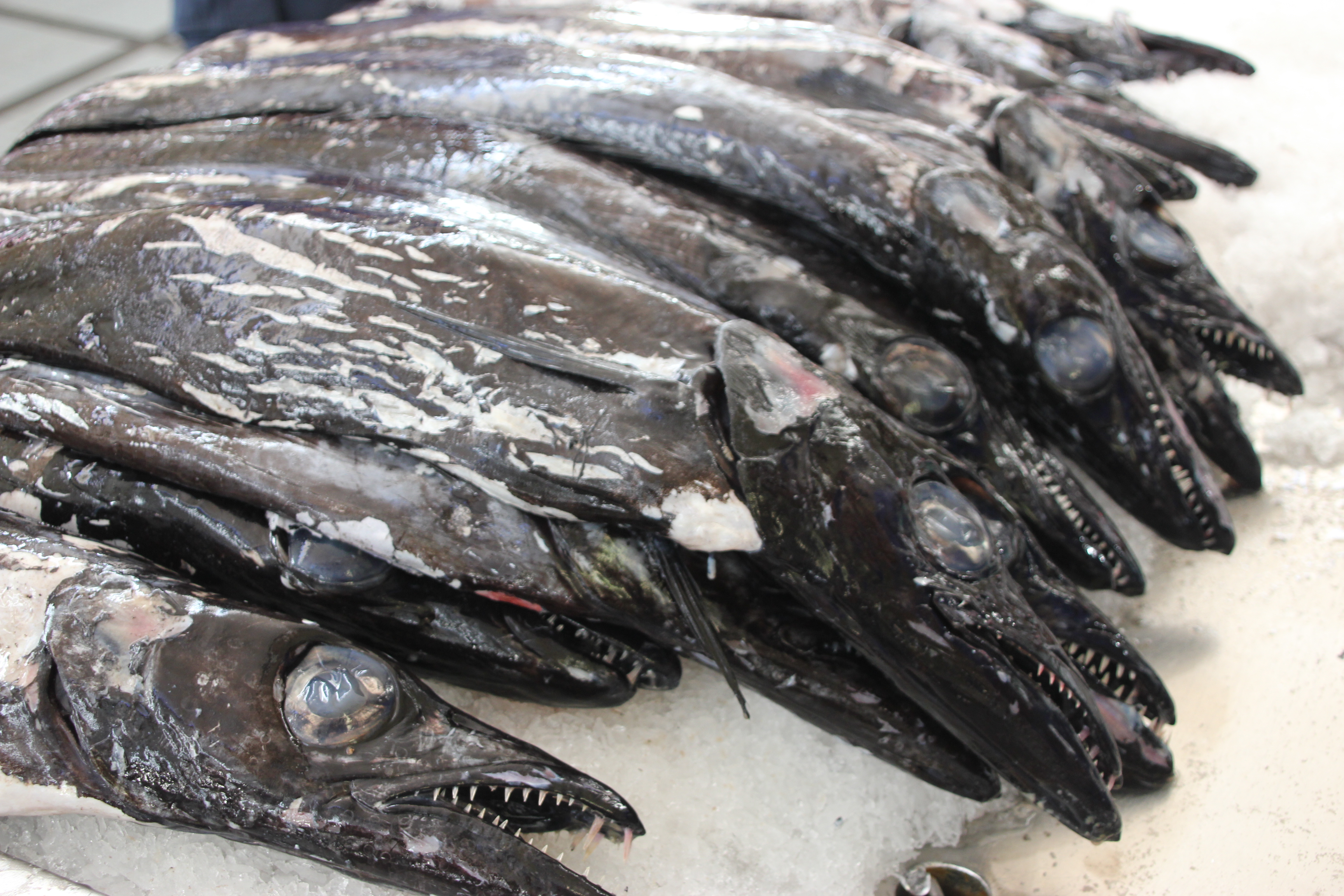 Several times, I try to find Madeira cake on the menu but to no avail. 
"Madeira cake as you know it has nothing to do with our island," laughs a Madeira local, Luís Gonçalves. "It was actually named after Madeira wine, with which it was served in England in the 18th century." 
He directs me to Fábrica Santo Antonio, where the traditional Madeira cake—bolo de mel, a dark, spicy, honey cake—has been made since 1893. 
"When we serve it, it is customary not to cut the cake, but rather to tear pieces off by hand," explains the shop assistant.
Embroidered Treasures
An even older tradition is Madeira embroidery, which dates back to the early days of colonization, but it wasn't until the second half of the 19th century that the fabric was sold offshore. English traders established in Funchal began exporting embroidered pieces to England, with Germans and Americans following suit.

"Unfortunately, ours is a dying art," says Marcia Gomes at the Bordados da Madeira, a manufacturer and exporter of Madeira embroidery. "We have about 400 women working for our company on the island but the youngest is 45 years old, and embroidery isn't taught in the local schools." 
The women pick up fabrics such as linen, natural silk, organdy, or cotton at the factory in Funchal, then return it completed to be paid by stitch. The most expensive item on sale is a tablecloth for $4,000, which takes a year to finish—clearly too big for my hand luggage (or pocket). I buy a small lavender bag instead.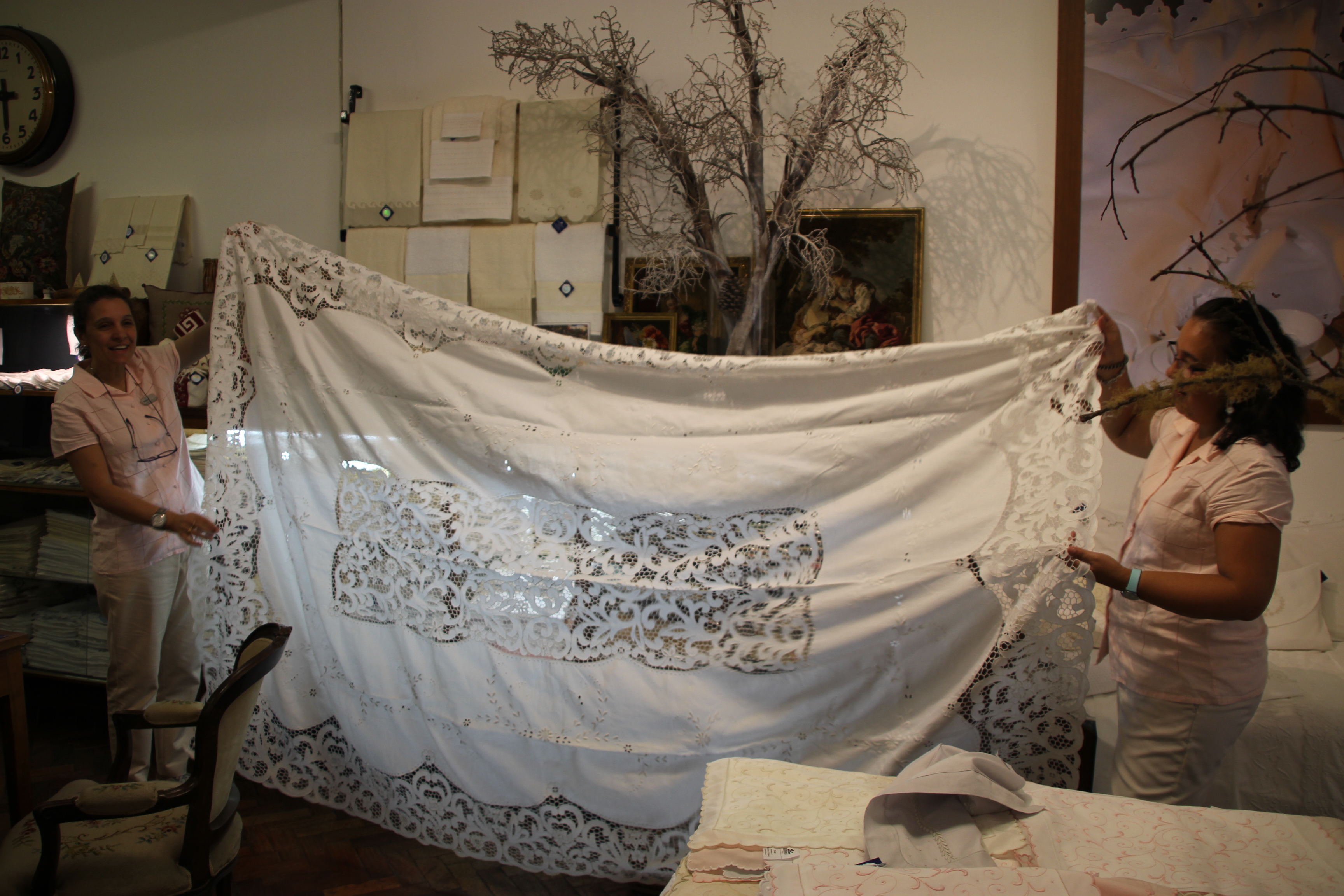 With purchase in hand and muscles aching from hiking, I choose to forego yet another climb in the steep hills of Funchal and take the cable car up to the hilltop district of Monte instead. After gently gliding up for 15 minutes, I'm rewarded with sweeping views of the ocean, the city outskirts, and surrounding mountains. Atop, I stroll through Monte Palace Madeira, a tropical garden with a huge exotic plant collection.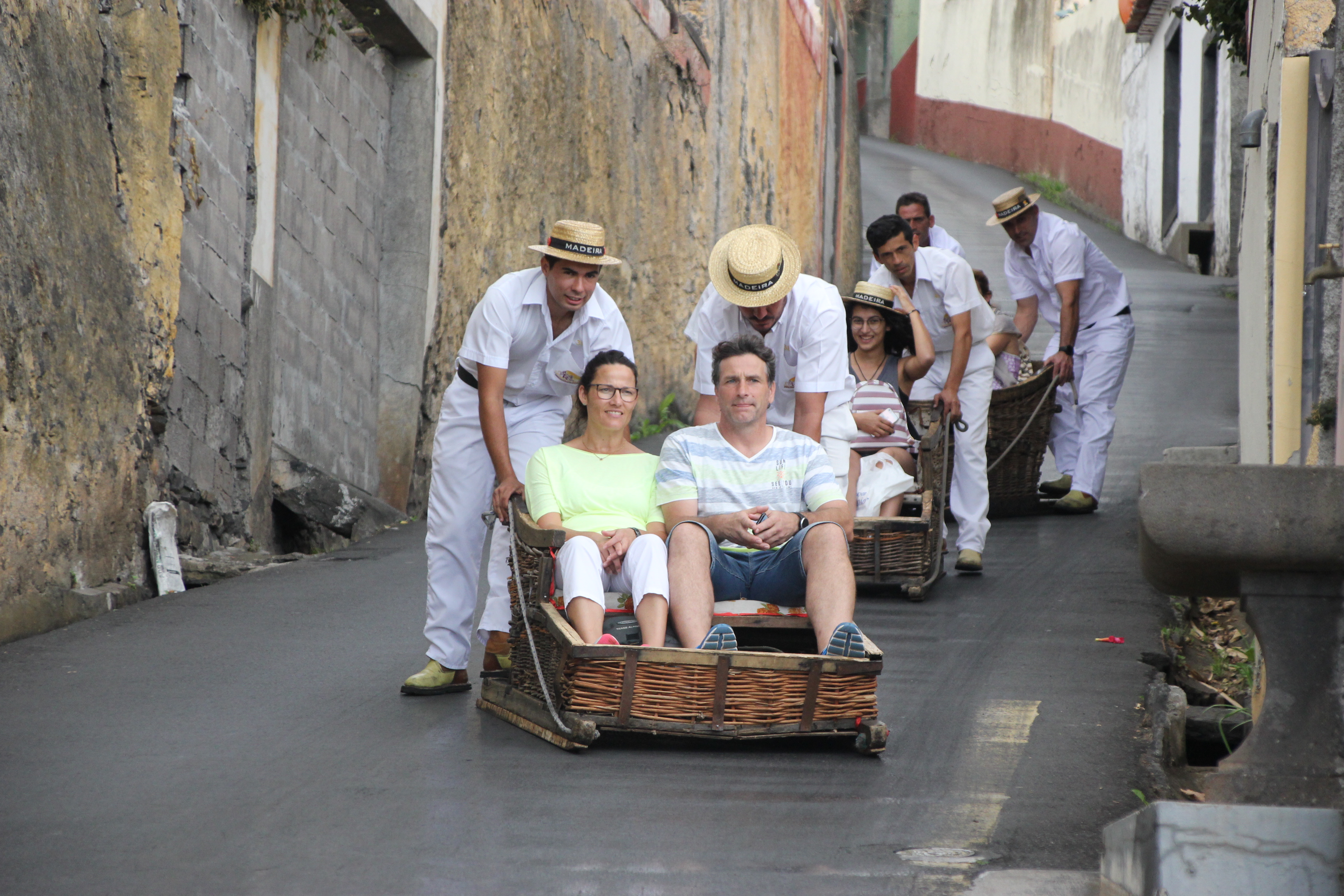 But what goes up has to come down, so I book a ride in a two-seat wicker toboggan. What was once an alternative way for wealthy residents to be transported quickly downhill is now a must-do activity for visitors. I place my life in the hands, or rather rubber-soled boots, of the two carreiros steering the toboggan and plummet down one of the steepest roads I've ever experienced. The ride only takes about three minutes, but it's got my heart pumping. Back at the hotel, I have a poncha.
Now that's an excitement I'm happy to repeat—just like watching another sunrise on Madeira.
Wibke Carter is a travel writer who hails from Germany. She has lived in New Zealand and New York, and presently enjoys life in London. Her website is WibkeCarter.com