Summer is in full swing, which means we're on the never-ending hunt for ice cream in the sweltering city. Fortunately for us, New York has no shortage of offerings. We've rounded up some of the city's best, from old-school sundaes to experimental scoops, celebrated icons to underrated gems, for your viewing—and tasting—pleasure.
Best Experimental: Ice and Vice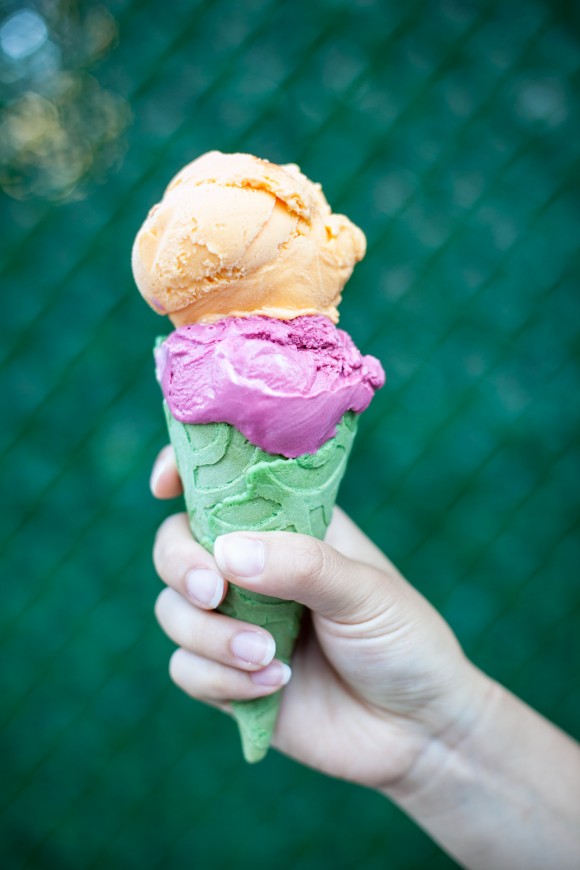 This spot in the Lower East Side has consistently churned out delightful flavors marrying unexpected ingredients. No matter how bizarre at first glance, the inventive combinations come to life winningly. Choose from the classics, like the fragrant Tea Dance, made from nilgiri tea leaves, lemon charcoal (lemons roasted until black), and salted caramel, or the shop's constantly changing slate of experimental flavors. This season's color-themed offerings include the Orange, which combines papaya, peach, and habanero syrup for a spicy tickle, and the Green, a cooling blend of cucumber, verbena, and basil seeds. $4.75 for a single scoop. IceAndVice.com
Best Soft Serve: Soft Swerve and Dominique Ansel Kitchen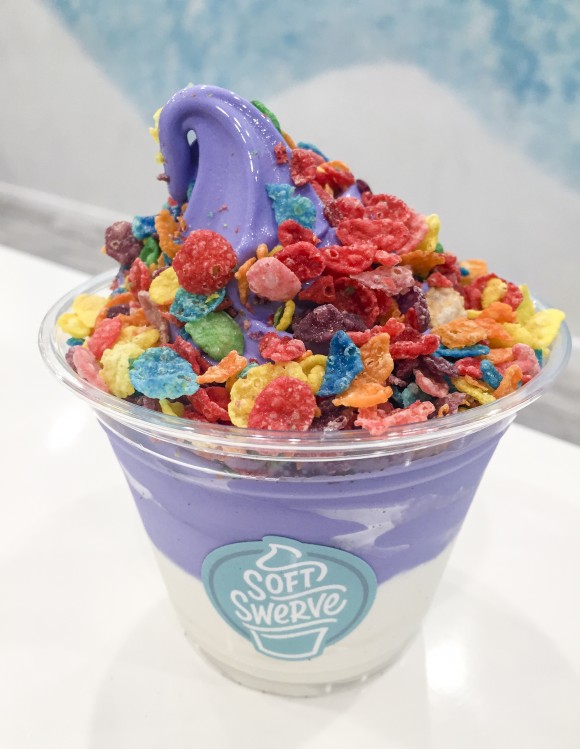 The Lower East Side's Soft Swerve took Instagram by storm when it first started serving its colorful swirls in ube (purple yam), macapuno coconut, matcha, and black sesame flavors this winter. But these treats are not just easy on the eyes—the smooth, velvety texture is unparalleled, reminding us why soft serve is so beloved. Best of all, the Asian-inspired flavors are sweet without being cloying. $3.95 for a regular cone or cup. SoftSwerveNYC.com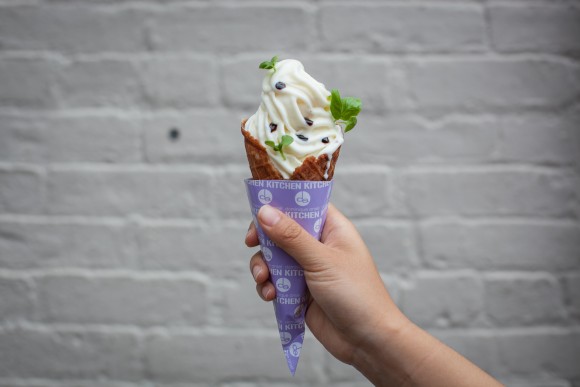 Forget the Cronuts—the soft serve window at Dominique Ansel's Kitchen in the West Village is back for the season. The menu mainstay is a dreamy burrata, full of the fragrant sweetness of fresh cream. It's brightened by microbasil and balsamic caramel, and hides a confit strawberry beneath its milky swirls. $7.25 for a cone. DominiqueAnselKitchen.com
Best Culturally Inspired Ice Cream: Malai and La Newyorkina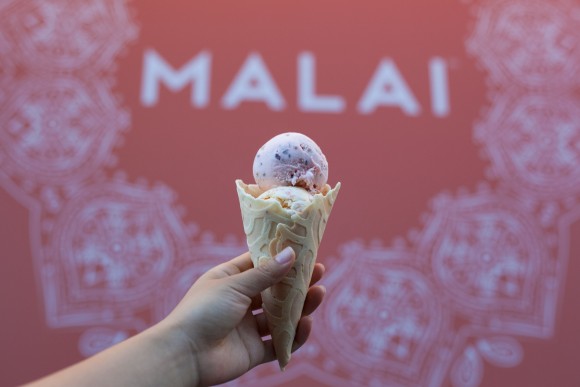 The spices take center stage in Malai's ultra-rich, Indian-inspired ice creams. The Rose with Cinnamon-Roasted Almonds is fragrant and delicately sweet, while the potent spices in the Masala Chai leave a tingling warmth at the back of your throat. Get your fix at their cart at the Smorgasburg markets or at the Gotham Market at the Ashland until Nov. 1. $5 for a single scoop. Malai.co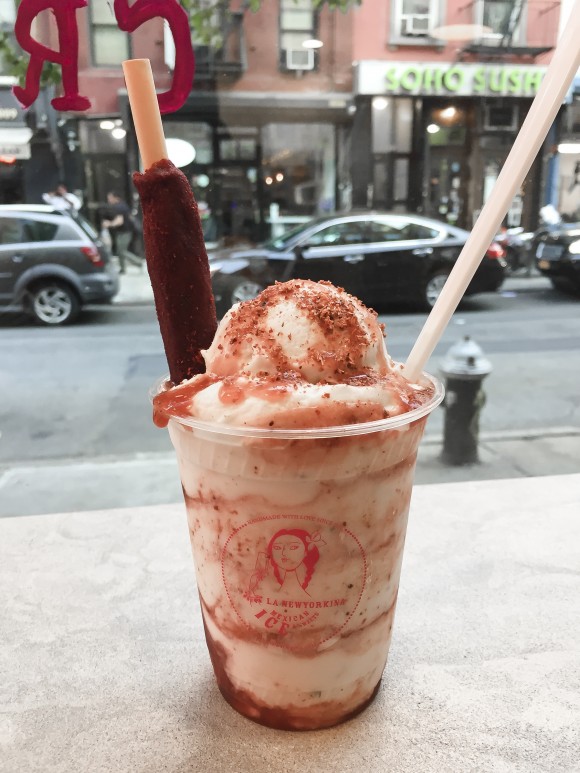 The city never knew what a wonderful world of Mexican frozen treats existed until La Newyorkina blessed it with bold-flavored paletas (fruit popsicles), ice cream in refreshing Mexican flavors like horchata and coconut-lime, and handmade "nieves de garrafa," sorbets with a more stretchy texture. Several locations. $4.25 for single scoop. LaNewyorkina.com
Best Summer Flavors: Milkmade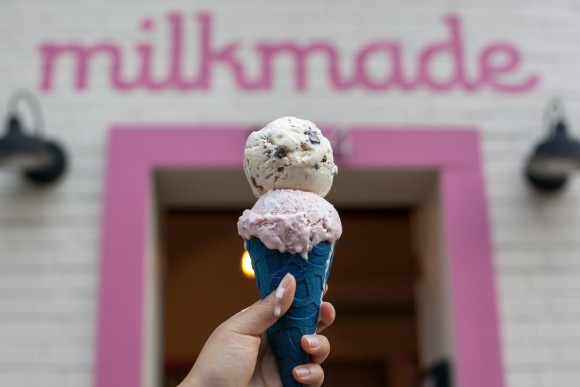 When we tasted Milkmade's Gotham Basil Chip ice cream, it stunned us with the intensity of its basil flavor. And most surprisingly, the herbaceousness combined with the flavor of the chocolate chips perfectly. This is the ultimate cure for the summer heat. Another sure-fire summer hit is the Cobbler Hill, cinnamon sugar ice cream studded with seasonal fruit. Currently, it's plum compote, bright with a touch of tang.
Milkmade, which runs an ice cream subscription service, recently reopened its tasting room in Brooklyn, where you can sample both its signature and seasonal flavors that change monthly. Don't miss the July special Ditch Plain Strawberry—light and airy, with pure berry goodness. $4.50 for a single scoop in a cup; $6 on a cone. MilkmadeIceCream.com
Best Tried & True: Eddie's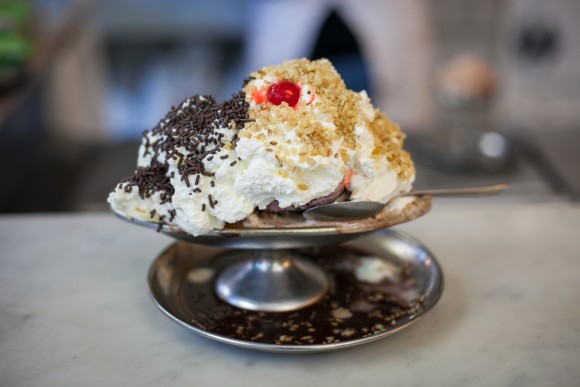 Time stands still at Eddie's Sweet Shop, an old-fashioned soda fountain scooping sundaes and shakes in Forest Hills since 1909. The parlor breathes nostalgia, with its classic flavors (try the coffee chip), spinning bar stools, and steady stream of cheerful customers. The ice cream tastes like the stuff of your childhood—sweet, dense, and satisfyingly chewy—and comes drowned in your topping of choice and blanketed in thick billows of barely sweet whipped cream. Bonus: All ice cream and toppings are made in-house. $5.50 for a single-scoop sundae. Facebook.com/EddiesSweetShop
Best Underrated Gelato: Cones and SugarCube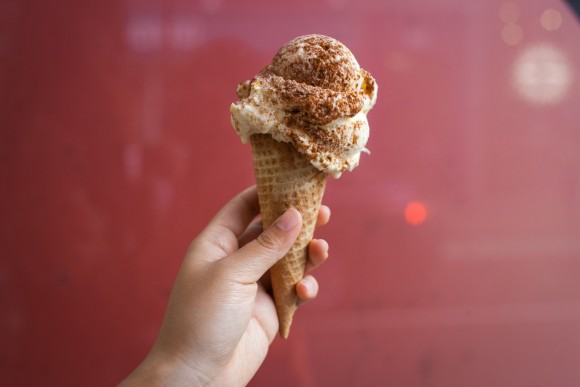 Italian gelato abounds, but its Argentinian cousin is lesser known. Remedy that with a visit to Cones, in the West Village, where you'll find exotic offerings like dulce de leche, deeply rich and caramelized, and mate (South American herbal tea), mildly sweet and herbaceous. The corn comes with bits of corn and a dusting of cinnamon. $5 for a single scoop. Facebook.com/ConesNYC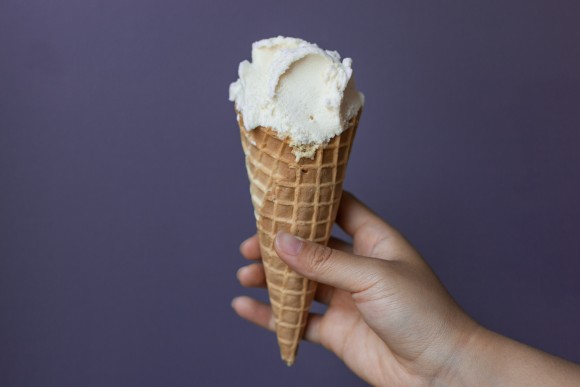 A Long Island City gem, SugarCube does an excellent roasted pistachio, intensely nutty, and an ethereal, refreshingly floral Earl Grey lavender. Some flavors borrow from the owner's Greek roots, like the ekmek kataifi, crafted after a dessert of the same name. $5 for two small scoops. SugarCubeNYC.com
Best Companion: Wowfulls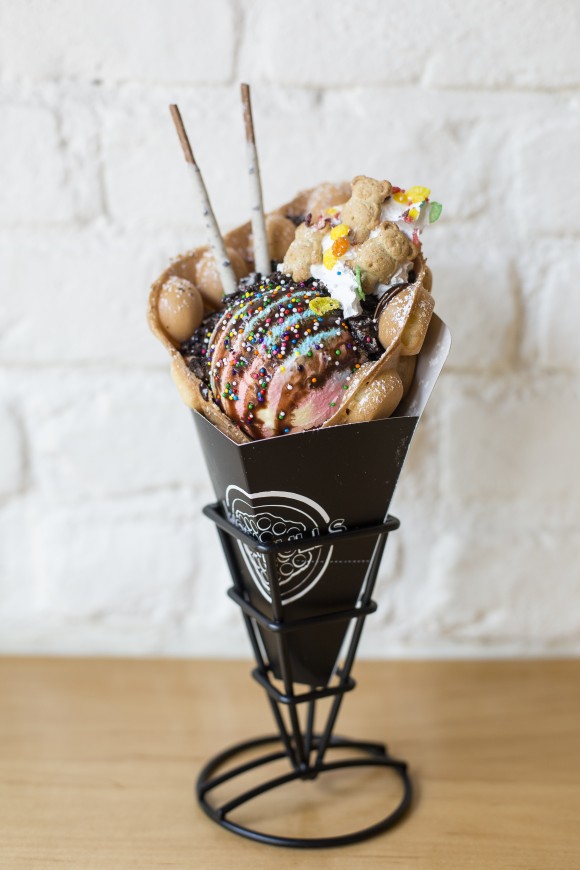 Wowfulls is redefining the "waffle cone." Here, ice cream is scooped into a Hong Kong egg waffle, a popular street snack that's golden and crispy on the outside and soft and fluffy on the inside. Warm from the iron in original, coconut, or chocolate flavors, they're the perfect companion for blue and pink Crazy Vanilla or Oreo-studded Captain Crunch Cookies and Cream. Don't forget the toppings—they range from cookie dough and chocolate chips to Pocky sticks and housemade matcha sauce. Find them at Smorgasburg market or their shop on the Lower East Side. ($8 for each creation.) Wowfulls.com
Best Mixed Concoction: Milk and Cream Cereal Bar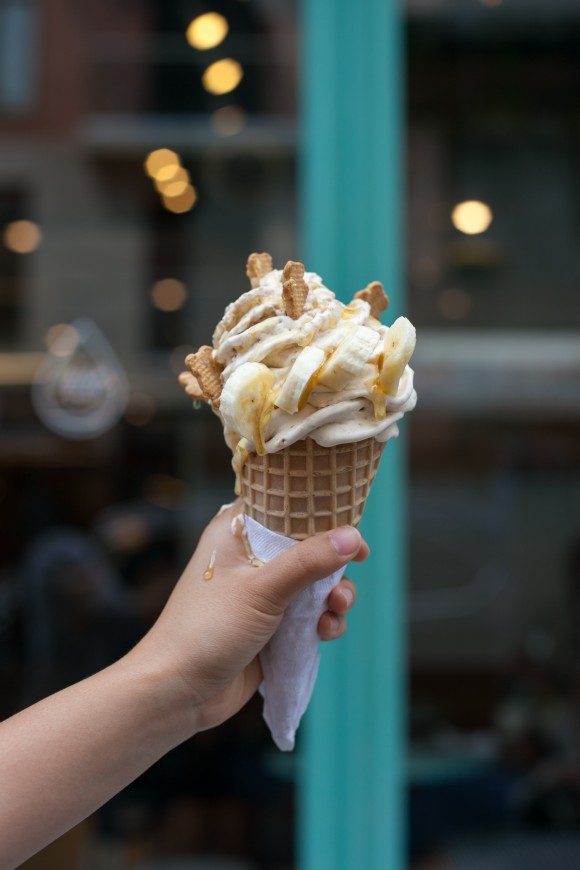 Live your childhood dreams at this Chinatown newcomer, which lets you mix your favorite cereal into vanilla or cookie dough ice cream. Each creation is a play on textures, with crunchy cereal in every bite of thick and custardy soft serve. For the indecisive, specials are also available. Try the Banana Cream, a mix of vanilla ice cream, granola, bananas, and Teddy Grahams, topped with banana and honey. The light sweetness and clusters of granola almost make the treat feel virtuous. $7 for a custom swirl, $8.50 for a special. MilkAndCreamBar.com