Unhappily Ever After: Original Versions of 5 Popular Fairy Tales
April 5, 2014 6:56 pm Last Updated: April 6, 2014 5:47 pm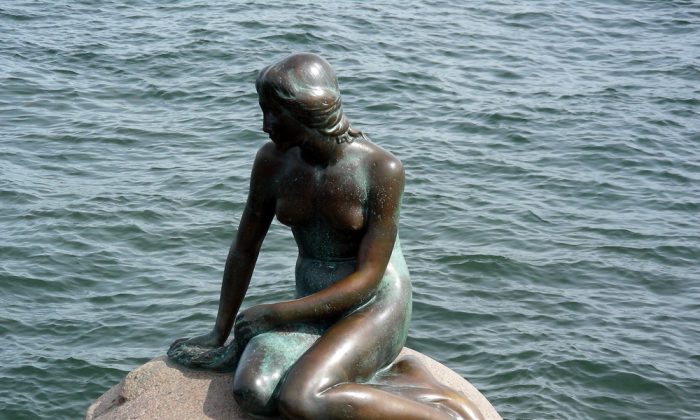 In the Disney version of popular fairy tales, all ends well and happily. However, in the original stories written by the Grimm brothers, the stories often have a very different trajectory.
1. Rapunzel


Castle tower in Massaret, Limousin region, France via Shutterstock
In the Grimm version, the child is promised to the witch by her father in exchange for a magical plant to save his wife. In the happier, modern version, guards are sent out to look for the plant.
Rapunzel becomes pregnant and bears two children and is sent to the woods to live in despair. The witch cut of Rapunzel's hair and tricked the prince, luring him with the hair. When the prince climbs up it, she lets go and he falls a great distance, losing his eyesight as a result. He does end up living with Rapunzel in the woods, however.
2. The Little Mermaid


The Little Mermaid one of the biggest touristattractions in Copenhagen via Shutterstock
The Grimm version is a far cry from the happy mermaid with her fish and lobster companions we know today. Instead of marrying the prince, Ariel dies and becomes sea foam. Earlier in the story, she is offered a knife to kill the prince so she can return as a mermaid. She is also in great pain walking with her human legs because of a curse on her. 
3. Cinderella


Vintage floral white fantasy shoes via Shutterstock
The details of the original Cinderella story are considerably more morbid than the Disney version. The stepsisters cut parts of their feet off so they can fit the glass shoe. The prince notices because the shoe turns red. A pigeon pecks out the stepsisters' eyes. 
4. Snow White


Snow White dead after eating her red apple via Shutterstock
In the original version, the evil queen requests the lungs and liver of Snow White. She is brought, however, the lungs and liver of a boar. Snow White is not awakened by a loving kiss in the original version, but rather by the shaking of her coffin as it is being transported. 
The queen's punishment is grueling. She must dance in a pair of hot iron shoes until she dies. 
5. Sleeping Beauty


 Old spinning wheel isolated on white via Shutterstock
Sleeping beauty isn't tenderly awakened by a prince's kiss. While she was unconscious, a king who found her as such had taken advantage of her. She awoke to find herself the mother of two children from this king. One of the children had sucked her finger, removing the substance that put her to sleep when she pricked it on the spinning wheel. It gets stranger. Apparently undaunted by the rape, she falls in love with the king and marries him. 
Overall, some of the tales do end up relatively happily, though not quite in the rosy light cast by Disney.