I hadn't planned on dancing tonight, wearing a colorful vest, carrying an intricately engraved Hutsul hatchet. I'm a terrible dancer—but it would've been rude to say no. With night falling fast, the sun sinking to the undulating summit line of these eastern mountains, we trace a narrow road through the rolling terrain, climbing one final incline to find a tidy house filled with a happy family.
Svitlana and Slavko Lesiuk, two educators at the local school, welcome us into their home with big smiles, and a song. First, there was the food—borscht and sausages and the ubiquitous Ukrainian dumplings, stuffed with meats and onions and potatoes, almost all the ingredients gathered from their own family farm. Then, there was the drink—cognac, and vodka, and a home brew made from hand-gathered golden-root that grows only above 6,000 feet— all of it flowing freely, here in this country that makes some of the very best in the world.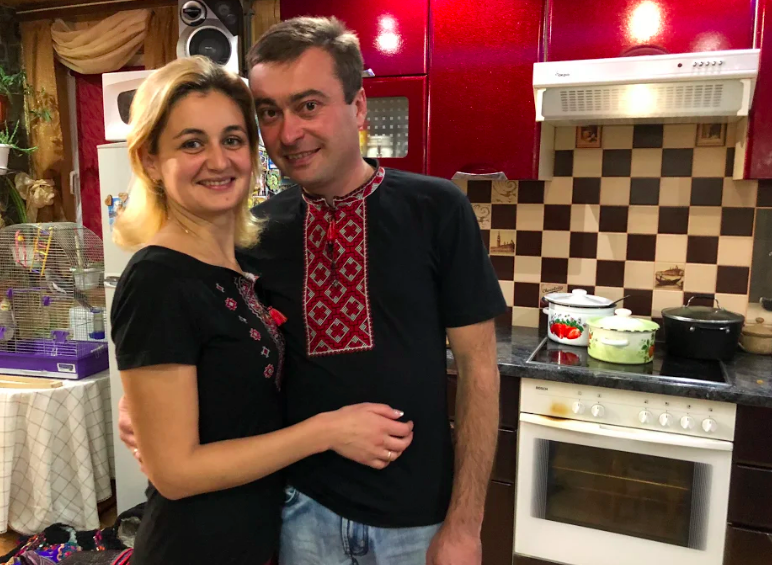 And finally—the dancing. Minimally cajoled and careful not to offend our gracious hosts, a fire crackling in the wood stove, Slavko pounding out a traditional tune on his guitar, I accept the axe—I still don't know why—and link arms with a few of my fellow diners, kicking up our heels as we sway in a circle, the mountains outside now cloaked in darkness, but the night just heating up, inside.
I'm in the small village of Bukovets, high in the Carpathian Mountains of southwest Ukraine. Here in this remote region, the country's ongoing challenges have led to a resurgence and renaissance in national and local Hutsul culture. A trans-Carpathian people spread from southern Ukraine to northern Romania, the Hutsuls maintain a distinct highland way of life, speaking their own dialect of Ukrainian with Polish influences and maintaining traditions of song, dance, and craftsmanship distinct from their neighbors.  
Naturally beautiful—the Carpathians are curvaceous rather than craggy, a sculpted land shot through with rushing rivers, with deep, green valleys cradling villages and towns—I'm here in the area to connect with the culture and people that make up the beating heart of this remote region.
Joining up with a small group of travelers hosted by Cobblestone Freeway—a culturally focused tour company based in both Ukraine and Canada—we pile into a van and proceed south from Lviv, the largest city in western Ukraine, whose architecture and general temperament (and penchant for beer-drinking) reflect its long time as part of the Austrian Empire. We wind into the foothills, the city falling away fast behind us as we plunge into our bucolic surroundings—cows, barns and slightly pitched pastures—and eventually arrive at an Easter egg so big we can go inside.
Easter eggs (known here as "pysanka") occupy an outsize role in Ukrainian culture, and this is undoubtedly the largest such egg in the entire country. Located in the village of Kolomyya, the egg houses the world's only museum dedicated to the pysanka, and we proceed through its bulbous base into an oval world. Paying a very small admission fee (Ukraine remains a very affordable country for travel), we proceed along its 10,000 eggs, all of them intricately decorated with a time-honored system of wax and dye, learning that certain regions are linked with specific designs, as well as related creation myths and legends.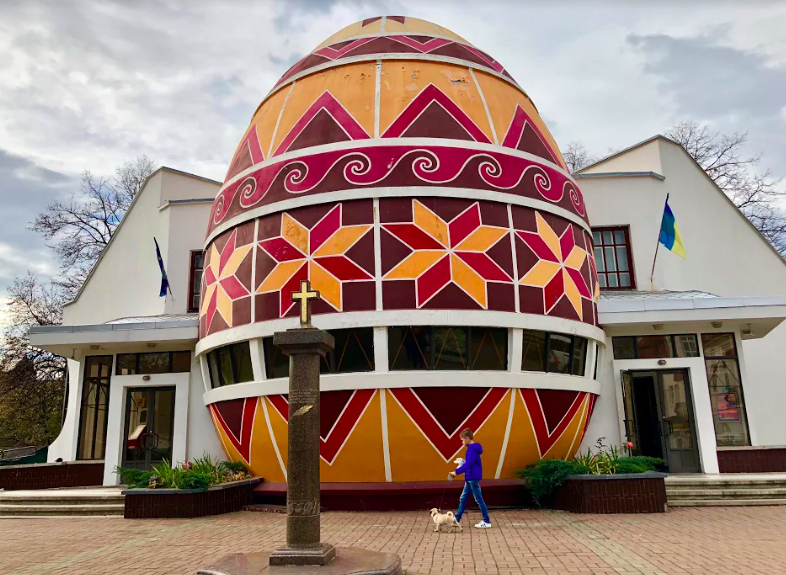 And then we drive deeper into the land of the Hutsuls, mountain people, perhaps only 25,000 in all, whose lives have remained only minimally changed for centuries. We descend into a dale, a light layer of smoke and haze overhead, fed in part by wood fires in the little, colorful homes, passing babas in kerchiefs pulling shopping trollies, and tiny little chapels, built so these very religious people can pray on their way to work, or market.
Vincent Rees, owner of Cobblestone—and group leader on the trip—explains the Hutsul greet each other accordingly. "Glory to Jesus Christ!," one will call to another, who will respond, "Glory for eternity!" We're briefly delayed by a funeral procession near the village of Yavoriv, moving slowly, on foot, icons of the saints raised high around the casket, the black-clad mourners singing hymns as they proceed down the middle of the highway. Rees explains that people here consider it disrespectful to pass—despite the repeated insistence of the priest at the head of the procession, waving cars ahead. None do. "It's the last march," Rees remarks, solemnly.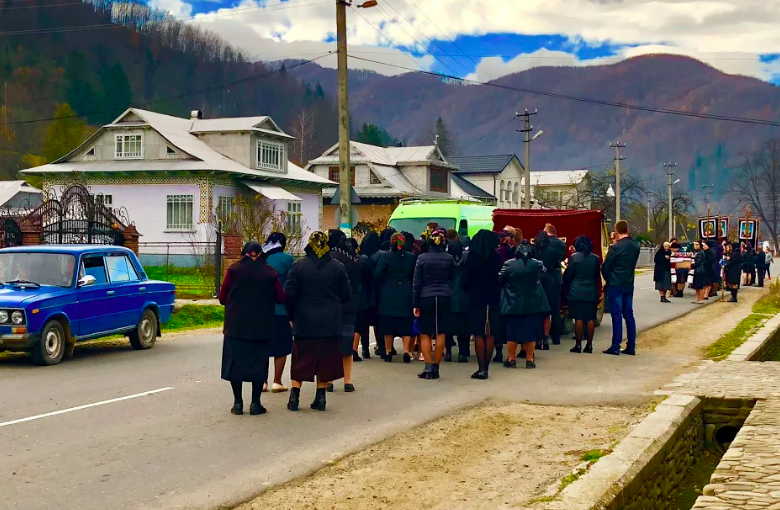 Eventually we move forward, and Rees explains that each village in the region has its own craft specialty, and soon we arrive at a small home and shop built overtop a clear, cold stream—where wool is cleaned and processed, by hand, in 14 stages, and then woven into blankets on a manually operated loom. The owner and master craftswoman, a warm, welcoming, dark-haired woman named Svitlana Pavlyuk walks us through it.
"Every girl in the village knows how to do this—her grandmother taught her, and she in turn learned from her grandmother, and that grandmother learned from her mother," she says, hands always on the wool, manipulating it effortlessly, without a thought.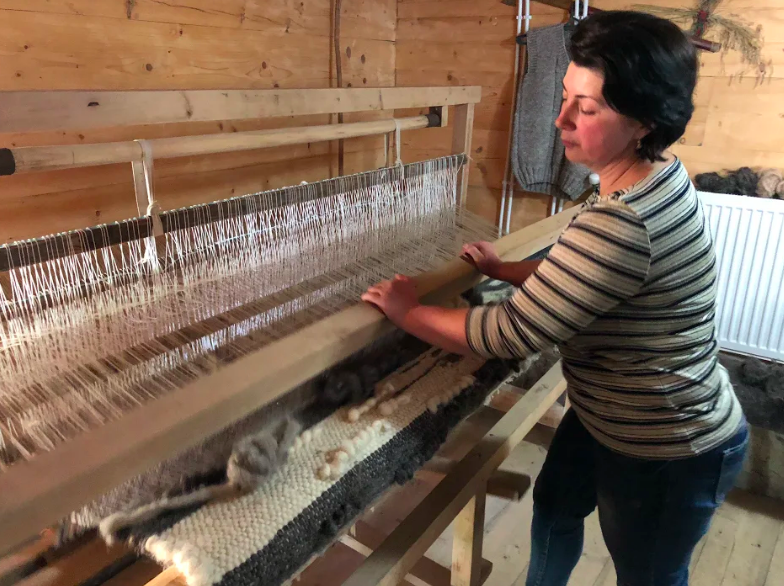 The area has a strong shepherd culture, the wool gathered from many surrounding farms, and when it arrives, it's cleaned in the creek through a hatch in the house floor—no soaps or chemicals. "It's a natural washing machine," the woman explains. "The water is alive—we call it the Hutsul Jacuzzi." Despite the lengthy, labor-intensive process—once cleaned, the wool is spun and brushed and otherwise worked on—the blankets are exceedingly inexpensive, costing only 1,800 hryvnia, or about $65 U.S. dollars.
From there, we drive higher into the Carpathians, skirting across saddles and ridges in the mountains along unpaved roads, to a small wooden house painted dramatically in the colors of the Ukrainian flag—yellow and blue. We're welcomed by an elderly man, Mykhailo Tafijchuk, and his wife, entering the home and sitting on a bed while he plays for us on a series of musical instruments he carved and created himself, including the trembita, a wooden highlander's horn, and the world's longest musical instrument.
It's all very haunting, and lovely. Playing traditional Hutsul tunes, he strums a dulcimer, and a violin, and then a series of sopilkas, hand-carved pipes traditionally used by local shepherds to while away the long hours of watching the livestock—the first one, very simple, something you could play with one hand while lugging a bucket in the other up the mountain, the last, difficult to play, a pipe without a proper mouthpiece, and requiring expert and intricate finger sequences.
And then, he plays the trembita, constructed from local wood— Tafijchuk hollowed it out, boiled out the sap and wrapped it in birch bark. Used by shepherds to signal each other from distant ridges. When he raises it and blow in, the tone is deep and strong, enough to cross a valley.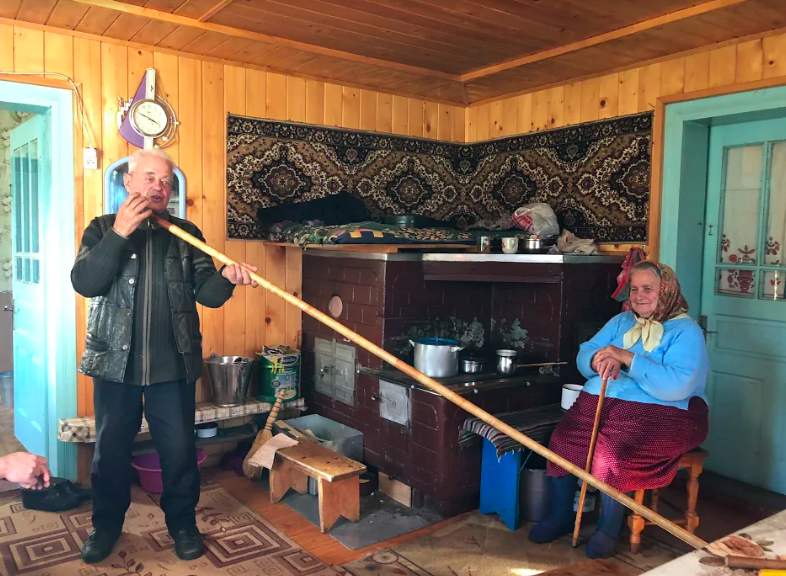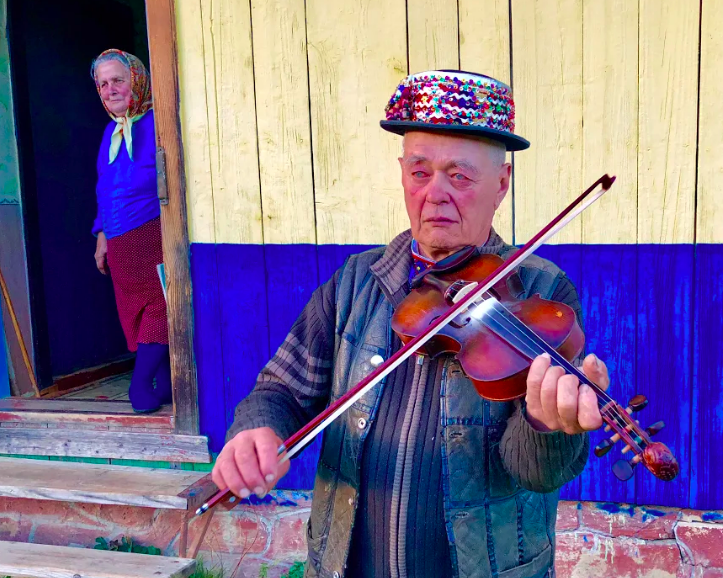 And then—it's almost time for dancing. After dinner, we dress in colorful, traditional Hutsul costumes. We take photos. We sing a little, and we dance, and we feel the home brew flowing through our veins. By the end of the night, we leave that little house, inky blackness now obscuring the surrounding mountains, a nip in the air, but, the warmth still with us, leaving like family and determined to return.
When You Go
Focused on cultural, musical, art, and culinary tours in Ukraine, Cobblestone Freeway also offers itineraries in a number of other European countries, including Ireland, Poland, Croatia, and Georgia. Specializing in small groups, they can also create custom-made trips. CobblestoneFreeway.ca/
In Lviv, the recently reopened Grand Hotel offers true five-star accommodations, with baroque finishes and a long history—Austrian Emperor Franz Josef I once made a speech from one of the hotel balconies, and the hotel was declared open last year from the very same place. Grand-Hotel.com.ua/en/  
Toronto-based writer Tim Johnson is always traveling, in search of the next great story. Having visited 140 countries across all seven continents, he's tracked lions on foot in Botswana, dug for dinosaur bones in Mongolia, and walked among a half-million penguins on South Georgia Island. He contributes to some of North America's largest publications, including CNN Travel, Bloomberg, and The Globe and Mail.
He was a guest of Cobblestone Freeway.