Last week, a spur of the moment decision took my husband and I to Santa Barbara in sunny Southern California.
This is not the way to find a budget hotel, but few exist there anyway. We stayed in two different hotels and the irony was, the second hotel—The Hampton Inn at Goleta—cost more than our boutique hotel in Santa Barbara! The Hampton was nothing special, so I'll talk about the first night we spent at the Mar Monte Hotel on E. Cabrillo Blvd, Santa Barbara.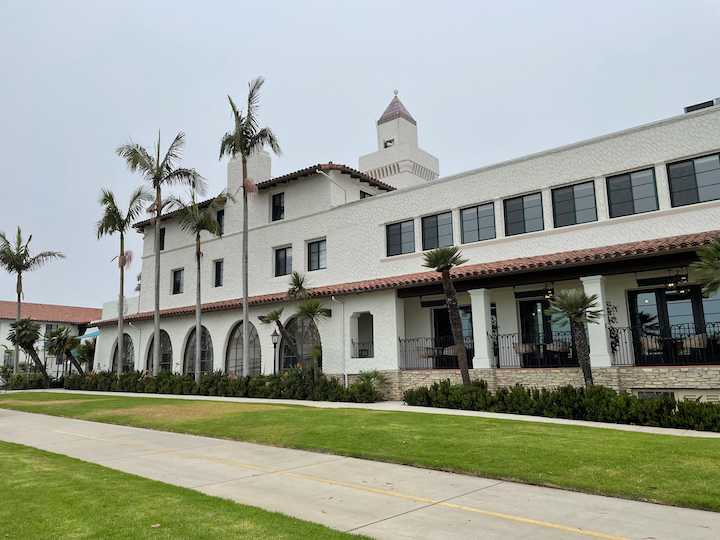 The Mar Monte (part of the "Unbound Collection" by Hyatt) first opened in 1931. Its Spanish Colonial architecture has been a landmark of Santa Barbara ever since.
The Hyatt bought the hotel in 2011. In 2019, they revitalized the interior rooms, bringing them more up to date and adding air-conditioning.
Our room was small but comfortable. (They offer larger rooms and suites as well.) We enjoyed reading and writing in their indoor/outdoor lobby—complete with cushy chairs, books, a fountain, and beer-on-tap brought in from the hotel's Cafe Lido.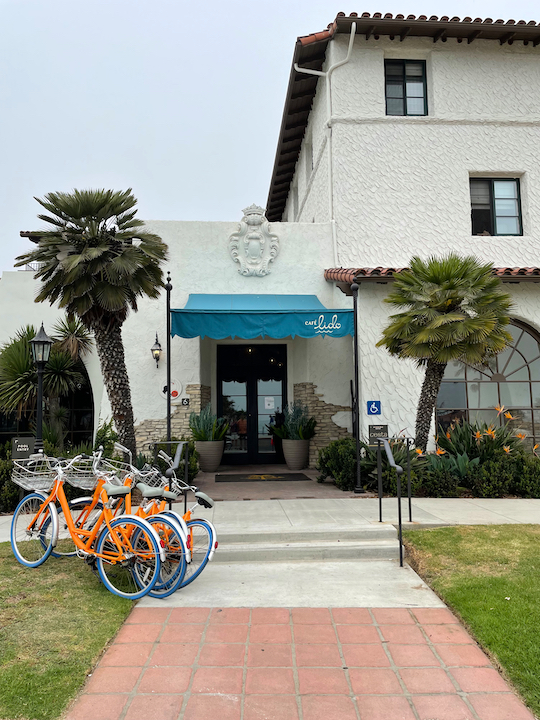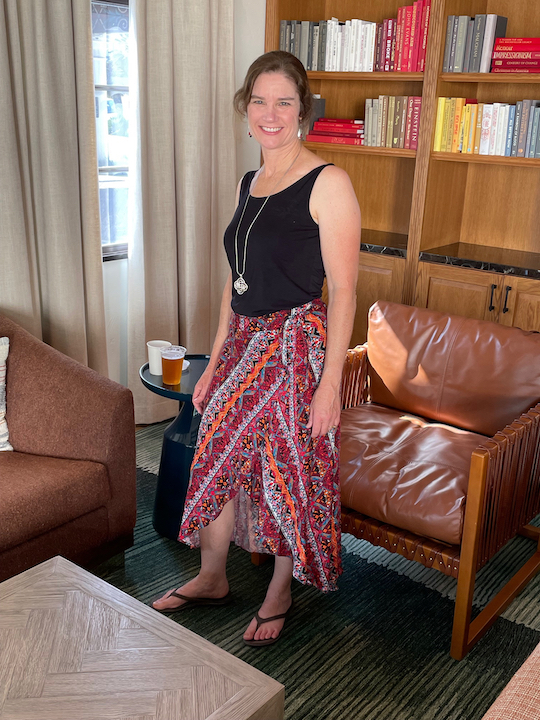 The Mar Monte sits right across from beautiful East Beach, a wide sandy beach with the softest sand. The beach extends 1.6 miles to Stearn's Wharf and then continues another quarter mile as West Beach.
There is a bike path that extends east to Butterfly Beach and west all the way to UCSB. We took advantage of the hotel's free bikes, and we filled our allotted three hours by biking along the beach and up to State Street. There we turned right and headed into downtown Santa Barbara.
We had delicious sandwiches at the locally recommended Metropulos on the corner of Yanonali and Santa Barbara Street, then went shopping in some of the boutique shops along State Street.
Unfortunately, about a quarter of the shops were permanently closed due to the prolonged government shutdown, but the surviving ones were great to explore. On the way back we biked down Stearn's Wharf to look at the view.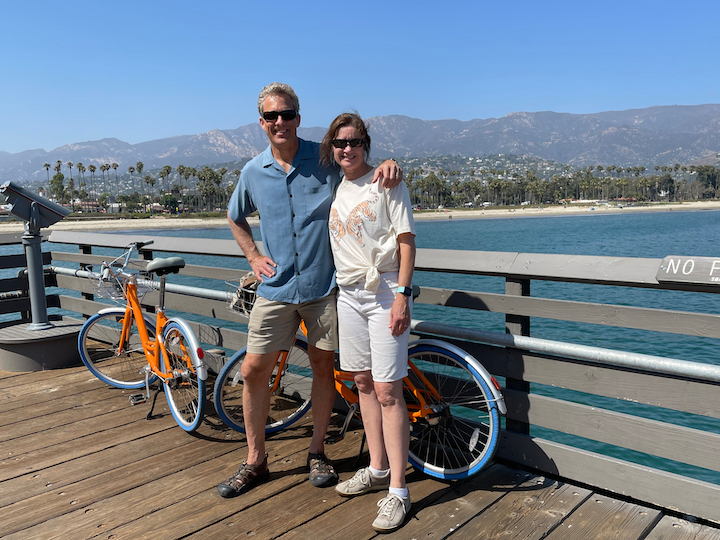 That evening we went for a walk on East Beach. It seems like there is always something going on there, and that night was no exception. We got to watch part of a memorial biathlon.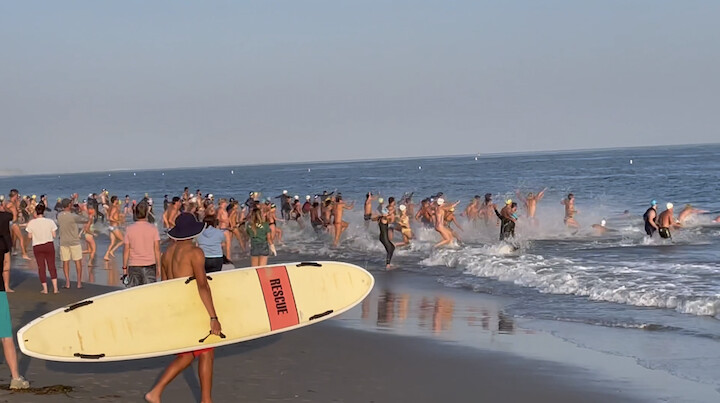 One thing to know about the beaches along the Santa Barbara coast—they are full of "tarballs."
Natural petroleum has been seeping up from offshore areas of the Santa Barbara Channel for over half a million years. The area it comes from is called the Coal Oil Point seep field. It washes up onto the beach in the form of tar.
The tar is not harmful to people, it's just annoying. If you walk on the beach, you will get tar on the bottom of your feet. That is a fact. Paper Towels and baby oil will remove the tar. Most Santa Barbara residents keep a supply of baby oil handy for their return from the beach. Our hotel had mini-wipes for the same purpose.
On a positive note, the smell of the ocean air, mixed with a sprinkling of tar, is like no other. I remember it from college (UCSB) and it brings back fond memories.
We dined at Mar Monte's Costa Restaurant. The food was delicious—fresh and locally sourced—and the ambience and service were also excellent.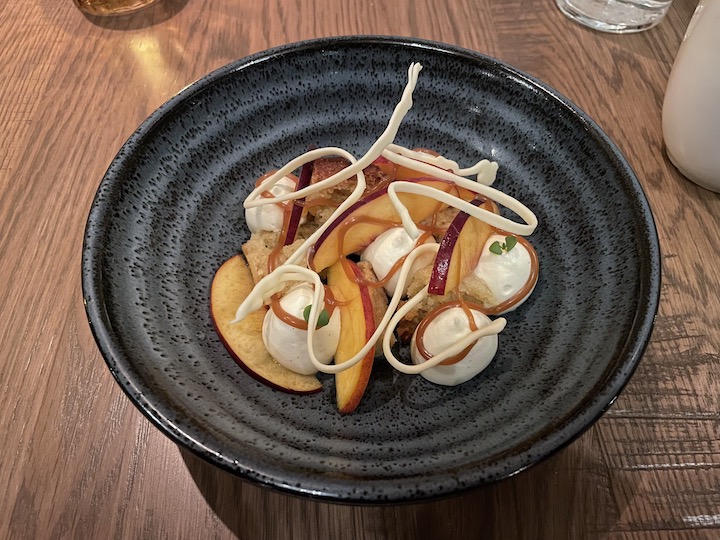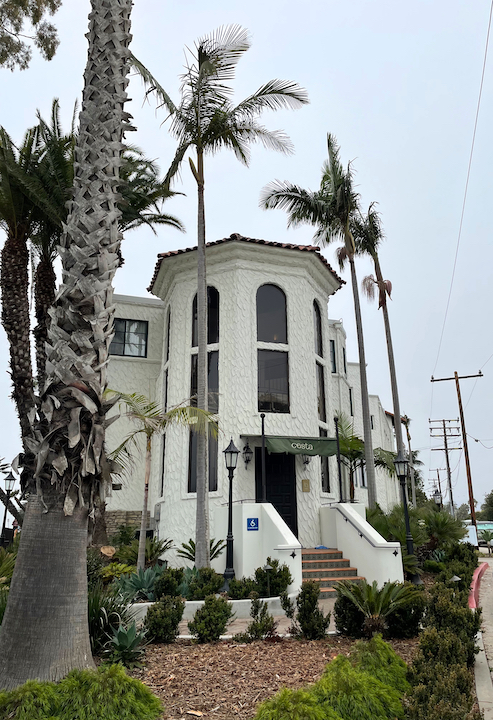 The next day my husband and I visited the Santa Barbara Historical Museum at 136 De La Guerra Street. It is located in a beautiful adobe building that was specially built in 1965 to house the museum. Two original adobe buildings, from 1817 and 1836, are also contained within the lower courtyard.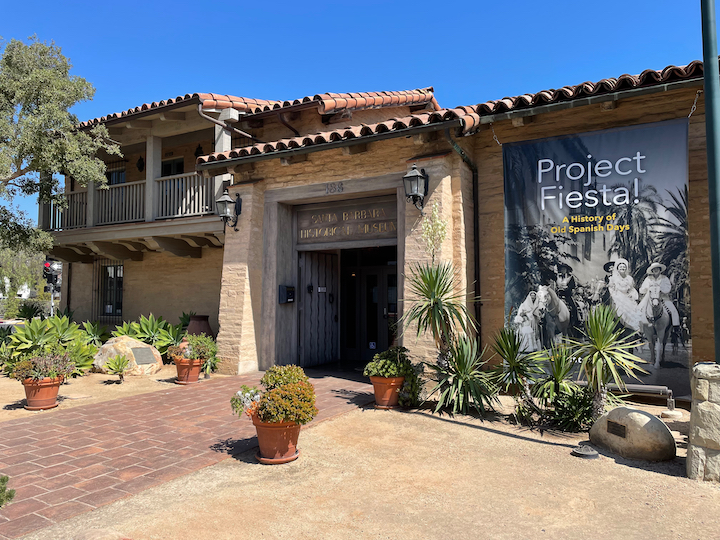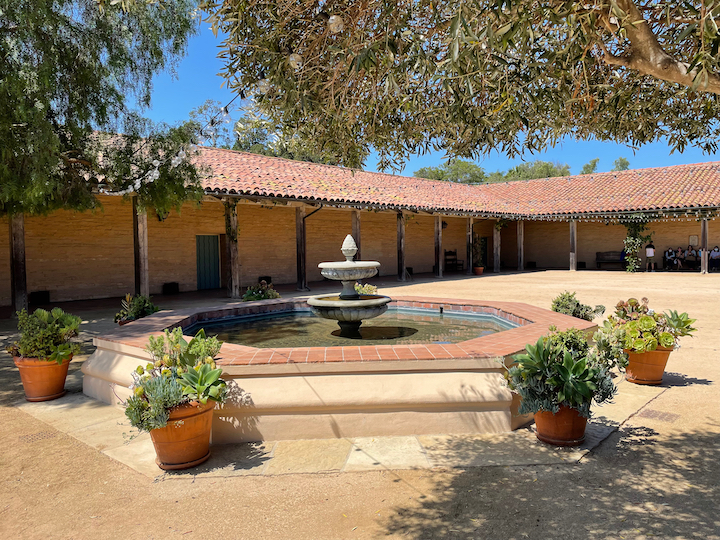 The museum is featuring an exhibit called "Project Fiesta!" celebrating the costumes and pageantry of the annual festival that usually takes place every August in Santa Barbara. It has been cancelled twice due to Covid-19; hopefully it will return in 2022. The costumes on display in the museum are absolutely beautiful.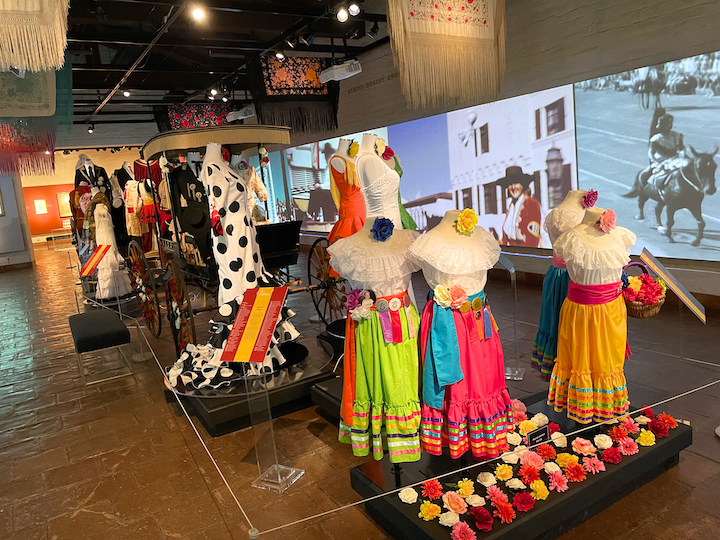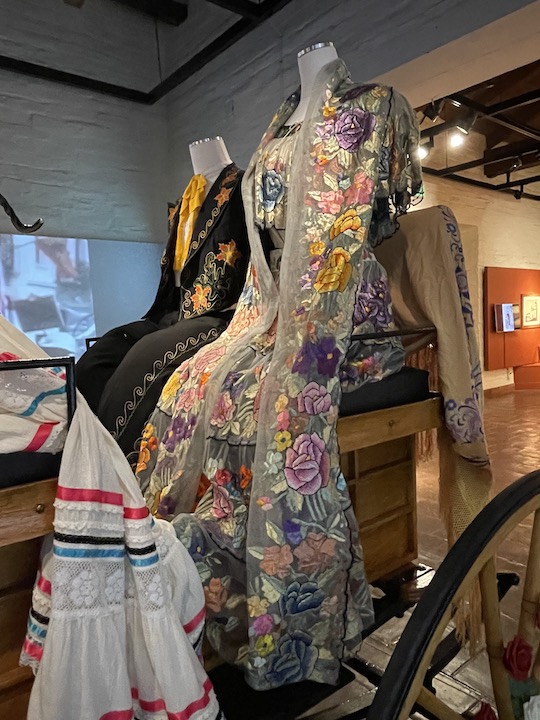 Permanent exhibits in the museum showcase the history of Native American, Spanish, Chinese, and Mexican settlement in Santa Barbara, up to the present day. They also show a history of movie-making in Santa Barbara, and will soon open an exhibit on the Western cowboy artist, Edward Borein.
Each exhibit is compelling. I highly recommend visiting this wonderful museum. Entrance is free!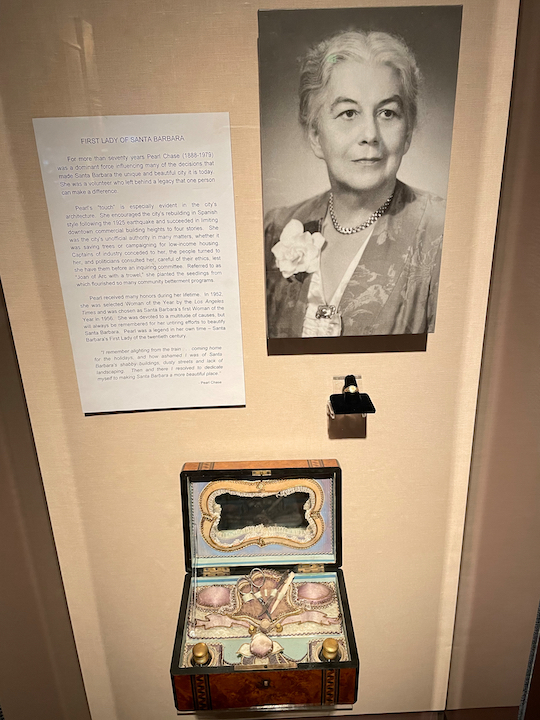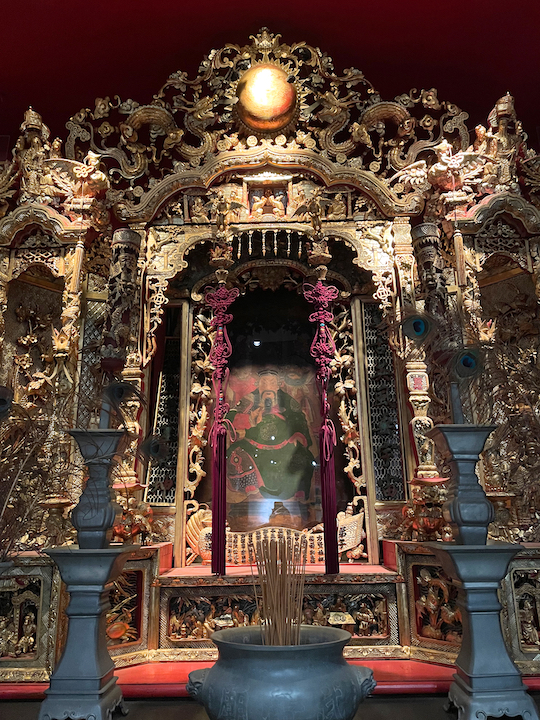 That evening, my husband and I joined some good friends to dine at The Palace Grill on 8 East Cota Street. We went all out, and—oh man— was it great!
First of all, as we waited for our table, professional magician Mark Collier entertained us with card tricks. Mark has been a practicing magician for thirty years. He is a regular at the Palace, and among other things a speaker, an emcee, a promoter, and performer. He also appears at the Hollywood Magic Castle.
Mark compares his magic tricks to music—an ABA form where each piece must resolve. If a card disappears, he makes sure to bring it back at the end of the trick in a surprising coda. His card tricks amazed us and made me really happy. Watching him, I felt like a kid on Christmas morning.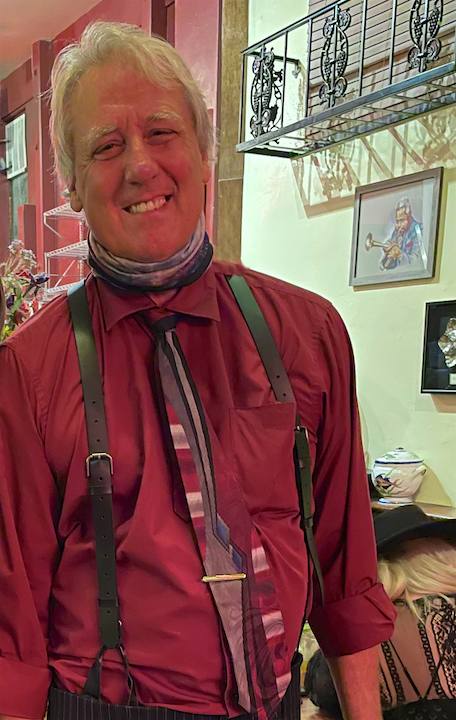 Dinner was equally amazing. The Palace Grill has a New Orleans vibe and features Cajun/Creole food. We began with Cajun popcorn—lightly seasoned crawfish tails to die for—followed by the Blackened Louisiana Redfish and Stuffed Blackened Filet (for me). We also had the best margarita and martinis ever.
And just when we thought it couldn't get any better, it did. Waiters passed out lyrics to the song "It's a Wonderful Life," and the whole restaurant sang it together. At that moment, it was a wonderful life, and it felt so good to remember that as we shared a great evening with our friends.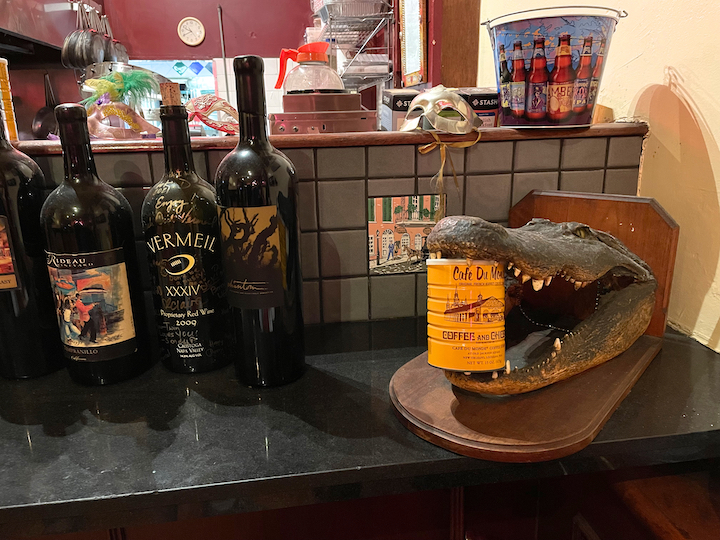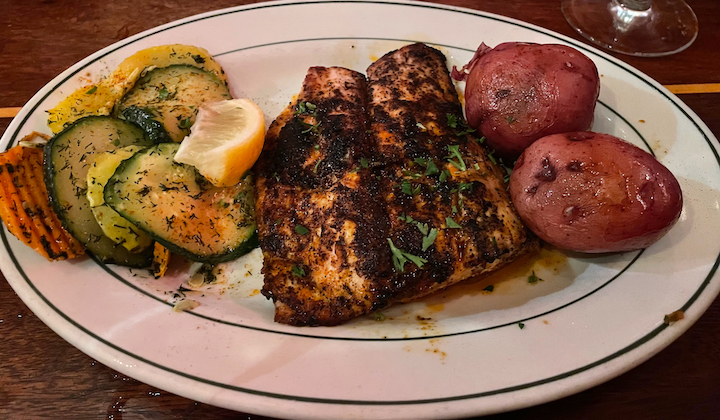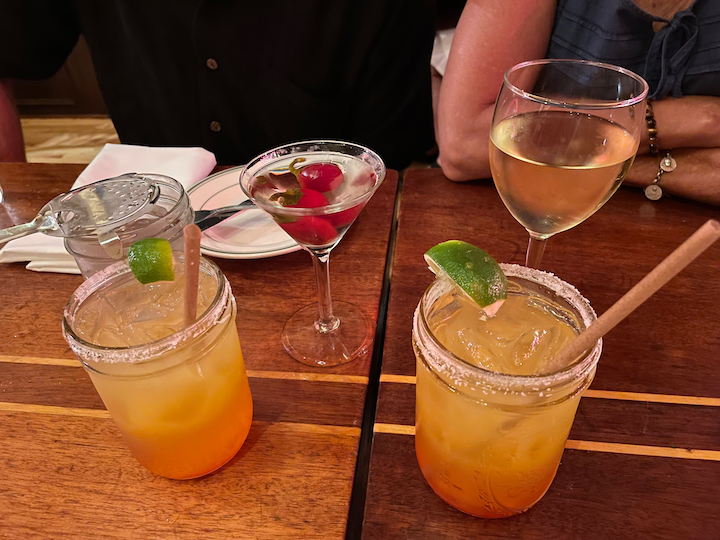 On our final day, we stopped at the local farmer's market before driving home. The market, on Santa Barbara and Cota Street, runs every Saturday from 8 a.m. to 1 p.m. It's a funky mix of local produce, crafts, and street musicians.
We shopped a bit, and took time to listen to a terrific banjo player who wore cow horns on his head and sang in a mysterious language. Then we bought good cups of coffee across the street at The Dune Coffee Roasters. Afterward, we drove home, filled to the brim with happy memories from our two days in Santa Barbara.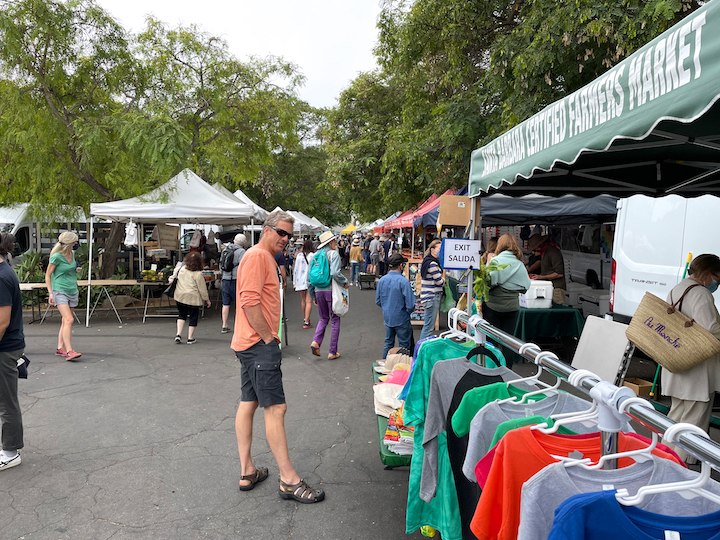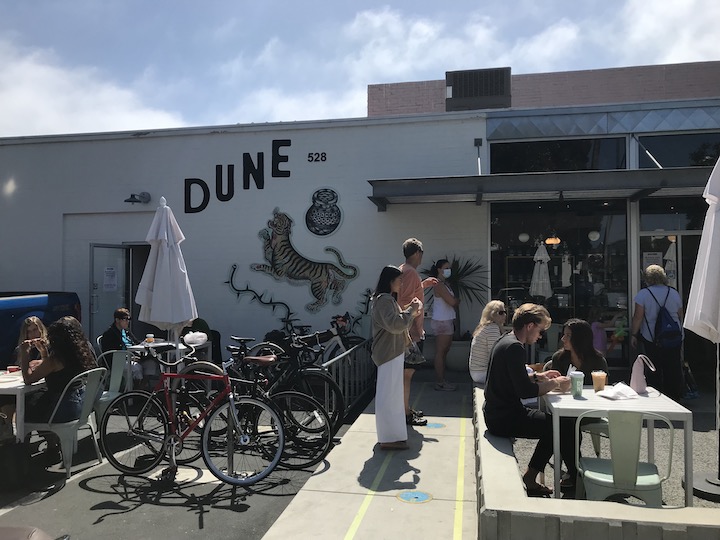 Summer is ending and Autumn is coming, but Santa Barbara should remain high on the list of places to visit. The weather will be mild, crowds will have thinned, and lodging will be slightly cheaper. Enjoy, and if you go to the Palace Grill, tell Mark the Magician that I sent you.