TV Host Embraces Shen Yun's Traditional Culture
April 20, 2014 12:29 am Last Updated: April 20, 2014 12:30 am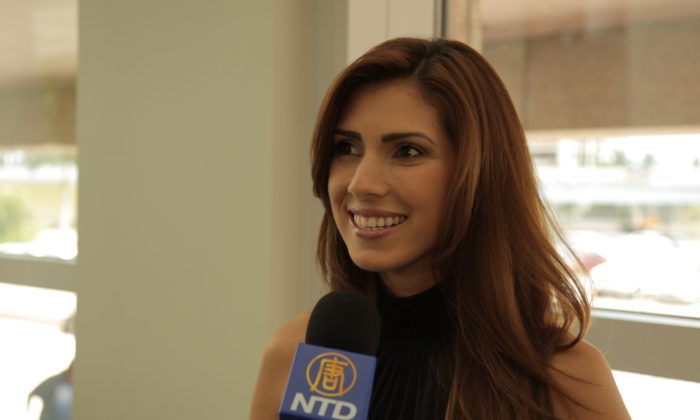 MIAMI—When TV host Minerva Borjas saw Shen Yun at the Adrienne Arsht Center for the Performing Arts on April 19, she knew she was seeing a culture to be treasured.
"The beauty of peace, the beauty of this art that I saw today should be a key to open our consciousness and say, 'Hey, we cannot allow this to disappear, not anymore,'" said Ms. Borjas, who is the vocal coach of "The Voice Kids" at Telemundo Media.
Shen Yun's mission is to revive China's traditional culture, which has been passed down for 5,000 years. Under decades of communist rule, this ancient culture has been all but wiped out by campaigns like the Cultural Revolution.
"This is a perfect opportunity to create awareness in this society, in America," Ms. Borjas said. "We should stand up and speak about these things."
She was referring to the story told in the dance [The Steadfast Lotus]: "The lotus dance with mother and daughter impressed me the most because they talk about something that is happening right now," she said.
The scene is a street in contemporary China where people are practicing Falun Dafa, also known as Falun Gong, a traditional discipline centered on meditation, gentle exercises, and refining one's moral character. The Chinese communist regime has persecuted Falun Gong practitioners since 1999.
In the dance, when a mother gives her daughter a banner with the words "Truth, Compassion, Tolerance," the tenets of Falun Gong, Communist Party police seize her.
"At the ending, I was just crying," Ms. Borjas said. "It's beautiful when you can relate to something that is happening on the other side of the world. It's actually something that we can relate to and we need to defend.
"I think that the beauty of the dance really connects us with the beauty of ourselves, of the relationship we are having. America, Brazil, Venezuela, China, Europe, India—I think we can feel that we are together when we see pieces like this," she said.
The beauty of a Shen Yun performance—with its backdrop designs, costumes, music, dancing, touching stories, and uplifting themes—leaves a lasting impression on theatergoers.
"I love the purity of the movements," Ms. Borjas said. "I like the way they are presented. Everything is beautiful."
"I will definitely tell all my friends to come to this show. It's beautiful," she said. "You will have the time of your life looking at this amazing play [story-based dances] with live music, and of course, the purity of the classical Chinese dance."
Reporting by NTD Television and Louise Rothman
New York-based Shen Yun Performing Arts has four touring companies that perform simultaneously around the world. For more information, visit Shen Yun Performing Arts. 
The Epoch Times considers Shen Yun Performing Arts the significant cultural event of our time. We have proudly covered audience reactions since Shen Yun's inception in 2006.