OTTAWA—Instead of baking a cake for Canada's 150th birthday, executive chef Ismet Saz had another treat for guests at Turkish Cuisine Night, co-hosted recently in Ottawa by the Embassy of Turkey and the Canada Agriculture and Food Museum in honour of Canada's sesquicentennial.
Owner of the Toi Restaurant in Istanbul, Saz is also a TV host and cookbook author who has taught culinary classes at two Istanbul universities and worked with well-known chefs including Gordon Ramsay.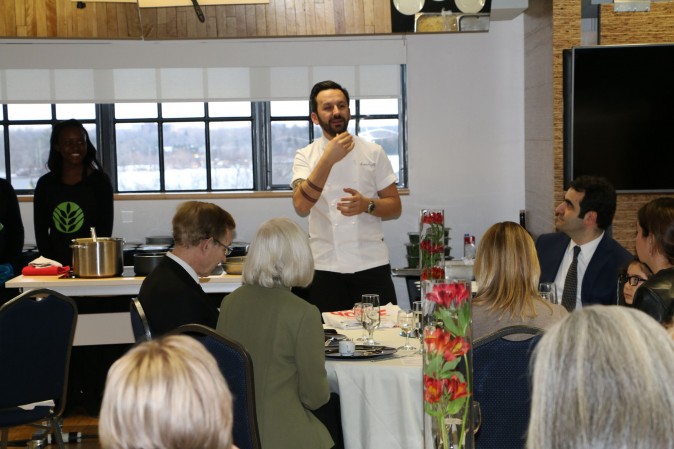 At the event in Ottawa he demonstrated and served a three-course dinner that reflected his approach to his art. While his dishes are infused with fresh flavours inspired by his international experience, he remains true to authentic recipes that originated in Turkish home kitchens.
Having worked both in New York and Turkey, Saz said his restaurant offers international dishes as well as Turkish, but he makes sure they showcase the finest of Turkey's agricultural produce.
Introducing his menu with a lentil soup topped by a dollop of foaming yoghurt, he explained that this was a tribute to Turkey-Canada trade relations as Turkey imports lentils for this classic soup and other lentil-based dishes from Canada, particularly from Manitoba where it is grown. 
Lentil cultivation is a Canadian success story.
"Lentil cultivation is a Canadian success story," he said, as he and his helpers handed out tiny cups of soup to the seated dinner guests. A pureed concoction using red lentils as its base, it was flavoured with cumin, celeriac, and paprika, and represented Turkish comfort food and simple, home-style cooking.
As guests sipped their soup, Saz talked about Turkey's ancient agricultural heritage. He explained that the Ivriz rock relief, located south of the town of Eregli in the province of Konya in northwestern Turkey, is the first agricultural monument in the world's history. Dating back to the eighth century BCE, it depicts the god Tarhunza wearing a horned helmet and holding ears of wheat in one hand and bunches of grapes in the other, symbolizing the abundance of the land that gave rise to such a rich culinary tradition.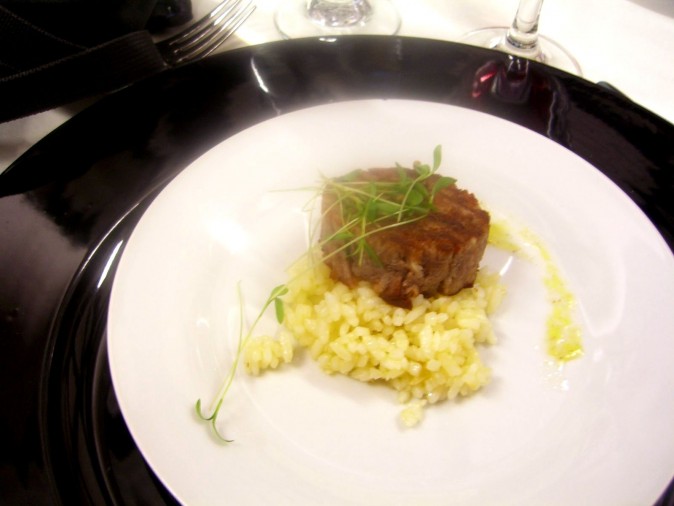 The main course, a ground lamb shoulder patty with cinnamon and apple served on a rice cake with sliced almonds, had its origins not in the humble kitchens of ordinary folk but in the imperial palaces of the Ottoman sultans, who ruled a mighty empire that included present-day Turkey from 1453 to 1922.
The entree was Saz's take on a dish that the sultans served their VIP guests, such as ambassadors and emissaries of foreign powers who were invited to dine at magnificent palaces like the Topkaki and Dolmobahce, now popular tourist sites in Istanbul.
"We braised the lamb for 16 to 20 hours," the chef explained, adding that lamb is the most popular meat in Turkey and that the flavour from lamb's marrow is highly prized. Delicately spiced with cinnamon and allspice, the meat is shaped into a big sausage then sliced into fairly thick patties. It is presented on a rice cake cooked in vegetable broth and sprinkled with almonds.
With a dessert called revani, a light, moist sponge cake made of semolina and soaked in a syrup of lemon juice, water, and sugar, the meal concluded on a note that was not too sugary but nevertheless satisfying to those with a sweet tooth.  Popular in Turkey, revani has variations in the cuisines of many Mediterranean countries, including Greece.
Guests were also given an introduction to Turkey's wine culture with glasses of red and white wine from Vinkara winery near the capital city of Ankara.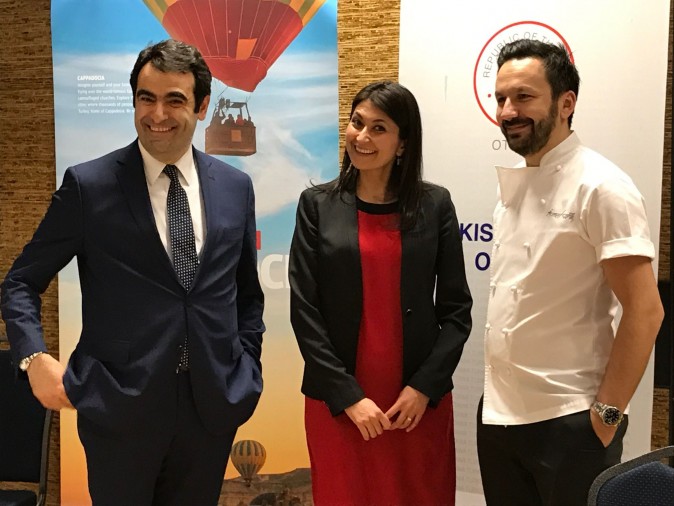 Turkish ambassador to Canada Selcuk Unal told Epoch Times in an interview that he would encourage Canadians to visit Turkey and sample these dishes and others in their homeland.
Kerry-Leigh Burchill, director general of the Canada Agriculture and Food Museum, said this was the inaugural event of a monthly series called Global Tastes International. The next such event on the cuisine of Trinidad and Tobago scheduled for April 20 has already been sold out.
Revani (Turkish Semolina Sponge Cake With Lemon Syrup)
   Cake ingredients                                                                                                  
3 to 4 eggs                                                                                
1 cup sugar
1/2 cup melted butter or margarine
1 cup semolina
1 1/2 cups flour
1 teaspoon baking powder
1 teaspoon vanilla extract
   Syrup ingredients
2 to 2 1/2 cups sugar
3 cups water
1 teaspoon lemon juice
Coconut flakes to garnish
Put water and sugar into a pot to make the syrup. Bring to a boil, simmer for about 2 to 3 minutes, and then stir in the lemon juice. Turn the heat off and let it cool.
In a bowl with a mixer, beat the eggs with sugar until they become foamy (about 3 to 4 minutes). Next, add butter or margarine and semolina. Stir continuously while adding the flour, baking powder, and vanilla.
Grease a 23×33 cm or 30 cm (9×13-inch or 12-inch) baking pan and pour the cake batter into it. Preheat the oven to 180°C (350° F) and bake until the surface turns light golden brown (about 35 to 40 minutes).
Take the cake from the oven. Using a spoon or ladle, immediately pour the cooled syrup evenly all over it. You need to do this while the cake is still hot.
Cut the cake into squares, and serve, garnished with coconut flakes.
Recipe courtesy of Chef Ismet Saz.
Susan Korah is a freelance journalist based in Ottawa. She has a Master of Journalism degree from Carleton University and writes on Canadian and international politics as well as travel and lifestyle.