President Donald Trump, speaking at a rally in Alabama Friday night, said that prototypes of a new border wall are nearly complete and will soon be decided on.
In his speech, which was in support of Sen. Luther Strange in the Alabama Republican primaries, Trump dismissed critics who have suggested the wall might not be built.
"Every once in a while you hear, 'he doesn't really want to build a wall,'" Trump said.
"I say excuse me … The wall is happening folks, believe me."
Trump said that one of the requirements of the wall is that you can see through it.
"Frankly I didn't know until about a year ago … if you can't have vision through it, you don't know who is on the other side," Trump said, citing the example of drugs being launched over the border fence.
In August, Border Patrol agents seized a bundle weighing nearly 100 pounds after it was shot over a border fence.
Trump said four different prototypes of border wall are currently under construction by four different companies, and are almost completed.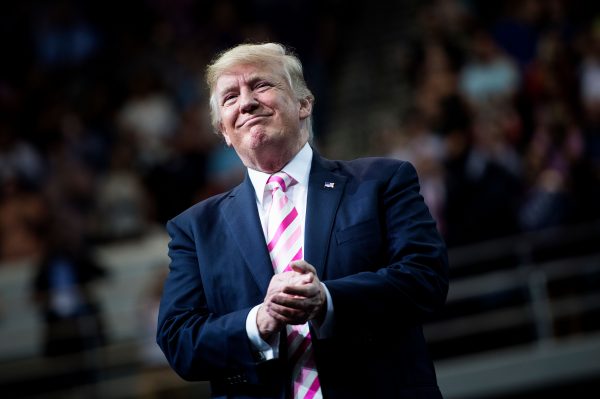 "I'm going to look at them personally, I'm going to pick the right one," he said.
The construction of a border wall is a key campaign promise of Trump's, and a key tool in his efforts to halt the flow of illegal immigrants to the United States, as well as the flow of drugs and potential terror threats.
In his book "Great Again," Trump cites Israel's construction of a wall as being "successful in stopping terrorists from getting into the country."
He also points to the ancient Chinese who constructed nearly 13,000 miles of border wall.
"Believe me, our wall-building technology has improved a lot in 2,000 years. What we don't have, that the Chinese had, is the commitment to do it."
An estimated 1,000 miles of new fencing would be needed along the 2,000-mile southwest border under Trump's plan. Some sections, such as San Diego already have a working border wall, and other areas have natural obstacles such as mountains and rivers.
So far, Congress has not agreed to provide the funding needed for a border wall. However, funding has been made available for the fixing and improvement of existing border fences.
In a joint statement following a meeting with Trump earlier this month, minority leaders Chuck Schumer (D-N.Y.) and Nancy Pelosi (D-Calif.) said that they would continue to oppose the construction of a wall.
Trump estimates that it will take six to seven months for existing fences to be improved.
"We're renovating it already, it's being made pristine, perfect, just as good as new," Trump said at the Alabama rally.
He also said that Border Patrol agents and ICE agents have been instrumental in providing input on how a border wall can be most effective.