President Donald Trump at a rally in Huntsville, Alabama, rallied for Sen. Luther Strange (R-Ala.) to fill Jeff Sessions' Senate seat.
After Trump appointed Sessions to be his attorney general, then-Gov. Robert Bentley appointed Strange to temporarily replace Sessions, pending a special election. The Republican primary runoff for that election falls on Tuesday. Currently behind in the polls against Roy Moore, Strange has risen sharply since Trump endorsed him last month.
In his speech, Trump described Strange as an outsider to politics and as someone with his own mind who is not beholden to anyone.
Trump cited an incident that made him like Strange, and eventually even decide to endorse him.
When Republican senators were trying to pass the American Health Care Act of 2017, which would repeal and replace parts of the Affordable Care Act (ACA), Trump said he was given a list of ten Republican senators that were expected to vote against the bill.
He said that among those on the list was Strange.
But while other senators had many requests for Trump in exchange for their support for the bill, including requests for private dinners with their family members, Trump said Strange immediately agreed.
"I say, senator I need your help, I said I got to get your vote on healthcare. He said you've got it," Trump said, relaying the story blow by blow.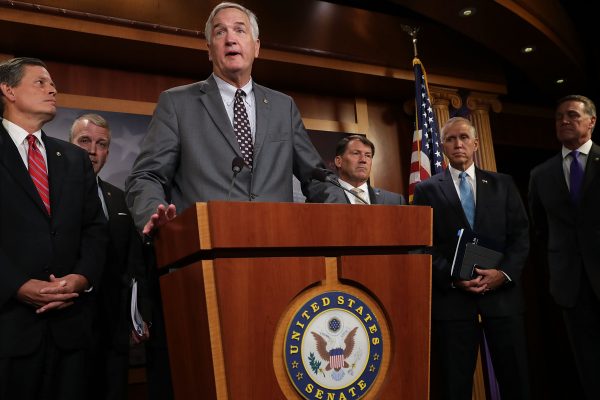 "I said, what do you mean I have it, because I've just been hammered by all of these people, how do you mean I have it?"
"He said, sir I was for you right from the beginning, I knew you were going to win, I knew you were going to win the whole thing, I've always been for you, my family has always been for you and honestly mister president if you want my vote you have it," Trump said relaying what Strange told him..
Trump said that after the phone call he told his wife Melania Trump that it was "the coolest thing that's happened to me in six months." Adding that it was a true story.
The healthcare bill eventually failed in the Senate when three Republican senators voted against the bill, leaving the Republicans one vote short.
Trump said that after seeing that Strange was down significantly in the polls to his opponent Roy Moore, he decided to take the unusual step to endorse a primary candidate.
Trump said that he believed that much of the criticism against Strange by Republicans, mainly that he is close to Senate leader Mitch McConnell (R-Ky.) and didn't have a will of his own, was unfair.
"I said that's really unfair, they were giving him a bum rap because he happened to be in the Senate," Trump said.
Trump said that Strange hardly knows McConnell and has a will of his own.
McConnell has been widely criticized by Republicans for failing to pass President Trump's agenda despite holding a majority in the Senate.
McConnell was unaware that Sen. John McCain (R-Ariz.) would unexpectedly vote against the healthcare bill. McCain has already said he will vote against a new Republican healthcare bill which is scheduled for a vote on Sept. 30.
Both Trump and Strange have called on McConnell to abolish the filibuster rule, which would make it possible to pass legislation with a simple majority instead of 60 votes.
Trump said Strange had been doing a "hell of a job" saying, "that's what we need in Washington."
Allies Supporting Moore
Some of Trump's closest allies are endorsing or supporting Strange's opponent Moore.
Former White House advisor Steve Bannon has endorsed Moore and will rally for him on Monday night, the day before the primary elections.
Former deputy assistant to the president Sebastian Gorka, and former Governor of Alaska, and fierce Trump supporter, Sarah Palin, rallied for Moore in Alabama earlier this week.
Fox News host Sean Hannity, a friend and supporter of Trump, will interview Bannon live on his show Monday night.
Trump said that many of his friends had called him asking him if he minds if they endorsed Moore.
Trump said he told them "really you can," but joked that "they might not have a job on Monday."
Strange served as state attorney general under former Gov. Robert Bentley, who resigned in April.
Moore, 70, is a religious conservative who twice lost his position as the state's top judge. He was ousted in 2003 after he refused a federal court order to remove a Ten Commandments monument from the state Supreme Court building.
After winning back the seat in 2013, he directed state judges to ignore the U.S. Supreme Court's ruling legalizing same-sex marriage, was suspended and then resigned.