True Modern Italian, With a Splash of New York City
July 28, 2013 6:02 am Last Updated: July 26, 2013 12:50 pm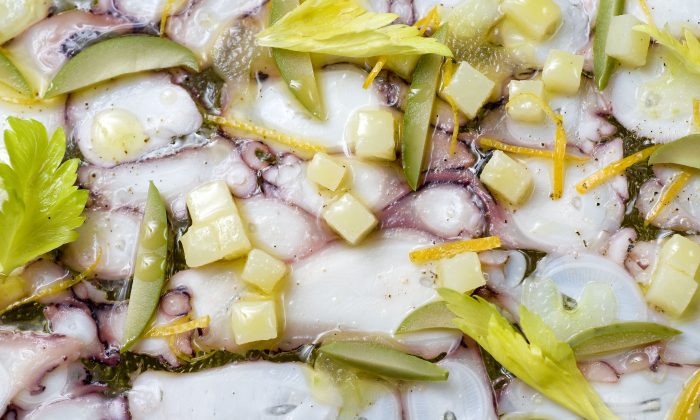 A Voce means a voice in Italian. It speaks of fine cuisine, impeccable service, and exquisite design. A Voce creates an exciting dining experience for its guests—true modern Italian, with a splash of New York City. This Michelin-rated restaurant is owned by the Marlon Abela Restaurant Corporation.
The setting is exquisitely designed. Its stylish decor reflects its fashionable and refined clientele.
As you enter, you will go through an elegant short tunnel, where you are greeted by two hosts who will escort you to your table in a very chic, modern, and sophisticated room filled with Milanese-inspired aesthetic. The room is surrounded by windows overlooking Central Park (the restaurant is on the third floor).
The statue of Columbus outside the window stands as high, as if part of the decor. The rest of the room is comprised of floor-to-ceiling glass walls, packed with as many as 7,000 bottles of wine, which act as a partition between the main dining room and the two private dining rooms, La Tavola, and Brunello & Barolo.
Every detail is minded, with an accent on quality. Celebrating the simplest and the freshest of ingredients, the menu items change on an almost daily basis depending on what is at the market that day. Almost everything is made in-house, from the bread to the pasta. While the service is efficient, friendly, and very knowledgeable. You get the sense that there is pride in belonging to A Voce as they see you are well taken care of.
The menu offerings have many exciting and original choices, such as a selection of house-made salumi and verdure plates, and a fabulous variety of antipasti, primi, and secondi.
My friend and I started with a few items from the carefully composed salumi menu, which prepared us for the compelling and irresistible dishes on the main menu.
For a light starter, the refreshing Antipasti Freddi the Dentice ($16) would be a very good choice. At the first bite, it was so good that it made my friend almost jump out of her seat. It looked so simple and humble, yet so grand in flavors. A red snapper prepared almost ceviche style, simply dressed with salt and pepper and sprinkled with chopped taggiasca olives and celery. It looked and tasted honest and good. The dish hits every part of your the palate with a freshness that takes you to a different level.
From the Primi, the Ravioli, ($25) made with homemade pasta and filled with eggplant and garlic, was placed in a pool of light sauce with pine nuts, grappa raisins, dried tomatoes, and topped with shaved parmegiano cheese. It was a hit. It was bursting with flavors. I knew my friend enjoyed food, but her eyes opened wide with pleasure the moment she had a taste.
I love eggplants. I love their taste and versatility, and this was a first for me. "Pasta stuffed with eggplant?" I had thought how original. You would think it was easy to make. It turned out to be labor-intensive and must be prepared ahead of time.
From the Del Mercato (the market) section of the menu, my friend chose The Amimelle ($17), which was superb. Veal sweetbreads, beautifully displayed on a white plate decorated with asparagus, capers, cippolini, onions, and complemented with bacon. Extremely tender, they were as smooth as butter melting in the mouth. There was nothing overpowering and even the bacon's salty flavor and crunch was not too obtrusive. But I went for the tempting Luccio con Aparagi ($33) prepared with Long Island pike, white asparagus brodo, and lobster vinaigrette, which was reminiscent of luxury and elegance. I found myself sopping a piece of bread into the light and somewhat citrusy-flavored cream that complemented the delicate fish.
The dessert menu offers different choices of desserts and cheeses with a short list of digestives. We delved into the warm, custard-filled, thin-crusted Bambolini a La Toscana ($11); it felt like a melody whispering to the heart and caressing the soul.
A Voce Columbus
The Shops at Columbus Circle (3rd floor)
10 Columbus Circle
212-823-2523
www.avocerestaurant.com
Lunch: Monday to Saturday 11:30 a.m.–2:30 p.m.
Dinner: Sunday to Wednesday 5 p.m.–10 p.m., Thursday to Saturday 5 p.m.–10:30 p.m.
Brunch: Sunday 11 a.m.–3 p.m.