PONTRESINA, Switzerland—Rolling through the Swiss Alpine splendor, the train seems to balance on a rocky spine, valleys falling away in both directions, each one filled with a village—red roofs, tall steeples, gilded clock towers—more charming than the last.
Climbing higher, the terrain becomes even more intense, and a recorded announcement tells passengers that we're entering the heart of the Albula Railway. Built more than a century ago, and now a UNESCO World Heritage Site, this single-track, narrow-gauge railway will swirl us over 55 bridges and spiral through 39 tunnels, cresting at a pass some 6,000 feet high. 
Passing through the longest tunnel on the route—burrowing through the stone more than 3,000 feet from the surface, and running some three-and-a-half miles in length—those few minutes in the black seem to take us back in time. Soon enough, we're on the other side and rolling up to the town of Pontresina, which, at least from a distance, seems set in the Belle Epoque. Grand hotels, lining the ridge, each one signaling an era of luxury that feels almost forgotten. 
Grand Hotel Kronenhof Pontresina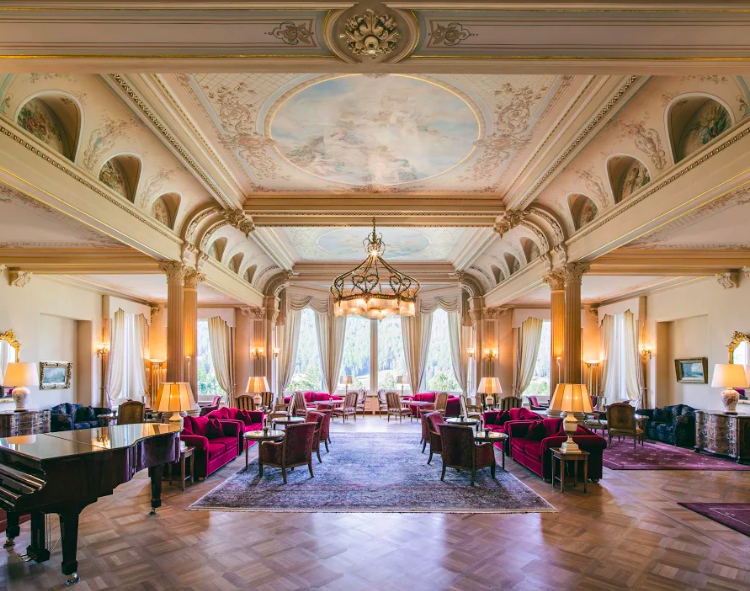 I'm staying at the Grand Hotel Kronenhof Pontresina, which has occupied a perch overlooking a broad valley and surrounding, snow-capped peaks, in the shadow of the white expanse of the Roseg Glacier, since 1848. Together with nearby St. Moritz, this is one of Switzerland's most stylish destinations. Sitting in the heart of the Alps, the area is also culturally unique, comprising one of the only regions in the country where Romansh—the country's fourth language—is spoken.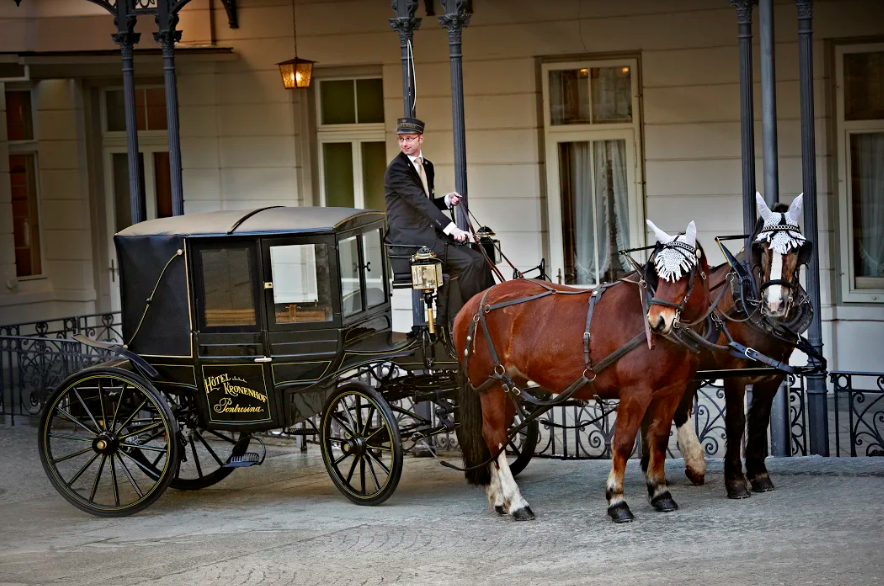 Taking a tour of the hotel just after checking in, my guide tells me that 19th-century residents, during the Little Ice Age, were actually afraid of the glacier. "They thought it would come down here and overwhelm them," she tells me. Passing through a recently updated, Euro-chic smoker's lounge, the rest of the spaces on the main floor maintain a bygone feel—painted ceilings, grand piano, and antique furniture, a dining room where a jacket is still required for dinner, where a maître d' in a tuxedo seats you, and servers in white uniforms plunk down silver trays on your table. 
"It feels like a long time ago," my guide remarks. "You can almost see the women out there on the floor dancing in their ball gowns."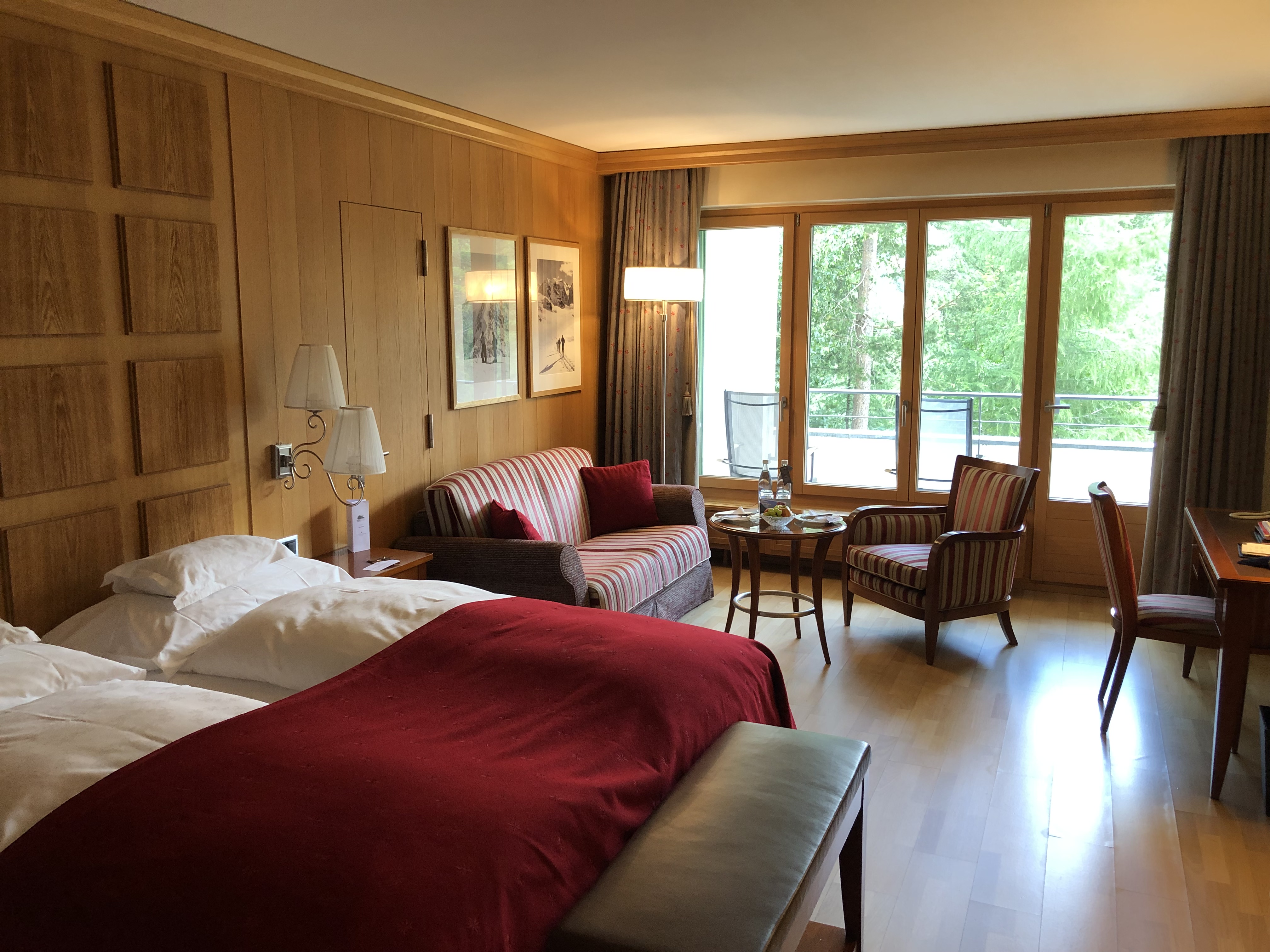 And then, the best part—the basement. First, we see a one-lane bowling alley finished with natural stone, and then, winding a path that I could never retrace through a series of corridors, we finish in what looks like a storage room. It holds dozens of pairs of vintage wood-and-leather skis ("the hotel was owned by the same family for 140 years, and they never threw anything out," my guide observes), but I quickly see that it's actually a wine cellar, dominated by two massive wooden barrels, reaching all the way to the ceiling, which once held gallons of Veltliner wine.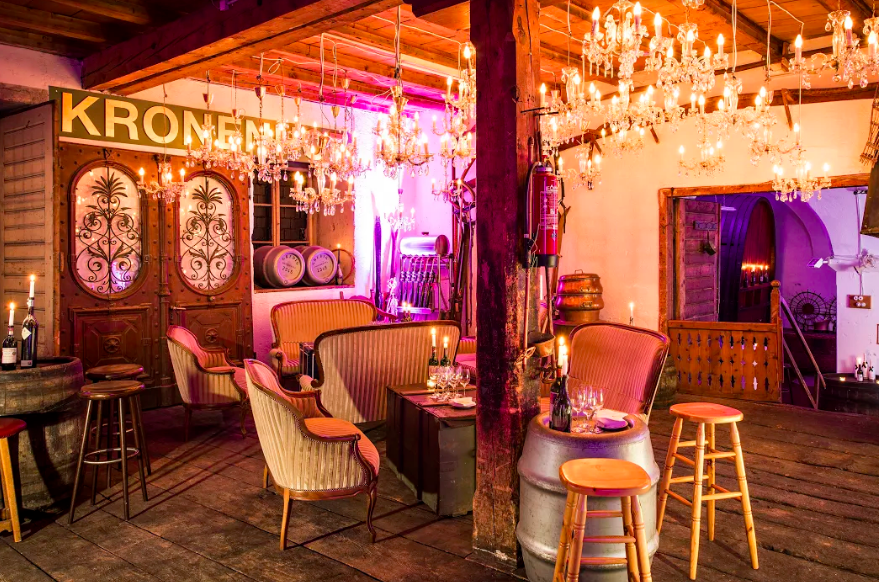 She explains that the original owners, the Gredig family, purchased a 10-room guesthouse in 1848, and steadily expanded it into the present hotel. But they faced lean times, especially during World War I, when most travelers stayed home. 
"But they were wine traders," she notes, pointing to a couple of old sleds on the wall that were originally used to transport the good stuff across mountain passes. "The locals and the soldiers kept this place alive, coming here to buy wine."
I spend plenty of time roaming around the hotel and grounds, luxuriating with a massage in the spa and heating up in the sauna, walking some of the local trails, and relaxing with a book on my room's balcony, listening to the rolling water of an unseen, nearby stream. 
St. Moritz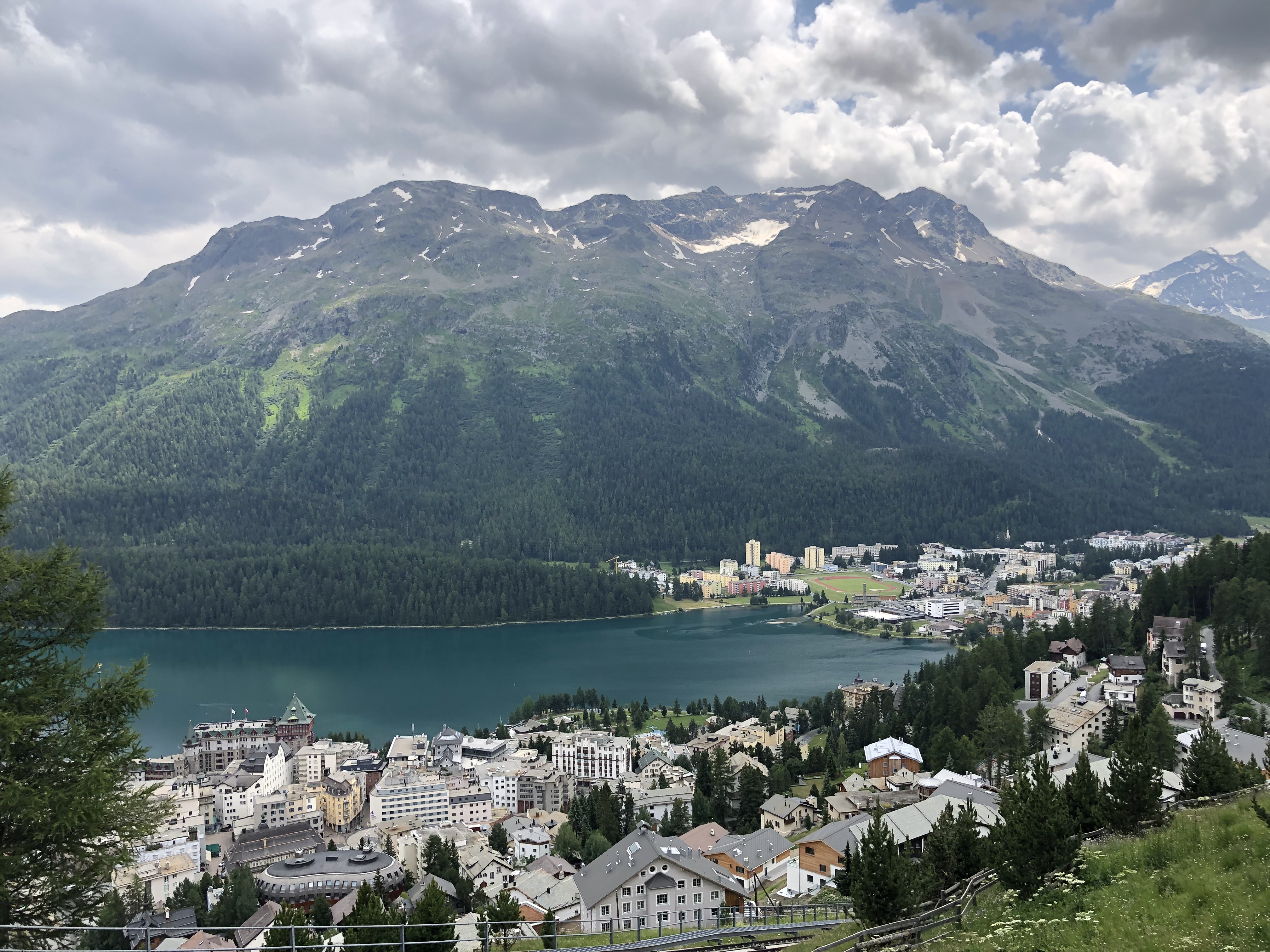 And then, I'm ready for St. Moritz. Host to two Winter Olympics—in 1928 and 1948—it remains a wealthy and glamorous place, less than 10 minutes by local train from Pontresina. After I arrive, I set out on foot, touring some of the sites from those Games. Boarding a funicular, then a gondola, I swoop up over steep slopes used in both Olympics and, since then, for the Alpine World Ski Championships, riding all the way to the 10,026-foot peak of Piz Nair. Ill-equipped in my shorts for the frosty conditions at the summit, which still sports patches of snow, I keep warm by walking around, stopping for a photo next to a statue of an Alpine ibex (in German: steinbock) before hustling back down the mountain.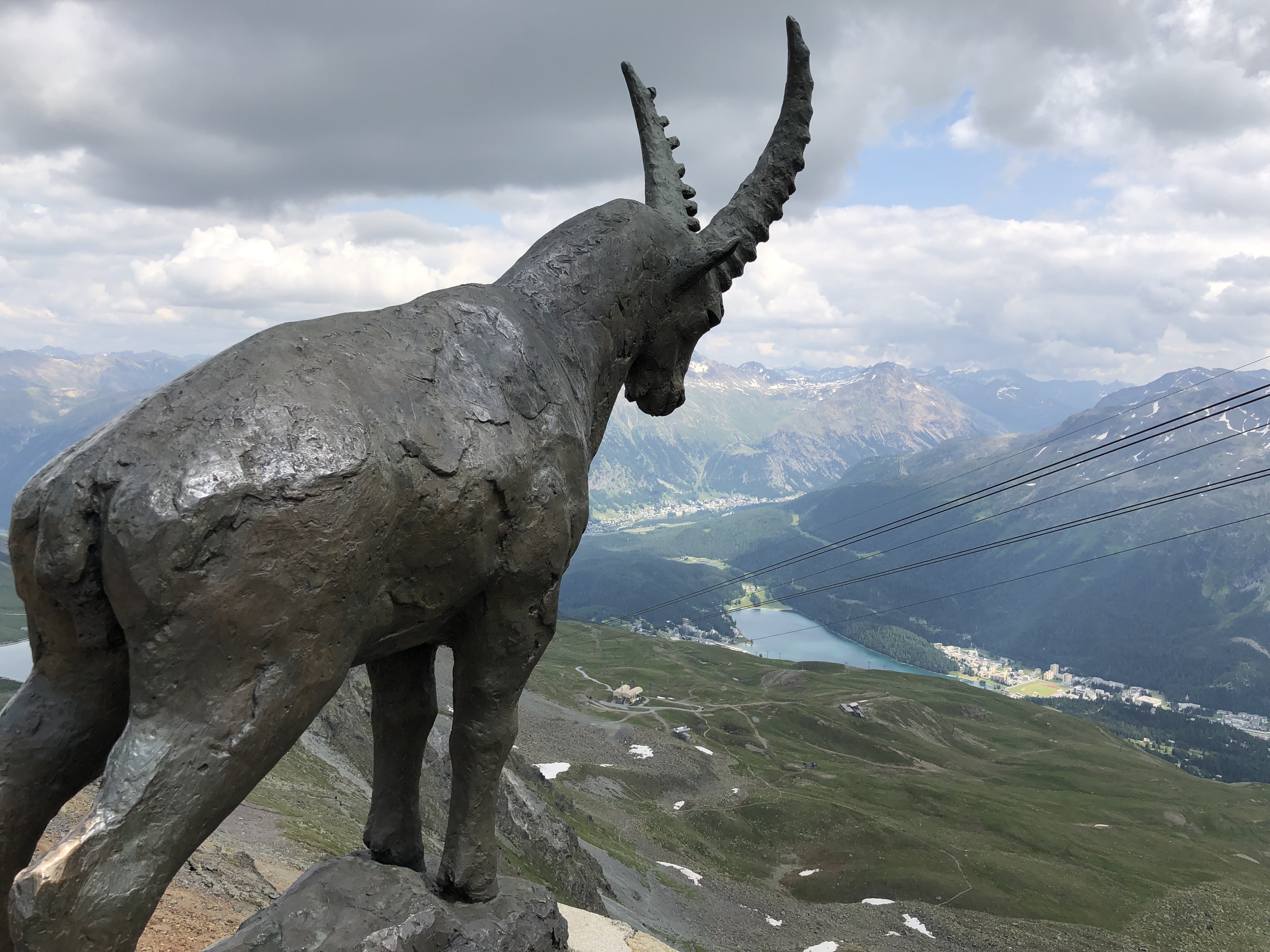 Back in town, I stop at the Kulm Country Club, recently renovated with the help of architect Norman Foster. Now a high-end bar and restaurant, this was once the Olympic Ice Pavilion—both figure skaters and hockey players once competed for glory on an outdoor rink here, while spectators watched from this building. The sunny space is decorated with a series of ancient, dangerous-looking sleds, both bobsleighs and cresta sleds, a daring head-first ice-track sport related to the (now) better-known skeleton.
Spending the rest of the day wandering the winding streets, I stumble upon the Engadine Museum, a place dedicated to preserving the culture of the region in a curious way—by showcasing its living rooms. A long, and long-isolated valley in the far reaches of southeast Switzerland, the Engadine is guarded by massive peaks and bordered by Italy—Lake Como is a day-trip destination from St. Moritz. Here, Romansh is still spoken, a Latin language that traces its roots all the way back to the Roman empire.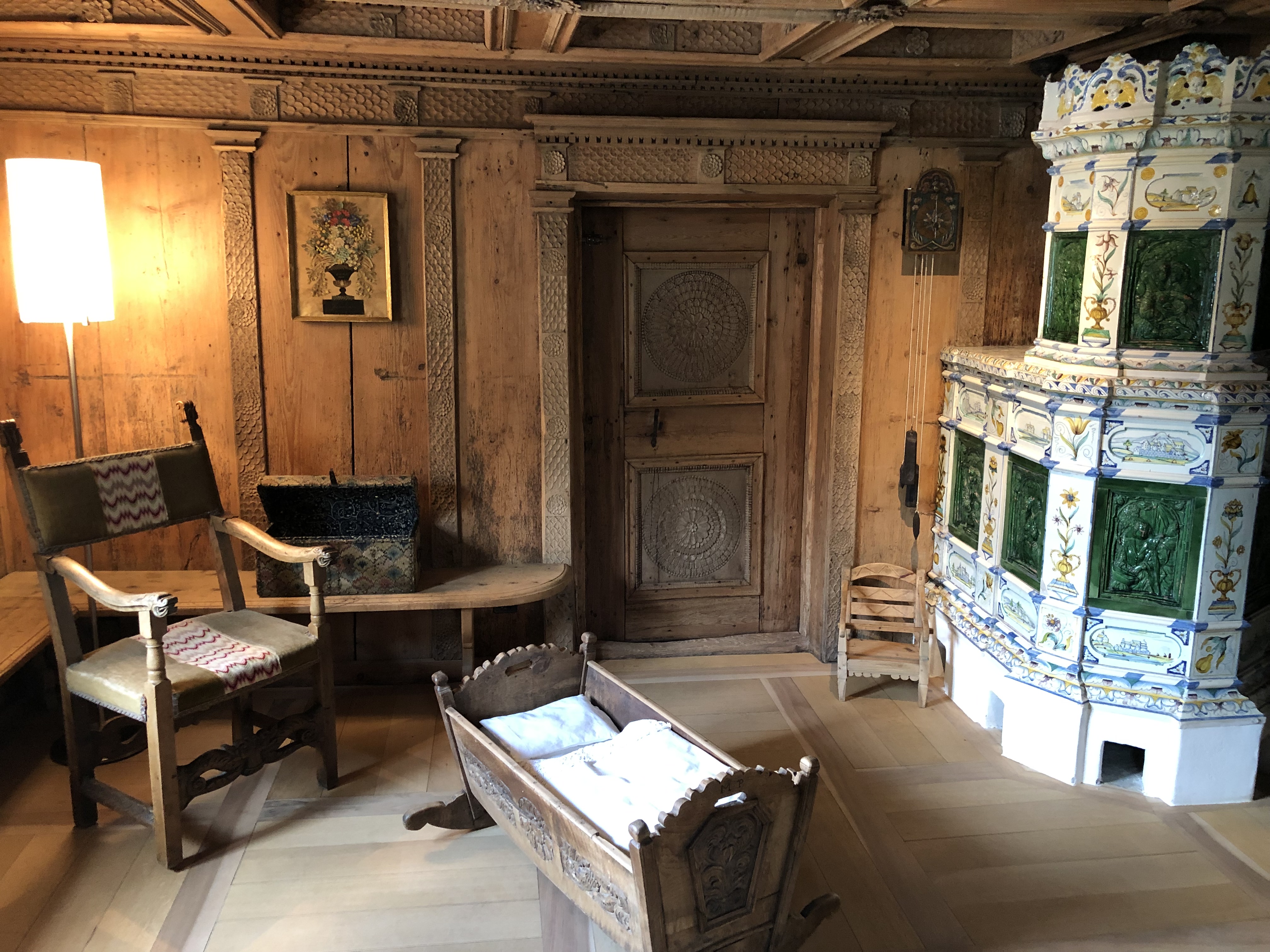 Walking through the museum, I encounter a number of "stuva," which, according to the iPad I'm given on entry, was always the "warmest, coziest room in any Engadine house," where family and friends would gather around the stove to visit, and work, and pass the time. 
From a variety of eras, all are covered in handsome wood, some are plainer, while those of people with means feature intricate carvings. One room is dedicated to Romansh, with walls painted with words and phrases in the language. A century ago, when local people recognized the language could fade away, they fought to preserve it, achieving official-language status in 1938. It's still taught in Swiss schools. 
Tired, and ready to return to my sunny balcony, I make one last stop—at the Devil's Place, home to the world's largest whisky collection. Sitting inside a small hotel at the far end of Lake Moritz, I meet Claudio Bernasconi, the owner, who offers me a dram from one of his own personal casks—he has some 150, all over Scotland.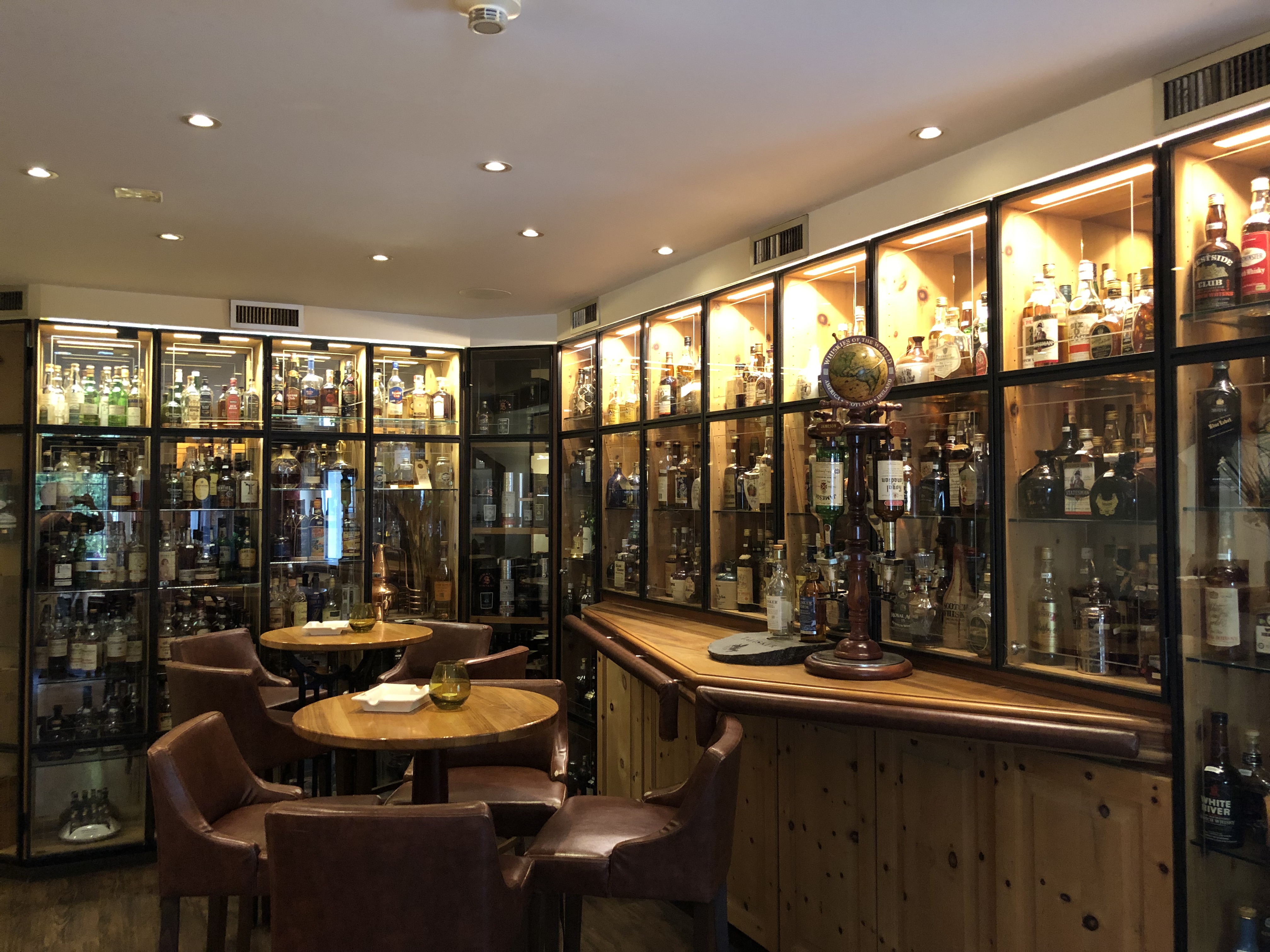 As I admire some of his 2,500 bottles, which line every available space on the walls, he tells me that he fell in love with the stuff after staying at a bad hotel where the water wasn't potable and he had to brush his teeth with whisky—and I don't quite believe him. I flip through his five different tasting menus, all with whisky pairings ("it used to be wine and dine, now it's whisky and dine," Claudio said), and consider what it would be like to order his most expensive offering—Macallan 72, which goes for more than $20,000 per dram.
Warmed by the whisky, I'm soon back on the train. The sun is fading over the lake, and we chug into the valley, the peaks, and glacier forbidding, overhead. But it won't be a long ride—my room, with bubbling stream, is waiting for me, just 10 minutes up the track.
When You Go
With 112 rooms and suites—no two the same—the Grand Hotel Kronenhof Pontresina transports guests back in time, to a more genteel era. Spend time in the spa, and make sure to bring your skis (or hiking boots). Opt for the half-board package, which includes daily breakfast and tasting-menu dinner in the massive, ornate dining room. Kronenhof.com
Train travel is the best way to see Switzerland, and the all-in-one Swiss Travel Pass offers unlimited rides by rail, bus, and boat, as well as free admission to more than 500 museums and local transportation in 90 communities. SBB.ch
Toronto-based writer Tim Johnson is always traveling, in search of the next great story. Having visited 140 countries across all seven continents, he's tracked lions on foot in Botswana, dug for dinosaur bones in Mongolia, and walked among a half-million penguins on South Georgia Island. He contributes to some of North America's largest publications, including CNN Travel, Bloomberg, and The Globe and Mail.