The unparalleled events of George Washington's life could fill half a dozen biographies of men with standard accomplishments. It is natural that his exploits as a revolutionary general and president would overshadow his early experiences in the French and Indian War. But without these initial achievements, the later ones would not have been possible. During this time, Washington trained and led the American Colonies' first professional military unit: the Virginia Regiment.
Creating an Elite Fighting Force
During the Battle of the Monongahela, Washington had witnessed the devastating defeat of Gen. Braddock's army and lived to tell about it, with four bullet holes in his coat as proof. He had seen neat rows of British soldiers fall to a smaller, unseen force of French and American Indians who fired muskets from behind rocks and trees. His experience convinced him that forest-fighting methods were more appropriate to the American terrain than European ones. After becoming a national hero as one of the only surviving officers of the Braddock Expedition, Col. Washington was named the supreme commander of Virginia's colonial forces in 1755. He was only 23 years old.
The frontier had become a savage place to seek a meager fortune. American Indian war parties regularly emerged from the wilderness to terrorize settlers, then vanished as quickly as they came, leaving chaos in their wake. "Every day," wrote Washington, "we have accounts of such cruelties and barbarities as are shocking to human nature. … No road is safe." He was tasked with protecting Virginia's nearly indefensible 350-mile western border, and he knew that his only chance of success was training his men to fight like American Indians.
Washington was given the authority to recruit troops for the newly created Virginia Regiment. He oversaw both officers and a few hundred men conscripted from along the border. These poor pioneers tested him as much as his invisible enemies. The men were insolent and mutinous. Factions formed among those he called "indolent" officers, incited by a captain who refused to obey orders. Acting governor Dinwiddie blamed Washington for the anarchy, and ambitious men envious of his position slandered him in print. Virginia's House of Burgesses initially hesitated to pass laws for enforcing obedience and gave him insufficient resources.

In the face of these obstacles, Washington showed fortitude and maturity. He attended to every detail of camp life. Discipline was "the soul of an army," and punishments were tough but fair. Deserters were to be tracked down, chained, and flogged. When this proved not enough, repeat offenders were hanged. He enforced a rigorous moral code, meting out lashes for swearing and for drunkenness.
Within a year of drilling these ragtag recruits in forest-fighting tactics and pitting them in endless skirmishes along the frontier, Washington made the Virginia Regiment "the first in Arms, of any Troops on the Continent, in the present War." He himself had designed the officer uniforms: blue coats, scarlet waistcoats, and silver-laced hats "of fashionable size." They both fought like an elite unit and looked the part.
It is worth noting that during this time Washington also recovered from dysentery, having previously survived smallpox, pleurisy, and malaria. His biographer Ron Chernow notes in "Washington: A Life" that he had not only dodged musket balls in battle but also overcame four serious illnesses by age 26. His immune system was as resilient as his bulletproof exterior. Was there any mortal threat this man of destiny could not endure?
The Forbes Campaign
Despite the Regiment's unmatched combat expertise, the Ohio Territory had become a sideshow. The main action in the war shifted north to the Great Lakes region. Washington saw it as the perfect opportunity to take an offensive stance against the French. He would do what Gen. Braddock had died attempting: conquer Fort Duquesne, the key to the Ohio Valley. Acting governor Dinwiddie disagreed with Washington's strategy, and their bickering over logistics and resources turned bitter. In their letters, each accused the other of duplicity. Washington defended his honor, stating, "No man that was ever employed in a public capacity has endeavored to discharge the trust reposed in him with greater honesty, and more zeal for the country's interest, than I have done."
After leaving for two months on a failed mission to seek a royal commission, Washington returned from Boston to find that American Indian incursions had escalated to crisis levels. Entire settlements had been depopulated, with so many frontier families murdered that everyone looked to Washington as their savior. Volunteers flocked to him as he championed the pioneers' cause. The Virginia Regiment swelled to 1,000 men, and several hundred from the Catawba and Cherokee tribes also enlisted on the British side. Washington became ever more frustrated at the civilian legislators who ignored his strategic recommendations. As militiamen began to desert and he struggled to impose discipline, he resolved to resign.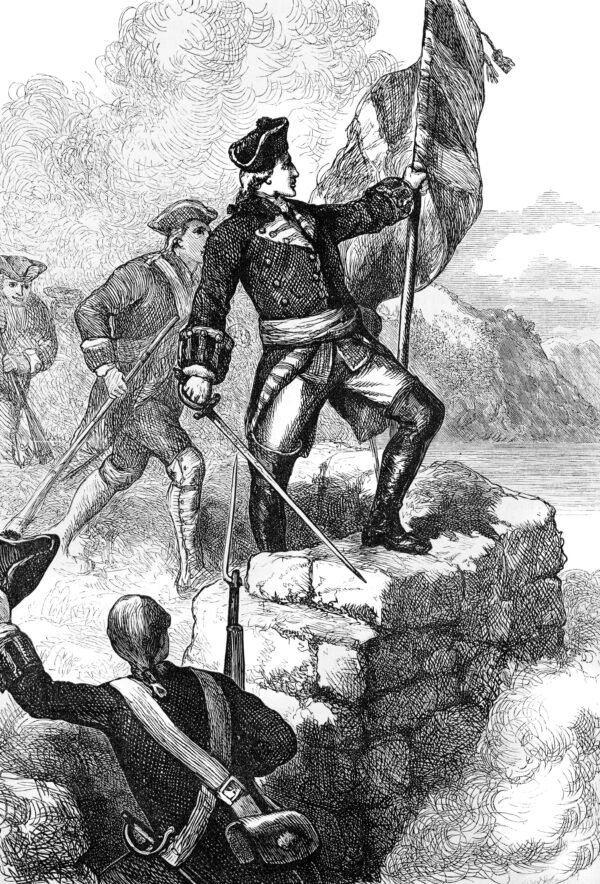 Then, he received word that Britain was sending over a large force commanded by Gen. John Forbes. Its mission? To mount a new campaign in the Ohio Country and take Fort Duquesne. Washington offered his services, and the Virginia Regiment doubled to 2,000 men. Short on uniforms, he clothed himself and his men in American Indian-style shirts and leggings. Gen. Forbes acknowledged Washington's strategic expertise with some annoyance, ordering that British soldiers also adopt "Indian dress" and "comply to learn the art of war" by training in forest-fighting tactics. Troops would split up when ambushed, head to the trees, and flank the enemy while Cherokee scouts attacked the rear. The superior Virginia Regiment would march in the vanguard.
They set out in the fall of 1758. On November 12, Virginians under the command of Lt. Col. George Mercer encountered a French reconnaissance party from Fort Duquesne. As Washington's own column arrived to relieve his fellow colonials, the two groups of Virginians mistook each other for the enemy and began firing. Washington ran between them and hit their muskets with his sword, but not in time to prevent his men from being shot. He later said that during this moment, his life was in "as much jeopardy as it had ever been before or since." The Virginia Regiment suffered 40 casualties, but it seemed that grace's saving hand had intervened yet again to ensure Washington was not one of them. They captured prisoners who divulged that Fort Duquesne was not well fortified. Washington led the vanguard in an assault on the fort—only to find it burning down. The French had deserted it the previous day.
It was a hollow culmination to a difficult three-and-a-half year mission to defend his state. In December 1758, Washington resigned from the military and entered politics. Earlier that year, he had won a seat in the House of Burgesses—a landslide victory he did not directly campaign for, or even show up to witness. He returned to Mount Vernon, ready to settle down with his new wife, Martha. Little did he know that in less than 20 years, his former experience managing the Virginia Regiment would make him the obvious choice to command the Continental Army in our nation's war for independence, catapulting him to even further fame and glory.
This article was originally published in American Essence magazine.