Top Chef Recipe: Grilled Atlantic Salmon With Roasted Corn, Zucchini and Tomatoes, Tomatillo Salsa
Chef Antonio Prontelli, Summer Garden & Bar at Rock Center Cafe, New York City
July 1, 2013 9:25 pm Last Updated: June 24, 2015 8:40 pm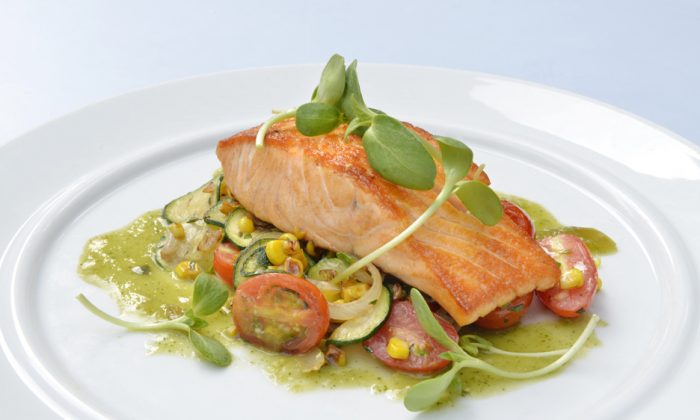 Grill out this summer with a great recipe from Chef Antonio Prontelli, Summer Garden & Bar at Rock Center Cafe, New York City.
Grilled Atlantic Salmon With Roasted Corn, Zucchini and Tomatoes, Tomatillo Salsa
Tomatillo Salsa
6-8 green tomatillos
1 small jalapeno
1 small garlic clove
8 sprigs cilantro
1 lime
Salt to taste
Boil the jalapeno, tomatillos, garlic in water until tender, about 3-4 minutes. Strain and save the water. In a blender, add the tomatillos, garlic, half the jalapeno with a little bit of the water and buzz. Add more water if needed until you get the consistency you want. Taste and add more of the jalapeno if you like. Season with lime juice and salt. Lastly, add the cilantro and buzz once more; the color will become a bright vibrant green.
Vegetables
Per person
1/4 small zucchini
1/2 corn on the cob
5-6 grape tomatoes
1 shallot, sliced
1 clove garlic, sliced
Shave zucchini into thin slices. Roast and shuck the corn on the cob. Split the grape tomatoes in half, then place under the broiler until they begin to blister; cool down.
Heat a saute pan, coat with olive oil. Place the shallot and garlic in the pan, soften until translucent. Now add the zucchini, saute another minute. Add the corn and tomatoes; taste and season with salt and pepper. Add fresh thyme leaves and parsley if desired.
Salmon
7 oz filet of salmon per person, skin off
Lightly coat each salmon filet with olive oil, season with salt and pepper.
If you are using a charcoal grill, move the coals around so that one side has more and one less, you'll then have more heat on one side. Sear the salmon over the higher heat, then flip and move it over to the lower heat side. Cook to taste, approximately 10-15 minutes. When the fish flakes easily it's done.