Top Chef Recipe: Cotoletta di Vitello
From Chef Jonathan Benno, Lincoln, New York City
July 1, 2013 5:57 pm Last Updated: June 24, 2015 8:40 pm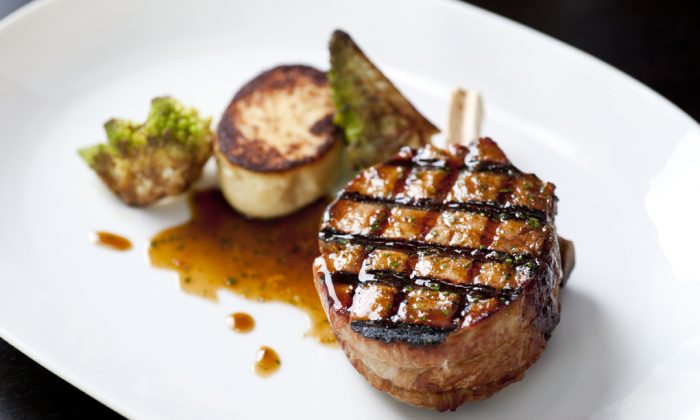 Grill out this summer with a great recipe from Chef Jonathan Benno, Lincoln, New York City.
Cotoletta di Vitello 
Cauliflower Gratin
4 1/2 lbs. béchamel
3 1/3 lbs. grated cauliflower
12 whole eggs
1/3 lb. breadcrumbs
1/3 lb. pecorino romano
2 Tbsp butter
Salt, to taste 
Sugar, to taste
Sweat cauliflower in butter in a pan. Season with salt and sugar. Heat béchamel and add pecorino.
Add eggs to a blender, slowly temper in the béchamel to make a custard.
In a mixing bowl, combine the cauliflower, bread crumbs, and the béchamel custard. Spoon into molds and cook at 180 F, full steam, covered for one hour to set.
Gremolata Veal Jus
2.2 lbs. veal bones
8 L. veal stock
2 cups chicken stock
2 cups canola oil
6 sweet carrots
2 onions
6 roma tomatoes
1 leek
2 sprigs of thyme
6 parsley stems
20 black peppercorns
2 bay leaves
Salt and pepper, to taste
Lemon juice, to taste
Lemon and orange zest, chopped, to taste
Parsley, chopped, to taste
Bring the veal stock to a simmer in a pot. In a large rondeau, heat the canola oil until it begins to smoke. In a large pot, caramelize the veal bones on all sides. Deglaze with the chicken stock and add the mirepoix. Rapidly reduce the stock until a glaze begins to form on the bones. Once the stock has cooked off, add the hot veal stock. The sauce should come to a boil very quickly. Cook the sauce at a simmer for 45 minutes. Strain first through a china cap, then through a chinois several times, until the sauce passes through without the need for tapping or swirling. Reduce the sauce to consistency.
Season with salt, pepper, lemon juice; finish the sauce with the chopped lemon zest, orange zest and parsley.
To serve, per person
1 veal chop
3 pieces romanesco
3-4 Tbsp canola oil
1-2 Tbsp butter, softened
1 piece cauliflower gratin
Pinch of all purpose flour
Season the veal chop with salt and pepper. Add just a little bit of canola oil to coat the pan, then add the chop and grill to cook on medium-high heat, flipping once after 5 minutes. The chop should cook 8-10 minutes total for medium-rare.
For Romanesco, first add canola oil to a pan. Over medium-high heat, add the Romanesco pieces and lightly caramelize on all sides. Add butter and swirl in pan.
Dust cauliflower gratin with all purpose flour. Add canola oil to pan, place gratin in pan, gently heat and flip once to finish.
Plate veal chop, Romanesco, cauliflower gratin and finish with gremolata veal jus. Serve.