Top 12 US Golf Courses Based on Value
Where to find the best bang for your greens-fee buck
April 21, 2014 6:08 am Last Updated: April 23, 2014 10:11 am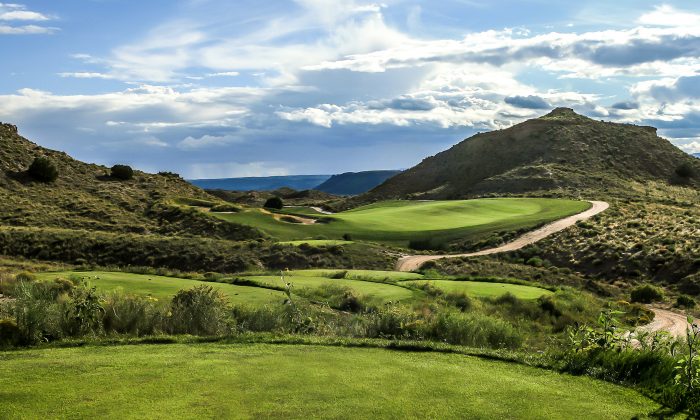 Golf trips in the United States often start with a dreamy "wish list." How 'bout 18 holes at Augusta National? Cypress Point? Shinnecock Hills or Oakmont perhaps? Sounds great. Just one small issue; they're private—as in REALLY private—you either know a member or know someone who does or you don't play.
OK, so what's next on the list? Surely, there are some great courses open to the public. Absolutely. Pebble Beach, Pinehurst 2, Whistling Straits, and Bandon Dunes all come to mind. Perfect, looking forward to packing right? Guess again. All of the aforementioned feature triple-digit greens fees. And, in some instances, several hundred dollars is needed to get you to the first tee. Not to mention those pesky 'must stay' requirements since lodging is often required.
Thinking of canning the trip all together? Perish the thought. There's a third alternative. Throughout America, there are golf courses equally outstanding on both fronts—first-rate designs with prices that won't cost you your first born. The courses outlined below don't have big time marketing campaigns to get noticed so it's likely they fly considerably under the radar. The issue with "value" courses is that while they cost less—they often provide less. These dozen courses are the ultimate co-mingling—all in one package. Hurry now while the tee box is clear!
Black Mesa in Espanola, N.M.


(Maureen A. Vaccaro)
Located 20 miles northwest of Santa Fe, the state's capital, Black Mesa is high desert golf at its finest. Why is New Mexico aptly named the Land of Enchantment? Simple. Watch the surrounding rock formations change shades of color as the day progresses. 
Keep in mind, Black Mesa is far more than eye candy. The short 7th and 14th holes test your appetite for risk and reward. The vexing greens, showcased by the par-5 16th bedevil and unravel even the surest of putting strokes. The key to the course is never pushing the envelope beyond your capability to play the shot. Knowing your limits is the best way to max out the lowest score here. 
Best of all, Black Mesa is under $100 with cart included at peak with walking always an option. Also, the replay rate is just $35 with cart included; that's two rounds, costing less than one round at Bandon Dunes. 
www.blackmesagolf.com

Four Mile Ranch in Canon City, Colo.


(Courtesy of Four Mile Ranch)
Roughly, 45 minutes south of Colorado Springs is Four Mile Ranch. The greens are a marvelous mix of challenges and even with the added distances because of the elevation, the need for sound placement is always present. 
Architect Jim Engh adds a few riddles—drivable par-4 holes such as the 8th are ripe for the taking but will bite back with the slightest miscalculation. Blind shots, even on the par-3 14th and the par-5 6th, add to the challenge. 
There's also a fun "stay and play" special between the club and Royal Gorge Anglers. You get a full day guided fly fishing expedition on the Arkansas River—one night at their Lodge and an 18-hole round of golf including cart, a winning combination all the way around. 
www.fourmileranch.com
Wine Valley in Walla Walla, Wash.


(Maureen A. Vaccaro)
Walla Walla, which means "many waters" in the Sahaptin Native-American language, is located in the southeast corner of Washington State—and is home to Wine Valley. 
With its artful logo of a corkscrew attached to a flagstick, Wine Valley has been open only a few years, but it has quickly become a "must play" for golfers seeking a truly adventurous course. Firm and fast turf conditions with amply wide fairways are in the mix along with sweeping wind conditions providing ever changing elements from one day to the next. 
Various "stay and play" packages are available as well as tours of some of the best vineyards in the western United States. Sit out on the back porch, wine glass in hand, as the sun descends for a grand conclusion to your day. 
www.winevalleygolfclub.com
Bethpage State Park (Black Course), Farmingdale, N.Y.


(New York State Dept. of Parks)
The site of the 2002 and 2009 U.S. Opens, the course is a physical endurance test as well as a golf examination of the highest order. 
Suffice to say, if you can't hit your driver consistently for length and direction, you're in for a long day. Although the 18th is a so-so closing hole, it's the three holes preceding it—most notably the uphill par-4 15th—that vividly illustrate the quality of the golf shots you'll need. 
Always call ahead before going because the Black can sometimes close with very limited notice, and each Monday it's closed for maintenance. Fees are reasonable and the facility provides a variety of other activities all in one location. 
nysparks.com/parks/108
Rustic Canyon in Moorpark, Calif. 
An hour northwest of central Los Angeles in the Simi Valley area is Rustic Canyon. Gil Hanse, the man selected to design the golf layout for the 2016 Summer Olympics, was the point man in bringing to life Rustic Canyon. The course provides roughly 250 feet of elevation change that's hardly noticeable in the canyon-setting it occupies. Wide fairways provide clear angles to play into the challenging putting surfaces. In an area of the country where surface level glitz is often the rule, Rustic Canyon demonstrates substance can still win over golfers in a big-time way. For just $66 on weekends, you can walk this amazing layout. Incredibly, for just over $100 you can play two rounds on weekends and holidays. 
www.Rusticcanyongolfcourse.com