Millions of eyes have turned to London's Regency era because of "Bridgerton." This Netflix original series, based on Julia Quinn's novels about debutantes being presented at court, has become the top show in 76 countries since debuting on Dec. 25, 2020. Unfortunately, this historical romance is far from wholesome entertainment. Its International Movie Database content advisory reveals that this TV-MA (for mature audiences) series is not only "mature" but downright obscene. Fortunately, there are decent alternatives for enjoying Regency England's fashion and manners.
Novels by Jane Austen and the Brontë sisters, which immortalized the Regency era (1811–1820), have spawned many film adaptations, including those from the Golden era of Hollywood. For instance, "Wuthering Heights" was filmed in 1939, "Pride and Prejudice" is a 1940 film, and "Jane Eyre" was adapted in 1943. These movies' makers often valued producing entertaining films over faithfully adapting source novels.
On top of the propriety and traditions depicted, which were extremely important in 19th-century England, these films came from Hollywood filmmaking at the peak of its moral standards. From 1934 to 1954, Joseph I. Breen enforced the Motion Picture Production Code guidelines, outlining decent film content. The Production Code Administration enforced this document, commonly called the Hays Code, ensuring that all films were "reasonably acceptable to reasonable people."
Many classic books and plays required revision to meet these moral standards. Thus, these Code era classics are the most family-friendly adaptations available, so they can introduce young children to these timeless stories without questionable content. Moreover, they are wonderfully entertaining.

'Wuthering Heights'
The 1939 version of "Wuthering Heights" presents the utterly romantic notion that we each have a predestined soul mate, without whom we are cursed with despair. The adaptation made important changes to the novel's story to highlight its romance.
The setting was updated from the late 18th and early 19th centuries to the mid-19th century. Sarah Berry's "Screen Style: Fashion and Femininity in 1930s Hollywood" asserts that the change was made because producer Samuel Goldwyn found Civil War gowns more flattering. While not quite Regency, the beautiful 19th-century costumes are on display at two balls.
In addition, by limiting events to the novel's first volume and excluding the parts pertaining to their respective children, the film focuses solely on the romance between Cathy and Heathcliff.
"Wuthering Heights" follows the life of Cathy Earnshaw (Merle Oberon), the wildly spirited daughter raised at the titular house. When she and her brother Hindley (Hugh Williams) were children, their father, Dr. Earnshaw (Cecil Kellaway), tried to teach them to help those less fortunate. He took in a beggar boy whom he named Heathcliff (Laurence Olivier) and treated him like a son.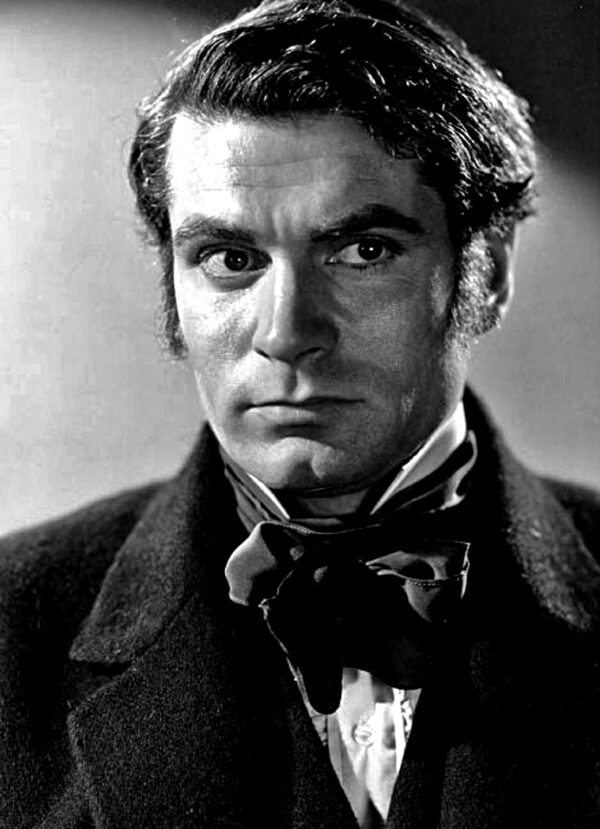 This lesson is lost on Hindley. After their father dies, Hindley, who becomes a drunken brute, makes Heathcliff a stable boy and holds Heathcliff's background against him his whole life.
Cathy, on the other hand, remembers her father's lesson and treats Heathcliff as an equal, growing to love him. However, when wealthy local Edgar Linton (David Niven) wants to marry her and offers the luxury she craves, she breaks Heathcliff's heart by calling him "the dirty stable boy." Heathcliff leaves, vowing revenge.
After Heathcliff returns from America years later, the wealth and refinement he has acquired don't change the locals' opinions of him. They still consider him a "Gypsy beggar." Their prejudice embitters him, especially toward those who personally mistreated him: Edgar Linton and Hindley Earnshaw.
Heathcliff then indefatigably seeks revenge against those who wronged him. He methodically steals Wuthering Heights from Hindley while supporting his destructively alcoholic lifestyle. He mistreats Isabella Linton (Geraldine Fitzgerald), Edgar's sister, by marrying her out of spite and then using her to be near Cathy.
However, in an important change from the novel that ensures a softer, romantic tone, Heathcliff never physically abuses his wife. His only violence is impulsively slapping Cathy when she rebuffs him for Linton, which Heathcliff instantly regrets. All his actions are motivated by his undying love for Cathy and his heartbreak at her spurning him, so he never truly harms innocents. This is quite different from the book's brutish Heathcliff, who beats his wife, verbally and physically abuses those he resents, and possibly murders his foster brother.
The Code did not require this character revision, although violence was discouraged. However, it did require that wickedness be punished, so unless his evil deeds were excluded from the film, Heathcliff could neither be pitied by the audience nor posthumously reunited with Cathy. By downplaying the revenge and cruelty in Heathcliff's character, this film focuses on his and Cathy's undying love, showing that he deserves her.

'Pride and Prejudice'
While "Wuthering Heights" turned a Gothic romance into more of a romantic tragedy, the 1940 film version of "Pride and Prejudice" turned a comedy of manners into something resembling a romantic comedy. Here, too, the desire to replace simple Regency era costumes with more elaborate Victorian gowns drove filmmakers to change the setting from the 1810s to the 1830s. The beautiful styles on display throughout this film are sure to delight viewers with their opulence and attention to detail. More importantly, though, the film eliminated smaller events and details of the novel to focus on the main couple's journey to discover that first inclinations may be deceiving.
The Bennet family includes five daughters—daughters with no dowries. If Mr. Bennet (Edmund Gwenn) were to die, their house would be inherited by his comical cousin Mr. Collins (Melville Cooper). Thus, Mrs. Bennet (Mary Boland) is eager to marry off her five girls.
The whole town is aflutter when two wealthy bachelors, Charles Bingley (Bruce Lester) and Fitzwilliam Darcy (Laurence Olivier), come to town. While Bingley and beautiful Jane Bennet (Maureen O'Sullivan) quickly fall in love, Darcy and Jane's strong-minded sister Elizabeth (Greer Garson) develop mutual animosity immediately. Although Darcy and Bingley's sister (Frieda Inescort) think any attachment between Bingley and Jane is unwise, Darcy soon finds himself developing unwanted feelings for Elizabeth, better known as Lizzie.

Lizzie, a woman of strong principles and high ideals, shows how one can be prejudiced against wealth and position just as well as poverty, while Darcy's pride makes him loath to connect his best friend or himself with a family containing a silly woman like Mrs. Bennet or her frivolous daughters Kitty (Heather Angel) and Lydia (Ann Rutherford).
However, Lizzie is so convinced that Darcy is a pompous snob that she believes the lie that he acted dishonorably, as told to her by George Wickham (Edward Ashley), a charming but roguish soldier. The film highlights how Lizzie is deceived by making her interactions with friends and family, particularly Darcy and Jane, the main focus.
"Pride and Prejudice" comes from an era of staunch propriety, yet a few elements in the novel failed to meet Code standards. The character of George Wickham, for example, was significantly reduced because of his promiscuity, which is just hinted at in the film. Also, his unmarried "elopement" with Lizzie's sister Lydia is discussed in less detail because of the implied immorality.
Modifying Wickham's character not only increased Code compliance but also focused the story more closely on Elizabeth and Darcy. Instead of considering Wickham romantically, as in the book, Lizzie is more concerned with his alleged mistreatment by Darcy. This preoccupation with Darcy's affairs shows that she is more interested in him than she will admit. By downplaying the book's satire to create a romantic comedy, MGM made a highly successful film that sparked great interest in the novel!

'Jane Eyre'
The 1943 film "Jane Eyre" brings a very real atmosphere to life on screen, driven by the overdubbed narration of the novel's excerpts by the titular character. In addition, the dramatic Bernard Herrmann score and chilling black-and-white cinematography are reminiscent of "Citizen Kane."
Continuing the trend of the two previous films, this film's setting was changed from the novel's 1810s to 1840. Although the title character wears very simple clothes throughout the movie, opulent Victorian fashions are modeled by friends of Edward, the male half of this romance. As in the other films, the plot eliminates characters and events (here from the book's third volume), and focuses on the nuanced, compelling relationship of the romantic couple: two lonely souls who finally find love.

Jane Eyre, an unloved orphan (Joan Fontaine), happily leaves the home of her heartless Aunt Reed (Agnes Moorehead) for Lowood Institution, only to realize that the militant school is worse; it is cold, harsh, and loveless. After 10 years there, she turns down the hypocritical Mr. Brocklehurst's (Henry Daniell) offer of a teaching position, instead becoming a governess.
At a huge mansion, she teaches Adèle (Margaret O'Brien), a young French girl. She eventually meets her mysterious employer, Edward Rochester (Orson Welles), and forms an unlikely friendship with the reclusive, tormented Rochester as she uncovers secrets in his dark house and heart.

In the mysterious Thornfield, the dark stone manor, which is almost cheerful compared with Lowood, Rochester looms as the story's most memorable figure. At first, he seems surly and even unkind because of his abruptness. However, Jane's frank kindness and concern unlock his gentle spirit. Although two very different people, separated by significant age and economic discrepancies, Jane and Edward are kindred spirits. Both have been unloved for most of their lives and struggle to find people who genuinely care about them. Edward's false, greed-driven friendships are just as lonely as Jane's friendless solitude.
Rather than eliminating the novel's difficult themes—Edward's questionable morality—his character receives delicate handling. Edward's past sins are downplayed, while his desire to change is highlighted. For instance, it is only implied that Adèle is Edward's illegitimate child. The only reference is his saying that her mother claimed he was her father. In the book, he doubts Adèle is his daughter because of her mother's infidelities and their lack of resemblance. Similar discretion is used regarding his multiple, unsatisfying affairs before meeting Jane.
When Jane later learns that they cannot marry, Edward never pointedly invites her to live with him out of wedlock, as in the book. Instead, this Code film made him more of a tragic character who is worthy of Jane and is redeemed by her love.
Worthwhile Even Today
In the brooding tale of a love lasting beyond mortality, the film "Wuthering Heights" captures the gloom of England's desolate moors as the dynamic characters' passion seem to match the landscape. The lightest of the three, "Pride and Prejudice" offers a spirited glimpse into the world of propriety, gossip, scheming, and scandal in Jane Austen's book. "Jane Eyre," a poignant story, shows that everyone deserves to be loved, even an unwanted orphan like Jane Eyre and a troubled man like Edward Rochester.
Although significantly different from the classic novels that inspired them, these entertaining and effective Golden era adaptations are more wholesome than their originals. Thus, they can whet the interest for these classics in people of all ages. Instead of "Bridgerton," explore these three underappreciated gems, which are as timeless as their source material!
Tiffany Brannan is a 19-year-old opera singer, Hollywood historian, travel writer, film blogger, vintage fashion expert, and ballet writer. In 2016, she and her sister founded the Pure Entertainment Preservation Society, an organization dedicated to reforming the arts by reinstating the Motion Picture Production Code.