This time of year, you'll find sunny lemon tarts on display at every bakery in France. The tarte au citron, a combination of a buttery, delicately crisp crust encasing a sweet-tart, lemony filling, is one of France's favorite desserts—especially in the thick of citrus season. At once rich with butter and bright with seasonal citrus, it's the perfect dessert to transition from winter to spring. 
The good news is you don't have to be a French baker to master this classic. Tarte au citron is an elegant dessert that relies on simple ingredients and easy techniques.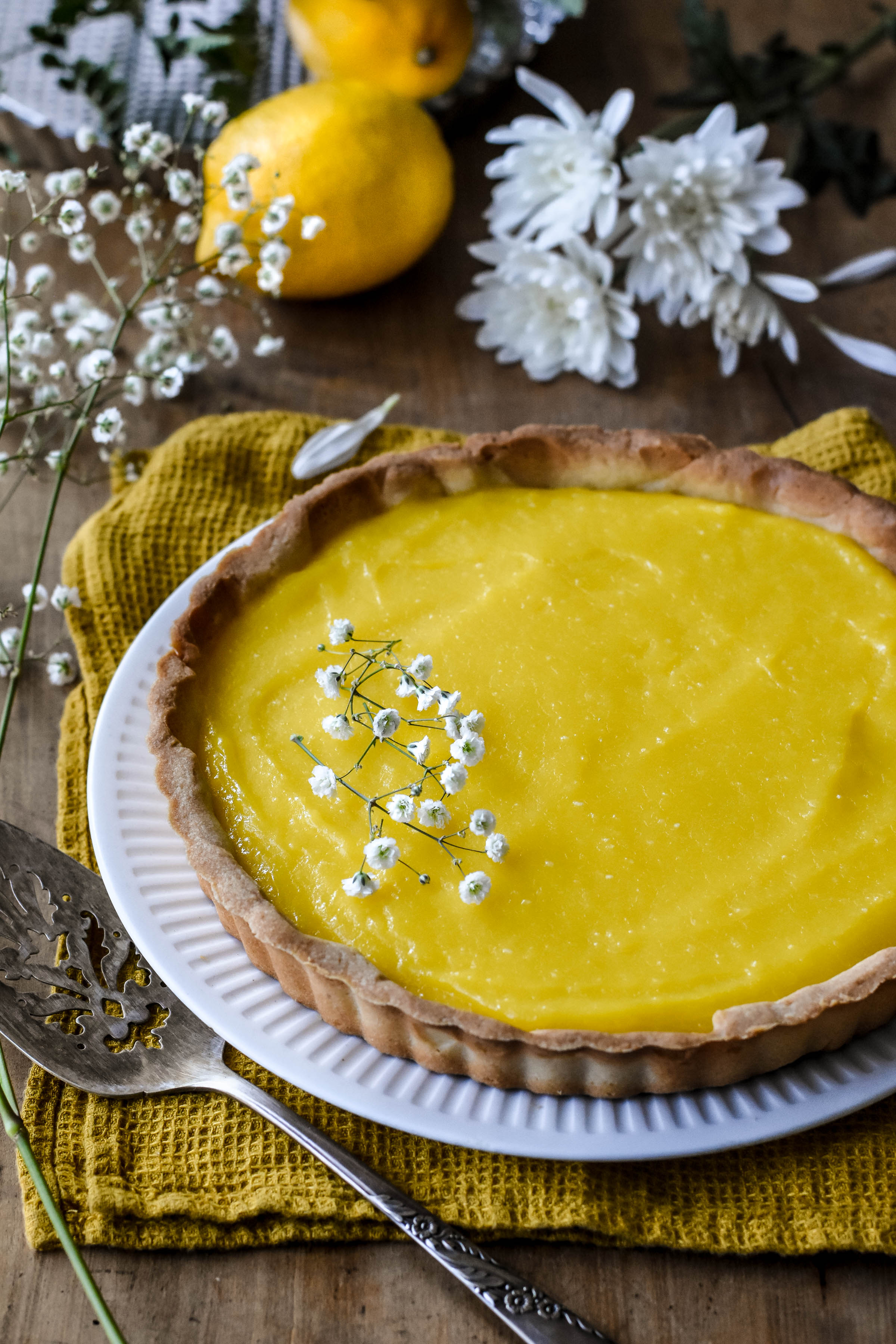 Cloudy Origins
The tarte au citron is a cornerstone of the French baking repertoire, but the question of its origin has fueled a culinary battle between the French and the English.  
We do know lemons were first introduced to France in the 15th century, brought back on ships from the Silk Road. They were used on those expeditions to cure scurvy. 
France's first lemon plantations were established in the town of Menton, on the French Riviera, and the first lemon-centric desserts were supposedly invented around that time. Later in the 19th century, rumor has it lemon tarts were often served to French royalty for dessert, as they were a symbol of wealth and generosity.  
On the other hand, the English argue that it was the Protestant Quakers in England who invented lemon curd in the 18th century. The recipe then traveled to North America, where the first lemon tart with a pastry base and lemon custard was believed to have been created in 1806, by Philadelphia cook Elizabeth Goodwell. 
A French- or English-born dessert? The question remains.  
Despite its unclear origins, it's safe to say that the tarte au citron rose to fame in the 1960s, when sibling chefs Michel and Albert Roux of London's Michelin-starred restaurant "Le Gavroche" made it one of their signature desserts. Their take on the pastry won over patrons, including food writer Lindsey Bareham, who helped make the tarte au citron famous around the country, and then around the world.
Now, bakers each have their own twist on the famous tart and its iconic lemon filling: sharp or mellow tasting, firm or soft in texture, topped with an eye-catching meringue or left unadorned—"nature" (nah-toor), as the French would say. 
In France, the most popular version is most definitely meringue-less, allowing the bright yellow filling to shine on its own. In comparison to other countries' versions, a classic French tarte au citron isn't as deep, either—there is less filling, but it usually is more intense in flavor. You will find it more often served in thin slivers, rather than big trembling slabs. 
Breaking It Down
Like many French desserts, I like to think that the making of a classic tarte au citron isn't very complex, but it has to be done right: with a delicate pâte sucrée, and a lemon filling made rich with butter and eggs—no cornstarch, a common but inauthentic crutch.
With only two components, the tart is simple to make, but you need to find the perfect balance for each: the crust should be buttery and crisp, yet not too crumbly; and the filling must be smooth and lemony, neither too sweet nor too tart. 
The Crust: Pâte Sucrée 
Ask any French baker and they'll tell you that tarte au citron can't be made with just any crust, it must be made with a pâte sucrée. 
A pâte sucrée is a sweet, crumbly French pastry that is usually used for tarts featuring cream or custards. Compared to classic pie crusts, it has a higher fat content, resulting in a more crisp and delicate texture and a shortbread cookie-like taste. It is also sweeter and often includes some ground almonds for nutty notes, which helps balance the tartness of the lemon filling. 
Because a pâte sucrée contains quite a lot of butter, it needs to be chilled twice: for at least two hours before rolling it out, then at least 30 minutes once rolled out in the tart shell, prior to baking. Take into account these chill times before you plan on making your tart. 
You can also prepare the dough the day before and keep it refrigerated, wrapped in plastic wrap, for up to 24 hours. 
The Filling: Lemon Custard
A "custard" is indeed the proper way to describe the filling. It holds its shape, but is softer than that of other lemon pies you might have encountered—almost jammy, I would say. It's also far richer and more luscious than its American cousin, thanks to the inclusion of a generous amount of butter—it is a French tart, after all. Knowing that, you'll understand why you don't need a meringue to complete it. 
The filling is quick and simple to make, and done in just one saucepan on the stovetop. Never stop whisking while it cooks, so it doesn't stick to the bottom of the pan. Stop when just creamy; it will firm up as it cools down.
Once filled, the tart simply goes in the oven for five minutes to finish. The custard will set and turn a deep, beautiful, sunshine yellow. 
Tarte au Citron
This tarte au citron recipe includes both the juice and zest of the lemons, so use organic lemons if possible. Choose the plumpest, juiciest ones you can find and wash them thoroughly before zesting. I like my filling very lemony, so I use the zest of two whole lemons. If you're a bit more shy, you can use the zest of 1–1 1/2 lemons instead.
Enjoy the tart slightly warm for a softer, creamier filling, or let it chill in the fridge for at least 2 hours for a firmer consistency. 
Makes one 9-inch tart
For the pâte sucrée: 
1/2 cup unsalted butter, cubed and at room temperature 
3/4 cup powdered sugar  
1/2 teaspoon vanilla extract 
1/3 cup plus 1 tablespoon almond flour
1 large egg
1 3/4 cup plus 1 tablespoon all-purpose flour
1/2 teaspoon salt
For the lemon filling: 
1 cup lemon juice (from about 6–7 organic lemons)
Zest of 2 organic lemons
3/4 cup sugar
1/4 teaspoon salt 
3/4 cup unsalted butter, cubed
4 large eggs, plus 4 large egg yolks
Make the pâte sucrée. In a large mixing bowl, use an electric mixer or spatula to combine the butter and powdered sugar until smooth and creamy. Add the vanilla extract, almond flour, and egg, and mix until homogeneous. Add the all-purpose flour and salt, and mix until just incorporated and the dough comes together into a ball. Wrap in plastic wrap and place in the fridge for at least 2 hours, and up to 24 hours.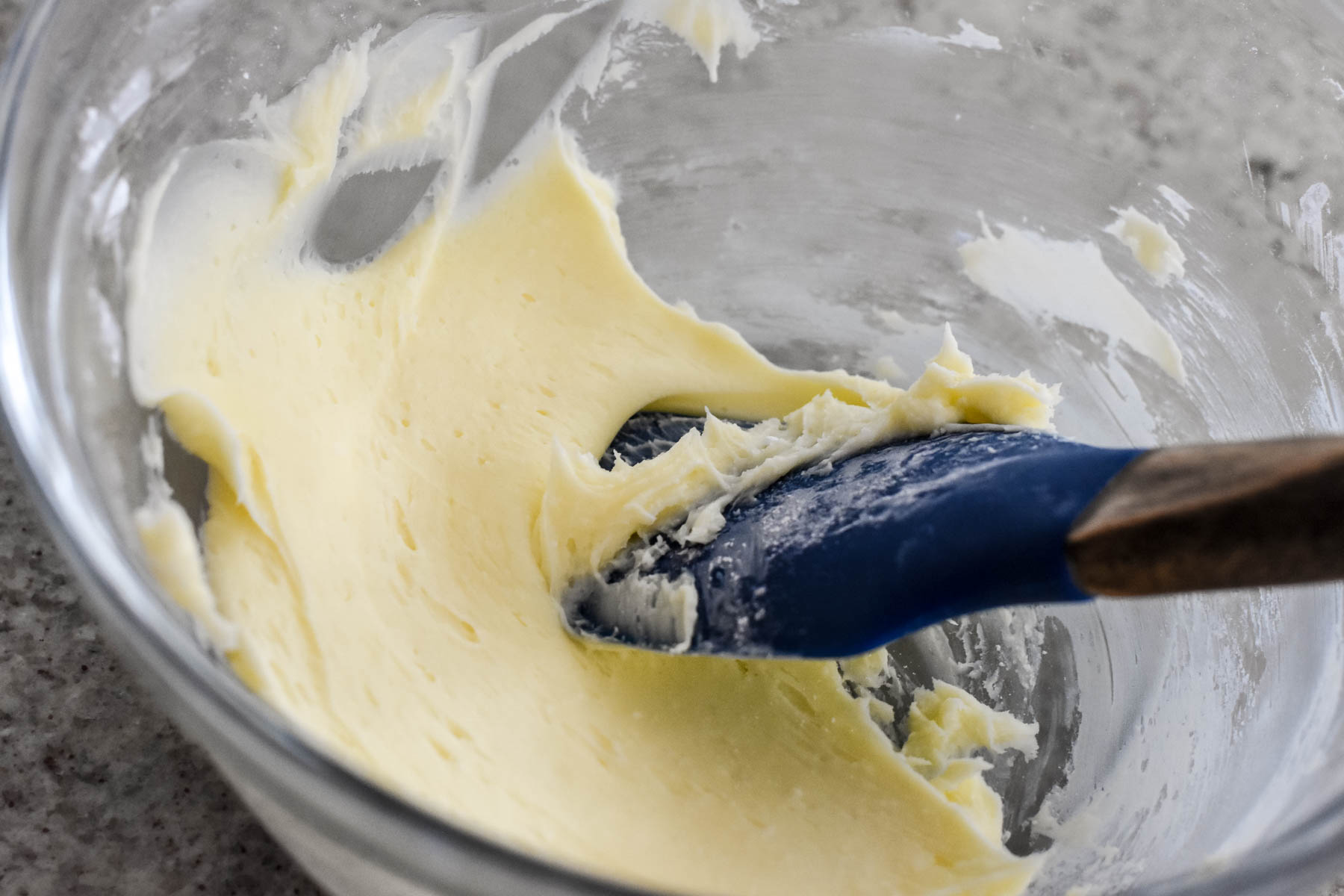 Preheat your oven to 350 degrees F. Grease a 9-inch fluted tart pan. 
Take the pâte sucrée out of the fridge and unwrap the plastic. Place the dough between two large sheets of parchment paper and roll it out to a 12-inch circle. Peel off the top sheet of parchment paper, flip the crust over into the prepared tart pan, and peel off the second sheet of parchment. Trim the edges of the crust to fit the pan, if needed, and poke the bottom of the crust all over with a fork.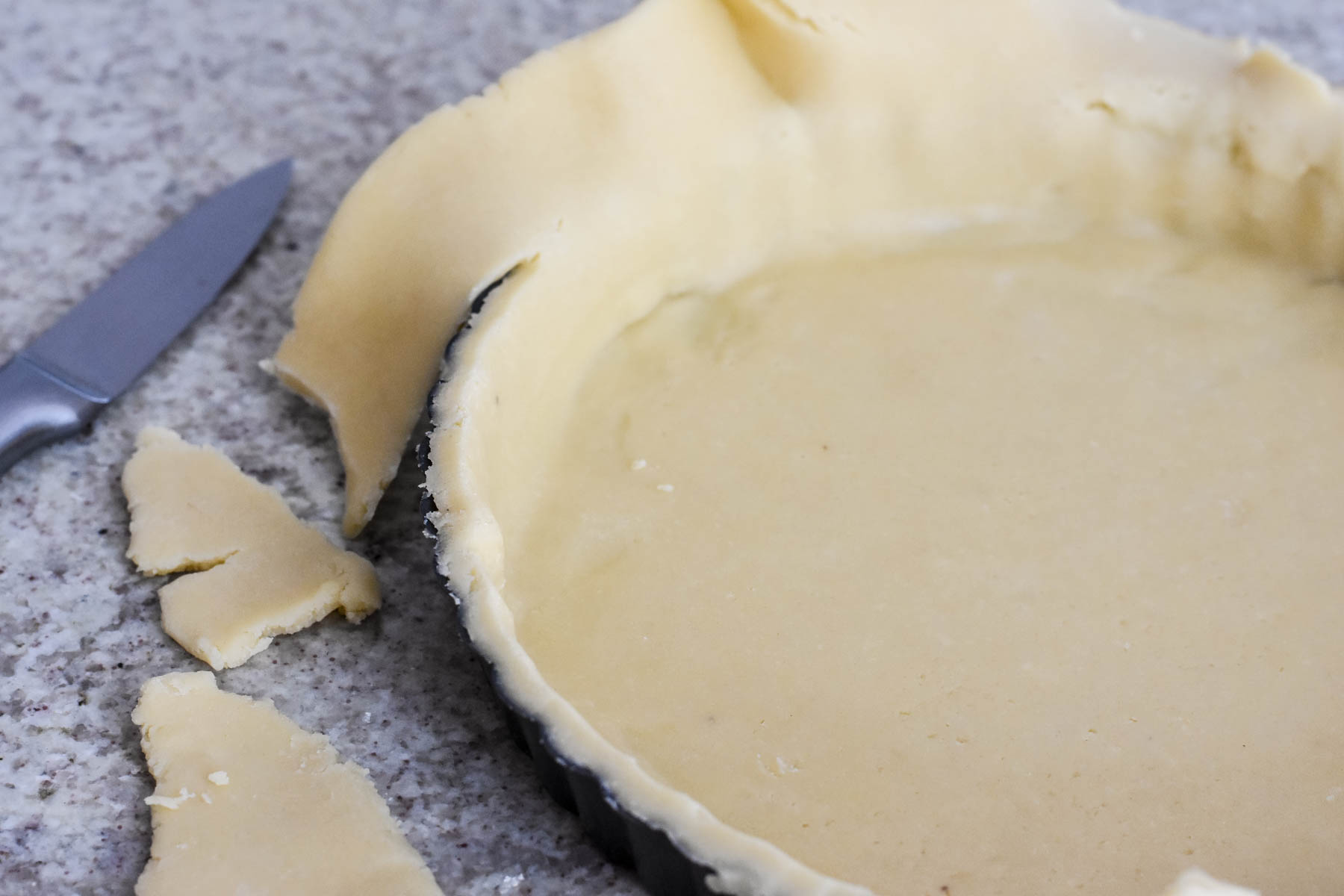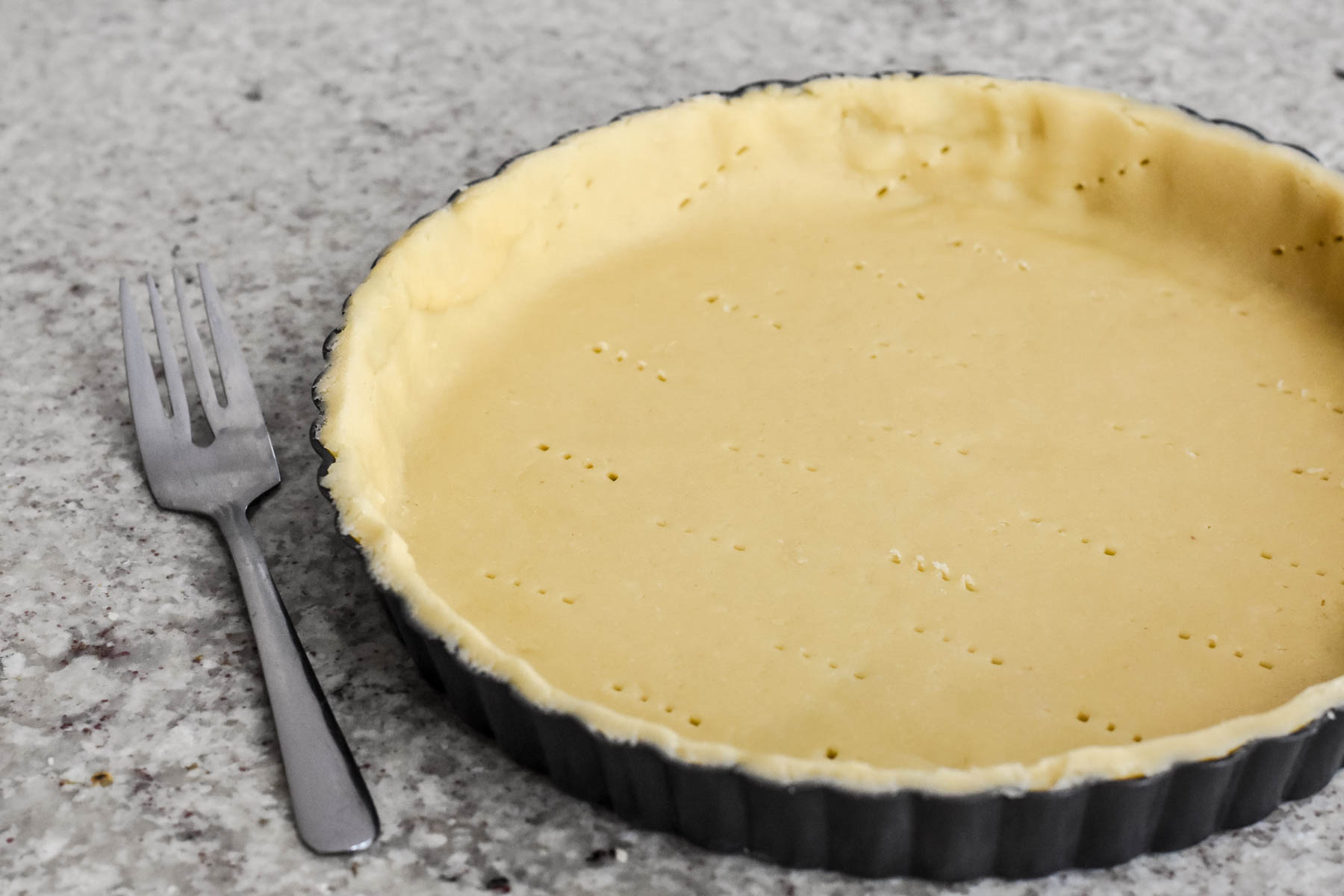 Line the top of the crust with foil or parchment paper and fill with pie weights or dried beans, to keep the crust from puffing while baking.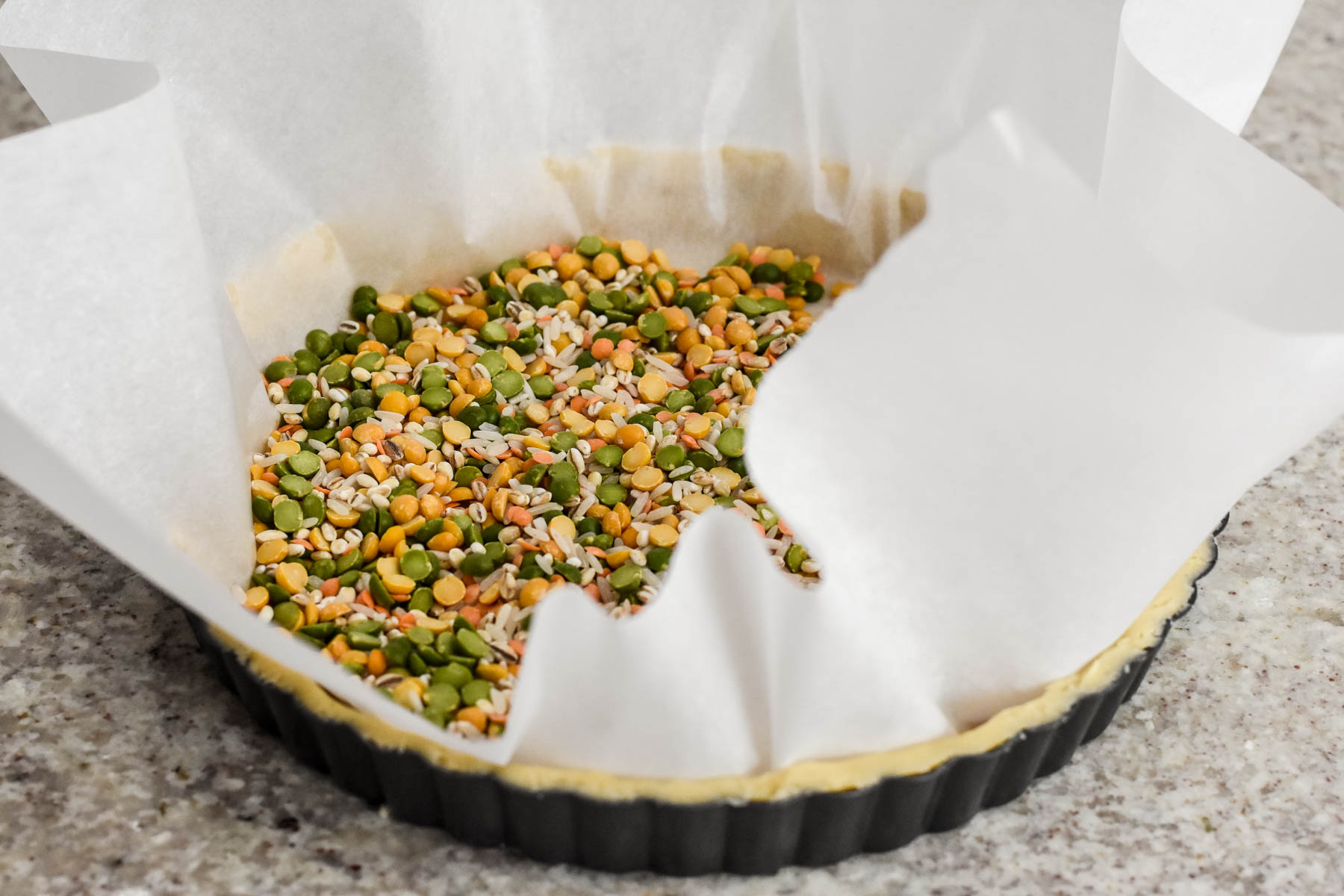 Bake the pâte sucrée for 20 minutes. Carefully remove the parchment paper filled with weights and bake for 10 more minutes, until the edges of the crust are golden. Set the tart shell aside to cool (still in the pan). Leave your oven on at 350 degrees F.
In the meantime, make the lemon filling. Before you start, grab a fine-mesh strainer and have it ready within arm's reach. 
In a medium saucepan (no heat yet), whisk together the lemon juice, lemon zest, sugar, salt, eggs, and egg yolks. Add the cubed butter and turn the heat on to medium. Whisk slowly until the butter is all melted. Continue whisking continuously for several minutes until the mixture thickens to the consistency of a thin custard. It should coat the back of a spoon and leave a clear trail if you run a spoon or spatula through it.
Immediately pass the lemon filling through the fine mesh strainer, directly into the tart shell. Using an offset spatula (or the back of a large spoon), smooth out the top of the filling.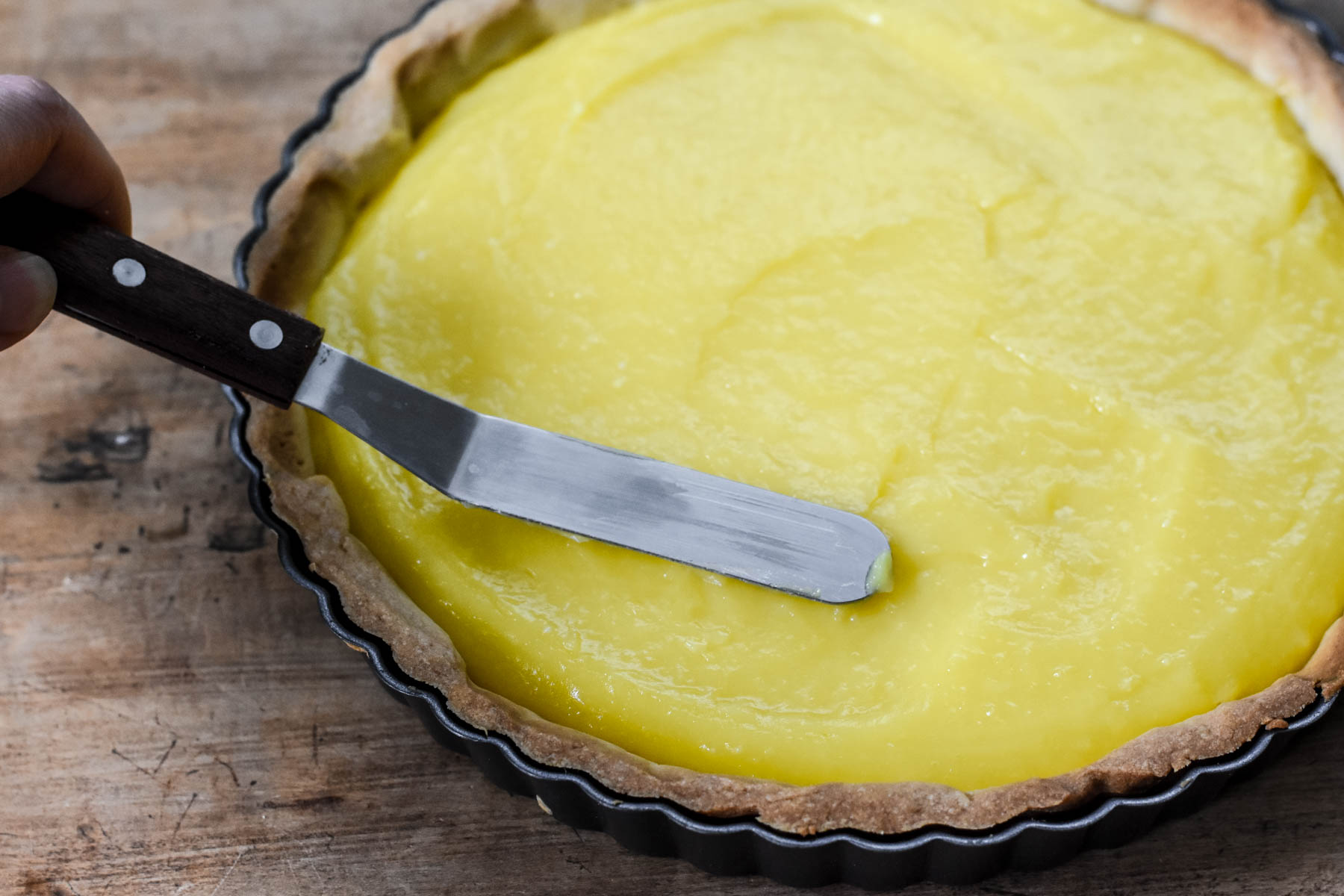 Bake the tart for 6 minutes, until the filling has slightly set and turned slightly deeper yellow in color. 
Let cool for at least 30 minutes before serving.
Audrey Le Goff is a French food writer, photographer, and creator of the food blog Pardon Your French, where she shares recipes and stories from her beloved home country, France. She is the author of the cookbook "Rustic French Cooking Made Easy" (2019). She currently lives in Niagara, Canada. Follow her on Instagram @pardonyourfrench