A woman who wore her grandmother's 74-year-old wedding dress when she tied the knot said she felt "so special."
Nicole Dworak, 39, married Ryan Block, 41, a marketing manager, in an intimate ceremony with 85 guests in Rockford, Illinois, on Nov. 26, 2022.
Nicole decided to wear her grandmother Pauline's wedding dress when her cousin Karen, 60, revealed it was still in her wardrobe decades after she had worn it for her wedding.
"There's nothing more special and unique than wearing your grandmother's wedding dress," Nicole, a hairdresser, from Rockford, northwest of Chicago, said. "I was so excited to wear it by the big day.
"It was such a proud moment on the day."

The long satin dress was first worn by Pauline when she married Nicole's grandfather Walter in a small ceremony in Chicago in 1949. The dress was bought for $200 from a small independent boutique.
Pauline thought the dress was really expensive and hoped that others would wear it.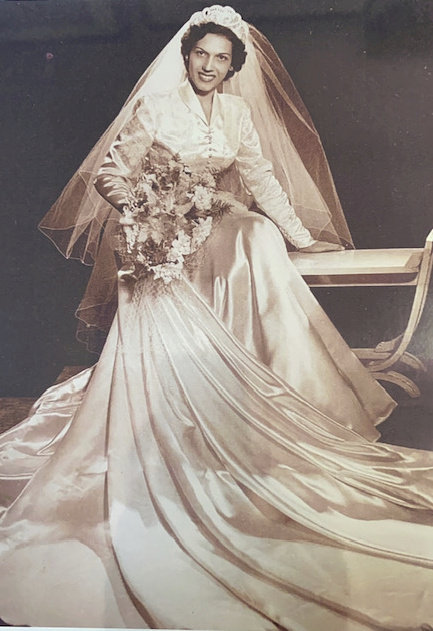 It was made with heavy satin and when Karen wore it on her wedding day in 1983, the sleeves appeared to have been damaged. Luckily, Karen's mother had made new sleeves in a sheer material and put floral applique on the back so her daughter could wear the special dress that had been in the family for so long.
Nicole revealed the family always spoke of the special dress but she didn't know it was still around.

"Then when I was engaged my cousin Karen said 'the dress is there if you want it'—so I tried it on," Nicole said. "I didn't know about whether I wanted to wear it as it didn't really fit at the time as it was too short and it didn't button up at the back."
However, she decided to take it to the tailor to see if it could be fashioned in such a way that it would fit her.
"The seamstress said we could put a split in the front and take the back out, to fit it to my body," Nicole said. "I said, 'let's just go for it.'"
The process of alteration started on Feb. 26, 2022.
After the second or third appointment with the seamstress, Nicole was determined to wear the gown on her wedding day.
"We had an appointment every few months and I was so excited to wear it by the big day," she said. "My grandma is not alive anymore, but when she was alive, she always had a big photo of her in her dress—even my grandpa wasn't in the photo."
Nicole's entire family was excited for her to wear the gown for her big day. She said that leading up to the wedding, every time she spoke to her grandmother's sister Betty, she would ask Nicole about the gown.
When Betty, 95, finally saw her in the gown on her wedding day she was really happy.
"She told me my grandmother would be so happy to see me wearing the dress," Nicole said. "It was very emotional."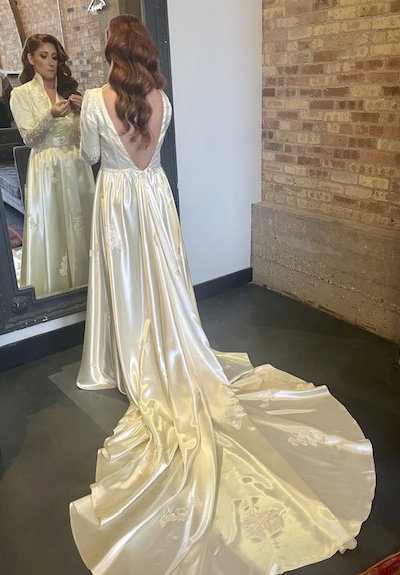 Nicole's father, Walter Dworak Jr., said he was delighted to see his daughter revive the gown his mother had worn for her special day.
Nicole shared a very special bond with her grandmother, who passed away in 2012, and knows that she would be "so happy" to have seen her in the dress.
"My grandmother was very musical, she did a lot of plays," Nicole recalls of her late grandmother. "I have memories from my childhood of being at her house, dressing up, and putting on shows."
Meanwhile, Ryan had seen the dress when he'd accompanied Nicole to pick it up from Karen's house, but that didn't take away from the big moment and he felt it was "special."
"We're big family people so he just said how exciting it was to share this dress between different generations," Nicole said.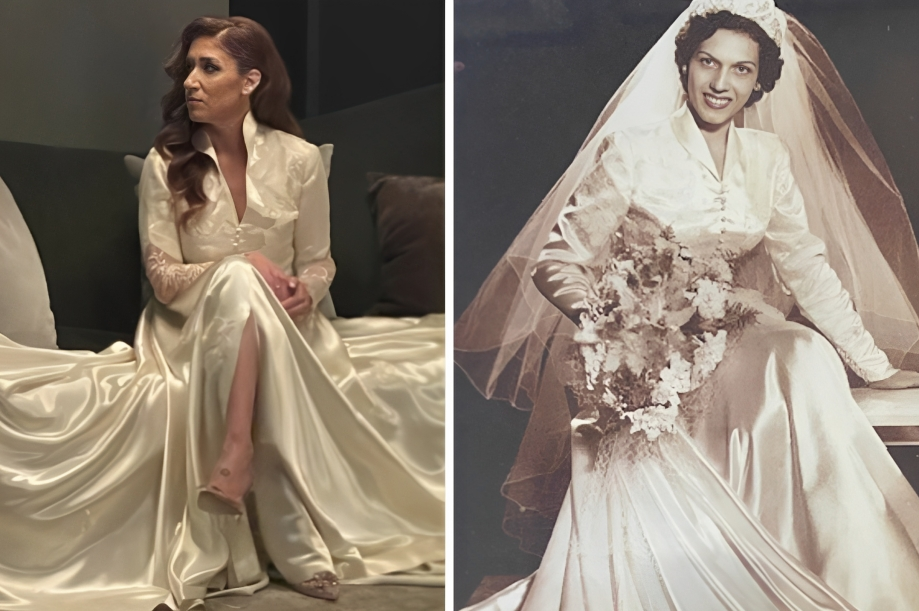 In total the tailoring cost Nicole only $500 which according to her was a big saving as a new dress that she'd liked had been $1,200.
"I just felt so uncertain about spending that much money," she said. "I couldn't imagine spending that much money for one day."
Sharing more about her wedding day, Nicole said that her wedding venue was very industrial.
"We didn't have a ton of decor. Most of it was already done for us as we wanted it to be simple," she said. "I changed out of the dress for the ceremony which was art deco themed."
The couple also did a lot of things for the wedding themselves. They created a timeline of events and made the centerpieces and invitations themselves.
Nicole, who loves antique and vintage clothing, got married at the age of 37 and wanted things that were special and unique.
"If I'd been in my 20s when I got married, I might have wanted a big new dress and a different kind of wedding, but being in my 30s I just wanted a wedding that was unique to us," she said.
Epoch Times Staff contributed to this report.
Share your stories with us at emg.inspired@epochtimes.com, and continue to get your daily dose of inspiration by signing up for the Inspired newsletter at TheEpochTimes.com/newsletter