NEW YORK—Transport Group Theatre Company is presenting an extraordinary duo of William Inge's "Picnic" and "Come Back, Little Sheba" in rotating repertory under the direction of Jack Cummings III, downtown at The Gym at Judson.
Both plays harken back to the early 1950s ("Picnic," from 1953, won the Pulitzer Prize) and are permeated with a yearning for something else and something better.
One gets a sense of the characters straining at an invisible leash.
In "Picnic," two young sisters sense there is something out there that offers more than the limited opportunities available in their small Midwestern town.
Tomboyish Millie (Hannah Elless) wants to go to New York to be a writer, but her mom, Flo (Michelle Pawk), reminds her that the train that passes through blowing its shrill whistle "only goes to Tulsa."
Millie's slightly older sister, Madge (Ginna Le Vine), "the prettiest girl in town," is going with a nice young man, Alan (Rowan Vickers). But Hal (David T. Patterson) has just drifted into town. He has taken to doing odd chores for their neighbor Mrs. Potts (Heather MacRae), and while Hal may lack Alan's brains, he more than makes up for it in muscles, which are very much on sweaty display.
Possibly Inge's choice of "Picnic" for the play's title is ironic, for the developments and outcome are very far from a cheery, carefree occasion.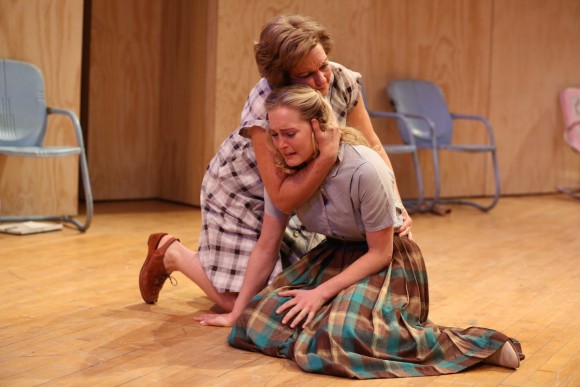 For several of the people involved here, the drifter Hal is a catalyst—either bringing about change, or forcing a new way of looking at life. A roomer at Flo's house, Rosemary (Emily Skinner), who views herself as an "old maid schoolteacher," obviously hates her self-described position and later does something about it. Her long-time boyfriend, low-level businessman Howard (John Cariani) will bear the brunt of her yearning—but possibly in a happy way.
Madge and Hal encounter more serious life changes as a result of their not very felicitous choices.
One gets a sense of the characters straining at an invisible leash—a desire to be free, to experience life at its fullest, to achieve their inner goals. It all depends on choices, whether good or ill, and opportunities.
'Come Back, Little Sheba'
The Sheba of the title is a darling, white, fluffy puppy that has run away from Lola (Heather MacRae). Every day, Lola calls for her, hoping she will return and give Lola the comfort she has been seeking for years.
Lola had lost a baby, and it seems that the puppy came to represent the helpless creature she could lavish her love on. It's interesting that she refers to her husband, Doc, as "Daddy," and he calls her "Baby."
A bittersweet sadness pervades.
Doc (Joseph Kolinski) had to give up the idea of a promising medical career because he became "sick," which causes Lola constant anxiety. Although his illness was alcohol addiction, he's been able to stay on top of his problem for some time. But he's had to settle for becoming a chiropractor, and things haven't turned out as well as they'd hoped.
However, Doc's days are a bit brightened by the presence of a new attractive young boarder Marie (Hannah Elless, playing a more sophisticated teenager than her Millie in "Picnic").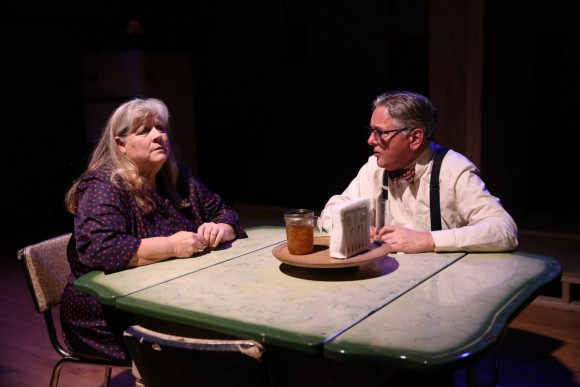 Doc secretly harbors an attraction for Marie, an attraction almost hidden even from himself (although he twice strokes a scarf she has left carelessly lying on a chair) until an incident with Marie's fellow student, egotistical Turk (David T. Patterson), turns Doc's and Lola's lives upside down.
Marie will suffer from poor decisions. For when her fiancé, Bruce (Rowan Vickers), a staunch middle-class fellow with good earning capacity, learns about Marie's association with Turk, Marie's life plan goes awry.   
The acting company is outstanding, with six actors of the company performing in both plays. As I saw both shows in one day, it was fascinating to see the differences in characterizations performed by MacRae, Patterson, Elless, Vickers, Cariani, and Jennifer Piech. In general, the performances might be adjudged as a bit "over the top," especially in The Gym's tight, intimate space.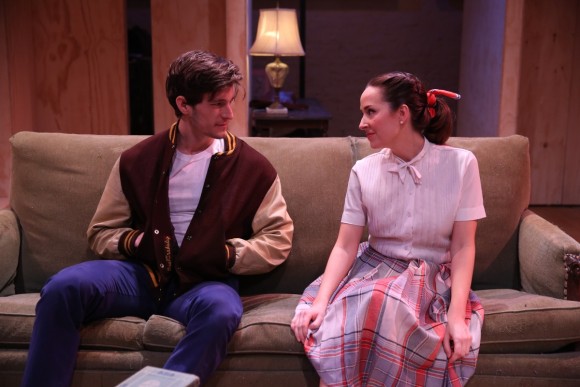 I suspect what might be called "stylization" was the choice of director Cummings, and for me, this was a pleasure. I encounter far too much television acting in theaters; reality can be readily found on the streets. Theater should be theatrical.
The scenic design by Dane Laffrey is ingenious, with simple flat boards as the backdrop for "Picnic," with little furniture and no props.
For "Come Back, Little Sheba," the outer perimeter is nonexistent, with one able to view fellow audience members as well as the actors, and with finely detailed elements of furniture and props in the acting area. Costumes by Asta Bennie Hostetter sensitively define character and period in both plays.
A bittersweet sadness pervades. The characters who want to leave their present situation seem to be reaching over the rainbow. Those who will stay seem to be settling for less than the best. One wonders if any of the characters will find true happiness. Emotional repression tugs at many of them. 
'Picnic' and 'Come Back, Little Sheba'
The Gym at Judson
243 Thompson St.
Tickets: 212-564-0333
Running Time: 4 hours, 40 minutes (each show: 2 hours, 20 minutes)
Closes: April 23
Diana Barth writes for several arts publications, including New Millennium. She may be contacted at diabarth99@gmail.com