SKOKIE, Ill.—"Superman" was created by Jerry Siegel and artist Joe Shuster in 1938, and "Batman" by Bob Kane and Bill Finger in 1939. But before there were modern superheroes, there was Zorro, the black-caped hero who fought for justice in a tyrannical world.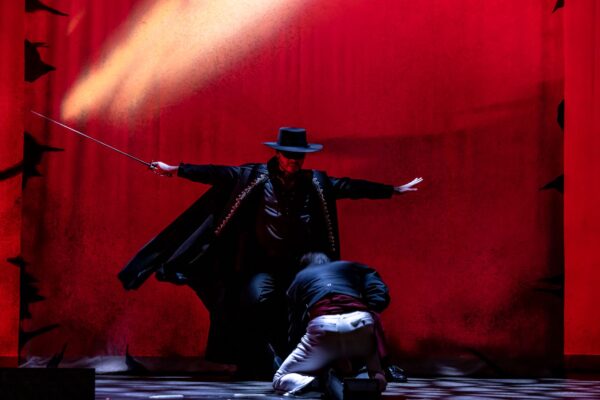 Created by Johnston McCulley in 1919, most people are familiar with the legendary heroic avenger from films such as "The Mark of Zorro," starring Douglas Fairbanks in 1920. Tyrone Power took a turn in 1940, then Guy Williams in the 1957–59 TV series. More recently, in 1998, "The Mask of Zorro" starred Anthony Hopkins, Antonio Banderas, and Catherine Zeta-Jones, and with Banderas and Zeta-Jones again in "The Legend of Zorro" in 2005.
It figures that such a dashing popular figure would make an interesting subject for a musical with the added excitement of a stirring Spanish flamenco.
That's probably why the story was made into "Zorro: The Musical," which premiered in London in 2008, and is now receiving a spirited revival by Music Theater Works in Skokie, Illinois, in association with Ensemble Español.  It's the first time the musical is being shown in the Chicagoland area and kudos to Music Theater Works for tackling the ambitious work.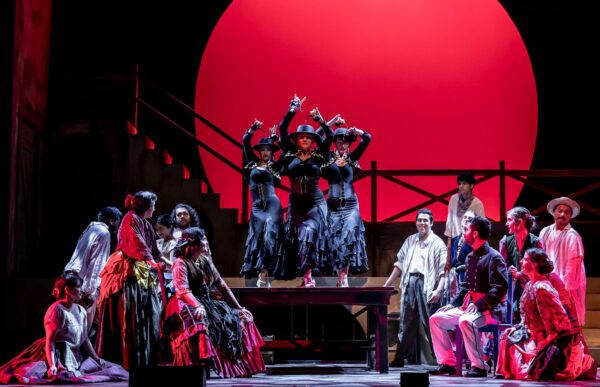 The book by Stephen Clark and Helen Edmundson is based on Isabel Allende's novel about the bold mythical legend who leaves a trademark "Z" carved into the flesh of his foes. It tells the tale of Diego, the son of a leader in a colonial outpost in New Spain, which today we know as California.
The show begins as we learn that Diego (portrayed by charming Cisco Lopez, who alternates between a daredevil figure and a meek and simple man) is shipped off to Spain by his father to a military academy. There he learns how to use a sword and a whip. Diego doesn't appreciate the academy and runs off to enjoy life with a group of gypsies, led by a rebellious Inez (a fiery portrayal by Alix Rhode).
Life changes for him, though, when his childhood friend Luisa (silver-voiced Laura Quiñones) comes looking for him and asks him to return to New Spain to save the Spanish community from his brutal, dictatorial brother Ramon (a convincing portrait by Emmanuel Ramirez), who is harassing Luisa, as well as torturing the townspeople.
Set at the turn of the 19th century, in a stifling-hot desert landscape with wood planking against a blood-red backdrop (scenic designers Jacqueline and Richard Penrod), the Spanish flavor of the countryside and its people is enhanced by the dusty glow of a burning sun (lighting designer Andrew Meyers). In addition, costume designer Adriana Diaz enhances the time period with flashy and sensual period dress.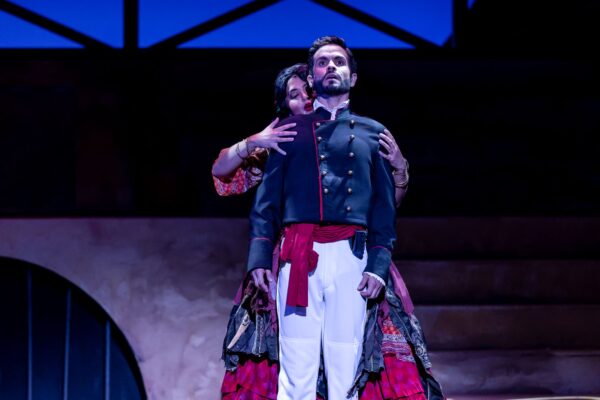 Well-staged by director Adrian Abel Azevedo, the musical has more than just a wonderful escapist plot; it also features sizzling flamenco, salsa dance, and foot-stomping numbers by choreographer Laura Savage. Three female flamenco dancers (Lina Bulovaite, Jocelyn Leving, and Karla Tennies Koziura) thrill the audience with an exhilarating heel-clicking tap to the sounds of Diego Salcedo's flamenco guitar. Of course, adding to the excitement of the production is the breathless, athletic swordplay by fight choreographer Nick Sandys.
Another enjoyable aspect of the musical is that it doesn't take itself too seriously.  It offers some comic bits, such as when Diego prepares to leave wearing a flowered hat and earrings, causing his friend Inez to ask him: "What are you going to do? Entertain them to death?" When he rescues Inez from a firing squad, she wants to know, "What took you so long?" And when the gypsies are giving away wine, a soldier doubts that wine will ever take hold in California.
Furthermore, and most importantly, the music by Gipsy Kings and John Cameron, with lyrics by Stephen Clark, is so well executed by music director Justin Kono that theatergoers tap their feet to the show's exuberant and melodic songs. These include "Bamboleo," "Djobi Djoba," and "Baila Me."  Indeed, some in the audience danced in the aisles as they departed the theater auditorium.
This enchanting production offers romance, leaps of derring-do, a hero fighting for justice, and a happy ending.  Who could want for anything more?
'Zorro: The Musical'
North Shore Center for The Performing Arts
9501 Skokie Blvd., Skokie
Tickets: 847-673-6300 or MusicTheaterWorks.com
Runs: 2 hours, 45 minutes
Closes: Aug. 21, 2022