NEW YORK—A woman goes on a long journey of self-discovery in the National Theatre of Scotland's immersive and thoroughly enjoyable offering of "The Strange Undoing of Prudencia Hart," performed at The McKittrick Hotel.
Prudencia (Melody Grove), a 28-year-old, prim-and-proper academic, specializes in the study of Scottish folk music. She is well-known in educational circles, but her colleagues consider her something of a throwback—a scholar obsessed with the romance of the past, in and of itself, rather than bringing the music to the present or seeing future possibilities of the art.
One of her biggest critics is Dr. Colin Syme (Paul McCole), a musical scholar in his own right who has received a grant to study the significance of local football chants.
The tale is told with just enough of an old-fashioned air to give it the proper long-ago feeling.
On a snowy winter solstice, Prudencia and Colin travel to the town of Kelso, in the Scottish Borders, to speak at a conference on the "linguistics and transmission of oral narratives and balladry."
After the talk, which doesn't go quite as planned, Prudencia finds herself in her own personal version of hell. She's at a karaoke night at the local pub, where getting drunk, singing off-key, and continually propositioning women (or, for women, being propositioned) seems to be everyone's idea of a good time.
By now totally disillusioned, Prudencia leaves the bar for her nearby lodgings, walking out into a night so dark, she can barely see two steps in front of her. This is no ordinary darkness. Rather, it is the night of the winter solstice. It's the one time each year, according to legend, when the Devil can walk the Earth and lure unsuspecting souls to hell.
Prudencia soon encounters several ominous figures as she struggles to find her way in the freezing cold and seemingly endless snowdrifts.
While the play's title suggests the lead character's downfall, it is actually more of a spiritual awakening. Prudencia confronts not only outside forces wishing to ensnare her, but also the demons she has carried inside for so long. She learns through her experiences on this seemingly endless night not to judge the world by her own arbitrary standards.
This revelation allows her to put her own work and research into perspective. When she finds herself in a musicologist's dream of a library and confirms an academic point she has long postulated but was never able to prove, she realizes, after an initial rush of exultation, that her being right doesn't really matter in the grand scheme of things.
Prudencia's experiences also allow her to truly understand the concepts of friendship and trust, and the unromantic idea that neither passion nor love is meant to last for eternity.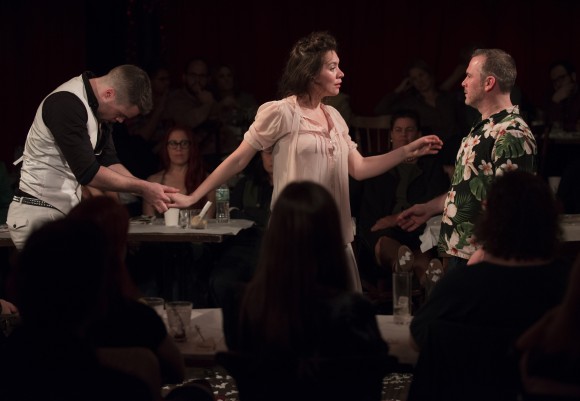 The piece puts a fresh spin on the ghost story motif. Rather than set it in days far past, it occurs in 2010, with numerous references to the 21st century: online bookings, ring tones, Twitter, and Kylie Minogue. There's even a joke about the elections tossed in.
Yet the tale itself is told with just enough of an old-fashioned air to give it the proper long-ago feeling. In a particularly nice touch, the dialogue flips from poetry to prose to rhyming couplets and back again, all of which add a lyrical feel to the proceedings.
Of course, the more raucous sections of the story are often accompanied by full-throttled laughter from the audience.
With clearly defined characters, all of whom are powerfully brought to life by the cast, the play relies on the imaginations of the audience to call to mind the specific settings described. Some of the scenes invoked such intensity that one could hear a pin drop as they played out.
The show takes place in a bar, with the cast taking on multiple roles and playing their own instruments. They also gleefully break the fourth wall when the situation requires, such as when using an unsuspecting audience member to help them create the illusion of a motorcycle.
Prudencia realizes, after an initial rush of exultation, that her being right doesn't really matter in the grand scheme of things.
Grove makes an excellent Prudencia, a somewhat repressed woman who ultimately learns it's not what you achieve in life but how you live it that matters. McCole is fine as Colin, a character somewhat full of himself, but with a good heart and one you can count on in times of trouble.
Peter Hannah is nicely affecting as the mysterious and brooding Nick, someone Prudencia meets on her journey.
Wils Wilson's directorial work is nicely balanced, seamlessly combining the more introspective moments and those offering flat-out fun. Wilson and playwright David Greig are both listed as creators of the work.
A powerful morality tale, "The Strange Undoing of Prudencia Hart" is the perfect treat for anyone who likes their entertainment served with a dash of cold chills, a warm helping of laughter, and a shot of whiskey. The latter comes courtesy of the bartenders who make them available to the audience. This is one experience not to be missed.
Also in the cast are Annie Grace and Alasdair Macrae. 
'The Strange Undoing of Prudencia Hart'
The McKittrick Hotel
542 W. 27 St.
Tickets: StrangeUndoing.com
Running Time: 2 hours, 20 minutes (one intermission)
Closes: April 23
Judd Hollander is a reviewer for Stagebuzz.com and a member of the Drama Desk and the Outer Critics Circle.