NEW YORK—Set in Dublin in 1920 during the height of the Irish War of Independence between the British government and Ireland, "The Shadow of a Gunman" marks the first of several masterworks by Sean O'Casey. Written when he was 43, the play established O'Casey as a star in the firmament of great Irish playwrights.
Director Ciaran O'Reilly's work here has enforced and amplified the playwright's thoughts and words. It's a terrific production.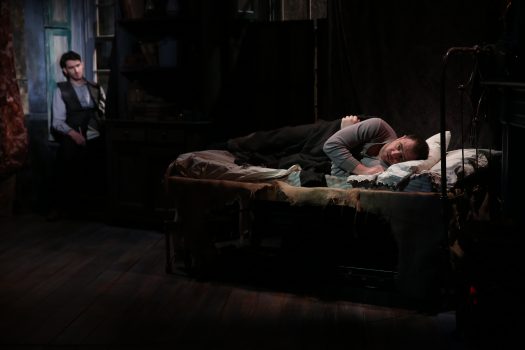 The odd couple, wannabe poet Donal Davoren (James Russell) and peddler Seumas Shields (Michael Mellamphy), share a furnished room in a lowly tenement house.
A variety of neighbors pay the men casual visits rather regularly, giving the playwright the opportunity to display a cross-section of commonplace Irish folk, such as the pushy Mrs. Henderson (Una Clancy) and the energetic Tommy Owens (Ed Malone).
One of the visitors is Mr. Maguire (Rory Duffy), apparently a friend to Seumas. Maguire wants a favor: to leave a small bag with Seumas, which he promises to pick up that evening. Nothing too unusual about that, or at least it seems to have no importance.
In the course of conversation between Donal and Seumas, it comes out that Donal hasn't the least interest in politics or the struggle around them, which, however, is sometimes brought too close to home by the sound of gunfire in the streets nearby.
But there's the hint of suspicion among the neighbors regarding Donal. Some feel that because he's such an odd entity, he might be a fighter in hiding—a gunman on the run.
Nothing is further from Donal's experience. Except—he would like to impress the lovely young upstairs neighbor, Minnie Powell (actress Meg Hennessy, who is indeed lovely, with her tresses of wavy red hair). No problem, he feels, in letting her think, at least, that he is a shadow of a gunman.
But the play slides, almost seamlessly, from a light tone into darkness and tragedy. The feared Black and Tans, a vigilante arm of the Brits, invade the tenement, searching for a particular bag. Their raid brings about unexpected pain and sorrow.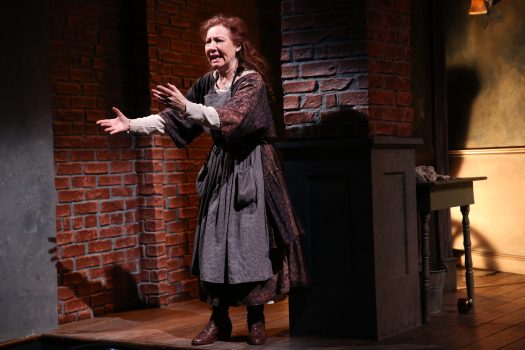 One of the denizens, Mrs. Grigson (Terry Donnelly in a heartbreaking turn), speaks for everyone of their grief at the injustice that has just been visited upon them.
Top-rate production elements enhance the performance. Charlie Corcoran's detailed set truly transports the viewer into a low-level Dublin rooming house, filled, as it is, with properties meticulously selected by Deirdre Brennan.
The set is also fittingly filled with appropriate lighting by Michael Gottlieb and sound design by Ryan Rumery and M. Florian Staab. The deliberately somewhat seedy costumes by Linda Fisher and David Toser complete the picture.
Kudos to director O'Reilly for doing full justice to this classic of Irish playwriting. Irish Rep productions of O'Casey classics "Juno and the Paycock" and "The Plough and the Stars" will follow.
'The Shadow of a Gunman'
Irish Repertory Theatre
132 W. 22nd St.
New York
Tickets: 212-727-2737 or IrishRep.org
Running Time: 1 hour, 45 minutes (one intermission)
Closes: May 25
Diana Barth writes for various theatrical publications and for New Millennium. She may be contacted at diabarth99@gmail.com