Theater Review: 'The North Pool'
March 9, 2013 3:48 am Last Updated: April 2, 2013 3:40 am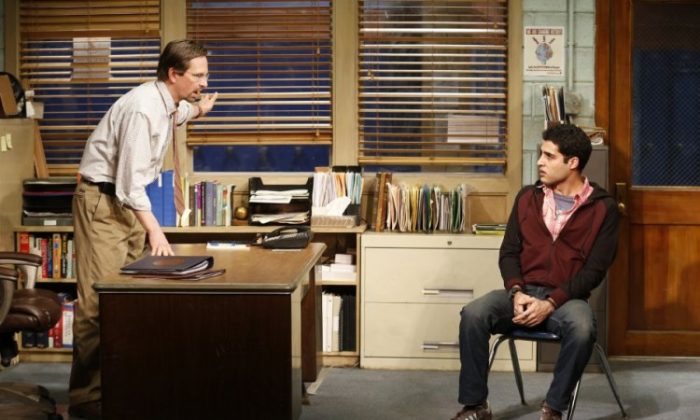 NEW YORK—In Rajiv Joseph's "The North Pool," high school vice principal Dr. Danielson (Stephen Barker Turner) has summoned recent transfer student Khadim Asmaan (Babak Tafti) to his office, just as spring break is beginning. Khadim, an 18-year-old from the Middle East, born in Damascus of Iranian parents, has come to this public school after having been a student at a prestigious private school.
Why the transfer, Dr. Danielson queries. After some innocuous replies, we get to the heart of the matter. Khadim has gotten into trouble at the private school and has been asked to leave. Dr. Danielson points out that Khadim is friends with a local troublemaker, which does not make for a sensible experience.
On the personal side, the vice principal harbors resentments. He has been passed over for promotion to principal in favor of a black woman, although not only has he been with Sheffield High for 14 years, he was a student there. He proudly mentions that he was a member of the wrestling team.
Khadim listens to the older man's remarks, but wonders why he, Khadim, has been called here, when the place is now empty of students who have all gone off to enjoy themselves.
Economic levels are mentioned. When Khadim frankly queries him, Dr. Danielson points out that it is not polite to ask how much a person earns. But Danielson soon volunteers that his salary is $70,000 annually. It becomes clear, on the other hand, that Khadim comes from a wealthy family.
Not only does Khadim have access to money, but he can do certain things, unusual things, because his family has clout. Also, the young man is well educated and speaks five languages, surpassing the older man's skill level.
Going on to more serious topics, Danielson's remarks touch on terrorism; Khadim bristles. He is beginning to feel that Dr. Danielson has some ulterior motive for their talk.
The vice principal mentions vandalism in the school. Equipment has been broken, broken windows must be replaced. He mentions ruefully that the taxpayers have had to pay for these damages. The South Pool has been turned into jello by vandals. Khadim quickly interjects that he has not been involved in such improper activities.
Then Dr. Danielson removes the large map that has covered part of the wall. A large but strange door is revealed. This leads to the North Pool, which is not really a pool at all.
Here the play's content diverges into another area entirely: the Cold War of the 50s [a move which I personally found out of place in the play's overall content]. But we soon return to current happenings.
With some marked twists and turns, the conversation flows into an event that has recently taken place in the school—a tragic event that Khadim must have had close knowledge of.
Then, with another unexpected twist, an even more devastating happening is disclosed. The integrity of both men is called into question. As the play ends, both are consumed with shame.
As directed by Giovanna Sardelli, who has worked on several of Rajiv Joseph's plays, "The North Pool" carries the viewer from a disarmingly casual beginning to an involving, edge-of-your-seat encounter.
Babak Tafti captures perfectly the volatility and complexity of Khadim, while Stephen Barker Turner endows Dr. Danielson with just the right touches of alternating dissatisfaction, pride, and an interrogator's persistence.
Scenic design by Donyale Werle displays an extraordinarily exact replica of a high school administrator's office; a neat touch is a wall clock that marks the actual time frame of the play. Paloma Young's appropriate costumes add to the realistic effect.
"The North Pool" is a remarkably enticing and satisfying theatrical experience.
Diana Barth publishes New Millennium, an arts publication. For information: [email protected]
The Epoch Times publishes in 35 countries and in 21 languages. Subscribe to our e-newsletter.