NEW YORK—Although A.A. Milne is known predominantly for his lovely series of "Winnie the Pooh" children's books, he was also a prolific playwright, penning over two dozen plays. One of these, "The Lucky One," is presented by the Mint Theater Company, known for resurrecting worthy plays of the past. The play does not disappoint.
Set in the early 1900s in a country house not far from London, an upper-class British family exhibits its joys and woes. At the center of things is the relationship between two siblings: older brother Bob Farringdon (Ari Brand) and younger brother Gerald (Robert David Grant).
Under Jesse Marchese's direction, the company is uniformly fine.
For Gerald, things have always gone smoothly since infancy. He is the lucky one. Everyone adores him; he is always the center of attention and successful in all of his endeavors, including his present employment in the foreign service.
Bob, on the other hand, is unhappily working in London's busy financial center, at a small stockbroker's firm. Bob has rather a dour personality; he has never been especially popular or well thought of. In fact, many of his friends and relatives refer to him as "poor old Bob."
At present, things are going especially awry for Bob. Apparently his employer has committed a severe financial crime and has flown the coop, leaving town, and perhaps even the country. Bob has been left to endure the ramifications, which may include a prison term.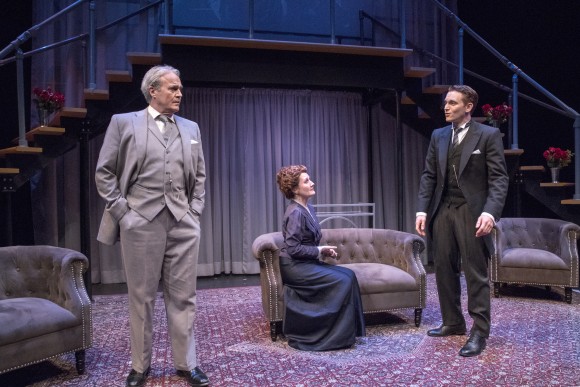 While that problem is being sorted out, and in between tense moments between the brothers, domestic scenes unfold with other family members, including the young men's father, Sir James Farringdon (Wynn Harmon), a rather rigid, stern man, and their bland mother, Lady Farringdon (Deanne Lorette).
Their wise great aunt Miss Farringdon, known as Tabitha (Cynthia Harris), exhibits a bit more fire, as well as an interest in Bob and in the world in general.
Although betrothed to Gerald, Pamela Carey (Paton Ashbrook) appears to be flexible in her choice of brother. This variability on her part ultimately leads to verbal fisticuffs between Bob and Gerald.
In an interesting plot twist, and a vibrant scene between the two men, it turns out that Gerald may be the one left out in the cold.
The sets by Vicki R. Davis and costumes by Martha Hally lend a particularly effective note. An elegant pair of opposing staircases gives performers the occasional opportunity to play scenes at varied physical levels, while Hally's costumes might be termed color coded: Act 1 features the men in dark gray suits, while the mood warms in Act 2 with the accent more on shades of beige.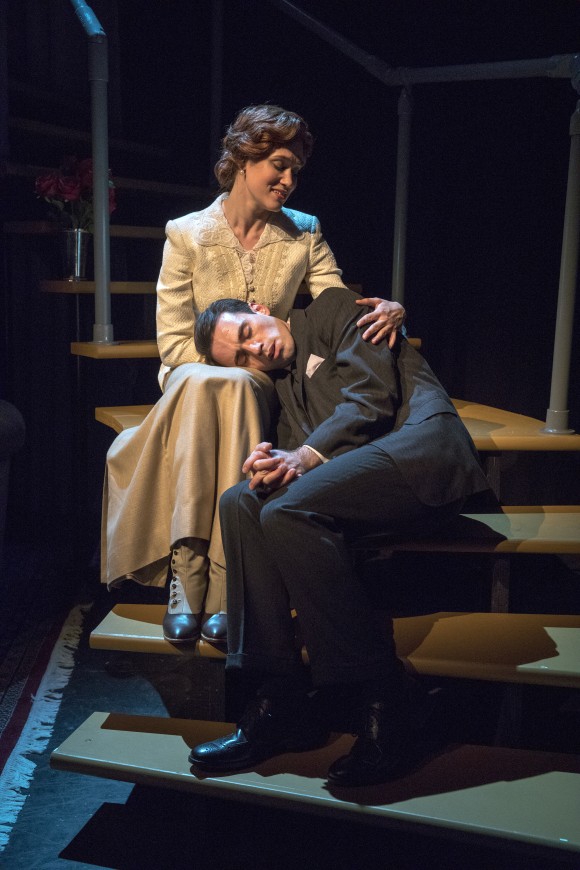 Under Jesse Marchese's direction, the company is uniformly fine with excellent ensemble playing, generally to be expected in Mint productions.
Others in the cast include Andrew Fallaize, Michael Frederic, and Mia Hutchinson-Shaw as Gerald's friends, and Peggy J. Scott as Gerald's old nurse.
'The Lucky One'
Beckett Theatre
410 W. 42nd St. (Theatre Row)
Tickets: 212-239-6200 or Telecharge.com
Running Time: 2 hours (one intermission)
Closes: July 2
Diana Barth writes for various theater publications, including New Millennium. She may be contacted at diabarth99@gmail.com