Theater Review: 'The Last Will'
The Bard is soon gone
April 27, 2013 3:51 am Last Updated: April 27, 2013 3:51 am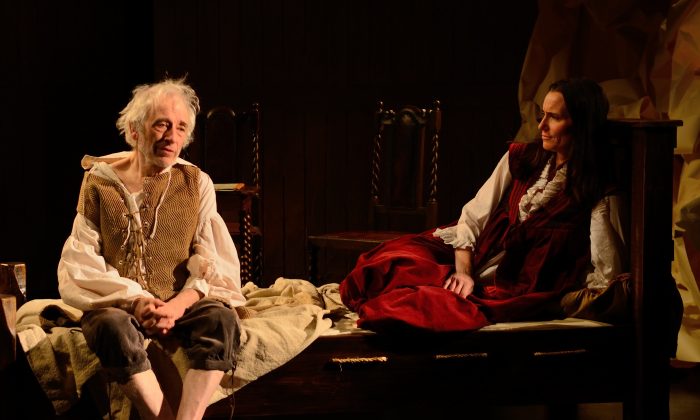 NEW YORK—In Robert Brustein's play "The Last Will," the third in his trilogy dealing with William Shakespeare, we find the Bard (Austin Pendleton, who also directs) returning to his home in Stratford. This is after having spent some 24 years in London, embroiled in both struggle and, finally, great success with the famed Globe Theatre.
Will's wife, Anne Hathaway (Stephanie Roth Haberle), immediately chides him for failing to attend the funeral of their beloved son, Hamnet. Shakespeare is regretful, of course, but more important matters impinge on his soul. In the play, he is suffering from a fatal illness, which is causing his mind to deteriorate.
In this condition, his warped imaginings often create a paranoid state: He is obsessed with the idea that Anne has had an affair with his brother, Gilbert. But when Anne pleads her innocence, Will belittles her and addresses her as Othello's wife Desdemona, or as Hamlet's mother Gertrude—both characters of loose morals, according to Will's own plays.
More crucially, William has gotten it into his fevered mind that he must revoke his prior will—hence, the double-edged sword of the play's title. He would leave only a few minor items to both Anne and the twin sister of the deceased Hamnet, their daughter Judith (Christianna Nelson), but whom Will now refers to as King Lear's daughter, the unfortunate Cordelia.
Complicating matters is Will's elder daughter, Susanna (Merritt Janson), who greedily plots with his lawyer, Francis Collins (David Wohl), to wrest her father's entire estate away from everyone else and leave everything to her.
A bright spot in all this tension is the frequent appearance of Richard Burbage (Jeremiah Kissel), Will's favorite colleague and the leading actor who had played most major men's roles at the Globe. He urges Will to return to the London stage and resume his activities as playwright. However, Burbage's efforts are overshadowed by Will's inner turmoil, as well as by his diminishing mental capacities.
To accommodate the need for frequent scene changes, the set design by Stephen Dobay is appropriately simple: bed, table, and chairs. However, given the small proportions of the stage at the June Havoc Theatre, there was sometimes a lack of clarity as to where certain scenes were taking place. A larger stage would probably correct this problem.
Inasmuch as there was a major cast change well into rehearsal in which director Austin Pendleton stepped in to play William Shakespeare, the production overall was not as smooth as it might have been. However, Pendleton, a remarkably versatile theater person, appeared to have overcome most obstacles. He was joined by a group of excellent actors doing excellent work.
"The Last Will" is an imaginative and unusual take on what might have been the great playwright's last days.
The Last Will
Abingdon Theatre Company at the June Havoc Theatre
312 West 36th Street
Tickets: Box office: 212-868-2055 or visit www.abingdontheatre.org
Running Time: 1 hour, 25 minutes (no intermission)
Closes: May 5
Diana Barth writes and publishes "New Millennium," an arts publication. For information: [email protected]
The Epoch Times publishes in 35 countries and in 21 languages. Subscribe to our e-newsletter.