OAKBROOK, Ill.—There's nothing inspiring about D. L. Coburn's 1976 Pulitzer Prize-winning (1978) drama "The Gin Game." But Drury Lane's production does remind us that, at the end of a long life, self-reckoning is needed. Blaming bad luck for our failures can only lead to despair.
The Bentley Nursing Home is a low-end facility, with unwanted items both inside and out. Just off the porch rests an old hose, a broken folding chair, and a three-quarter size Santa, the old-fashioned kind that plugs in and lights up. Inside, staff is condescending to patients. Steals from them, too. The residents are glassy-eyed and unresponsive or taken up with planning their own funerals. As resident Weller Martin (John Reeger) puts it, the home is "a warehouse for the intellectually and emotionally dead."
Pastimes consist of visits from local church choirs, piped-in music, or for those who still possess their wits, games on the seldomly used sun porch. Of course, there is always the chance that family will stop by.
But family doesn't show up for Weller or for new resident Fonsia Dorsey (Paula Scrofano) on visitor's day. So Weller induces Fonsia to play a game of gin rummy. She is happy to learn the game and oblige Weller, one of the few residents able to hold a conversation about something other than aches and pains, and he is happy to play the game that for him is a competitive sport.
As the games progress, the two chat and get acquainted. Fonsia's son and his family live in Colorado so they can't visit easily.  Weller divorced years ago and his wife remarried; hence he rarely saw his kids. And then he had the misfortune of losing his business to his no-good partners.
But, gradually, as Fonsia shows a dazzling streak of beginner's luck, the pleasantries subside. Weller cannot bear her winning, and, on Fonsia's part, she finds Weller's habit of cursing irritating and his temper frightening.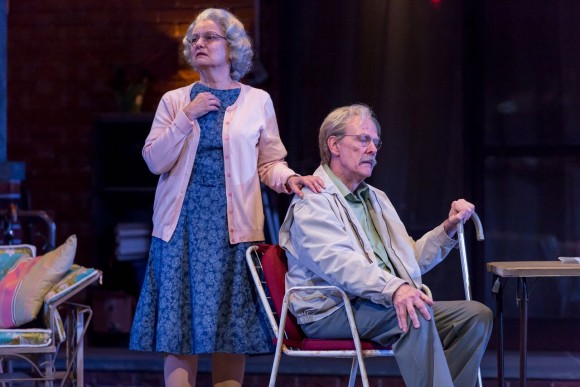 Given the pair's lonely state, this relationship is likely their last chance at friendship. But how long can a person stand to be beaten? And, how long can someone take constant abuse?
Over time, the pair discern ugly truths about one another: why each has ended up abandoned and alone. But as neither is able to look at his or her own life through this last opportunity of another's eyes, these revelations are instead hurled as weapons, in a game with lasting consequences.
It's a bleak story, but it could be more than that.
It's not that the actors don't work well together. Beloved Chicago veteran actors Scrofano and Reeger have appeared in 48 Equity productions together and are married in real life. The Drury Lane wanted to produce "The Gin Game" with them for years. In fact, casting a married couple follows a tradition set by the roles' originators Jessica Tandy and Hume Cronyn who were actually married, and other great couples like Mary Tyler Moore and Dick Van Dyke, who were fictionally so. 
It's not that the actors just don't have the ability to pull off these roles. Scrofano and Reeger received the 2015 Equity Special Jeff Award (Chicago's equivalent of a Tony) for Career Achievement in recognition of five decades of contributions to Chicago-area theater.  And although they've worked in theaters across the country, most of their career has been spent in Chicago.  It is rare for one actor to survive in Chicago without leaving for either coast; maintaining two careers in tandem quadruples the difficulties and is just an astounding feat.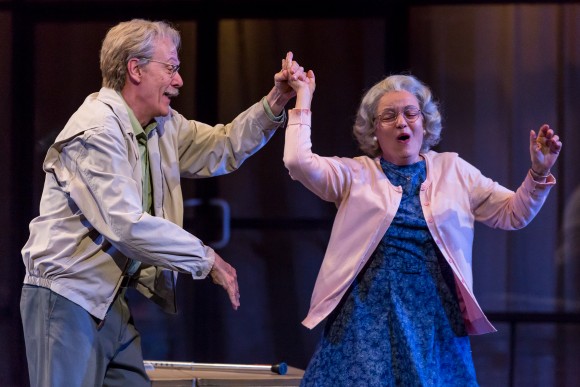 Certainly the actors hit the right comic notes in this production: Reeger's counting of cards in a commanding voice as he deals them becomes a welcome repeated bit, as does Scrofano's humming along with the background music or with music that's just on her mind at the moment.
Certainly the couple ratchet up the tension and take the competition to the point of viciousness. In fact, the end of the play packs a wallop, so the actors cannot be faulted.
Yet the end is strangely hollow. The production targets despair and misses poignancy. 
The trouble, I believe, is that there is a missing step in building the characters' relationship: We never see the possibility that these two could, somehow, connect. They never take a step toward deepening their acquaintance into a sure friendship.
This could have easily been achieved. When Weller decides to accommodate to Fonsia's wish to dance, it could have been a gallant gesture and rather touching. We could have sensed how long it has been since either of them had danced, either had held another human closely. But it is not offered in that light, nor is it taken that way.  The characters do enjoy the dance, but like other aspects of their lives, it is merely an entertaining pastime.
In missing a chance to connect, of some sort of beauty transpiring between the two, we are not devastated by the turn of events and are strangely numb to what is lost.
This missing step has another consequence. The attempts by the playwright to interject universal resonance don't really work. How much is luck involved in a game of cards? Could a divine hand be involved in a winning streak? How much of our lives happen by chance and how much is ordained?  Are we masters of our fates? These questions have little relevance without beauty to provoke us into wondering about them.
Of course, it could be that the play didn't deserve a Pulitzer. But before I would state that opinion flatly, I would like to see this play and this pair of actors given another chance.
'The Gin Game'
Drury Lane Theatre
100 Drury Lane in Oakbrook Terrace
Oakbrook, Ill.
Tickets: 630-530-0111 or DruryLaneTheatre.com
Running Time: 1 hour, 50 minutes (one intermission)
Closes: Aug. 13, 2017
Recommended for ages 13 and above.