Theater Review: 'Philip Goes Forth'
A young man's search for himself
September 26, 2013 4:37 am Last Updated: September 26, 2013 4:37 am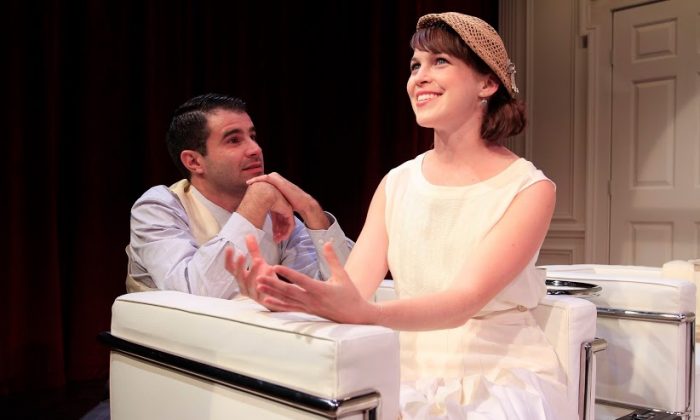 NEW YORK—When the Philip of the title, son of a well-to-do businessman, announces his intention to go to New York City to pursue his dream of becoming a playwright against his father's wishes, we all know how that will develop, right? Don't bet on it. George Kelly, one of America's most noted playwrights of the 1920s and '30s, has a few twists and turns in store.
Ensconced in a lovely home about 500 miles from Manhattan, Philip (Bernardo Cubría) enjoys not only all the comforts that wealth can provide, he has supportive family and friends—except that his father, Mr. Eldridge (Cliff Bemis), wants Philip to go into the family business with him.
Mr. Eldridge warns the young man that if he turns his back on his father's offer now, the slot may not be open to him in the future. Many others are lined up for such an opportunity.
Philip's doting Aunt Marion Randolph (Christine Toy Johnson) tries to reason with Philip. Maybe running off to New York may not be in Philip's best interest.
Mrs. Randolph is contradicted, however, by a close family friend, the glamorous widow Mrs. Oliver (Carole Healey), who feels the young man should pursue his dream and "go forth." She admits shyly that she too had considered becoming a playwright in her younger days.
As if to establish a seal of approval, Mrs. Oliver's daughter Cynthia (Natalie Kuhn), who is in love with Philip—and the feeling is mutual—is enthralled with the idea of a powerful connection with a man with creative gifts: a playwright. In fact, she and her mother are now on their way to Paris principally so that Cynthia can escape the unwelcome attentions of a quite boring surgeon.
Six months later, Philip is found at a pleasant rooming house in Manhattan run by the sympathetic Mrs. Ferris (Kathryn Kates). There he is surrounded by a cross section of artists. Mr. Shronk (Teddy Bergman), a former college chum of Philip's, even contributes to Philip's writing. Haines (Brian Keith MacDonald), although he plays the piano quite well, yearns to become a recognized composer.
Miss Krail, known to all as La Krail (Rachel Moulton), oozes poetry and spirituality from her very pores. As Mrs. Ferris later comments to Philip, Miss Krail may never become successful in a generally accepted sense; nevertheless, she is a true artist.
When Mrs. Randolph visits Philip at the rooming house, the play shifts into high gear. Mrs. Ferris has not always been a mere landlady; she is in fact quite special. In her former life, she was an important woman of the theater.
In her newly disclosed status, Mrs. Ferris is enabled to give Philip the advice he has always needed in order to keep his life on track. Other events point to Philip's being able, at last, to discover his true niche.
In addition to the characters portrayed by the actors, I must mention what one views on entering the theater. The luscious set by Steven C. Kemp of an upper-class sitting room, in tones of white and ivory, was simply breathtaking.
Later, when the second act opened on a comfortable, richly detailed, muted-colored common room in Mrs. Ferris' rooming house, the audience broke into applause.
It is not too far afield to say that Mr. Kemp's sets serve as additional characters, filling out George Kelly's characters and plot, as do the exquisite period costumes by Carisa Kelly. These are beautifully coordinated, color- and fashion-wise, with Mr. Kemp's sets, making for a visually stunning artistic whole.
Jerry Ruiz's direction takes account of both the subtleties and broad strokes of George Kelly's play, creating a rich and effective presentation.
It's difficult to single out one performance above another, as the ensemble playing is very smooth. Perhaps Carole Healey's somewhat ostentatious Mrs. Oliver as well as Natalie Kuhn's delicate Cynthia grab one's attention the most.
But all performances are fine, with Jennifer McVey rounding out the cast, doubling as the maids Edna and Hazel in each of the two households.
"Philip Goes Forth," written in 1931, followed George Kelly's successes "The Torch Bearers," "The Show-Off," and "Craig's Wife," the last winning a Pulitzer Prize.
"Philip Goes Forth," with witty and sometimes satiric dialogue, displays an interesting and entertaining cross section of artistic seekers against the backdrop of a particular period in America.
Philip Goes Forth
Mint Theater Company
311 West 43rd Street
Tickets: (866) 811-4111 or visit Minttheater.org
Running Time: 2 hours, 10 minutes
Closes: Oct. 27
Diana Barth writes and publishes New Millennium, an arts publication. For information: [email protected].