NEW YORK—There is no little irony in playwright Amy Herzog's choice of the ordinary name of Mary Jane for her play's title. As matter-of-fact event follows matter-of-fact event, one begins to reel when considering how this single mother of a chronically ill child can get through one day, let alone day after day, week after … You get the idea.
Now aged 2 1/2, little Alex was born to Mary Jane (Carrie Coon) after only 25 weeks of gestation. He has cerebral palsy and other ailments, and requires full-time nursing care. What is remarkable is Mary Jane's calm, rational approach to a multitude of life problems.
Mary Jane's husband left them because he couldn't cope with the enormous stresses that Alex posed. Yet Mary Jane forgave him. She understands.
Fortunately, she has a pretty good back-up team, including dependable nurse Sherry (Liza Colón-Zayas), who carefully monitors the various machines responsible for Alex's well-being and safety. Happily, she is as much of an emotional support to Mary Jane as she is a nurse to Alex.
There are times, however, when another nurse may not be as conscientious as desired. But Mary Jane chooses to smooth things over, to keep the peace. She sensibly wants to keep things running smoothly.
Although never seen in the play, Alex commands one's attention, since he is described and discussed by others in the small Queens apartment, where Mary Jane sleeps on the living room pull-out sofa. He is adorable, feisty, and demanding. And, according to Mary Jane, very strong physically, often resisting being put into uncomfortable equipment.
There is some humor and lightness along the way, as when building super Ruthie (Brenda Wehle) drops by to fix a recalcitrant kitchen sink. Ruthie remarks that Mary Jane appears to hold tension in her body—not a good thing, as her own sister got cancer because of that. Somehow, though, the scene maintains a light tone.
Other women either support Mary Jane or enhance her situation. There are Sherry's niece Amelia (Danaya Esperanza) and Mary Jane's friend Brianne (Susan Pourfar), whose baby was born with medical problems similar to Alex's. The two mothers eagerly discuss needed equipment and how to navigate the medical system.
The situation grows darker, however, when Alex suffers a seizure and must be hospitalized. When Mary Jane expresses concern over Alex's frequent chest X-rays, Dr. Toros (doubled by Colón-Zayas) downplays the risks of radiation, due to the only slight chance that Alex will live long enough to show any effects.
Mary Jane only appears to lose her cool in one instance: When Alex has been promised music therapy, and the therapist, Kat (Esperanza), has been overbooked and can't make their appointment. Here the therapist bends a rule and sings a tender song to Alex.
Herzog has so subtly built the play—and director Anne Kauffman has so skillfully echoed the playwright's desires—that one doesn't see the conclusion coming.
The play is remarkably moving, and on the day I attended, at the end, there was a brief, silent pause. Then the audience broke into unusually strong applause.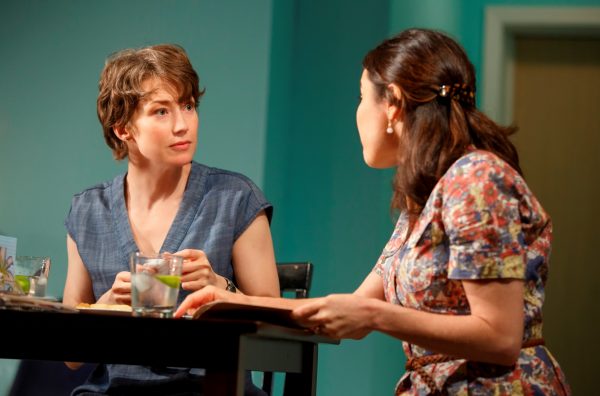 The performances here are excellent. Coon easily carries the play, with strong support from all the cast. Indeed, the doubling of roles was so smooth that one could barely discern which roles were doubled by all except Coon.
Herzog's achievement is remarkable in that she has presented the painful story of one woman's journey through the difficult task of caring for a sick child in a way that speaks to the many who carry the same burden.
Technical support is of the finest. Laura Jellinek's sets perfectly fulfill the play's needs. They are enhanced by Japhy Weideman's lighting (the last scene is particularly striking) and by Leah Gelpe's sound design.
A remarkable theatrical achievement.
'Mary Jane'
New York Theatre Workshop
79 E. Fourth St.
Running Time: 1 hour, 35 minutes (no intermission)
Tickets: 212-460-5475 or NYTW.org
Closes: Oct. 29
Diana Barth writes for various theatrical publications, including New Millennium. She may be contacted at diabarth@juno.com