NEW YORK—A production by Primary Stages now at the Cherry Lane Theatre is perfect for an audience needing introduction to the notion that individuals who are evolving spiritually will overcome personal differences and forsake their egos for the sake of family unity.
"Little Women," by Louisa May Alcott, is a semi-autobiographical novel about four sisters growing up in Massachusetts during the Civil War era.
It is now a play written by Kate Hamill, whose dramatic versions of other classics like "Sense and Sensibility" and "Vanity Fair" have been successful. "Little Women" certainly could not be more timely given its color-blind casting, and more importantly, its reference to gender identity.
Some Background
Alcott prefaced "Little Women" with an excerpt from John Bunyan's 17th-century work "The Pilgrim's Progress," an allegorical novel about leading a Christian life.
Her novel begins with the four March girls—Meg, Jo, Beth, and Amy—sitting in their living room, lamenting their poverty. When their mother, Marmie, comes home with a letter from Mr. March, the girls' father who is serving as a chaplain in the Civil War, the letter inspires the girls to bear their burdens more cheerfully and not to complain about their poverty.
What does society want them to be? Are they at ease with the roles foisted on them? What does it mean to be grown up?
The dramas of the March family and the ways they are resolved are deeply instructive. The March siblings tussle with perennial themes: jealousy, insecurity, rejection, and resentments. But the family that upholds the four cardinal virtues—prudence, temperance, fortitude, and justice—will prevail.
In this sense, "Little Women" is a reminder that our culture's social character needs overhauling. We need to examine what it means to be wise, moral, courageous, and moderate.
A Gender-Lite Version
The play focuses on Jo March (Kristolyn Lloyd), an aspiring novelist. Rather like the French author Colette, Jo is keen on capsizing traditional gender roles and yearns for a future where she can be something other than that which society expects of her.
Jo believes that were she in trousers and tailcoat, she'd make her way through Europe and make a name for herself in the bargain.
She'd "become Shakespeare and Dickens and Thackeray."
Laurie (Nate Mann), short for his last name, Laurence, is the boy next door and also fascinated by gender identity. He imagines a world where there is neither "boy" or "girl" nor "gentleman" or "lady."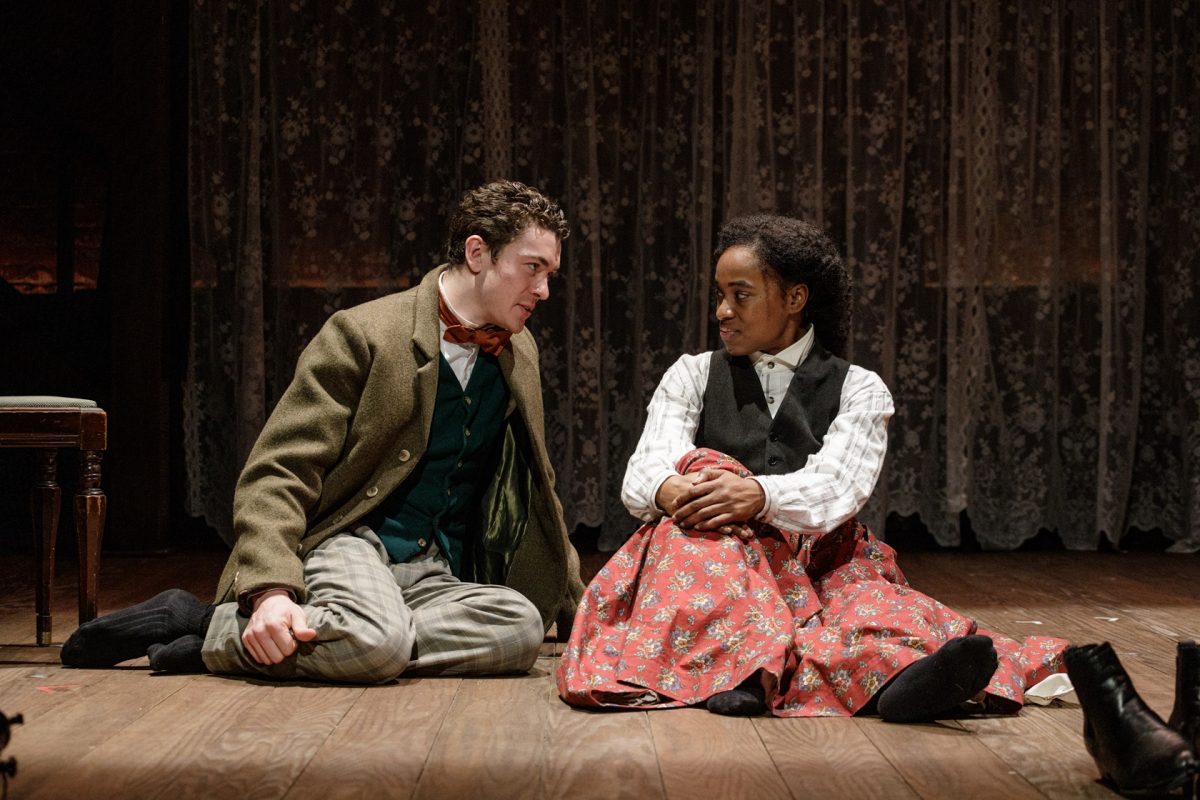 But unlike the current national and political division on gender identity that seems to have overtaken all other concerns, in "Little Women" tradition triumphs radicalism. Jo ends up married to Professor Bhaer, a German-language instructor, and Laurie's happily-ever-after is with Amy (Carmen Zilles), the youngest March.
A Loss of Priorities
When Alcott was writing in the late 19th century, the gender identity issue was perhaps no more than a prescient cloud, the size of one's fist, on the horizon. How could Alcott have known that national identity, patriotism, border security—all would seem to be of less import these days than "gender equality"?
Why, the Bill of Rights has paled into insignificance. In its place there are strident demands for the recognition of "gender fluidity," militantly enforced multiculturalism, and a destruction of the nation's traditions and history.
Indeed, the fascism of the gender fluidity movement is eroding the freedoms that were taken for granted during the Civil War.
America was a country founded because of a need for religious freedoms. It is deeply ironic that the freedom most deemed worth defending today is the freedom to decide what sex one wants to be.
A Fresh Production
Sarna Lapine's brisk staging plays like a best-of reel of the lives of the March family, a clever device given the sprawling nature of the book.
Krystolyn Lloyd's performance as Jo has depth and nuance, and Nate Mann as Laurie gives a marvelously persuasive performance.
The production is authentic and fresh. In fact, the sexual identity issues are gender-lite in comparison to the cartoon that is playing out in this country today.
Thus, the play is not the "radical adaptation" it professes to be in a program note. In fact, hats off to Hamill for honoring the traditions that made this country great.
'Little Women'
Cherry Lane Theatre
38 Commerce St.
Tickets: 212-352-3101 or PrimaryStages.org
Running Time: 2 hours, 15 minutes (one intermission)
Closes: June 29
Jani Allan is a South African journalist, columnist, writer, and broadcaster.