NEW YORK—At The Public Theater an electrifying performance by Jo Lampert as the central character fuels "Joan of Arc: Into the Fire," David Byrne's rock musical (book, music, and lyrics) concerning the major accomplishments of the iconic figure—a French peasant girl who freed a nation.
With colleague and director Alex Timbers at the helm, the show transmutes Joan's story into a wild, edgy ride. Byrne and Timbers had formerly collaborated on the highly successful "Here Lies Love," about Imelda Marcos of the Philippines, also presented at The Public.
Sticking to one's principles may ultimately have a remarkable result.
What sets this show apart from a placid retelling of history is the high-tension mix of the best of stagecrafts: scene design by Christopher Barreca, with ramped stairs used effectively; vivid lighting by Justin Townsend; sound by Cody Spencer; special effects of fog, flame, and strobes by Jeremy Chernick; projections by Darrel Maloney; and costumes by Clint Ramos, where in one sequence English soldiers with black and red uniforms, turn about-face to show blue and gold fleur-de-lis: the same actors, two armies!
In 1428, in the midst of the Hundred Years' War and occupation of France by the English, Joan from Domrémy expresses outrage at the burning of her village. She later hears saintly voices (a fiery puff of smoke here), who advise her to lead an army to save France. "I feel that I am ready. This is a message from the Lord," she cries.
Seeking out Captain Baudricourt (Michael James Shaw), leader of the French forces, she persuades him to take her on. Scenes of Joan's training by the French soldiers are rigidly choreographed (by Steven Hoggett), with unison movement rivaling the most disciplined work by, say, the New York City Ballet corps. The wiry, androgynous Lampert more than holds her own.
Finally setting out, the group reaches the Dauphin Charles (Kyle Selig), with Joan promising that he will be rightfully crowned king. He grants Joan and Baudricourt an army, enabling them to take Orleans and to reclaim other towns taken by the English, causing the English to retreat.
Dauphin is escorted by Joan to Reims Cathedral, where he is crowned king, but ultimately, battling with too few men, Joan is taken prisoner by the English.
From here on, Bishop Cauchon (Sean Allan Krill) and the vengeful Warwick (Terence Archie) will be in charge of Joan's fate.
Warwick, furious at Joan's success in battle, is all for putting her to death immediately. But the bishop allegedly wants to save Joan's soul. If only she will admit to her false statements, if she will deny her voices. Under extreme pressure (including medical bleeding), she yields and signs a confession.
But on learning that the bishop has lied to her, that he has no intention of freeing her, not even to a convent, but rather intends to keep her in a miserable English prison, she recants. Supertitles indicate that Joan's lines in the trial scene are from her actual trial in the 16th century.
Condemned to die as a relapsed heretic, she is sentenced to be burned at the stake—into the fire.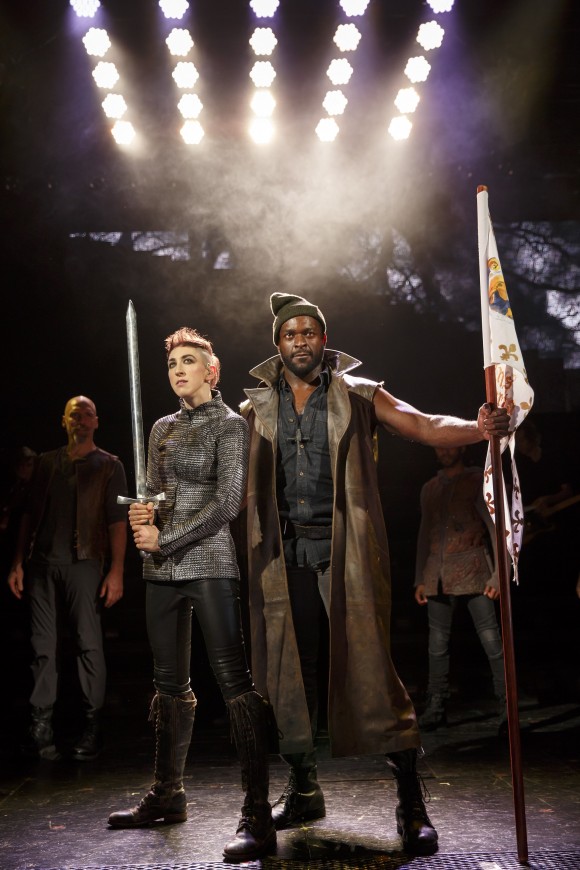 The subtext implies that it is not Joan's claiming voices that condemned her, but rather because she dared to oppose the most powerful authority figures of the day, particularly the Church, which held full sway not only over religion but over people's entire political and economic lives.
It's indicated how one person, with will and persistence, can make a difference, can succeed in what may seem to be moving mountains. It shows how sticking to one's principles may ultimately have a remarkable result—even to the point of creating positive change in the hearts, minds, and behavior of many people.
But the story was not over with Joan's death. Years later her mother, Isabelle (the excellent Mare Winningham), movingly pleads that Joan be sent to Heaven. In fact, Joan was beatified in 1909 and declared a saint in 1920.
Others in the cast include James Brown III, Jonathan Burke, Rodrick Covington, Mike McGowan, Adam Perry, John Schiappa, Mary Kate Morrissey, and Dimitri Joseph Moise.
'Joan of Arc: Into the Fire'
The Public Theater
425 Lafayette St.
Running Time: 1 hour, 35 minutes (no intermission)
Tickets: 212-967-7555 or PublicTheater.org
Closes: April 30
Diana Barth writes for several arts publications, including New Millennium. She may be contacted at diabarth99@gmail.com