NEW YORK—Hilarity is currently emanating from the stage of the East Side's York Theatre.
Based on original source material from a semi-autobiographical novel by Carl Reiner, the work, which later became a straight play by Joseph Stein, has metamorphosed into the present musical version. Its book is by Joseph Stein, music and lyrics by Stan Daniels, with additional material by Stuart Ross, who also directs the show.
A young Bronx lad named David Kolowitz (Chris Dwan) yearns desperately to conquer Broadway; he introduces himself with a hearty rendition of "David Kolowitz, the Actor."
David hears of auditions to become a scholarship student at a theatrical school run by Harrison Marlowe (the formidable David Schramm). David's audition is so abominable that Marlowe wants to reject him, even at a paying "scholarship" fee of seven dollars a week.
But Marlowe's love-starved daughter, Angela Marlowe (Farah Alvin in a deliciously overdone performance), intercedes and insists that her father accept "the cute one"—David.
Now cast in a play, David's first rehearsal is so incredible, ahem, that Marlowe takes to drink: He keeps a bottle handy, often hidden in secret places, such as a shelf in the side of the piano. David's first utterance at rehearsal is "Enter laughing." Marlowe, not too patiently, explains that that is a stage direction and not to be spoken aloud.
David, who now calls himself Don Colman, in a nod to famed film star Ronald Colman, demonstrates several versions of what he thinks is an appropriate theatrical laugh. You can take it from there.
As well as being enamored with the theater, David appreciates girls. He has a deeply loyal girlfriend, Wanda (Allie Trimm). But he also has an eye for a secretary, Ms. B (Dana Costello). And why not? She is a stunner and moves divinely. (In fact, almost the entire cast of 11 are skilled actor-dancer-singers.)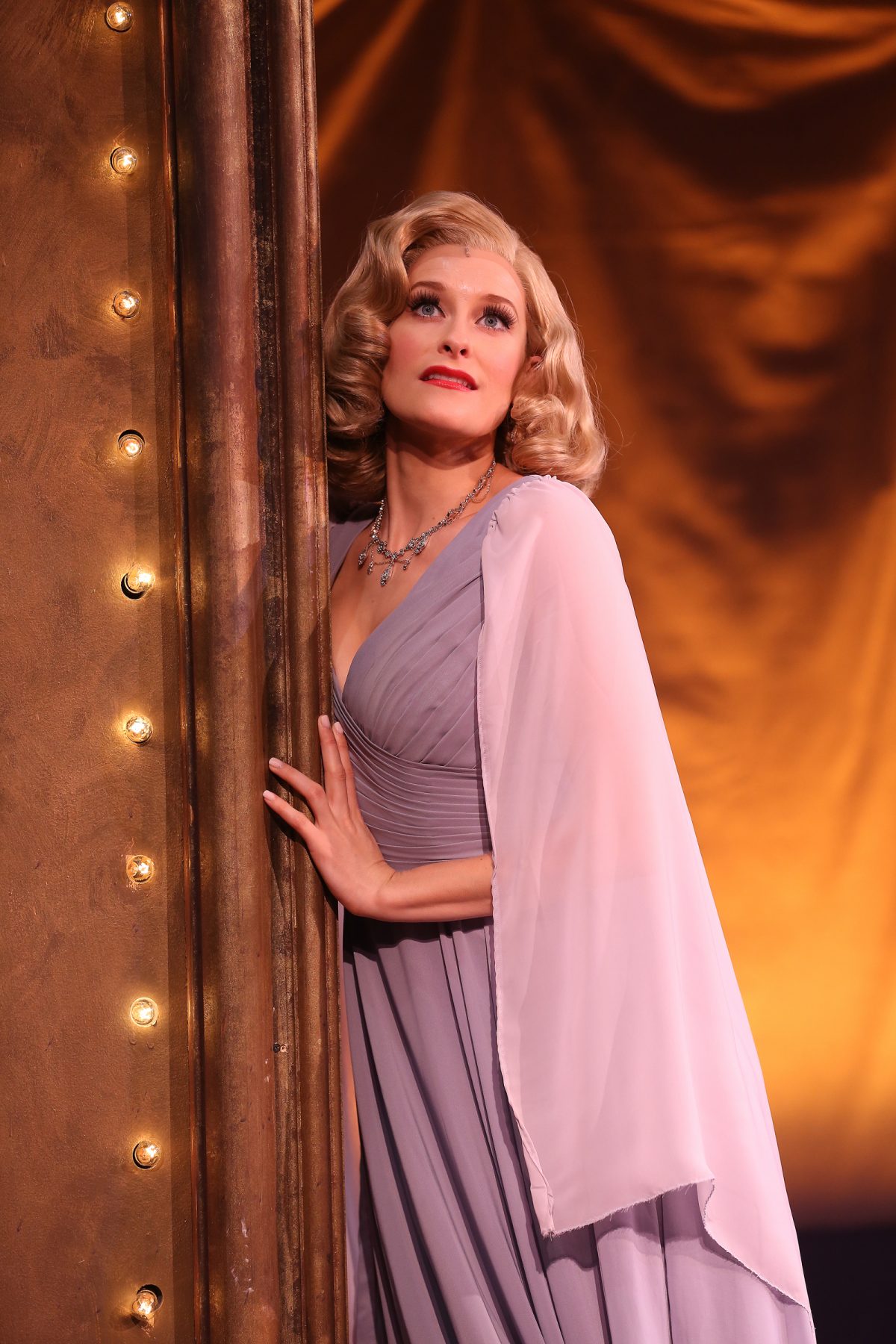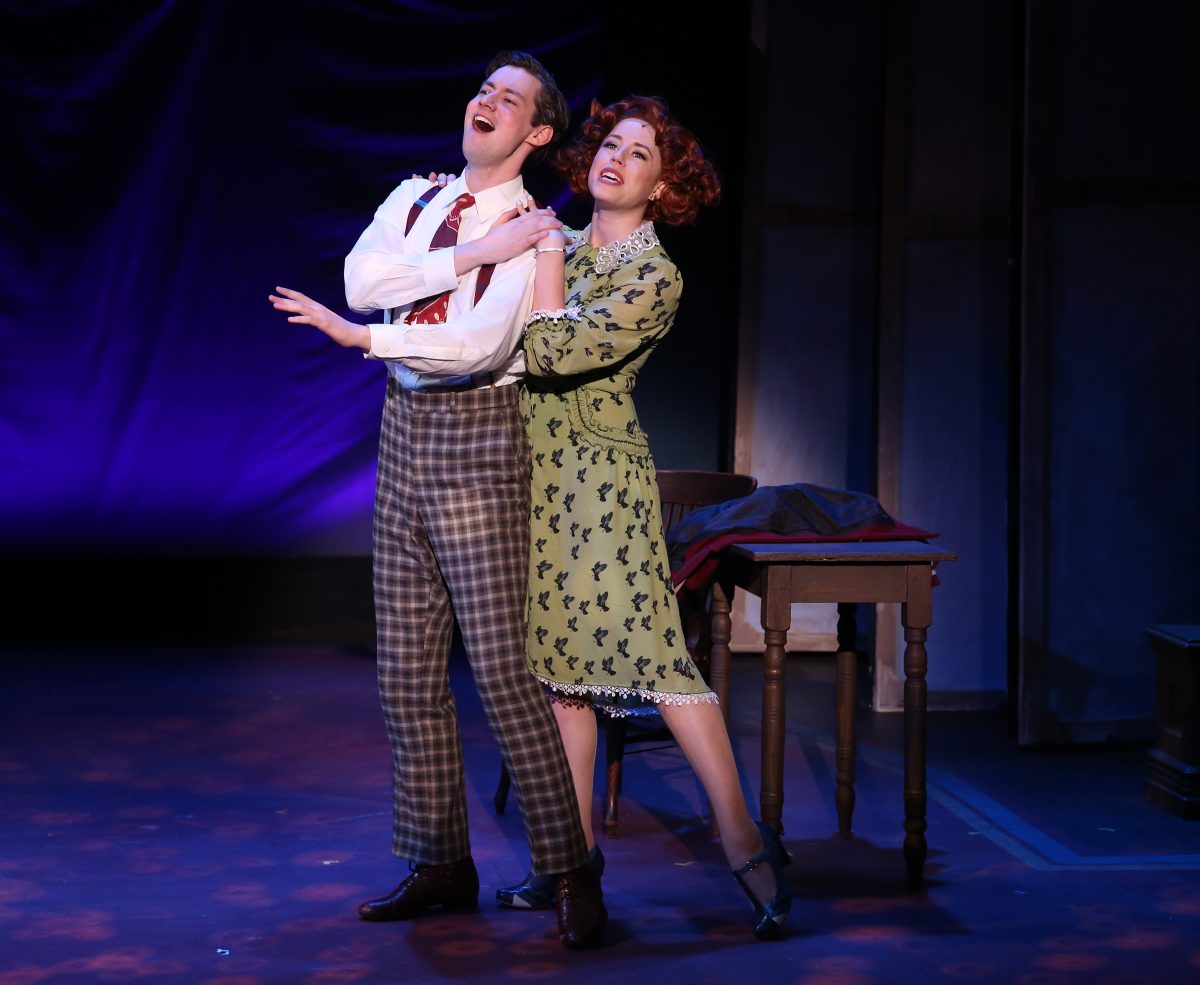 David's doting Mother (Alison Fraser) would do anything for her beloved son, but sings out slyly, in "My Son, the Druggist," that he would break her heart if he does not attend pharmacy school and live a conventional life.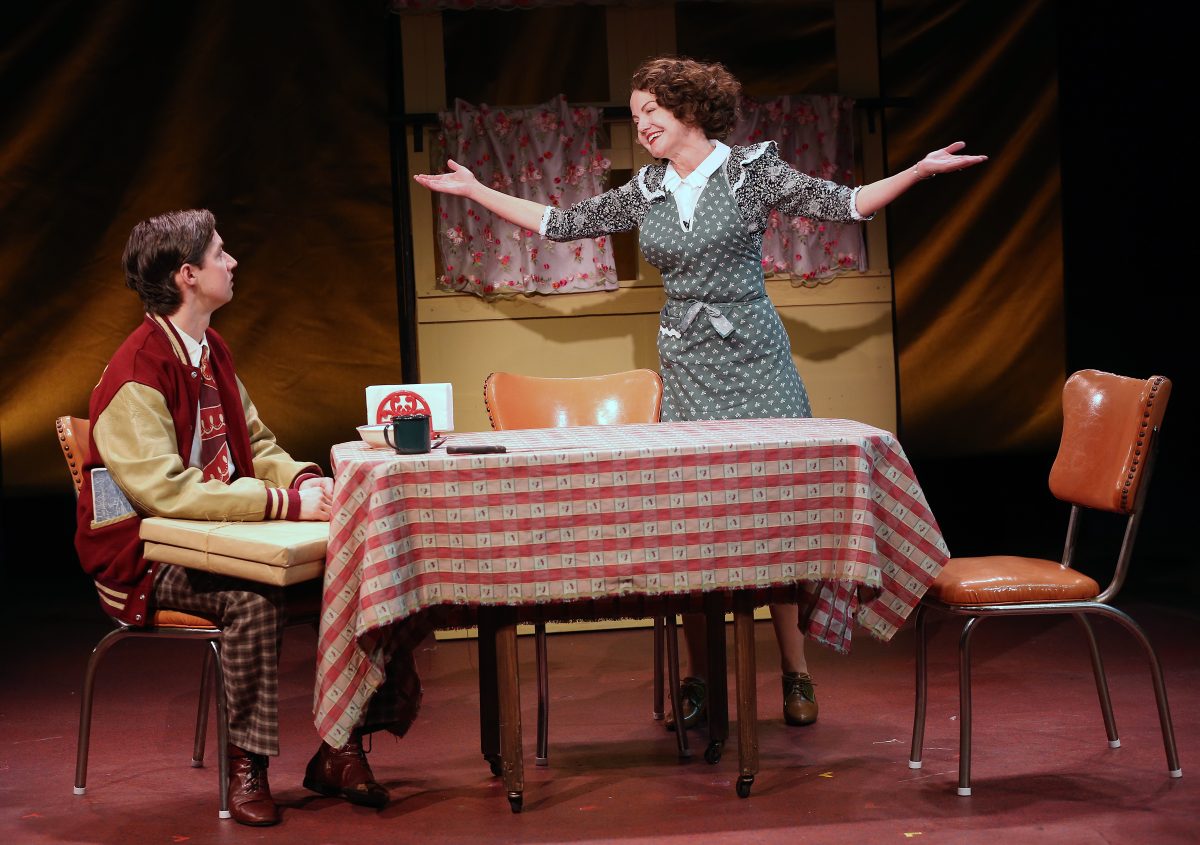 Father (Robert Picardo), who goes along with whatever Mother wants, later performs a lively song-and-dance number, paired with David's day-job boss Mr. Forman (Ray DeMattis). As they kick up a storm, the two elders bemoan the ungratefulness of youth, who, they claim, only want to do the "Hot Cha Cha."

Rounding out the cast are Raji Ahsan as Pike, who runs the backstage doings at Marlowe's school; Magnes Jarmo as Harry Hamburger, Miss B's generous boss who shares his tuxedo with David; and Joe Veale as David's friend Marvin.
David Schramm as Marlowe performs "The Butler's Song," a bring-down-the-house turn, mentioning David's theoretical connection with glamorous film stars of the 1930s. To aid those viewers whose memories don't reach back that far, the show's printed program contains a glossary of such luminaries as Joan Crawford, Hedy Lamarr, and the luscious Latin beauty Dolores Del Río.
The orchestra, consisting of Phil Reno (piano and music direction), Perry Cavari (drums), and Michael Kuennen (bass) more than amply supports the performers, as does the terrific choreography by Jennifer Paulson-Lee. Costumes by Tyler M. Holland are on the money, and James Morgan's minimalist scenic design is just right.
Stuart Ross's direction and musical staging are superior, as are all members of the cast, with particular kudos to Chris Dwan for his charming, perceptive, and often athletic presentation of David Kolowitz, also known as Don Colman. His depiction of stage fright is a classic.
If you know theater, this show is a must. If you simply love theater, it's a must. In short, see it.
'Enter Laughing: The Musical'
The York Theatre Company
619 Lexington Ave.
Running Time: 2 hours, 20 minutes (including one intermission)
Tickets: 212-935-5820 or YorkTheatre.org
Closes: June 23
Diana Barth writes for several theater publications, including "New Millennium." She may be contacted at diabarth99@gmail.com