Theater Review: 'Ann'
Life of a Grand Lady Governor
April 11, 2013 3:14 pm Last Updated: April 11, 2013 3:16 pm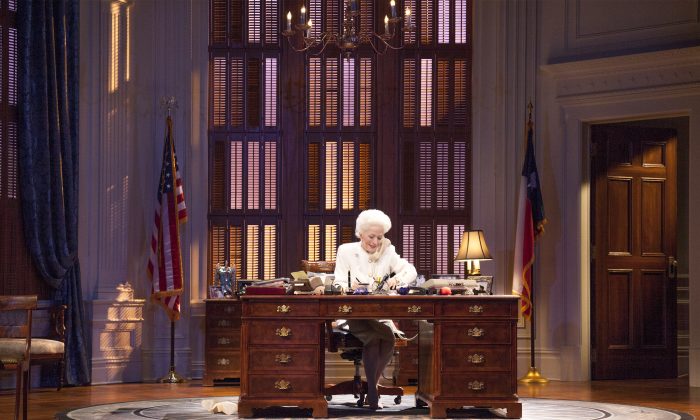 NEW YORK—Not only has first-time playwright Holland Taylor written about former Democratic governor of Texas Ann Richards (1991–1995), Taylor, an actress well known in theater, film, and TV, portrays her in this almost two-hour presentation. I said, portrays—perhaps "channels" Richards might be more accurate.
Greeting us onstage at the comfortable Vivian Beaumont Theater is a vivid, no-nonsense woman, in a cloud-white, substantial hairdo, wearing a white Chanel-type suit. She first addresses a college graduating class somewhere in Texas.
When the scene shifts to Richards's well-appointed governor's office (good set design by Michael Fagin), she takes us through high—and low—points of her life, usually with great humor and warmth, and often tongue-in-cheek, but never bitter.
She might have had cause for bitterness. For she lost out on her bid for re-election to George W. Bush, as it happens, because, many feel, she opposed a bill allowing Texans to carry concealed weapons. She also did a stay of execution for a murderer, whom she felt had some redeeming qualities. If she felt it was the right thing to do, she would often run the risk of taking unpopular stands.
Born in rural Texas during the Depression era, she was daughter to an adoring father who told her that she could do anything she wanted to do. Her mother was rather severe, and Ann realized that she could do nothing that would please her. But that didn't stop Ann from plunging ahead into an accomplishment-filled life.
After a long marriage spent as a housewife and mother, she divorced and, remarkably, entered politics. After a long period of time in the trenches, she advanced to believing, along with her colleagues, that she could gain the governor's chair.
This was rare enough for any woman, but to achieve the governor's spot was viewed as "off the map" for any Democrat, especially in a state as basically Republican as Texas.
Taylor, the lone performer in the play, aided only by the occasional offstage voice of Julie White as Ann's assistant Nancy Kohler, exhibits some typical doings in a day of this spirited governor. Flurries of phone calls reveal conversations with former President Bill Clinton, her organizing a family trip with various family members and taking time to order a large number of cowboy boots as gifts for staff members.
With conversations sprinkled with wisecracks and witticisms, Ann (and playwright Taylor) doesn't avoid the issue of Richards's alcoholism—this at a time when admitting to negative qualities was not the thing to do.
But somehow Ann's frankness only makes her seem more lovable, at least to her staff and a large number of constituents.
She was for the little people, the vulnerable, those in "dirty" nursing homes, for example, who didn't have the power to improve their own conditions.
Although outspoken and sometimes gruff, an element of great charm seemed to seep through. Apparently her father's faith in her had taken strong root, and Ann Richards was ultimately able to accomplish "anything she wanted to."
"Ann" makes for a satisfying, highly entertaining evening in the theater, in the hands of terrific theater pro Holland Taylor. Direction is by Benjamin Endsley Klein.
"Ann"
Vivian Beaumont Theater
Lincoln Center
150 West 65th Street
Tickets: 212-239-6200 or visit www.telecharge.com
Running Time: 1 hour, 55 minutes
Closes: Sept. 1
Diana Barth publishes New Millennium, an arts publication. For information: [email protected]