Theater Review: 'And Away We Go'
A love affair with theater
November 28, 2013 5:09 am Last Updated: November 28, 2013 5:10 am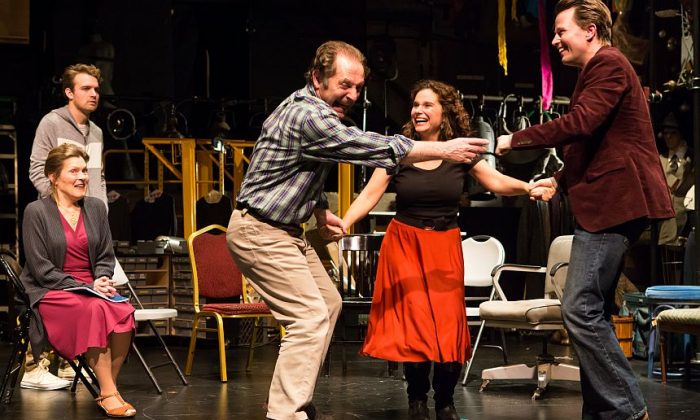 NEW YORK—Tony Award-winning playwright Terrence McNally has written—especially for Off-Broadway's Pearl Theatre Company—what is essentially a love letter to theater, beginning with the Greeks and reaching present-day theatrical presentations.
An ideal setting greets us for such an occasion: Hung from rafter to stage floor is an extraordinary mélange of props (courtesy set designer Sandra Goldmark).
The stage represents backstage. At the outset each actor of the company enters, kisses the stage, and introduces him or herself. Thus, we meet the company who will take us on our journey.
They are members of the Pearl Resident Acting Company: Rachel Botchan, Dominic Cuskern, Sean McNall, and Carol Schultz, accompanied by newcomers Donna Lynne Champlin and Micah Stock.
First stop is an imaginary scene of what may have taken place in ancient Athens at the Theater of Dionysus. A mask maker is doing his work, accompanied by his mother and wife. When a member of the chorus is criticized for not projecting enough, he is told that this theater has perfect acoustics. Another character retorts, "Perfect acoustics are a myth started by people who sit in the best seats." There are complaints about the heat, the cold, the terrible pay.
In London at the Globe Theatre, the Burbage family of actors is disturbed by a board member who would love to be considered a member of the creative team. However, she admits that primarily means contributing money.
A visit to the Royal Theatre in Versailles is not too eventful. However, things liven up a bit when the Moscow Art Theatre figures in, with extended discussions of Chekhov's "The Sea Gull" and also the concept of plots, which seems to be a new idea.
McNally gives most attention to the actual premiere of Samuel Beckett's "Waiting for Godot," at Coconut Grove in Coral Gables, Fla., starring Bert Lahr. Lahr had been unhappy, as the play was not the success he had hoped for. His wife is portrayed, signing his name for his autograph.
In the "Godot" sequence, an irate audience member comes backstage to complain about two men waiting by a wispy tree for someone who never came. A young actor states that she's hoping to join Actors' Equity, which will make everything "so much easier." At the preview performance I attended that line got a big laugh; the audience was obviously made up of a number of theater professionals who believed the contrary.
Financial matters are discussed, such as how a company may "fold" if it loses its funding.
McNally's conceit is an intriguing one and at times quite entertaining. As a whole, however, it did not quite come off. The episodes are too disjointed, the transitions often difficult to follow.
The play is most successful when episodes are given more import and are dealt with in greater complexity.
Under the astute direction of Jack Cummings III, the actors were excellent. Rachel Botchan maintained high energy throughout (in fact, a bit more variety might have been welcome); Sean McNall, as always, made a fine contribution as did Dominic Cuskern and Carol Schultz.
Newcomer Donna Lynne Champlin offered energy and vivacity in her various roles, and Micah Stock, in what is apparently his first professional assignment, made a strong impression.
Although arguably not a perfect play, "And Away We Go" offers ample reward for those who love to hear about the theater and an opportunity to witness some top-notch performances presented at the Pearl, a rare and major New York City classical resident acting company.
And Away We Go
The Pearl Theatre Company
555 West 42nd Street
Tickets: 212-563-9261 or visit pearltheatre.org
Running Time: 1 hour, 40 minutes
Closes: Dec. 15
Diana Barth writes and publishes New Millennium, an arts publication. For information: [email protected].