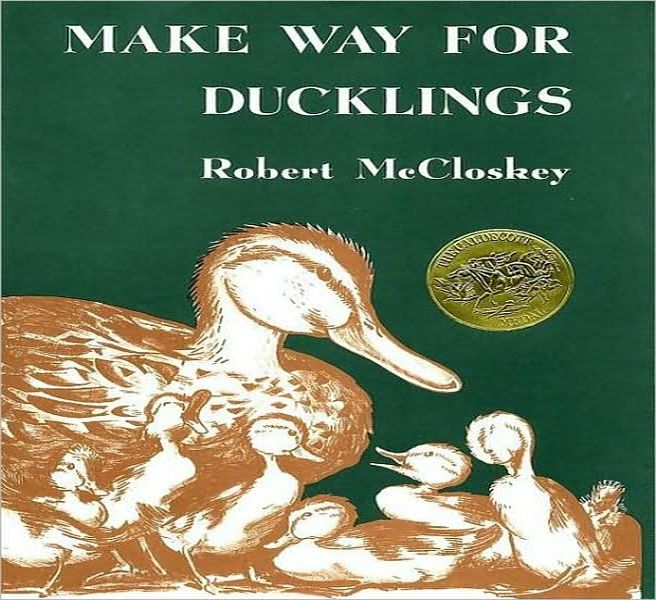 As warmer weather itches to spring to the forefront, what better way to enjoy the anticipation of the season ahead with your child than with a classic picture book about ducklings.
First published in 1941, Robert McCloskey's Caldecott Medal Winner Make Way For Ducklings tells the simple and charming tale of a mallard couple who nest on the bank of Massachusetts's Charles River and later make their way, with ducklings in tow, to the pond in Boston Public Garden.
"Mr. and Mrs. Mallard were looking for a place to live. But every time Mr. Mallard saw what looked like a nice place, Mrs. Mallard said it was no good." Simple text and equally simple illustrations follow this pair of mallard ducks on their journey to find just the right spot to raise their family.
The pond in The Public Garden almost wins them over. "There are no foxes and no turtles and the people feed us peanuts. What could be better?" Mrs. Mallard contends until a bicyclist speeds past, nearly running them down. So, they choose to look elsewhere.
After passing some of the New England city's famous landmarks, they find a quiet spot along the Charles River to lay their eggs. "And only just in time, for now they were beginning to molt."
During their stay along the Charles, they befriend a policeman who feeds them peanuts. Soon their eight eggs hatch. "It was a great responsibility taking care of so many ducklings, and it kept them very busy."
It is their friendship with the kind policeman that proves most important when the family decides to take the growing ducklings back to the little island in the pond of The Public Garden. Despite Mrs. Mallard teaching her ducklings very well how to follow her in line, crossing the highway proves a greater challenge than they can meet.
It is the policeman who hears their quacks and comes to the rescue, beckoning cars and passerby to "make way" for the duck family.
A delightful depiction of parents' care, a glimpse into the lives of ducks, and the kindness of people towards animals, not to mention a tour of Boston, are all elements making up this enjoyable, easygoing read. If you're looking for the answer to a young one's spring fever, add Make Way For Ducklings to their library.