Without a doubt, the Philippines will be your dream destination when it comes to stunning view. It is a tropical country with fascinating landscapes, active volcanoes, splendid beaches, coral waters and tropical forests. You can take some amazing photos of rice terraces, golden beaches, smiley locals as well as capture the poverty and simplicity of various places all over the country!
Our favourite snapshots of the Philippines – from Manila through Laoag to Banaue and Cebu.
Copyright © 2014 by eTramping.com. This article was written by Agness Walewinder and originally published at eTramping.com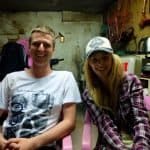 Meet eTramping crew – Agness and Cez – best friends and travel companions from Poland. These two are sharing their budget travel tips on how to
travel the world with $25 in your pocket. Since 2011, they have been travelling the world while teaching English in different Asian countries such as China, Thailand or Cambodia. They are both photography passionate obsessed with Chinese cuisine and culture.