The People Behind the Newest Gourmet Foods
New York Fancy Food Show a resounding success for local products
July 4, 2013 1:12 pm Last Updated: July 5, 2013 2:00 pm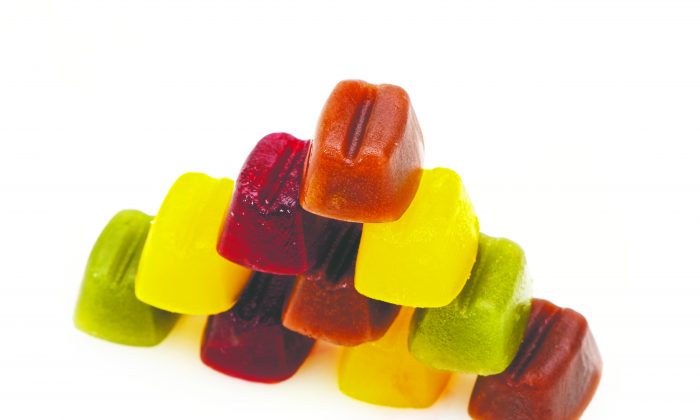 NEW YORK—Even the most discerning food purveyors were tantalized by booth after booth of the finest goods—from the purest Italian olive oils to the delicate chocolates of France. 
Thousands of attendees sniffed, prodded, and tasted thousands of products at the Jacob Javits Convention Center June 30 through July 2 for the annual Summer Fancy Food Show. New trends, remixes of favorite recipes, and unique business models were all on display.
And what better way to understand today's specialty food market than to catch a glimpse of the items that are about to break onto our gourmet shelves? 
The "New brands on the shelf" section at the show largely featured New York-based culinary talent, with everything from sauces, dips and dressings, to brownies, bonbons, and pigs-in-blankets. 
It was as much about the people behind the food as about the product itself, and this was most evident in the case of Paulette Fox and her company, LifeIce.
Suffering in the late stages of ovarian cancer, Fox's mother stopped eating in August 2010. All she could stomach was ice chips. Fox observed her mother receiving hydration, but no nutrition. In a panic, she blended fruit into the ice chips and at least for a few more weeks, her mother was sustained. The doctors were amazed. Sadly, Fox's mother lost her 8-year battle in September 2010. 
Fox traveled to Bali to take time out. "I knew I had to do something. I was grieving," she said. It was here the concept of LifeIce, a healthy frozen snack, was born, and the frangipani in the logo is a testament to that time. 
The securities litigation attorney spent the next two-plus years developing her product and branding. The LifeIce "cubettes," as Fox calls them, are similar in size to a cube of ice from an ice tray. LifeIce comes in trays of 24 cubettes, which are shelf-stable for a year. They can be frozen at any time, making them portable. 
The cubes are all natural, gluten free, Kosher-certified, fat-free, and low in calories and sugar. They contain no GMOs or preservatives. 
Fox said she "wanted to deliver a little something for everyone" with her flavor choices. They include berry, citrus, chocolate, and a green option. The base ingredients are coconut water and agave. The "Green Grind" adds kale, spirulina, banana, and apple to the base. 
LifeIce hits multiple markets—from kids' snacks, to medical use, and alcoholic beverages. 
But it's those aiming for a healthy lifestyle that Fox wants to reach first. 
"I consciously chose to launch as a product for the health-conscious community—not just medical. I didn't want to exclude the healthy people," she said. "I have value claims that resonate, and ingredient profiles that people understand."
The product launched on April 24 this year, Fox's mother's birthdate. The company is an official partner with the Ovarian Cancer Research Fund. 
"It truly means that LifeIce is more than another trendy product," she said. "I'm doing it to honor my mother's memory." 
Fox signed a retail deal two days ago. 
"LifeIce products are just getting started," she said
LifeIce
www.lifeice.com
More Gourmet Creations to Watch Out for: 
New York gourmet food creators were out in force at the Javits Center during the Fancy Food Show. Here are some of the products to watch out for at your local specialty store.
iQ Juices for Healthy Lifestyles
Dan Ehrlich, co-founder and chairman of Powerhouse Beverage Co., has been described a serial entrepreneur. 
His latest entry into the gourmet world is with iQ Juice, a range of six juices that retail for $3.99 a bottle. 
Ehrlich has an advantage when creating new products—his father is a nuclear physicist. The first juice they concocted was a personal mission—Ehrlich's mother suffers from Alzheimer's. Ehrlich was working with plant extract, turmeric, to help boost her memory. Adding "good-tasting stuff" to it, he created the Memory iQ Juice. 
His other juices include a Fat Burner, Immunity, Detox, Rise Up, and the most unique flavor, the green tea Cleanse juice. The next two being developed are a men's and women's libido juice. 
With a retail deal just inked, iQ will be on shelves in New York City as well as D.C., Baltimore, Miami, Australia, Costa Rica, and Chile.
"It's about living smart," Ehrlich said. "It's not a quick fix."
Powerhouse Beverage Company
iQ Juice
www.iqjuice.com 
Superfood Sauces With Unique Flavors
Jennifer Iserloh, a 10-year veteran of the food industry, is a champion for superfoods. So much so, she has released a line of superfood-inspired sauces under the brand Skinny Chef Natural Foods, LLC. With names such as Blazin' Blueberry, Pomegranate Cayenne, Goji Espresso, and Cherry Chipotle, one can imagine the unique and healthy tastes. 
All the sauces are vegan and low in sugar and sodium. 
It's about fast, healthy gourmet, said Iserloh. The sauces, her first food product, are also a way to teach people more about superfoods. 
The sauces can currently be bought in Hoboken, with a wider distribution coming soon. And don't forget to check out her new book: "50 Shades of Kale."
Skinny Chef Natural Foods LLC
www.skinnychef.com 
Making Pigs-in-a-Blanket Cool Again
Stacy Cole and Missy Koo debuted Brooklyn Piggies on Memorial Day 2012. The little pigs-in-a-blanket were such a hit at Smorgasburg last year that Oprah featured them in "Oprah's Favorite Things."
Spicy, original, and chicken are the three flavor options and Cole and Koo are proficient at rolling 4,000 piggies in an 8-hour shift—with a little family help. 
Koo, a handbag designer, had the original idea, and convinced Cole to join her. Cole is a classically trained opera singer who was working for an aerospace company.
The two have a kiosk at South Street Seaport and the little piggies have been shipped across the U.S. since Nov. 2012. 
The two have just hired three part-time employees. 
Brooklyn Piggies
www.brooklynpiggies.com 
Beer Cheese, From Kentucky to New York
Andrew Templar tests his beer cheese dips on his patrons at Floyd Bar, his bar in Brooklyn. 
The Kentucky native couldn't find beer cheese in New York, so he and a friend made their own. Beer cheese is a traditional Kentucky snack cheese dip made with sharp cheddar cheese, spices, and a drop of beer. 
"It's a little bit spicy with a little bit of heat and absolutely perfect for any and every occasion," the Floyd Eats website says. 
Templar has found the flavors can even define the neighborhood. The bacon flavored one is popular in WIlliamsburg and Crown Heights; the jalapeño is the most popular overall—especially with the Smorgasburg crowd; and the original does consistently well all around. 
Floyd Eats hit retail stores in November and can be found in several gourmet outlets in Brooklyn and Manhattan. 
Floyd Eats
www.floydeats.com 
Crowdfunding Dressings
Vanessa MIller crowdsourced her business into reality. Get Dressed Salads got its start through Indiegogo, a crowdfunding platform similar to Kickstarter. 
A teacher for seven years, Miller brought the blackboard to her business by way of the black label on her bottles. The blackboard represents getting started, she said. 
The idea germinated two years ago and Get Dressed Salads now has four flavors: Ginger Gem, Perfect Pepper, Lemon Love, and Va Va Voom Vinaigrette.
The dressings started hitting the gourmet shelves eight months ago, and just this week Miller signed a distribution deal. 
Get Dressed Salads
www.getdressedsalads.com 
Bonbons, a Sweet Morsel
Becky Kestenbaum's life took a serendipitous turn one evening as she was puddling around in the kitchen. Wanting something sweet, she ended up creating her own version of a bonbon—a novelty dessert that should be served chilled. 
Six months later, Becky's Bites launched with six flavors of bonbon, including New York cheesecake, peanut butter, cappuccino, chocolate-covered strawberry, salted caramel, and cookies and cream. 
Kestenbaum had been working in an art gallery, and cooking was a passion on the side. Now, they have switched places and cooking is the focus, while art is the hobby.
Becky's Bites sell in Grace's Marketplace on the Upper East Side as well as online. Catering and personalizing the treats is a growing market for Kestenbaum.
Becky's Bites
www.beckysbitesnyc.com
A New Start With Brownies
When Kelly Spencer's life seemed to hit its lowest point a few years ago, it was a gluten-free brownie that became the silver lining. 
Named for her daughter, the Sweet Girl Brownie Company is Spencer's labor of love, which she launched a little over a year ago. 
Her website describes the brownies as "perfectly balanced between cakey and fudgy, between chewy and melt-in-your-mouth delicate."
Spencer makes them all from scratch, batch by batch, and each is sealed with a message to her daughter thanking her for the inspiration (and a reminder to finish college!).
Sweet Girl Brownie Company
www.sweetgirlbrownies.com 
Other New York-based products about to launch into retail stores include: 
Dave's Homemade, a range of sauces by chef Dave Martin.
www.chefdavemartin.com 
Mitchmallows, handmade marshmallows by Mitchell Greenberg.
www.mitchmallows.com 
Euphoria, Greek artisanal imports by Eleni Konstantopoulos. 
www.euphoriaoliveoil.com 
The Saucey Sauce Co., a range of Vietnamese dipping sauces by brother and sister duo Toan and Ken Huynh.
www.getsauceynow.com 
Jan Jekielek contributed to this report.