A Poet's Moon
Mid-Autumn day has always been a time for Chinese poets to express their deeper feeling and thoughts, as the moon is a particularly favored subject. Through these poetic reflections, we can almost read their thoughts and feel their emotions.
The poets were often wanderers, far from home. They longed for home and missed loved ones far away, particularly on the Mid-Autumn evening when looking at the full harvest moon or drinking alone in the moonlight.
They could forget all the troubles and hardships of their wandering but, in the bright moonlight, they could not forget memories of home or family and friends.
Poetry by Su Shi
Su Shi (1037–1101), also known as Su Dongpo, was an important figure in Chinese literary history. He was a great writer, poet, painter, calligrapher, and a court official during the Song Dynasty.
Su Shi was born into a literary family and his parents were both highly educated. Su was 19 when he and a younger brother both passed the civil service examination, a prerequisite for high government office. He then held many official posts, including the head of the Board of Rites (for imperial ceremonies and worship).
Much of Su's poetic and artistic inspiration came from Daoism and Buddhism and he is generally considered the Song Dynasty's greatest poet. His composition "Fu," a kind of satiric poem with free verse, has been adapted by subsequent generations.
His satiric verses, mainly in opposition to official policies, resulted in a tumultuous political career. After writing a satirical poem criticizing policies promoted by the once powerful Prime Minister Wang Anshi, he was imprisoned and exiled.
Originally, Su had a free and spirited personality, and his early poetry was full of insight and energy. While in exile, having barely escaped with his life, Su took joy in a simple life of farming and writing.
The experience only served to increase his enlightenment through reflections on the meaning of life. In fact, he produced many of his most popular works during that time.
In 1101, Su was pardoned once again and recalled back to the palace, but he died on his way to the new post.
Su Shi and his younger brother were very close. As a government official in a family of officials, Su was often separated from his loved ones. In 1078, his younger brother was able to join him for the Mid-Autumn Festival. Inspired by his brother's visit, Su wrote the following poem to reflect on the preciousness of time with family.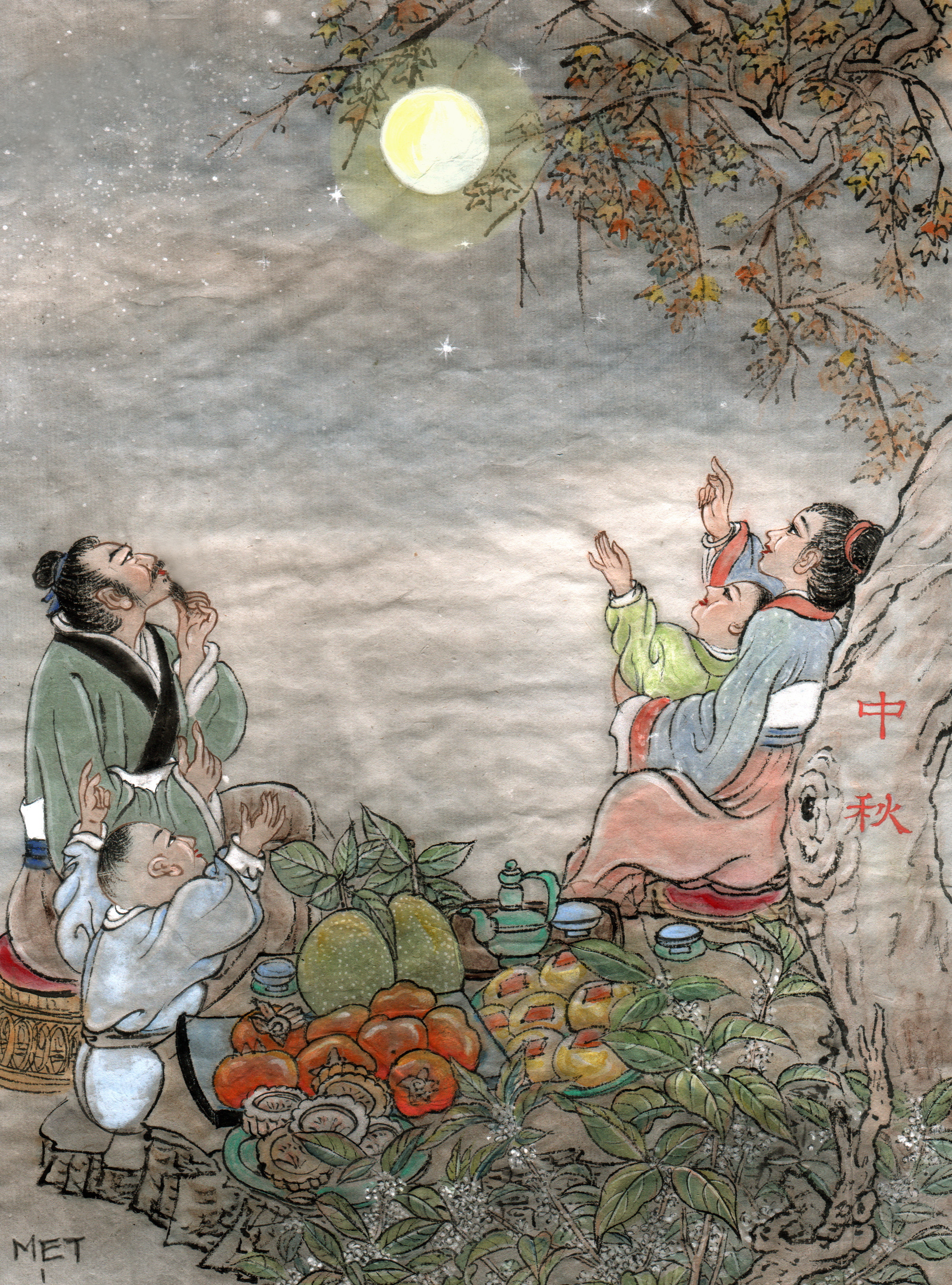 The Mid-Autumn Festival is an important occasion for family member to get together to admire the bright moon and enjoy mooncakes. It has a history of over 3,000 years, dating back to moon worship in the ancient Shang Dynasty. (Jane Ku/Epoch Times)
Mid-Autumn Moon
As evening clouds withdraw, a clear, cool breeze floods in.
The jade wheel passes silently across the Silver River.
This life this night has rarely been kind.
Where will we see this moon next year?
Water Melody
When did the bright moon first appear? I raise a cup of wine and ask the dark sky.
I wonder, in the palace of Heaven, what year it is this evening.
I wish to ride the wind and return there, yet fear the crystal towers and jade palace. Being on top, one has to bear the chill.
Rising to dance with the clear shadow; it doesn't seem like it is the mortal world.
Revolving around the red pavilion, reaching under a silk-wrought door, shining upon the sleepless.
No resentment, but how come the moon is always full at times of separation?
People have sorrows, joys, partings, and reunions; the moon can also be dim, bright, half, and full. It has never been perfect since ancient times.
May human beings be blessed with longevity! Although a thousand miles apart, all can share the moon's beauty together.