The Met's Textile Exhibit: Interwoven Globe
Met weaves three centuries of world history
September 15, 2013 6:43 pm Last Updated: September 15, 2013 8:54 pm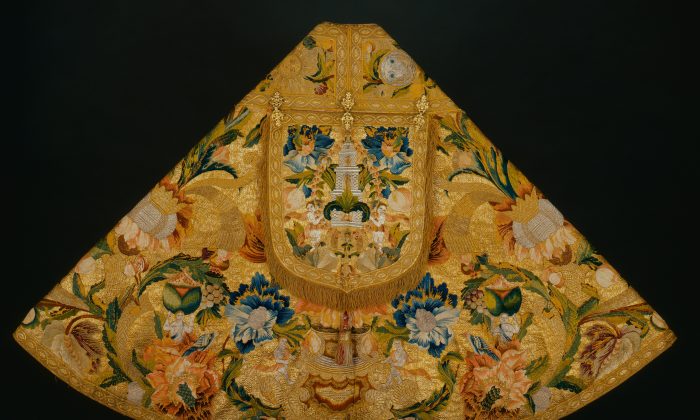 NEW YORK—The Met's newest multi-departmental exhibit, Interwoven Globe, features a fair number of costumes, but it is not one of the fashion-centric exhibits that have been plaguing art museums of late.
Instead, it uses beautiful and complex textiles from Europe, Asia, and the Americas as a launching point to address some unwieldy themes: the interconnectedness of the global economy, the fluid nature of culture, and moral dangers that arise when the pursuit of profit goes too far.
The exhibit covers a vast historical period as well—three centuries—from the heyday of European circumnavigation in the early 1500s to the age of George Washington and Napoleon Bonaparte.
This exhibition has been in the works since 2008, according to its organizing curator Amelia Peck of the American Decorative Arts department. 
"Over the years we ended up with a group of textiles that were produced in one cultural area but were meant to be sold or traded to another area," Peck said. "And these are really fascinating and sometimes confusing textiles." 
Because of their complex histories, they rarely get exhibited in the main galleries. Thus it took the work of members many departments to come together: American Decorative Arts, Asian Art, Islamic Art, European Sculpture and Decorative Arts, The Costume Institute, European Paintings, Drawings and Prints, and Arts of Africa, Oceania, and the Americas.
"The process was simple. We met every Thursday afternoon and we went country by country, culture by culture, and pulled things from our very rich collection that seemed like they were meant for trade," Peck said.
Two-thirds of the 134 works in the exhibit come from the Met's own collection. Peck estimates that the exhibit includes only a fourth to a third of what the Met's collection could offer. Many items have never been shown before.

Into the Galleries
Consisting of nine galleries, the exhibit can be overwhelming. It is necessarily so by the nature of its subject matter.
A three-minute video traces the trade routes of each major European naval power. Dotted lines stretching from Europe to Asia, Africa, and the Americas help outline the big picture, but this video does not begin to illustrate all the multitudes of intercontinental cultural exchanges.
Indian textile artists made embroidered wall hangings for the Portuguese; the Chinese stitched double-headed eagles for Spain's Habsburg crown; the Japanese loved Dutch wool because they didn't raise any of their own sheep.
Europeans staying in China coached local artists on the styles and motifs popular in their homelands, supplementing their lessons with helpful drawings and engravings. 
Asians made clothes for other Asians. India sent to Thailand soldiers' jackets emblazoned front and back with fearsome beastly faces and Chinese-inspired "cloud collars."
Europeans lusted after washable, breathable, colorfast, hand painted Indian cotton, and imported it voraciously.
Then, in a delightfully ironic turn of events, the English and French in the early 18th century imposed bans to protect their domestic clothing industries from the influx of Indian cotton clothes. But loathe to part with the gorgeous fabrics, they tried their hand at replicating them.
There are also some wonderful examples like a Portuguese compass cloak, so called because it stands away from the wearer's shoulders in all directions like a stiff, cone-shaped cape. It was made from Chinese velvet, bears Chinese handiwork in the trims, but the style of the garment and the fabric pattern are completely European.
Other examples show how different cultures thought of—and sometimes misunderstood—each other. Oil portraits of English women posing in Turkish-inspired outfits with turbans look slightly off and staged. 
War and human suffering were woven literally and figuratively into textiles too. Scenes of battles among colonial powers spilled out over tapestries. Merchants used fabrics to pay for the lives of countless enslaved Africans. This unconscionable treatment of human life, too, was depicted in the warp and weft of wall hangings and upholstery fabrics.
This exhibit makes it clear that everyone traded with and copied everyone else. By the end of it, it's impossible tell whether a particular fabric was the result of Europeans copying Asian styles, Asians attempting to produce to European tastes, or both. 
And maybe that's the point of the exhibit—to show us that the fashions we consume are no simple matter, whether you're a modern American wearing a Chinese-sewn T-shirt made of Indian-grown cotton or a 18th century Frenchman wearing a homemade knockoff of an Indian coat.
Interwoven Globe, the International Textile Trade, 1500–1800 
Opens today, Sept. 16 and runs until Jan. 5.
The Metropolitan Museum of Art
1000 Fifth Ave.
212-535-7710
The Tisch Galleries, second floor
www.metmuseum.org