NEW YORK—Sometimes in the opera house, everything clicks. The stars were certainly aligned for the current production of Massenet's "Manon" at the Metropolitan Opera. The audience sensed right from the beginning that it was experiencing something special, even in a house that regularly presents the world's leading singers.
The character of Manon is quite demanding, requiring a singer-actress to make the transition from innocent teenager to young lover to worldly courtesan/temptress and finally dying prisoner. German soprano Diana Damrau made all of these shifts credible and, as one might expect, her singing was glorious.
As her lover, tenor Vittorio Grigolo was also in his element. With his matinee idol looks and opulent tone, he was visually and vocally ideal for the part of des Grieux.

Grigolo and Damrau made for a passionate pair. Interestingly, the young man's disapproving father was played by the soprano's real-life husband, bass-baritone Nicholas Testé.
Jules Massenet's 1884 opera was based on Abbé Prévost's popular novel "L'Histoire du chevalier des Grieux et de Manon Lescaut." The novel was also the basis of Puccini's opera "Manon Lescaut," which the Met will revive next season.
The character of Manon is quite demanding.
The action begins at an inn north of Paris, where Lescaut is waiting for his cousin, who is on her way to enter a convent. A dirty old man, Guillot de Morfontaine, makes a pass at the teenage girl but she rejects him. Her reaction is different when the handsome chevalier des Grieux appears, and the two fall instantly in love. The pair escape in Guillot's coach, leading the elderly reprobate to swear revenge.
In the second act, the lovers are living in a garret in Paris. Des Grieux announces his intention to marry Manon and writes a letter to his father to that effect. A wealthy nobleman named de Brétigny, who has designs on the girl, induces the corrupt Lescaut to help him win her over by promising a life of luxury. The fun-loving Manon is convinced and, with some ambivalence, watches her lover being kidnapped by his father's henchmen.
Manon becomes the toast of Paris but is unnerved when she learns that des Grieux is about to enter the priesthood. She tracks him down and begs forgiveness, swearing that she still loves him. The chevalier gives in and abandons the Church in favor of a sybaritic life with Manon.
After living the high life, the couple soon run low on cash. The wily Guillot challenges des Grieux to a card game. The young man wins but Guillot falsely charges him with cheating. The police arrest des Grieux and Manon. While des Grieux's father secures his son's release, Manon is sent to prison.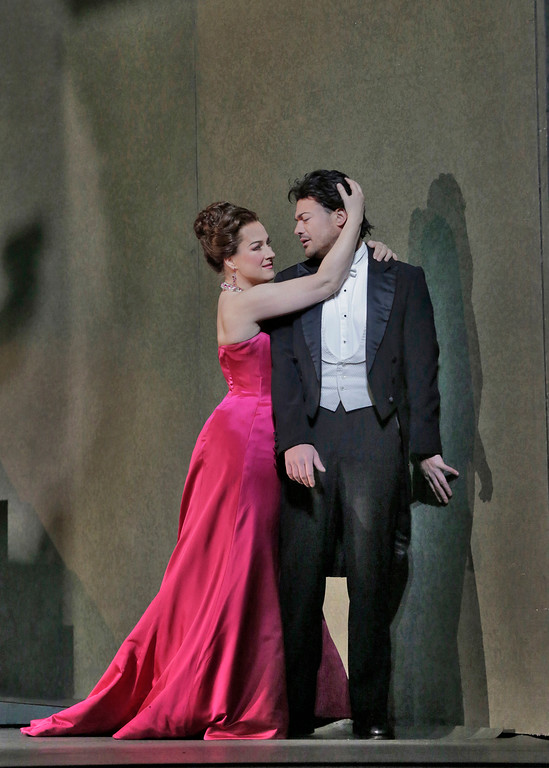 Des Grieux tries to bribe Manon's guards to help her escape before she is to be deported to America. However, by that time, her health is wrecked and, after expressing regret for her duplicity, she dies in his arms.
Before the last act, an announcer appeared and said that Damrau had a cold but would continue. In fact, no one would have noticed since her singing was superb throughout the performance. She was especially touching in her second act aria, "Adieu, notre petite table," as she bids goodbye to her modest room with des Grieux. The tenor brought the house down with his lyrical "Le reve" (the dream) and later the passionate "Ah! Fuyez, douce image," in which his soul unsuccessfully tries to overcome sensuality with religion.
Christophe Mortagne was an excellent Guillot, managing to be both slimy and amusing (and was even light on his feet). Russell Braun was an effective Lescaut, and Nicolas Testé was impressive as the elder Count des Grieux.
The opera ran almost four hours, but the audience's attention didn't flag thanks to the outstanding cast and the fine conducting of Emmanuel Villaume. Laurent Pelly's production successfully evoked la Belle Époque.
"Manon" runs through March 28 at the Metropolitan Opera House, Lincoln Center; 212-362-6000, MetOpera.org.
Diana Damrau will sign copies of her CDs at the Met Opera Shop on Thursday, March 19, at 3 p.m.
Barry Bassis has been a music, theater, and travel writer for over a decade for various publications.