After eight months of unplanned homeschooling and feeling burned out, my wife and I hightailed it to an adults-only luxury spa resort (thank you, grandparents-babysitters). A two-hour drive from New York City suburbs brought us to The Lodge at Woodloch, an all-inclusive spa in the Poconos of northeastern Pennsylvania.
COVID-19 Precautions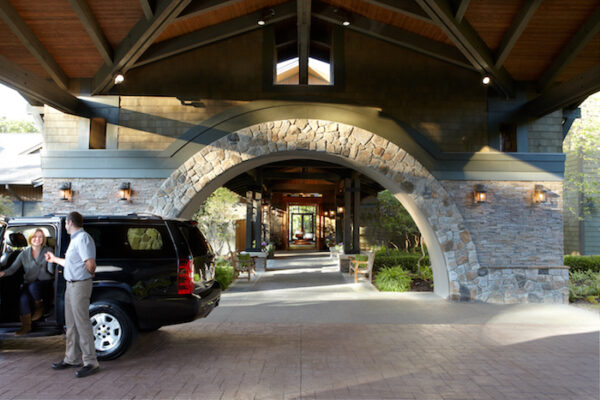 At the entrance gate, we were welcomed by a face-masked attendant who confirmed our reservation and instructed us to drive to the Lodge's front door, where a bellman took our temperature with a handheld thermometer. He also explained the resort's COVID-19 policy: Face masks should be worn indoors, and on the grounds when social distancing wasn't possible.
Other notable precautions included fresh linen drop-offs in lieu of daily room cleaning, a musician playing from behind a plexiglass barrier, and disinfection of surfaces in the dining room and spa between use. 
All these precautions quickly became normal and put our minds at ease so that we could focus on reconnecting with each other and ourselves.
The Facilities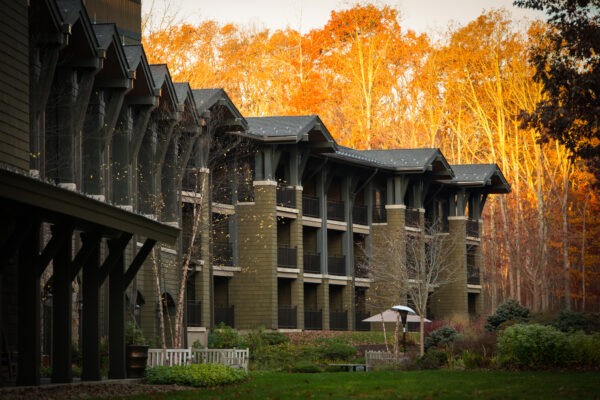 When I offered the bellman a cash tip for his assistance with our bags, he declined, informing me gratuities were included with our stay.
That was unusual and appreciated, as I recalled awkward moments at other resorts scrambling to find cash in my bathing suit and pool bag to hand to an expectant attendant.
Our accommodations were luxurious yet unpretentious, and appointed with incredibly soft towels, robes, spa slippers, a cozy king-sized bed, lots of marble in the oversized bathroom, and a balcony. As we moved from our room past the restaurant, several fireplaces, and then over to the spa, we saw other guests in their robes and slippers.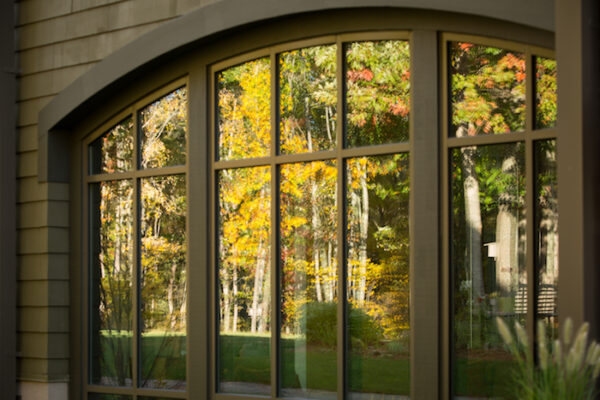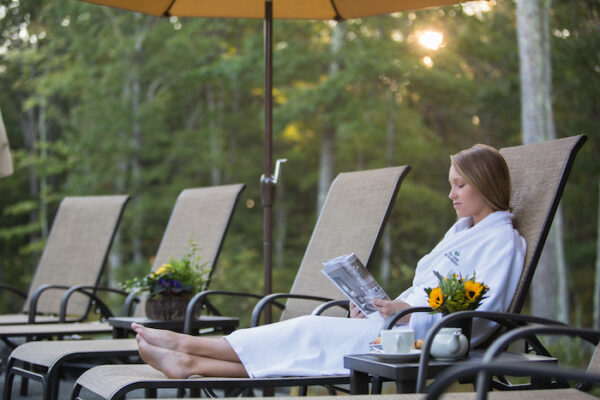 The resort's design and architecture—from the color palette to the floor-to-ceiling windows—channeled the energy of the surrounding Pocono forest into the indoors. As we walked the grounds on nature trails along gentle hills and by the misty lake, I noticed how the understated low-rise Lodge seemed to almost blend into the forest and autumn foliage.
With only 58 guest rooms, the Lodge feels intimate and unhurried. The entire experience has been conceived to inspire and nurture—from the food to the atmosphere and wellness offerings. As such, it attracts like-minded visitors, mostly couples celebrating a babymoon or anniversary, or groups of ladies enjoying a reunion. 
We were encouraged to register in advance for as many classes as we wanted at the time that we booked our stay. This system allows for smaller, social-distanced groups. There were more than 100 classes, such as the standard fare of yoga and fitness classes, but it went well beyond, with activities such as Tenkara fly fishing, cranberry picking via kayaks, hatchet throwing, forest bathing, cooking, and art. We participated in a yoga class where the teacher played gongs and chimes as we assumed various relaxation poses on comfy mats and pillows. We also enjoyed outdoor activities that didn't require reservations, such as mountain biking and trail walking.
The Spa and Golf Course
After checking in at the spa's front desk, we went to our respective male and female "retreats," furnished with wood-paneled lockers, private shower rooms, wet and dry saunas, a hot tub, and two living rooms with cozy fireplaces for reading and relaxing pre- and post-massage. 
The back door of the retreat led to the co-ed "Aqua Garden." With a pool, rock garden, and two "hydro-massage" hot-tubs, it felt like a sanctuary. The A-frame space, with its huge vaulted glass windows, looked out to the forest and lake. Double doors led to an outdoor patio set with chaise lounges and an infinity hot tub where we bathed amidst the forest.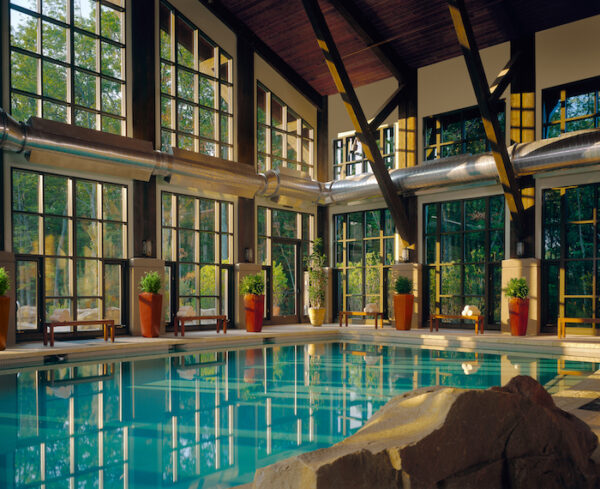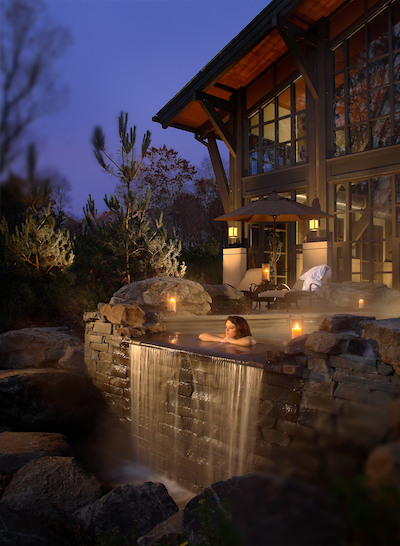 My wife selected a relaxing massage called Blues Be Gone from the extensive menu.
On another day, I opted for a round of golf at the Woodloch Springs country club with its forest setting. It was fun not only to play the course but also to drive the cart up and down steep, windy hills, and over wooden bridges built over water features.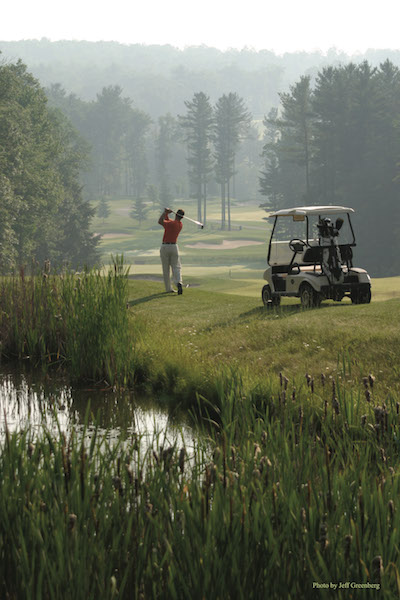 Many of the holes featured challenging blind shots with doglegs and natural obstacles. I encountered three deer slowly meandering down the fairway that were hardly interested in me and moved out of the way so I could play my ball.
The Food Scene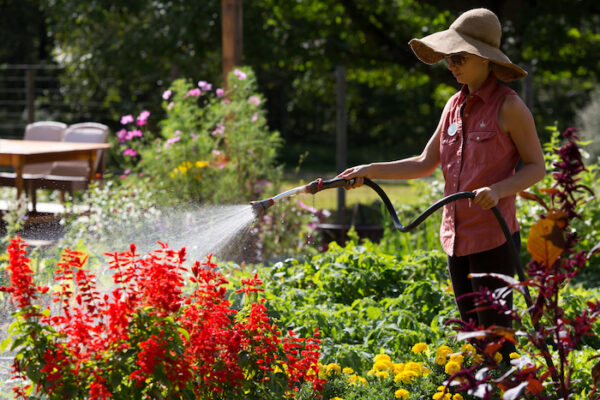 The all-inclusive three meals a day were an indulgence. Despite options to take our meals in-room or to picnic at the many idyllic locations throughout the grounds, we preferred dining at the Tree restaurant with its expansive dining room, bar, and window-side views of the lake.
The cuisine focused on organic and local foods, many grown on-site at the three gardens. As each mealtime approached, I grew excited to linger over a leisurely meal and spend quality time with my wife.
We did take one meal offsite, at a farm-to-table dinner at Blackmore Farm, a short trail-walk from the main building. The evening started with a tour and explanation of their sustainable cultivation philosophy. Then, we sat at socially distanced tables and removed our masks under a tented shelter with a canopy of string lights adjacent to the outdoor kitchen. 
Before the farmer said goodbye, he joined our group in a festive toast as he entrusted us in the care of the executive chef and sommelier. They had prepared a seasonal five-course menu featuring ingredients harvested a stone's throw away, complete with thoughtful wine pairings. Heat lamps warmed us as the temperature dropped significantly in the autumn night. 
Following dinner, we walked past outdoor fire pits on the Lodge's veranda with small groups enjoying cocktails and listening to a folk singer. Rather than more outdoor drinks, we opted for an evening session in the Aqua Garden before the spa closed.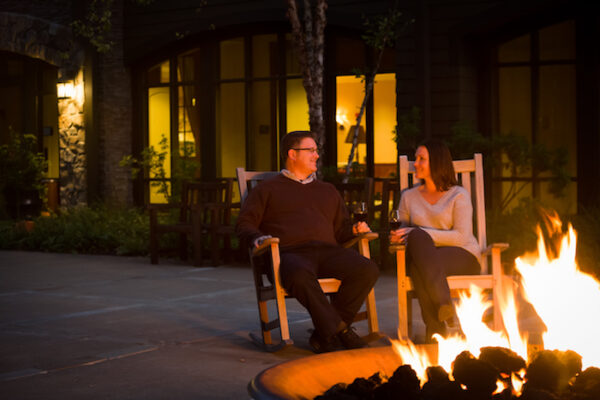 After two nights, we were now moving at a Woodloch pace, in no rush to leave. So we checked out after a leisurely late breakfast and put our bags in our car before enjoying one last session at the Aqua Garden and spa facilities into the early afternoon, before driving home.
Returning Home
After returning to our tightly regimented lifestyle, I noticed an extra measure of calm in us, as if a bit of kindness and warmth had reemerged. 
So I guess that's why we took a weekend away from the kids. Call it "self-care," or simply taking a needed break to gain perspective and gratitude.
And perhaps next time we return to Woodloch, we'll bring the kids and stay at their sister property, Woodloch, rated the No. 1 family resort in the country by Tripadvisor. However, while the kids are at day camp, we'll definitely look to sneak back to the Lodge for a massage, a farm-to-table meal, and another soak in that epic Aqua Garden.
The author was a guest of The Lodge at Woodloch.