The Insta-Wedding Is Here to Stay
April 3, 2014 6:03 am Last Updated: April 2, 2014 12:26 pm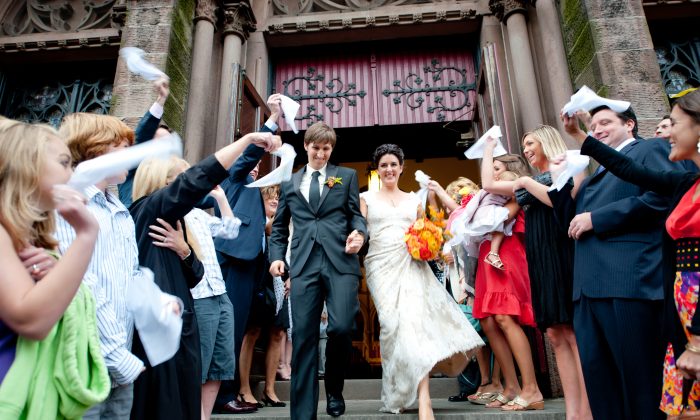 Spring means many things to many people, but traditionally 'tis the season for getting married—officially and in the land of fairy tales. And to some, nothing in real life comes as close to a fairytale as the wedding ceremony, whether it be in the intent or the achieved effect.
Evidence to this effect is the bridal gown itself that is so often a play of soft, diaphanous textures as if to conjure a wondrous realm of "happily ever after." Then there is the setting—the second most important factor. It is usually chosen with careful consideration to the overall ambiance and its impact on the guests so that a good time will be had by all.
The theme may be atemporal, however, our modern lifestyle calls for speed and efficiency while still hoping that an air of happy spontaneity will infuse the event. To that effect, the "insta-wedding" is gaining momentum and may even replace the traditional model of a one-year engagement followed by wedding ceremony. It still adds up to a major production, but in a shorter amount of time.
Celebrities and TV personalities, including Kaley Cuoco and Ryan Sweeting, Leighton Meester and Adam Brody, and Gisele Bundchen and Tom Brady have embraced the quick "engaged, then married" turnaround, getting their wedding dresses, making nuptial preparations, and marrying within three months of their engagement.
Apparently, Kaley Cuoco said her and her husband went on a dinner date and they're still on their first date—he never went home.
According to David's Bridal the trend has a lot of non-celebrity followers. Data collected from the brand's over 300 stores nationwide shows that nearly 30 percent of brides are buying a dress and are planning to wed within 90 days. David's Bridal and stores like it are the ideal place to go for a one-stop off-the-rack shop for the wedding gown as well as the rest of wedding ceremony accoutrements.
"I think that is very sweet and represents a more modern perspective on 'the engagement'. A lot of couples aren't interested in having a long engagement anymore, they are in love and want to begin their life together right away," said New York City-based custom wedding planner Christine Paul.
For a more personalized approach where financial considerations are less restrictive, the services of a wedding planner will no doubt make the whole experience less daunting.
Christine Paul, who owns her namesake business, Christine Paul Events, is an expert on planning wedding events. She sees a big trend in the insta-wedding phenomenon and shared her expertise on planning a successful event.
Paul clearly loves a challenge. Just last December a couple from London enlisted her services to create a Winter Wonderland wedding in New York City's Central Park in two weeks.
"It was full of many challenges, but as always we made it happen. These clients were the perfect candidates for an insta-wedding—they knew exactly what they wanted, made fast decisions, trusted the professionals, and had the most beautiful Winter Wonderland Wedding Central Park has ever seen," said Paul.
Organizing a wedding is not for the faint hearted, even in the case of a long engagement with plenty of time to plan. When it comes to organizing a wedding ceremony in three months or less there are some Dos and Don'ts Paul adheres to:
Do
1. Make quick and final decisions
2. Stay organized
3. Plan fearlessly
4. Have fun, break the rules
5. Hire a wedding planner
Don't
1. Sweat the small stuff—you've found your great love and are getting married
2. Overthink your decisions
3. Have too many cooks in the kitchen
4. Be a Bridezilla—this will get you absolutely nowhere, but you'll get there fast
5. Fool yourself—if you can't decide what to order at Starbucks—planning a wedding in three months most likely isn't right for you
And one last thing: always have a serious Plan B. "Plan B should be just as thoughtfully planned as Plan A," Paul said. "Should you have a windy beach day or rainy afternoon, I believe you should always have an equal or better indoor backup plan in place."
When they do go through with Plan B, Paul said couples often make the mistake of telling their guests what "should have" been. But what they need to keep in mind is that no one knows what is supposed to happen on the wedding day. "So keep your lips sealed, enjoy your wedding day, and everyone else will too," Paul said.
There's nothing like a wedding to bring out the superstitious streak in people. Paul said rain is considered a "bad word" in the industry, as if the mere utterance of it will unleash the forces of nature and invoke a deluge. But rain does happen, especially in New York's springtime.
One of Paul's all-time favorite weddings was supposed to take place on a rooftop in Brooklyn with stunning views of the New York City skyline. However, it poured that day. Plan B was swiftly activated and no one was the wiser or lamented about what Plan A might have been like.
"The venue glowed, the energy was palpable–full of friends, family, music, laughter—Brit and Tony beamed, they were so in love and at the end of the day, that's really all that matters," said Paul.