Submitted by Linda Johnson, Kalispell, Montana
I grew up in the Bronx in New York in the 1950s, and oh, was it fun! It was such an eclectic neighborhood—every nationality was represented. The smells coming from windows and doorways and sometimes a street cart made you dash for home to eat!
My dad was always a great influence on me in the areas of food and cooking. His Italian immigrant momma taught him especially well. Dad would always use fresh ingredients only—why not, as you could get anything in the neighborhood nice and fresh before the big box stores came in. There was the fish market, the meat market, fruit and vegetable stands all over, and, oh yeah, awesome bakeries (Italian was my special favorite).
My dad deviated later on as box stores came in, and the real fresh stuff he liked to cook wasn't as readily available. He created a quick version of his family favorite, spaghetti clam sauce. That recipe really stayed with all of us and became a staple in our kitchen—you never knew who would come to visit, and you needed a quick, but homey tasting dish to serve. The recipe is very cost-effective, because you can stretch it (as with almost any good recipe) with extra broth.
My children and grandchildren love it, and we all have our own spin on it, such as serving it with not just a nice baguette or roll, but perhaps a garlic bread or—my favorite—a good sliced baguette and sliced Genoa salami. The beauty of this recipe is that almost all of it can be made right from your pantry shelf.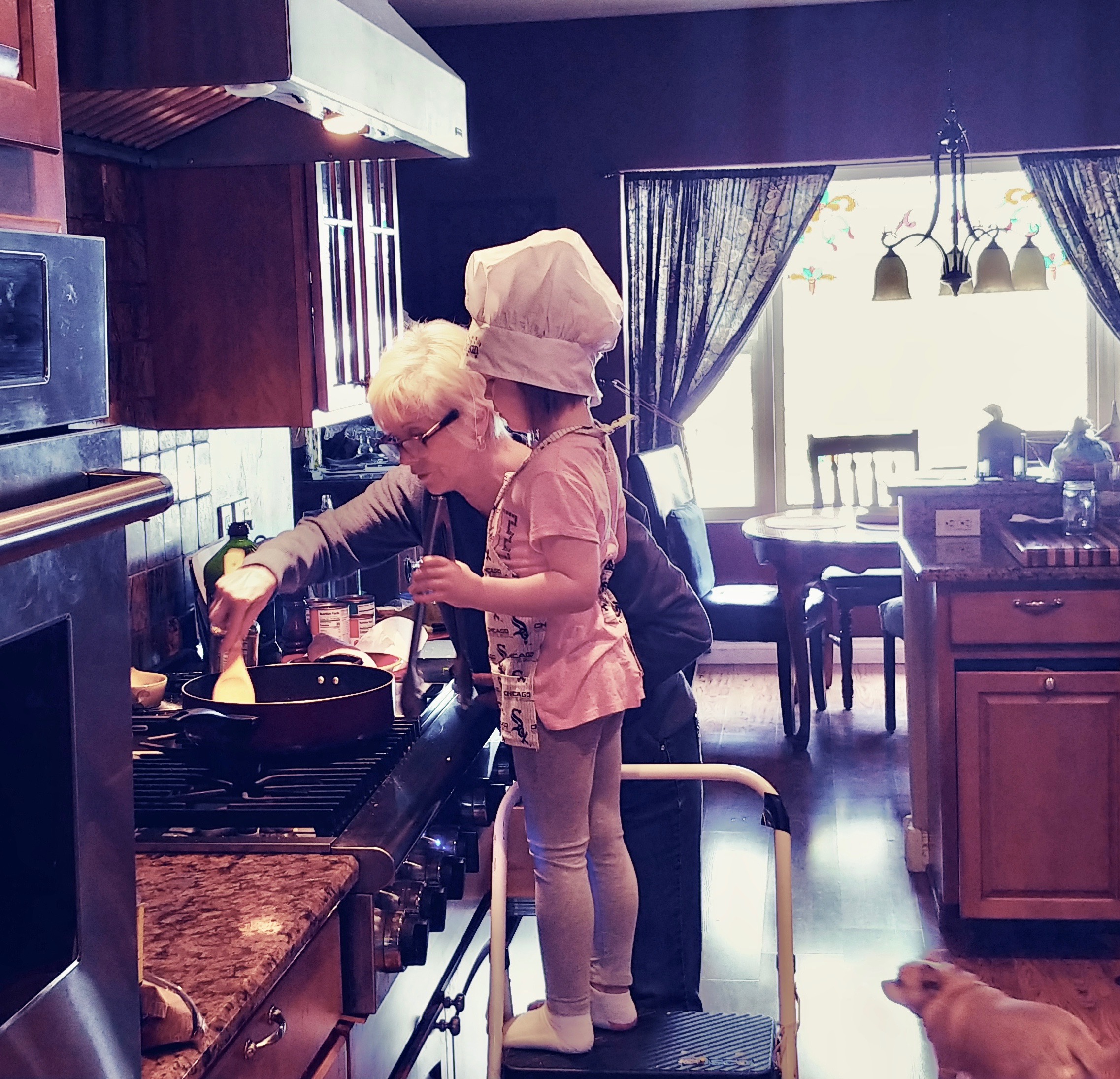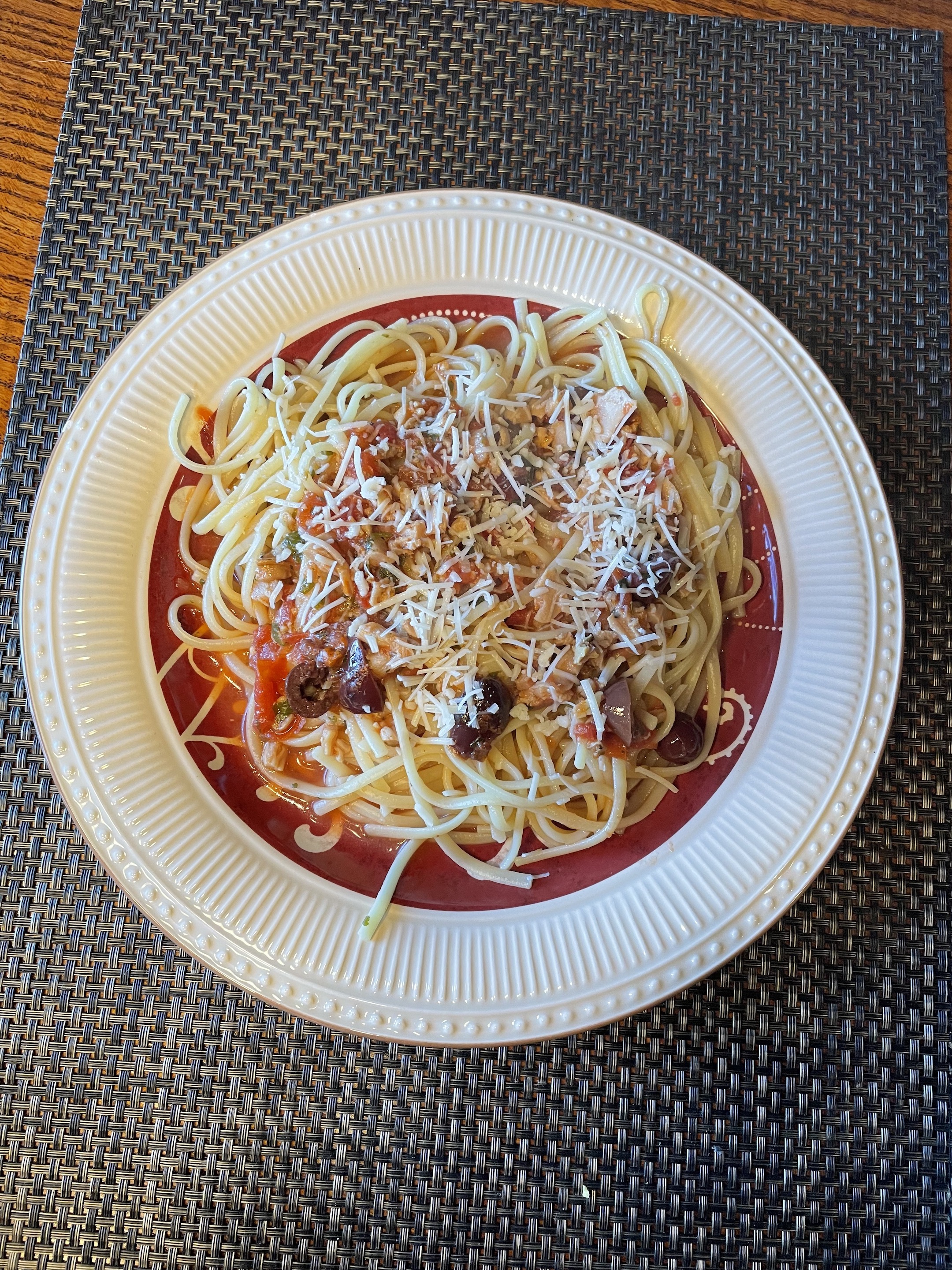 Spaghetti Clam Sauce (Quick-Style)
Serves at least 4
3​​ tablespoons olive oil
3 to 6 cloves garlic, minced
1/2 teaspoon red pepper flakes
1​​ tablespoon chopped parsley (I use cilantro)
1​​ bottle clam juice
2​​ small cans chopped clams
1​​ 10-ounce can white clam sauce
1 cup chicken broth, or more as needed (optional)
1 ​​15-ounce can crushed tomatoes
1​​ teaspoon dried oregano
1 pound linguine
Freshly grated Romano or Parmesan cheese
Sauté the garlic (don't burn) in olive oil with red pepper flakes and parsley. Add clam juice, clams, and clam sauce. After bringing it up to a low boil, add the crushed tomatoes. At this juncture, if more than 4 people are eating (or some big eaters are present), I add in at least 1 cup of chicken or other broth (but not beef). Simmer for about 30 minutes before serving.
Cook and drain your linguine, pour a few tablespoons of sauce over each plate of linguine, and top with freshly grated Romano or Parmesan cheese.
We like to do different things with this basic, from the shelf, tasty quick dinner. Sometimes we add chopped Kalamata or green olives for flavor. You can get really creative and put out a baguette with sliced good quality Genoa salami as another "people filler" while also adding another dimension of flavor.
___________________________
Do you have a treasured family recipe that holds a special place in your family history, heritage, or traditions? We would be honored if you would share it with us.
Along with the recipe, tell us its story—who gave it to you, its journey through the generations, and the personal meanings and memories it carries. Is it a special-occasion dish, or an everyday family favorite? Does it connect you to your cultural heritage, or to a certain loved one?
How have you kept the recipe alive, and why is it important to you to do so?
Send your recipe and comments, along with your full name, state, and contact information, to home@epochtimes.com, or mail it to: Home, The Epoch Times, 229 W. 28th St., Floor 7, New York, NY 10001.