In the Black Hills of South Dakota, less than a half-hour drive down the road from Mount Rushmore, just 17 miles away, another colossal mountain sculpture—the largest sculptural project in history—is taking shape.
The Crazy Horse Memorial officially began taking shape in 1948. No one is predicting when it will be completed.
Yet while it may be a work in progress with likely many years to go before it's completed, it's far enough along that already it's a mesmerizing sight that draws more than a million visitors a year.
A finished three-dimensional head of Crazy Horse stands at the peak of a 6,532-foot mountain silhouetted against the sky. The sculpture is truly massive; all four of Mount Rushmore's gigantic presidential heads taken together could easily fit inside the head of Crazy Horse.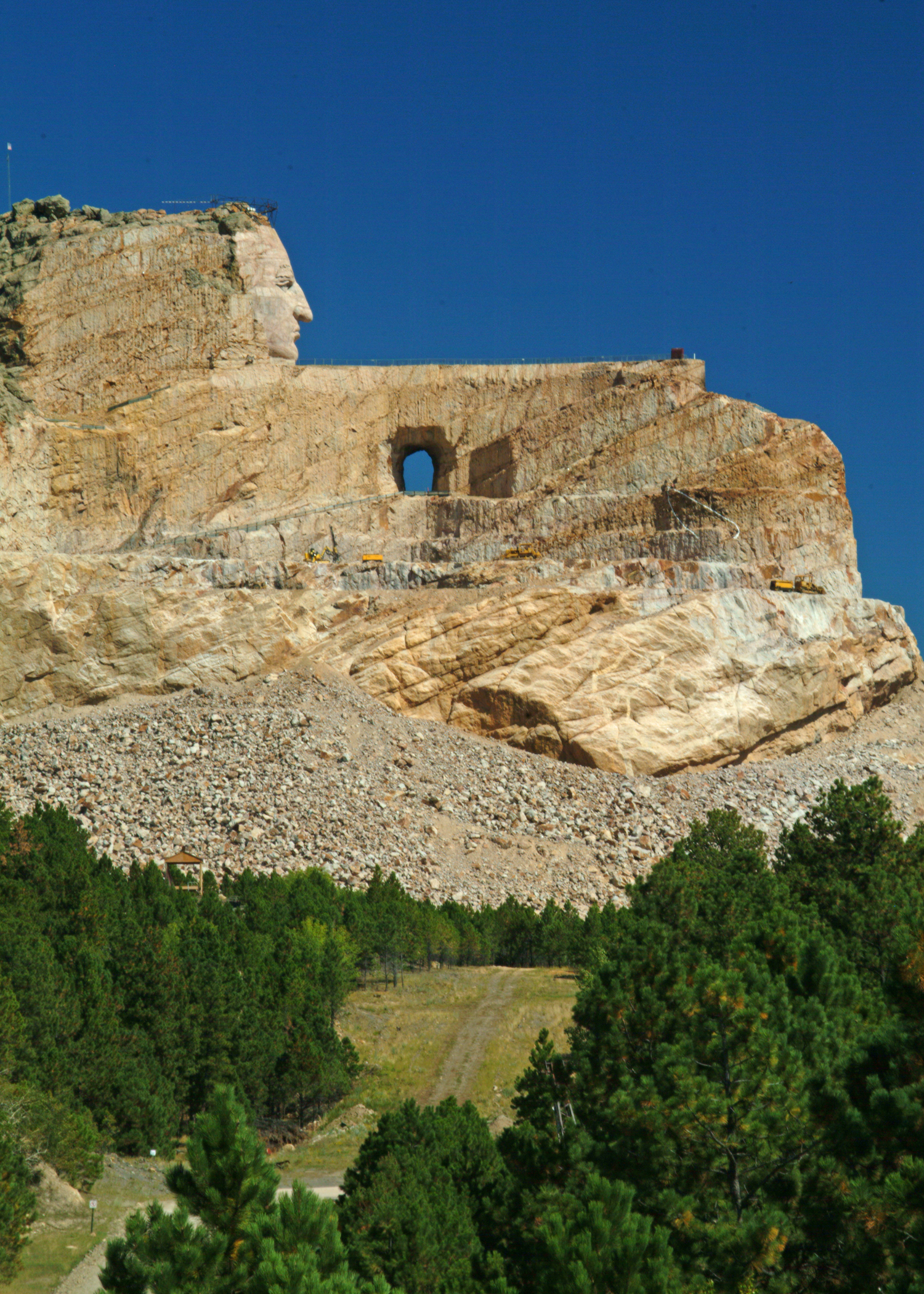 From chin to top of forehead, it's nearly nine stories—87 1/2 feet high, just over 58 feet wide. His nose is 27 1/2 feet long. Each eye opening and eyelid is just under 18 feet wide and just under 9 feet high.
His head is more than 17 feet taller than the Great Sphinx—and yet his head is but a part of this massive memorial. The head of the horse that he is riding will be 22 stories high.
This three-dimensional carving-in-the-round will be 563 feet high—that's eight feet higher than the Washington Monument—and 641 feet long.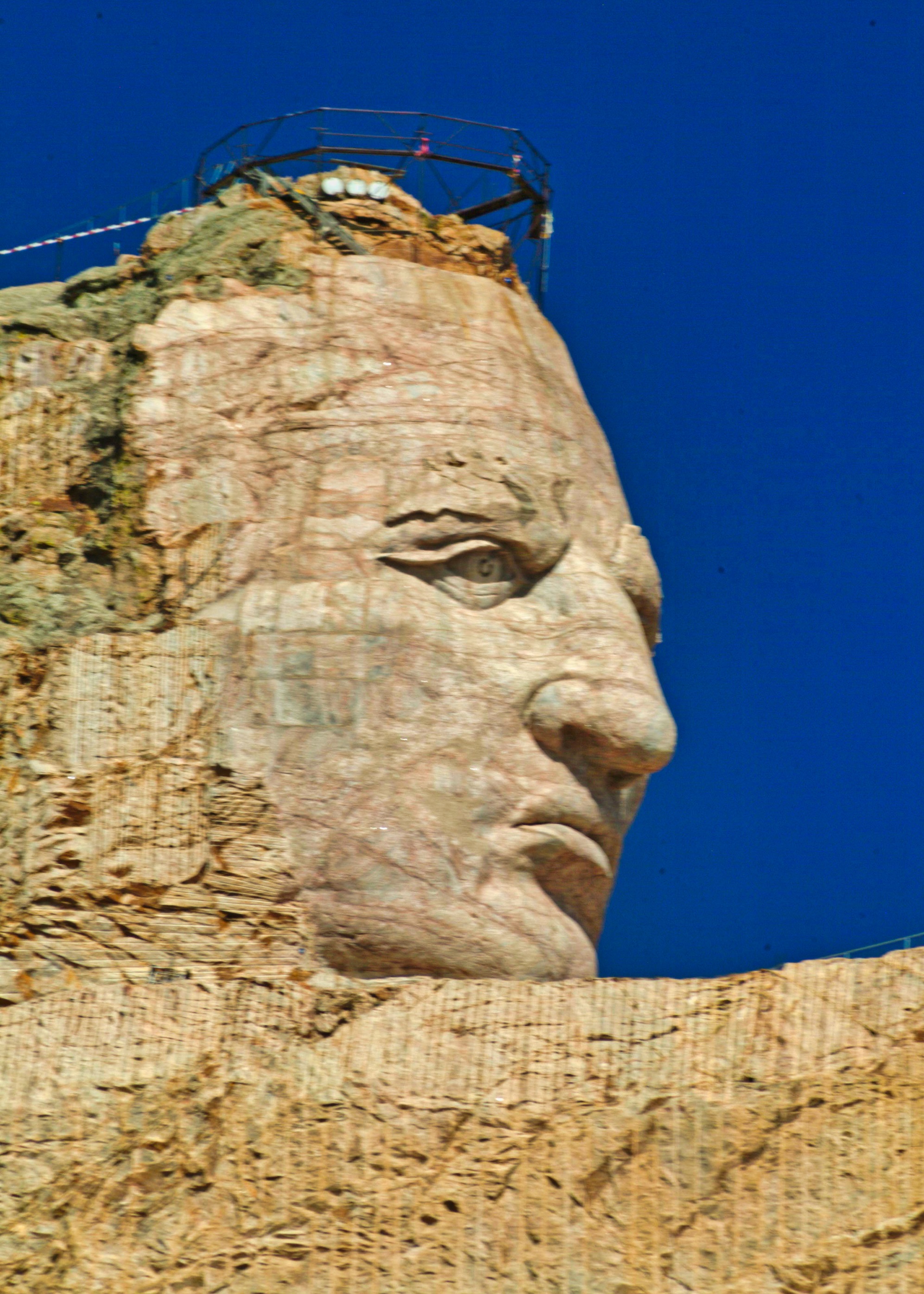 Carving a Dream
The idea for the Crazy Horse Memorial came about in late 1939, when a 31-year-old orphan son of Polish immigrants named Korczak Ziolkowski, who had never taken a lesson in art or sculpture, won first prize in sculpture by popular vote of visitors to the 1939 New York World's Fair. Newspaper coverage of the award mentioned he had spent part of that summer in the Black Hills of South Dakota, assisting sculptor Gutzon Borglum on the Mount Rushmore project.
An Oglala Lakota chief, Henry Standing Bear, wrote to him inviting him to come back to the Black Hills and carve a mountain memorial to Crazy Horse, the great chief and warrior of the Oglala band of Lakota Sioux who had linked up with Sitting Bull to annihilate a U.S. Army battalion led by Gen. George Armstrong Custer at the Battle of Little Big Horn.
"My fellow chiefs and I would like the white man to know that the red man has great heroes, too," he wrote.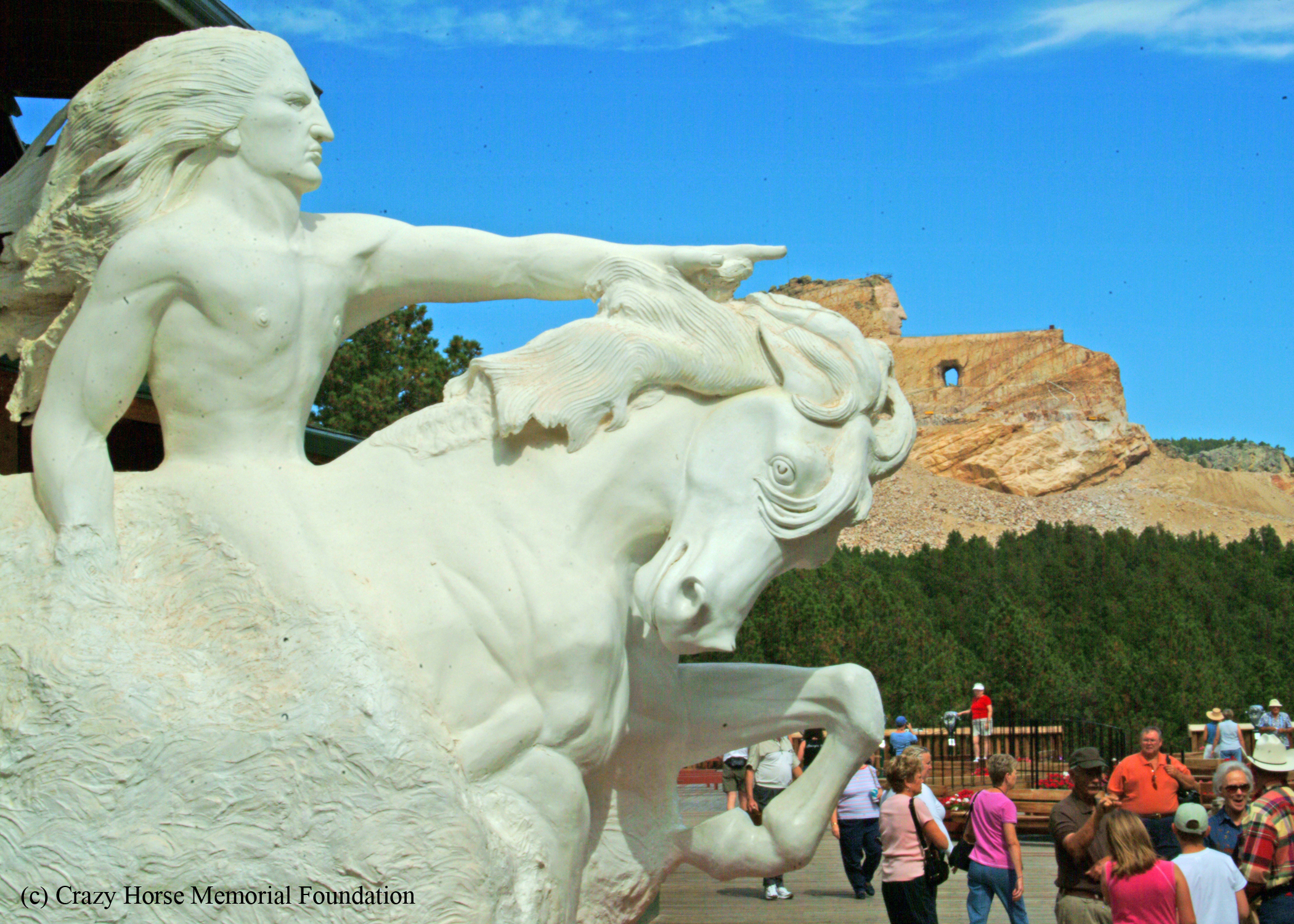 Eight years earlier, he had written that same request to Borglum, who had never responded. But Korczak did, and work got underway in 1947 at the site he and Sitting Bear selected, which was very rough land with lots of trees on it. He had to build roads, dig wells, bring in electricity and build his own cabin, all while living in the wilderness in a small tent. There was no money.
At the time of the official dedication of the memorial in June 1948—attended by five of the nine Indians who had fought alongside Crazy Horse at Little Big Horn—Korczak was 40 years old and had only $174 to his name.
His early tools consisted of a small used jackhammer and an old gasoline-powered compressor. He later acquired and began using a bulldozer and eventually more and better equipment. Until he died at age 74 in 1982, he spent more than three and a half decades devoting his life and nearly every working hour of it to the Crazy Horse Memorial.
His obsession with his project caused his first wife to divorce him. He later married a younger woman who had, at age 20, traveled from the East Coast to the Black Hills to volunteer at the project almost at its onset. Eventually, they had 10 children.
Over time, all the strenuous work took a great toll on the man. He had one back operation after another, four in all. He suffered two heart attacks, one minor, one massive. He broke fingers, broke his wrist, broke ribs, tore ligaments, ruptured a tendon, and suffered hearing loss. He also suffered from arthritis and the added complications that come from advancing age. Yet, he relentlessly persisted.
Through it all, he never accepted a salary or even a personal expense account for his efforts. To support himself and his family, he raised cattle and hogs for food and sale, and designed and operated a dairy and a lumber mill. In winter months, when weather made working on the project impossible, he sometimes accepted sculptural commissions.
He also refused to seek federal or state funds—a policy to which the Crazy Horse Memorial Foundation still adamantly adheres. He didn't believe taxpayers should have to pay for his work. He was a deep believer in free enterprise and the private sector. And he didn't trust government to fulfill his dream.
Besides the massive mountain carving, the site includes other key parts of his vision: the Indian Museum of North America; the Native American Educational and Cultural Center; and the Indian University of North America, operated in conjunction with the University of South Dakota.
Korczak knew when he started, that this work wouldn't be finished in his lifetime, so early on, he saw to it that all the models, plans, and methods information necessary to carry his work to completion were in place.
After he died and was buried at the foot of the sculpture, his wife Ruth took charge of carrying on his dream, assisted by seven of their 10 children. She died in 2014 at age 87. Today, Jadwiga Ziolkowski, their fourth child, is responsible for the leadership and management of the Crazy Horse Memorial, and Monique Ziolkowski, their ninth child, directs mountain carving, construction, and maintenance.
"Go slowly and do it right," Korczak had advised Ruth. Its extraordinarily slow journey to completion is but one of the controversies and criticisms surrounding the Crazy Horse Memorial. Some critics charge that it has become more about the Ziolkowski family than about the great warrior chief. Other critics multiply the $12 to $35 per car admission price by the million-plus visitors per year plus the $125 fee to go to the top of the mountain, plus sales of gifts, and ask why all this money hasn't moved progress a lot further along. It doesn't look much different today than it did when I first visited it a couple decades ago.
But it's an established fact that Korczak had both great reverence for the American Indians and deep sympathy for their plight. I came away from a discussion with Ruth Ziolkowski thinking that the same was true of her. When I mentioned to her that my experience was that by far most of them identify by the tribe to which they belong and very few object to being referred to as American Indians, and fewer still attach any value to being called Native Americans, she agreed and then added, "A whole lot depends on how you say it."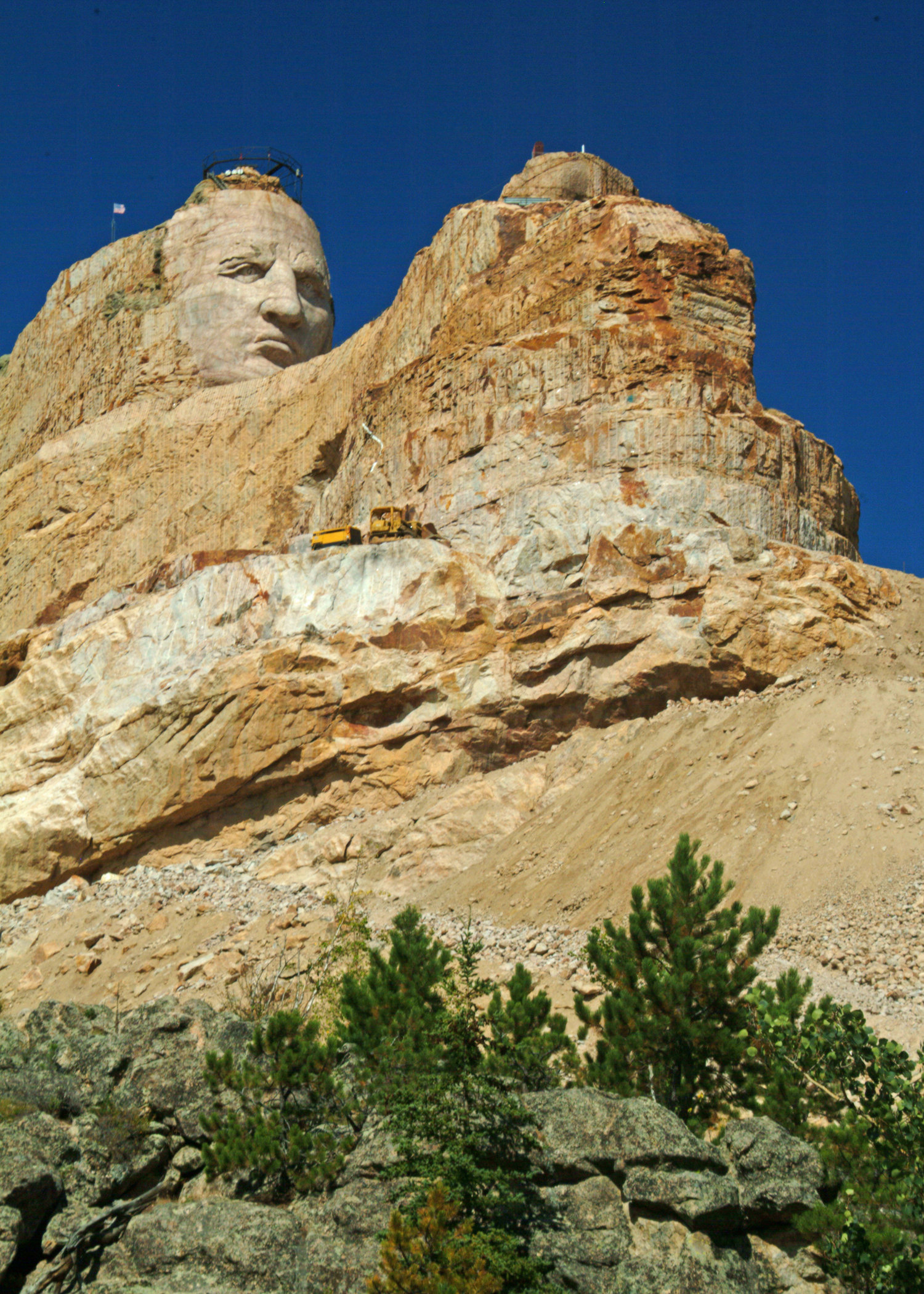 A Story in Stone
Korczak saw himself as "a storyteller in stone" and he saw the monument as a memorial not so much to one great chief but rather to the dignity, greatness, and spirit of American Indians.
Standing Bear and his fellow chiefs picked the great warrior and leader Crazy Horse, a hero betrayed by his own people and then stabbed in the back by a white soldier while under truce, a chief who never surrendered, never signed a treaty, and never went on a reservation.
He also never permitted his picture to be taken. "Would you imprison my shadow, too?" he once scorned a photographer. So to capture Crazy Horse's face, Korczak had to rely on the fading memories of a few old American Indians who had known him plus great use of his imagination.
Crazy Horse, they told him, used to wear a stone on his ear and tell his people that one day he would return to them in stone. And they told him a story about Crazy Horse that he adapted as his design for the monument.
Long after the Battle of Little Big Horn, when most Sioux Indians had gone on the reservations, a white trader who spoke their language came across Crazy Horse on the plains. He mocked the chief, asking him, "Where are your lands now?"
Crazy Horse looked off to the horizon, extended his arm over the head of his horse, and pointed his finger toward the distant lands. Then, he said with pride: "My lands are where my dead lie buried."
If you look up at that mountain not far from Mount Rushmore in the Black Hills, just below the chin of the nine-story-high head, you can see the still early stage of the great chief's outstretched arm. More than 4,000 people could stand on that arm. Nearly the length of a football field—263 feet long—his arm stretches out over what will be the 22-story-high head of a horse. His pointing finger will be 10 feet thick and extend 37 1/2 feet.
It's a sight you should not miss if ever you are anywhere near this area of South Dakota. In stone, high up on that mountain, what you will see unfolding is not only the story of a great American Indian hero but also a fitting tribute to all American Indians.
If You Go
For information about the Crazy Horse Memorial, see CrazyHorseMemorial.org
For information about other South Dakota destinations, see TravelSD.com
If you would like to learn more about Crazy Horse, I highly recommend the book "The Journey of Crazy Horse" by Joseph M. Marshall III (Viking, 2004).
Fred J. Eckert is a retired U.S. ambassador and former member of Congress. His writings have appeared in many leading publications, including Reader's Digest and The Wall Street Journal. He is also an award-winning photographer whose collection of images spans all seven continents. See his work at EckertGallery.com