One of my fondest memories of my recent visit to Buenos Aires was shopping at the outdoor market in San Telmo. Each Sunday from 10 a.m. to approximately 5 p.m., the neighborhood transforms into a fascinating hub of antique vendors, artisans showcasing handmade goods, tango dancers, jazz musicians, and folks walking around with baskets selling homemade empanadas.
A colleague and I were so enchanted that we spent the whole day milling around from booth to booth and down the long side streets. I purchased a few coffee table accents that I adore, including two pony-hair Chinese calligraphy brushes encrusted in turquoise and lapis lazuli gemstones, an early 1900 desk clock encased in crystal orb from Germany, and a pair of antique brass binoculars from France.
Part of the fun is discovering these treasures and trying to guess where they come from, and more importantly, what the prices may be. I am certainly no antique connoisseur. I always feel a bit hesitant making purchases in this setting for fear of being overcharged. However, thanks to modern technology and following a few key points, I was able to enjoy the experience. Here is my advice when tackling outdoor markets:
1. Load Up On Cash Before You Arrive:
In almost all markets around the world, most vendors will only accept cash. However, make sure to get cash before you set out. On this trip to San Telmo, my colleague caught the shopping fever and wanted to get some more cash. We spent about 40 minutes trying to find a cash machine—which was sadly out of order. You can never predict the availability of banks or cash machines, so assume there won't be any and plan ahead.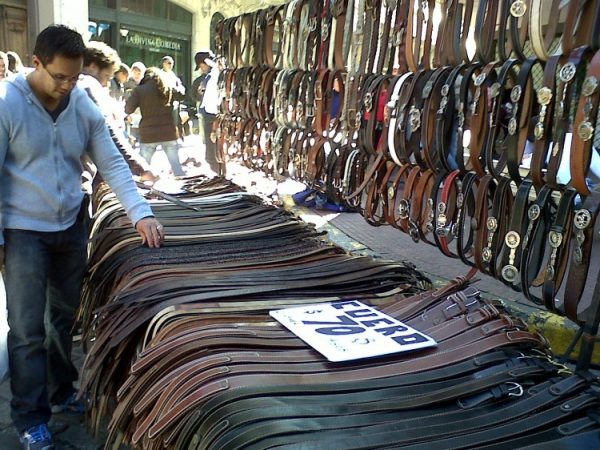 2. Smartphones Are A Girl's Best Friend:
Thanks to my smartphone, I was able to determine if the market prices were fair. By checking popular sites like eBay or Amazon, you can quickly get up to speed, which can help in pricing discussions.
3. The Price Is Right:
When dealing with savvy merchants, after they quote you a price, always wait a few moments and then simply ask, "What is your best price?" This is a polite way to approach negotiations, which I personally don't like to do. Also, if you are interested in multiple pieces, ask if there can be a deal on the entire bundle. While you should not expect major price reductions to come from this, you can usually get a small discount.
4. Bring a tote bag:
My colleague and I were struggling to carry multiple small bags during our shopping adventure. We were constantly checking to make sure nothing was lost. Looking back, I wish that I had brought a tote so that I could safely pack away all my goods into one bag. It's best to take along one with a zipper top since outdoor markets with large crowds are frequently lurking with pickpockets.
I wish you all happy shopping and happy travels!