"He hath founded it upon the seas," declares the motto of the Cayman Islands, and the seas indeed are a primary draw of this heavenly destination. Scuba diving, sailing, swimming with stingrays—these are the kinds of activities on the agenda during a visit to Cayman. 
A common question I received about our trip was, "Where are the Cayman Islands?" I'll admit I had to look it up myself—they're just south of Cuba and northwest of Jamaica, about 480 miles due south of Miami but a world of their own.
Part of the British West Indies, the Cayman Islands comprises three islands: Grand Cayman, Little Cayman, and Cayman Brac. At 10 square miles, Little Cayman is the smallest of the three; Cayman Brac, located five miles east of Little Cayman, is a little larger and more populated. (And it's "the Cayman Islands" or just "Cayman," never "the Caymans," by the way.)
While Cayman is a diver's paradise, anyone would find it easy to fall in love with the easygoing atmosphere, diverse "Caymankind" locals, and rainbow of blues in the tropical waters surrounding the islands.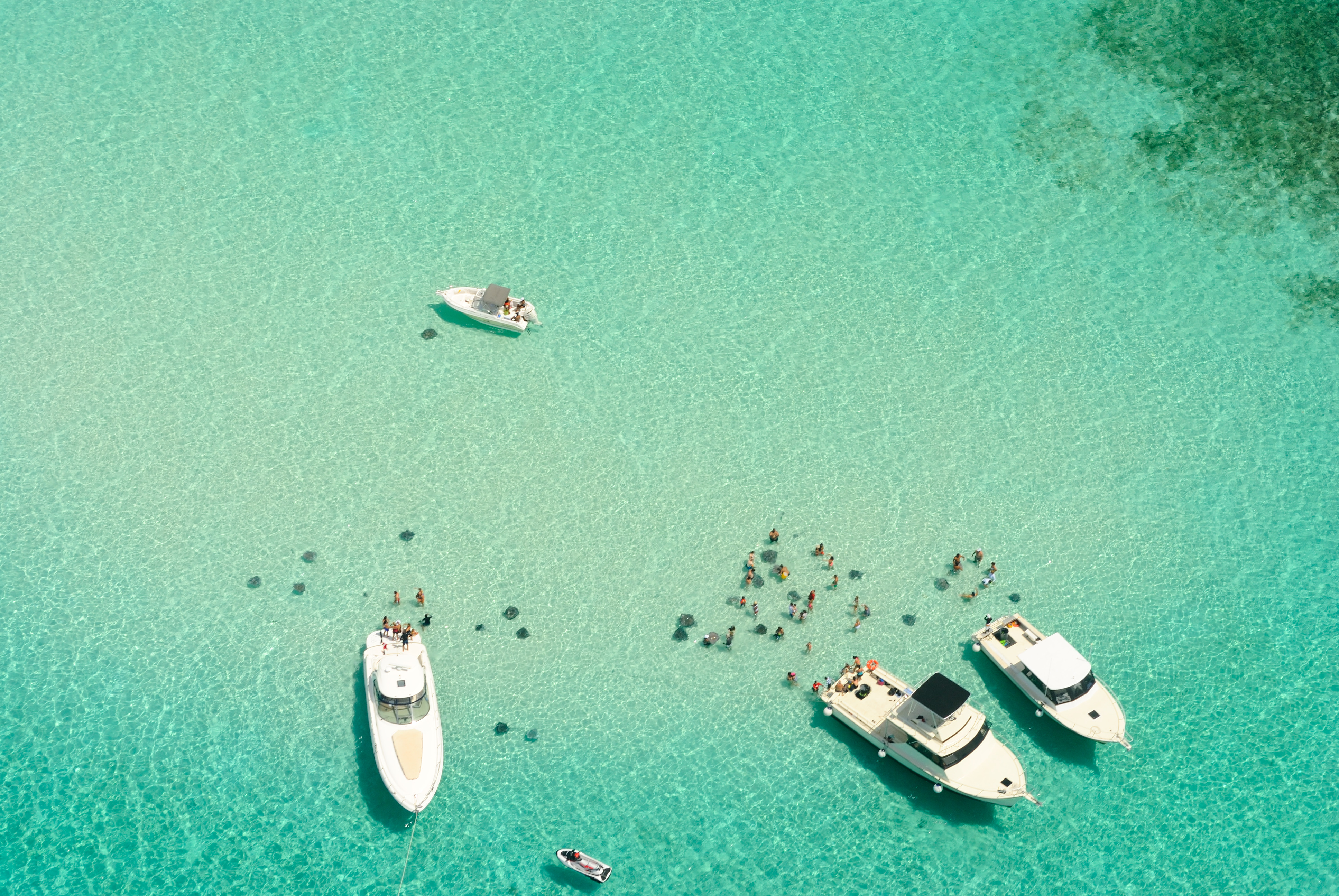 Visiting the Cayman Islands
The best season to visit Cayman is wintertime. It's less hot but windier, which is actually a perk because the breeze blows away the bugs and keeps temperatures cooler. Since it's close to the equator, there's not a massive distinction between seasons in Cayman, but summer is dreadfully hot and humid; however, the stiller summers boast more placid waters, which is often preferred for water sports, as the seas are less choppy.
Year-round, ocean colors range from deep cobalt to cerulean to soft turquoise, and the siren song of the sea beckons.
Like many tropical islands, Cayman will feel expensive to most visitors. The islands' official currency is the Cayman Islands dollar, though U.S. dollars are widely accepted as well. One Cayman Islands Dollar equals about $1.20 USD, so the already-high-priced items cost even more to Americans post-conversion. It's an island, after all—almost everything has to be imported.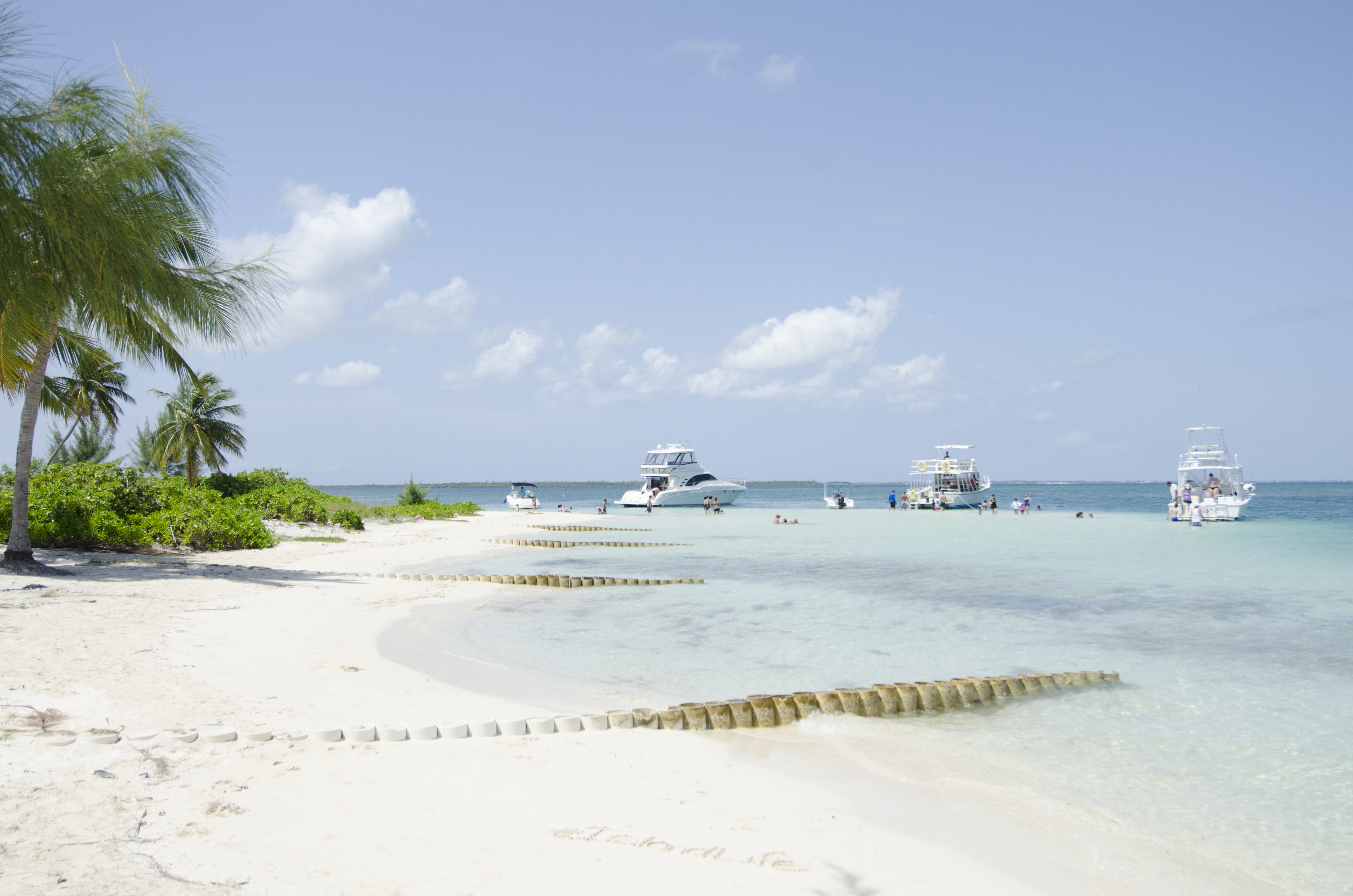 Getting to the Cayman Islands
Fortunately, jetting to the Cayman Islands couldn't be easier. There are direct flights to Grand Cayman from many major cities in the United States, including Atlanta, Charlotte, Miami, New York, Newark, Washington, Chicago, Boston, Philadelphia, and more. Cayman Brac also has a small aviation hub, but Little Cayman is served only by inter-island flights, which are offered daily.
Cayman Airways is the main airline you'll see around the islands—they offer nonstop service from New York, Denver, Miami, Tampa, and a few Caribbean cities—but major players like American Airlines, Delta, JetBlue, United, and others also have direct flights into Grand Cayman. Flying to Grand Cayman from Miami takes an hour and a half or less—and in true island spirit, Cayman Airways serves free rum punch to passengers, even on its morning flights.

From Grand Cayman, it's another 35-minute flight if you want to continue on to Little Cayman, and another 10 minutes from there to Cayman Brac (just make sure to hop out at the right stop, because usually, the same flight takes passengers to both). Your captain personally loads your luggage into the baggage compartment as you board; soon, you're gliding over the Caribbean Sea, gazing out the window in awe at previously unimaginable shades of deep sapphire and glowing azure.
You'll hop between islands in what feels like a plane of your own—Cayman Airways's De Havilland DHC-6 Twin Otter seats 15, though there were only nine people on our flight; the runway at Edward Bodden Airfield in Little Cayman can't handle aircraft much larger than that. 

The near-private flight experience is just the beginning of the easygoing vibe of Little Cayman. "I think I'm seat 3C," I said as I ducked into the cabin, clambering forward and counting the rows. A fellow passenger laughed. "There's no such thing here." 
Crime, too, is a non-issue on Little Cayman; I didn't realize until the end of our stay that I had never actually received a room key, nor had we ever locked our door.
Flights land in Little Cayman four times per day, and a barge arrives once a week to bring supplies and provisions from Grand Cayman.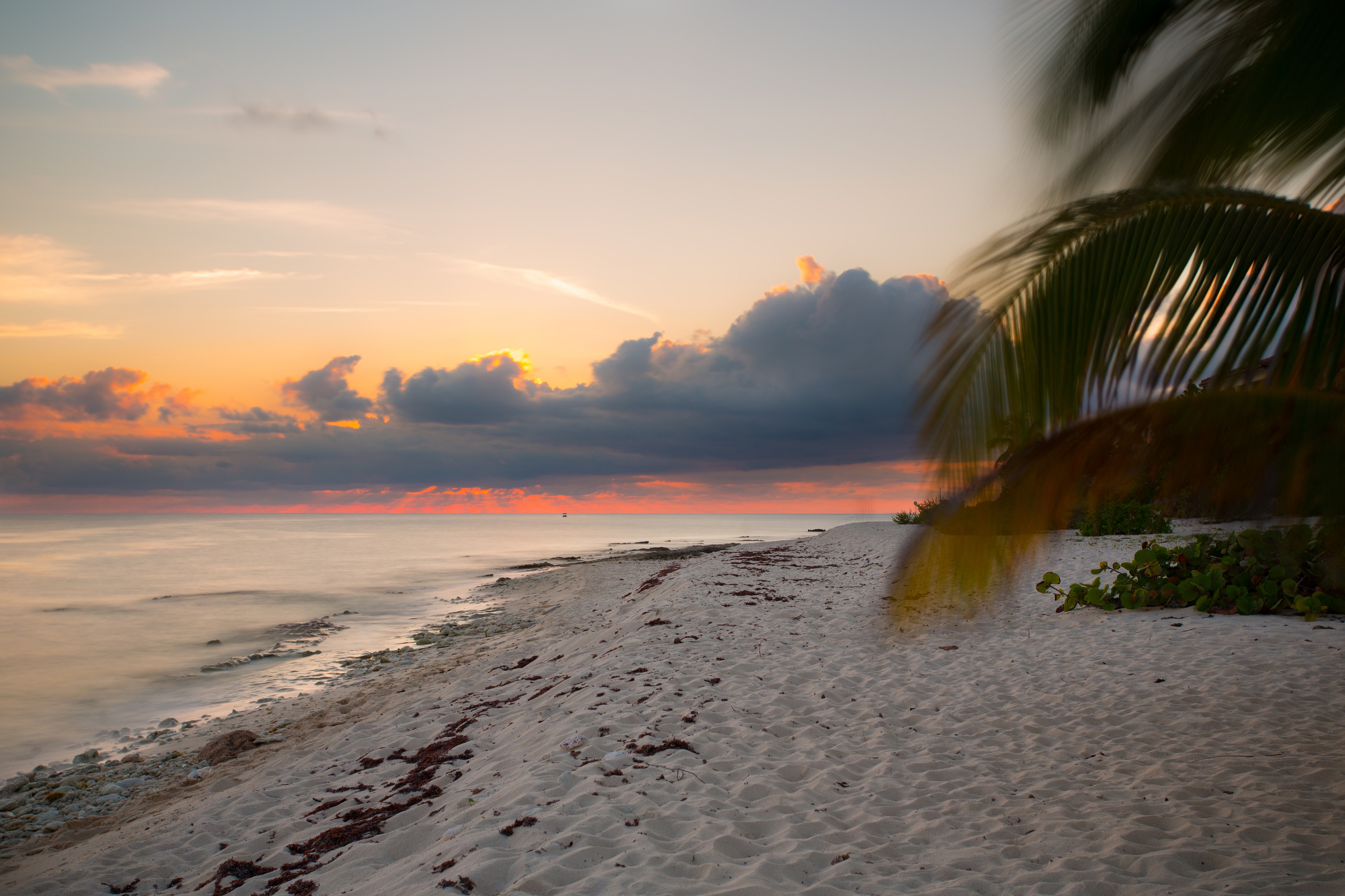 Scuba Diving in the Cayman Islands
Divers from around the world flock to the Cayman Islands for the undersea experience. The flourishing world hidden just beneath the islands' serene and brilliant waters is like no other on earth; bright and healthy coral reefs, shipwrecks, and abundant marine life await across 365 unique dive sites. In the Cayman Islands, it isn't uncommon to spot sea turtles, eagle rays, sharks, and hundreds of colorful fish—all on one dive. Diving in the Cayman Islands is a bit like swimming through a tropical aquarium.
Best of all, massive underwater walls start as shallow as 25 feet from the surface of the water and plunge straight down as deep as 2,000 feet, creating a unique area to swim and explore. The water is warm and crystal-clear year-round, with perfect visibility even at 100 feet. The dive sites are pristine and plentiful; scuba diving doesn't get much better than this. 
If you're not a diver, the Cayman Islands is a great place to become one.
"I came to the Cayman Islands with my parents to learn to dive," Stephanie Besenhofer, a college student visiting from Wisconsin, told me. "It was my graduation present. I'd much rather have an experience like this than gifts.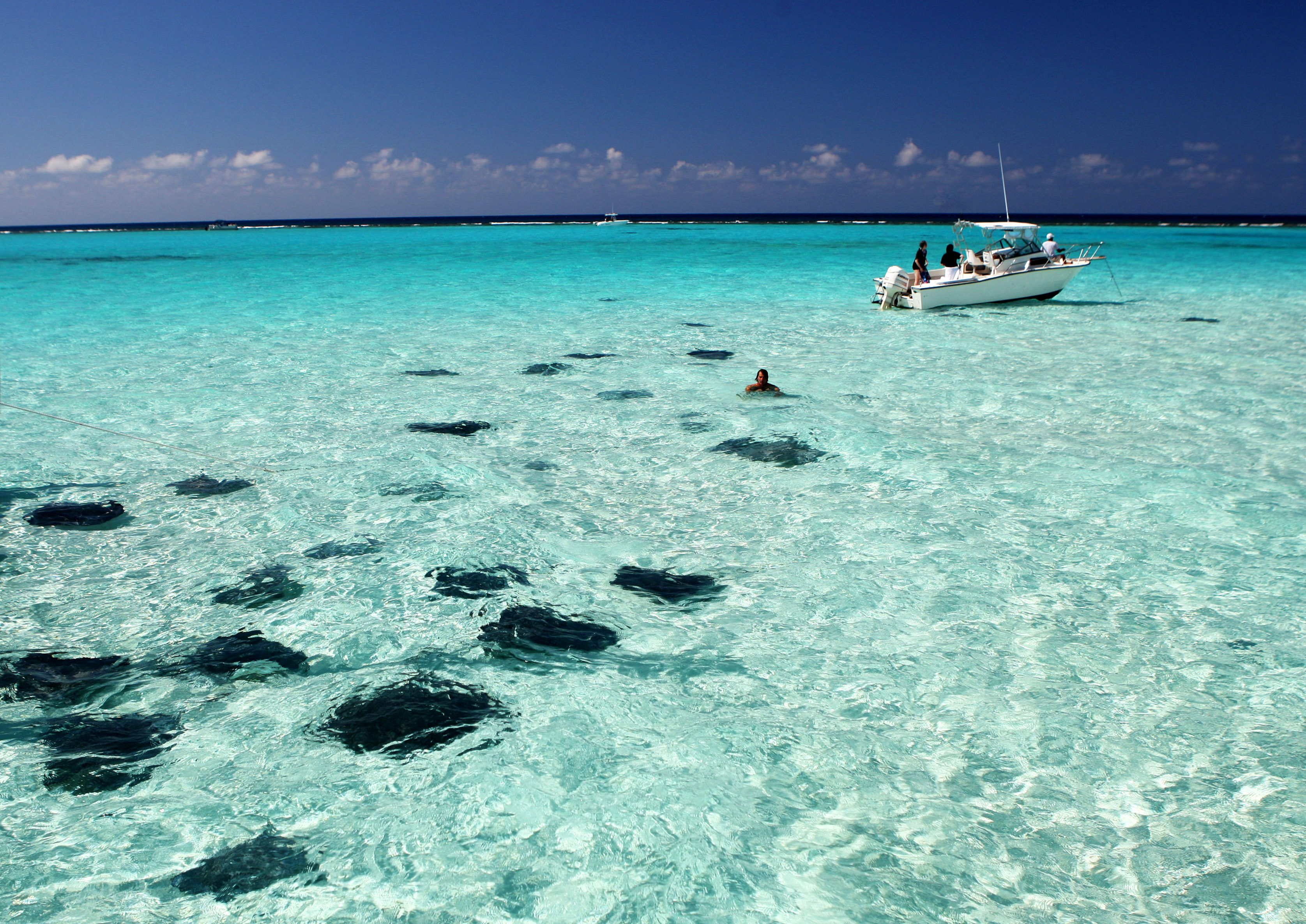 "Growing up in a family of divers, I always heard them talk about how amazing it is to be under the water, but I never understood until I experienced it for myself. From diving coral reefs to shipwrecks and everything in between, I'm so grateful to have had my first dive experience in Grand Cayman."
After two days and four open-water dives to earn her scuba diving certification (she took the exam and did her pool dives before coming to Grand Cayman), she's obsessed.
"I can't get enough," Besenhofer gushed. "The warm water, plus its blue color and clarity, made it so easy to dive in, and the abundance of aquatic life took my breath away, making it so addicting to keep diving."
My husband and I are seasoned divers and were thrilled to explore a couple of dive sites around Bloody Bay Marine Park, including the famous Bloody Bay Wall, during our visit to Little Cayman. From micro to macro, the reefs we dove were full of life; we swam alongside hawksbill sea turtles, angelfish, parrotfish, glowing black triggerfish, a nurse shark, and even a friendly Nassau grouper, who adopted us as his underwater companions. It was the kind of wondrous experience that reminded us why we love to dive.
Considering the beauty of its subaqueous world, it's easy to see why Cayman is the birthplace of modern recreational scuba diving. This year, the International Scuba Diving Hall of Fame will celebrate its 20th anniversary and make a permanent home at Grand Cayman's historic Pedro St. James.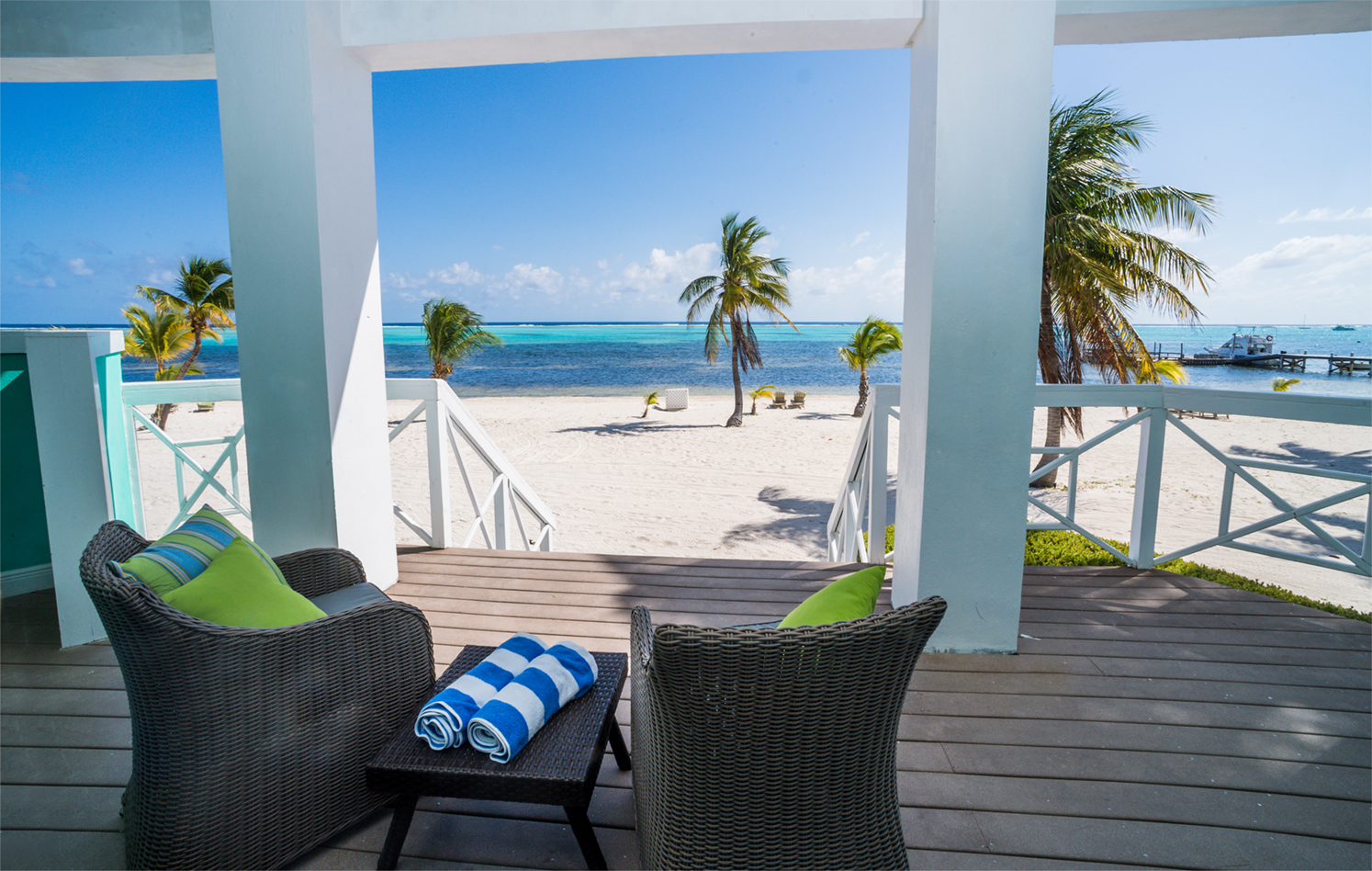 Little Cayman
Tiny, remote, and with only about 200 permanent residents, Little Cayman is paradise found. There's one grocery store, a liquor store, a museum, an airstrip, a few places to stay—and not much else. Most of the "action" is on the south-southwest of the island, near the airport, while the world-class diving is on the north side. Still, due to the island's small size, it's only a 25- to 30-minute boat ride to most dive spots.
Located just a mile from the airport (which you can walk up to on foot, by the way) lies Southern Cross Club, home to a "barefoot elegance" unlike any I've experienced before. In terms of accommodations, 14 beach cottages pepper 900 feet of waterfront property, keeping the vibe intimate and serene. 
The rate includes three meals per day and, as a dive resort, much of the daily agenda centers around the morning and afternoon dive excursions. One of the two dive boats, Lucky Lady and Lucky Devil, departs daily at 8 a.m. for a two-tank dive and returns by noon. There's also a 2 p.m. afternoon dive, as long as four people sign up, plus occasional dusk and night dives.
Breakfast—typically a buffet of fruits with a made-to-order omelet station and pancakes, waffles, and more—is served from 7–9 a.m. every day, and lunch starts as soon as the morning dive boat returns, usually around 12:30 p.m. Dinner ranges from an Indian buffet to a DIY pasta station to three-course plated service.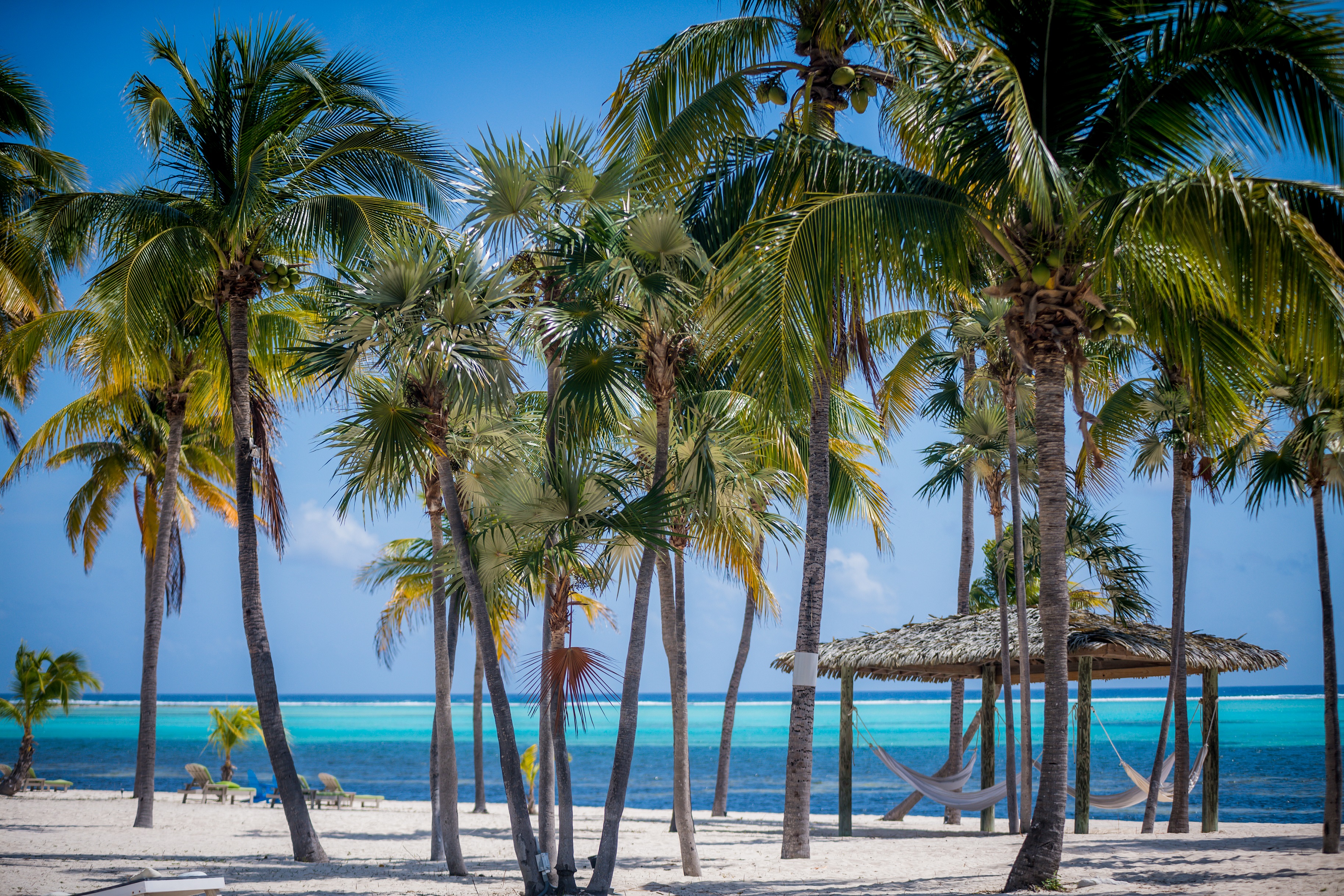 Around 80 percent of guests are divers, but fishing is another popular activity—Southern Cross Club offers both deep-sea and flats fishing. There's also bicycles, kayaks, paddleboards, and snorkel gear available, which you can use to explore offshore Owen Island, surrounded by a reef, or the shallow reef-protected sounds around the island.
 Home to up to 200 species of birds, including red-footed boobies and a growing population of the threatened West Indian whistling-duck, Little Cayman is also a birdwatcher's paradise. Still, diving is the main attraction here.
And, of course, look up at night—you'll see hundreds of stars and maybe even the Southern Cross itself. 
The honor system exists without mention on Little Cayman and especially at Southern Cross Club, where the bar is self-service until the bartender, Javier, comes on duty at 4:30 p.m. We asked when the bar closes: "When there's nobody here," he tells me. For the record, he makes a mean pisco sour.
During the day, opt for a local beer. White Tip Lager and Shell Shock IPA, two popular options, are both made by Cayman Islands Brewery on Grand Cayman. Presently, they don't export, so the Cayman Islands are the only places in the world to enjoy these brews.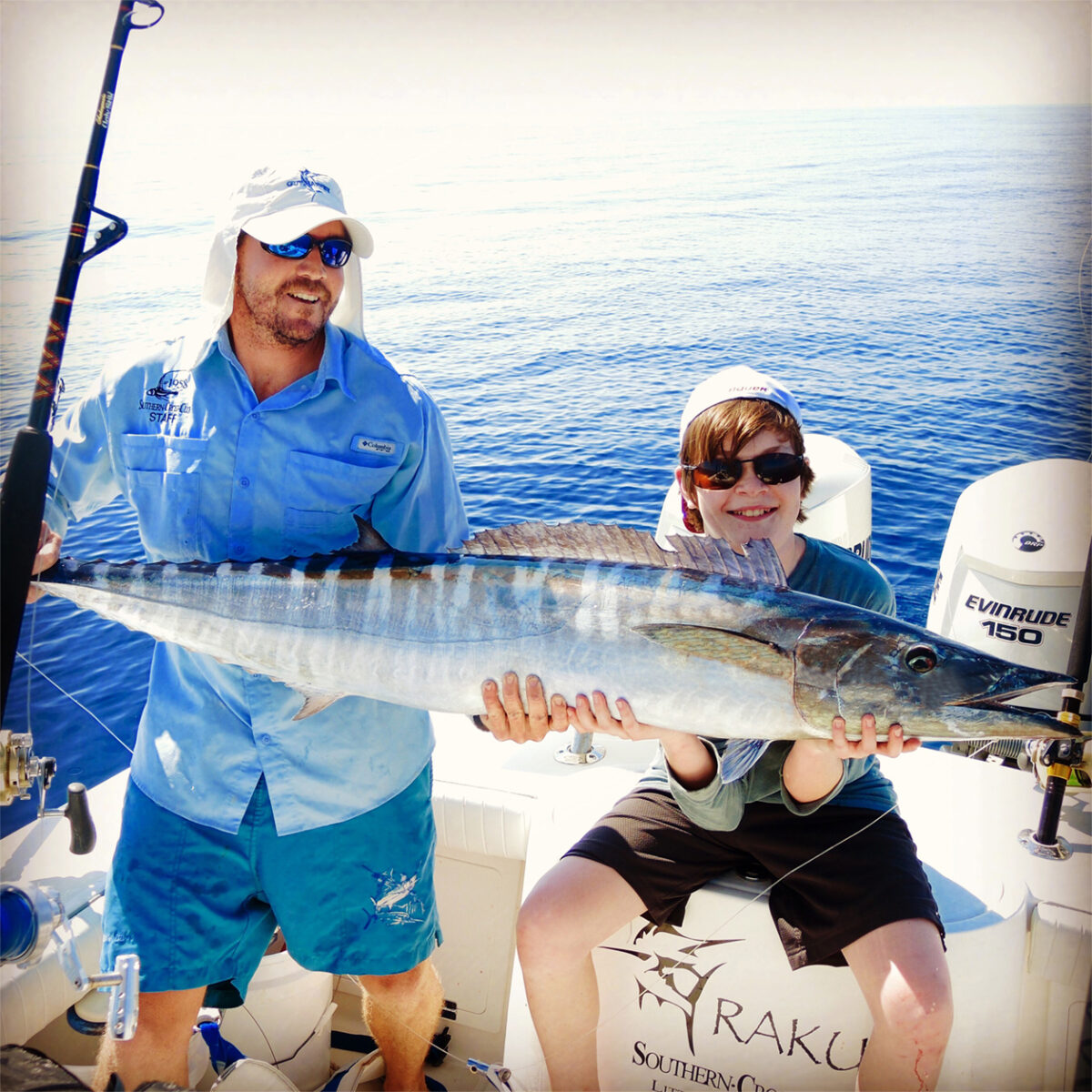 Grand Cayman
After a few days spent in a private island paradise, it was time to head to the more metropolitan Grand Cayman. Kimpton Seafire Resort, located on the famous Seven Mile Beach, awaited with its large-scale resort amenities—there are several pools, a stretch of beach with lounge chairs and umbrellas, and killer ocean views from the modern, elegant rooms.
At the resort, dine at Ave or Avecita—the chef's counter tasting menu is a unique experience—or, for a more casual experience, opt for Coccoloba on the beach, where the Mexican-inspired menu of tacos, tostadas, quesadillas, and margaritas is exactly what you'll crave while dining just steps from the sand. You can also head down the beach to Calico Jack's Bar & Grill, a laid-back beach bar free of pretension (and overpriced drinks).
Off the property, book a dinner at waterfront Bàcaro. The menu reminds one of tapas, but instead of Spanish cuisine, it's Venetian-style Italian dishes with a Caymanian flair—think beetroot potato gnocchi, sweet-and-sour red shrimp, and black tagliolini with lobster. All are presented in undersized portions so you can order a medley and sample a variety of small plates, though there are medium to large-size dishes available as well. Pair it with a refreshing selection off the gin-and-tonic menu.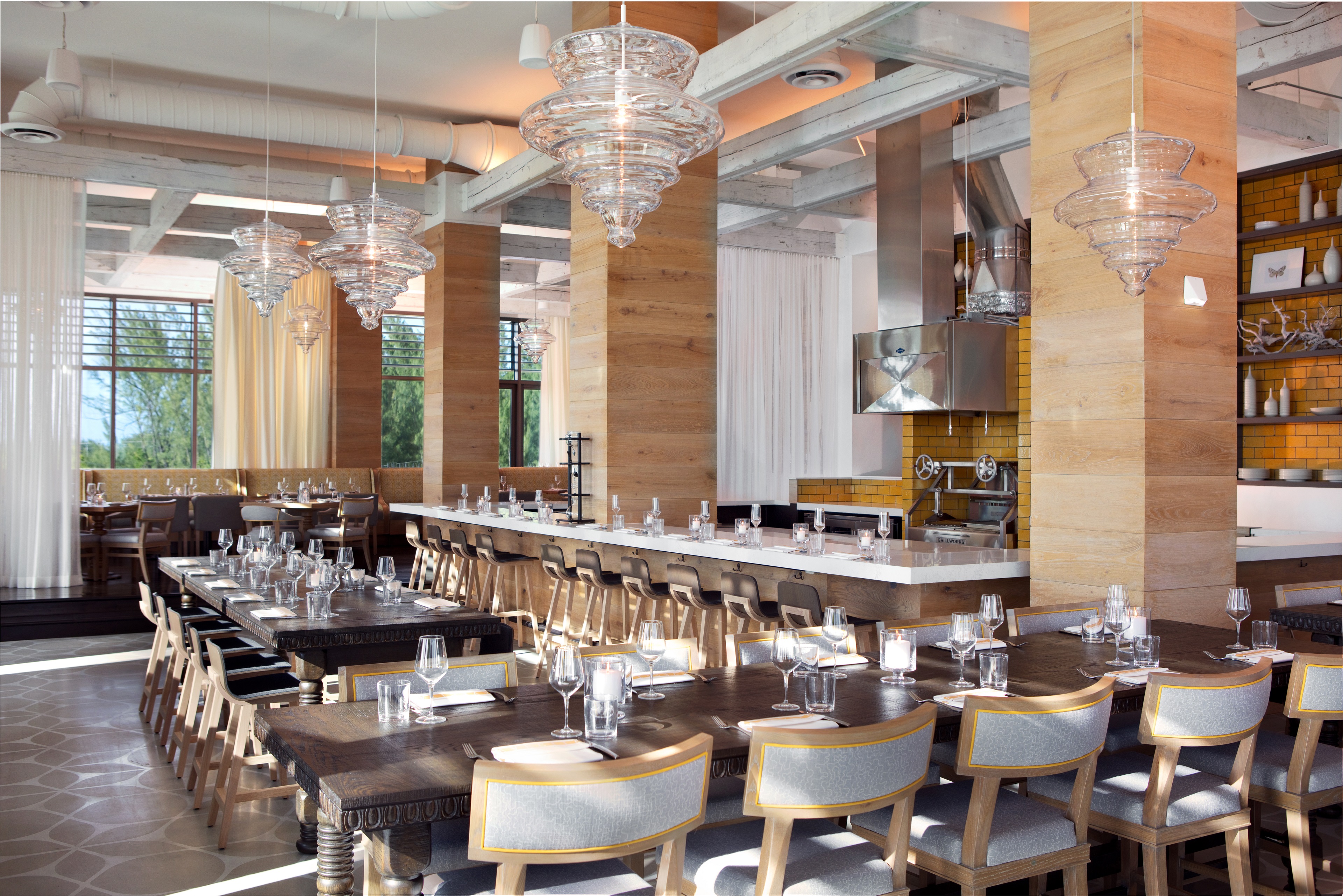 Diving is as popular in Grand Cayman as it is in Little Cayman, but due to its larger size, there are many other activities on offer as well.
Breakfast with the Rays, an excursion from Red Sail Sports, is a crowd-pleaser: They pick you up from your resort in the morning and then you board a 65-foot catamaran to sail out to Stingray City Sandbar, enjoying a continental breakfast and coffee aboard.
Stingray City is a gathering spot of southern stingrays—in previous decades, fishermen coming in from a hard day's work would navigate to the calm shallows to clean their catch, dumping the scraps into the water. The stingrays, hungry for an easy meal, soon began congregating. Today, they're basically tame, and visitors can interact and swim with them.
If the water is on the rougher side, as it was during our visit, the captain will replace your coral reef snorkeling session with an added jaunt to Starfish Point, where you can disembark and walk around in search of the beach's many starfish. And if rum punch sounds good as a morning beverage (hey, you're in the islands), you can charge it to your room from the boat.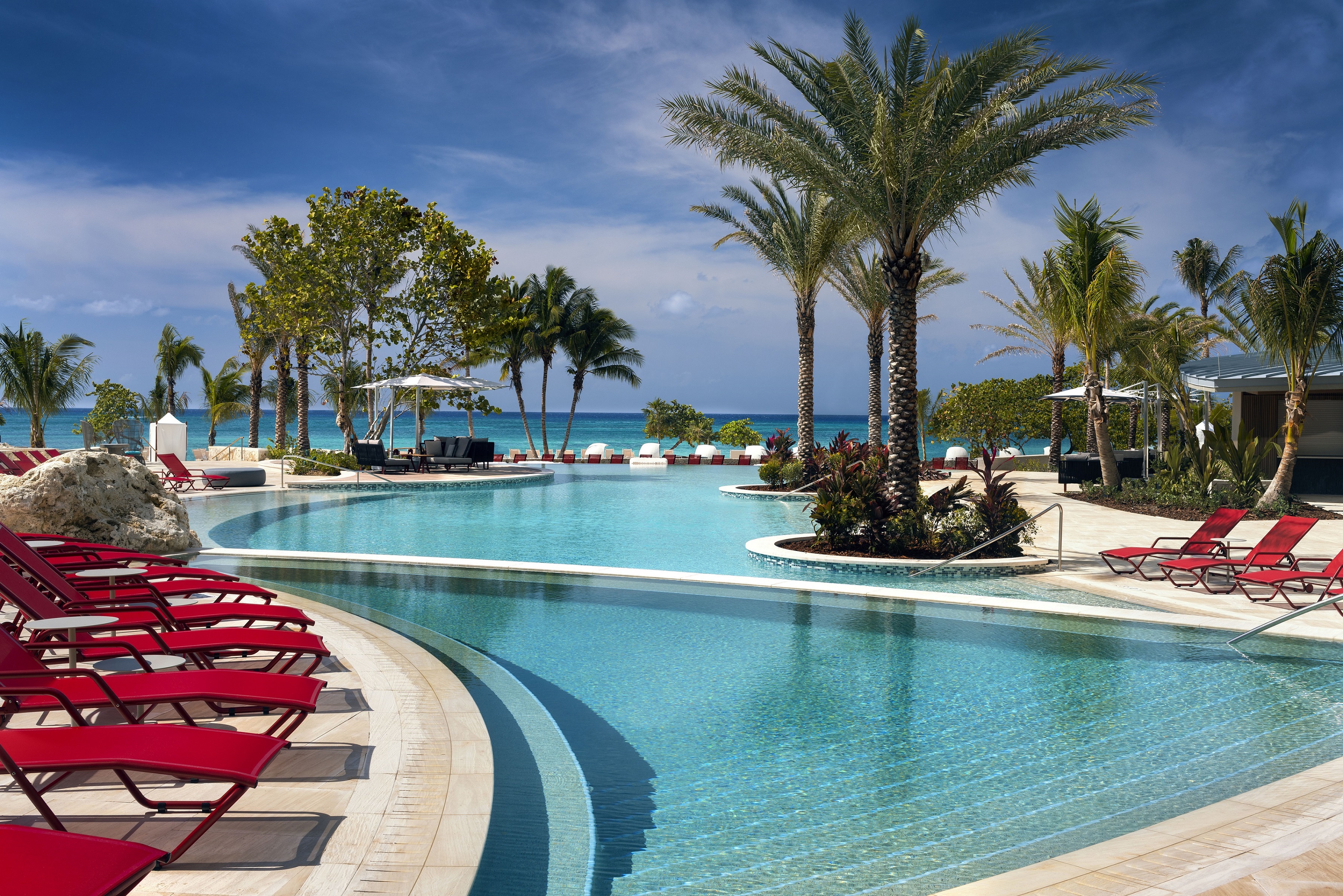 Winter is the windier season in Cayman, and while gusty knots may ruin some people's vacations, it's a kite surfer's dream. Take a lesson at Kitesurf Cayman, located within Barker's National Park on the north side of the island, where breezy tradewinds create ideal kiteboarding conditions. The sport is easier to pick up than you'd think: Our instructor had just finished up with a 75-year-old man learning to ride, and supposedly he's quite good. 
Picking up kitesurfing in your golden years is, apparently, not uncommon; the sport—intimidating, fast, and high-impact as it looks—is still do-able, as much of the skill relies on being able to fly the kite properly. By the end of our two-hour lesson, we were able to get up and ride (even if only a few feet).
Skye Sherman is a freelance travel writer based in West Palm Beach, Fla. She covers news, transit, and international destinations for a variety of outlets. You can follow her adventures on Instagram and Twitter @skyesherman
The author was a guest of the Cayman Islands Department of Tourism.