There's something magical about theater—seeing a world being created and brought to life in front of your eyes, with real objects and real people who transform into something larger than life. In a way, it's like reading a good book and seeing words become worlds, says actor and playwright Ralph McCubbin Howell.
"The Bookbinder" one-man production blends these two experiences: It brings to life the story of a bookbinder, who gets magically bound into his book, through shadow play, puppetry, pop-up book art, and music, in an award-winning play that has been praised for its spellbinding storytelling.
McCubbin Howell and Hannah Smith, founders of the New Zealand theater company Trick of the Light, are bringing "The Bookbinder" to New York's Lincoln Center with a children's performance on March 4.
It is an epic adventure-type story with a fairy-tale mood. 
"The Bookbinder is told there is one rule he is never to break," said Smith, the director. And in the classic nature of all fairy tales, he goes and breaks the rule and becomes trapped within his book.
"It is a mixture of dark and light," said McCubbin Howell, the writer and narrator. He remembered that stories he liked as a child were ones that did not talk down to children, and he wanted to create something that didn't belittle the audience. "It's classic in structure but also complex."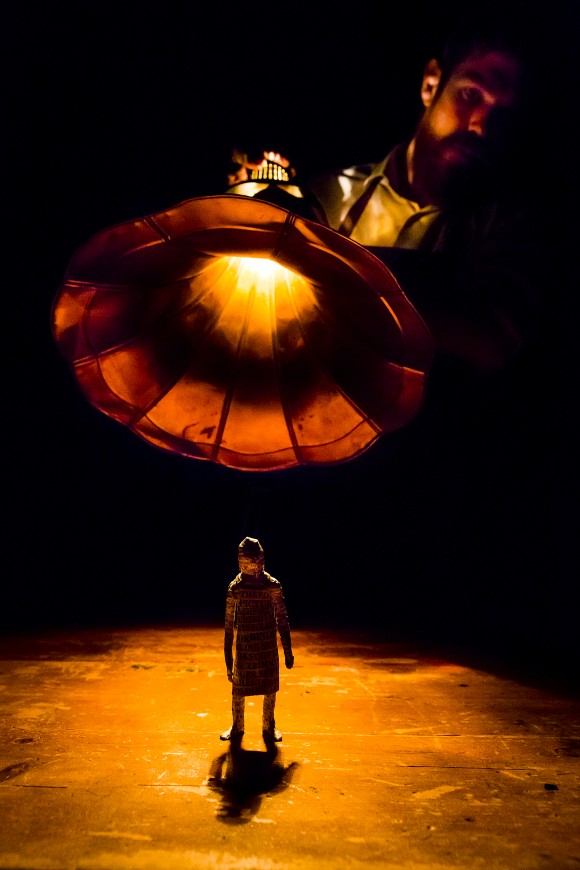 Intimate Production
The story begins with words on a page.
McCubbin Howell begins by reading aloud, and the story and production gets bigger and bigger—and more real. The pop-up pages of the book become more elaborate, the shadows grow, until we are stuck in a fairy-tale forest where a monster lurks.
"We wanted to capture the experience of reading a book," he said.
It was originally created for a festival in New Zealand, to be performed in a venue at the back of a book shop, a tiny room that could fit maybe a dozen people if they really squeezed.
In a frantic two weeks, McCubbin Howell wrote the script and Smith crafted the paper art. The entire production takes place on a desk, with just the book and an angled lamp. It was done on a shoestring budget, and every element they incorporated really had to matter. 
"In a way, it was created in two weeks. In another way, it's been developing over these three years," Smith said. "Just recently we've redesigned the book again, and changed some of the pages."
They have performed "The Bookbinder" in many cities in New Zealand, Australia, the United Kingdom, and the United States since the first production in 2014. Because it is a small production—mainly just the book of crafted pages—they have refined the pages from performance to performance, learning from their audiences.
"I've always loved theater," Smith said. "It is like playing games for other people."